Is Preserving Red Sox's Core at the Deadline Patient or Simply Short-Sighted?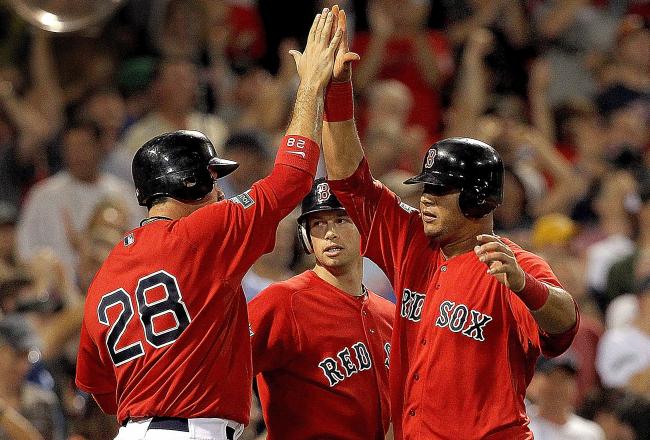 Is it time to break up the Red Sox?
Jim Rogash/Getty Images
Things couldn't have gone much worse for the Boston Red Sox in the first half of the season. They had to place players on the disabled list more frequently than any club in Major League Baseball, a handful of their star players underachieved and the team was beset by drama on and off the field.
All of this led to a 43-43 record, a mark that many see as a disappointment even despite the fact the Red Sox have a lot of good excuses for managing a mere .500 showing in the first half of the 2012 season.
The disappointment of the first half has led to speculation that the best course of action for general manager Ben Cherington and his staff is to break the Red Sox apart at the trade deadline. The key veterans should be used as trade bait for the purpose to kick-starting a youth movement. It's time to sell, sell, sell.
John Tomase of the Boston Herald wasn't wrong when he wrote this about the 2012 Red Sox:
With a 43-43 record, they may be just 21⁄2 games out of the wild card, but in reality they're merely continuing a three-year run of mediocrity that crystallizes their place in baseball purgatory between the contenders and also-rans.

The Sox are good enough to hang around the fringes of the playoff race, but unlikely to make any noise if they somehow reach October. Deep down, Cherington must know it.
Tomase may be right about Cherington knowing that the Red Sox aren't really a World Series contender, but Cherington isn't about to admit as much publicly. Nor is he about to start selling.
Here's what he told reporters on Thursday night at Tropicana Field, via Rob Bradford of WEEI.com:
I don't envision a scenario where we're sellers [at the deadline], in the traditional sense of the word. We have some potential surplus in areas we've talked to teams about, and maybe there was ways that could help us now and in the future. But every year in Boston is too important. We're focused on winning this year, and still believe we can.

I don't think blowing it up makes sense for where we are. There's a lot of talent on the team. We're right in the thick of the wild card chase. We've played very well since the beginning of May aside from the last week. I just think it would be foolish to start doing things that got in the way of giving us a chance this year. We'll see how it goes. Like I said, we have to play well. We have to start winning games.
The bottom line: "There's no such thing as taking a year off in Boston."
Cherington has a lot of good reasons to be confident in the team's chances of making a run in the second half. In fact, yours truly outlined them in an article posted earlier this week. To sum it up, the Red Sox can make a run a) because they're about to get a lot healthier, b) because their underachievers are bound to come around and c) because they don't need to play .600 baseball or better in order to secure a postseason berth.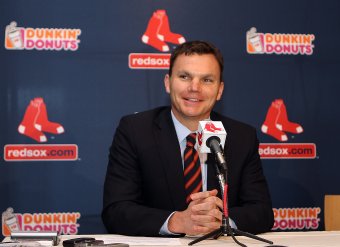 Ben Cherington has a lot of work to do at the trade deadline, but he's right in insisting that it's not time to sell.
Jim Rogash/Getty Images
Non-believers such as Tomase will argue that the playoffs aren't good enough for these Red Sox, but that's the wrong way of looking at things. The Red Sox missed out on the postseason in 2010 and 2011, when they had a playoff spot all but locked up before fumbling it away in September.
After two straight disappointing years, making the playoffs in 2012 would be a not-insignificant moral victory. And if the Red Sox end up qualifying for the playoffs after experiencing such a brutal first half, the vibes will be overwhelmingly positive.
And besides, expecting a run to the World Series shouldn't be the norm in Boston or any other city. That's only the norm in The Bronx, where the Yankees have obliged their ravenous fanbase just once in the last eight seasons.
It's understandable that there's a perception that Boston's tough first half is a sign that it's time to give up the ghost and go into fire-sale mode. The Red Sox have been working with pretty much the same core since the start of the 2010 season. This core hasn't gotten the job done for two straight years, and it has hit rock-bottom this year. Perhaps it's time for a new core.
But understand this: The Red Sox are not in the same boat as the Philadelphia Phillies. They too are trying to win ballgames with a core of players, particularly on offense, that they used to win five straight division titles between 2007 and 2011, but the difference is that they're a lot worse off than the Red Sox are.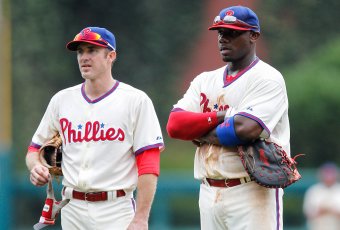 The Phillies are hoping Chase Utley and Ryan Howard can rescue their season. It's a fool's hope.
Brian Garfinkel/Getty Images
Though Roy Halladay and Cliff Lee are older and more frail than they used to be, Philly's pitching isn't the problem. The problem is that Chase Utley, Ryan Howard, Jimmy Rollins and Shane Victorino are all getting older while becoming less effective at the same time. These players are going to need to be replaced in the very near future, hence the reason why so many are calling for the Phillies to embrace a youth movement.
The Red Sox don't have this same problem. Key members of their core such as Adrian Gonzalez, Jon Lester and Josh Beckett have not been impact players in 2012, to be sure, but there's little reason to panic where any of them are concerned.
This is the first truly bad year of Gonzalez's career, during which he has established himself as one of the best pure hitters in baseball. He hasn't been the same player since last year's All-Star break, but that's little reason to think his career is in a downward spiral.
Lester is only 28 years old, and there's nothing wrong with his stuff. His struggles in the first half had more to do with bad luck and a negative mentality that arose in part because of that bad luck.
Beckett is older at 32, and his stuff has most definitely declined, but he's shown that he can pitch effectively even without a blistering fastball. He has an ERA of 3.46 over his last eight starts, and that's including his recent outing against the Yankees in which he gave up six earned runs in five innings.
The one player who did look to be old and over the hill was Kevin Youkilis, and Cherington traded him away to make room for young stud Will Middlebrooks. This move hasn't panned out as planned, but it's too soon to assume Cherington made a mistake. And besides, it was a move that had to be made sooner or later.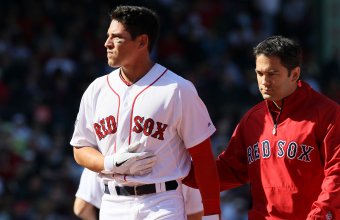 Ellsbury can be a huge difference-maker for the Red Sox in the second half if he plays like he did in 2011.
Elsa/Getty Images
Elsewhere, Boston's problems are entirely injury-related. Not having 2011 AL MVP runner-up Jacoby Ellsbury has hurt. Not having Carl Crawford, who couldn't possibly have been any worse than he was in 2011, has hurt. Not having a healthy, productive Dustin Pedroia has hurt. Losing Clay Buchholz for a few weeks hurt as well.
These players have been hurt, but that doesn't mean their careers are coming to an end. To once again bring up the Phillies, it's not like the Red Sox have been waiting for Utley and Howard, two players who are past their respective primes, to come back. They've spent much of the year waiting for players who are in their respective primes to come back.
The only one of the bunch who's worth worrying about is Ellsbury. He's due to become a free agent after the 2013 season, and the jury is still out on whether or not signing him to an extension would be wise. He's had major injury problems in two of the last three seasons, and he won't come cheap seeing as how he's represented by Scott Boras.
Even still, he's not being traded this season, and one wonders if the Red Sox will move to sign him sooner rather than later given the fact that his value is not as high as it was during his brilliant 2011 season. Either way, they're going to give Ellsbury a long look before they even think about trading him for prospects.
What should the Red Sox do in the next couple weeks leading up to the trade deadline?
A full season from Ellsbury is just one of the many reasons why better fortunes await the Red Sox in 2013. For the time being, their fortunes could be a lot worse. While they struggled to stay healthy and maintain a .500 record during the first half, the rest of the American League didn't exactly distance itself from the Red Sox.
The Red Sox know they're going to have better health in the second half, and they can be forgiven if they think they're going to have better luck too. After what they went through in the first half, they should. As long as they have both health and luck, the postseason is well within their reach.
This is not a delusional line of thinking, as some seem to think it is. Nor is it delusional to think that the Red Sox will be able to contend in 2013 and 2014 and well beyond those years given the strength of their minor league system.
There are teams that should be blown up. The 2012 Red Sox aren't one of them.
If you want to talk baseball, hit me up on Twitter.
This article is
What is the duplicate article?
Why is this article offensive?
Where is this article plagiarized from?
Why is this article poorly edited?