Stock Up, Stock Down for Key San Diego Chargers Heading into Camp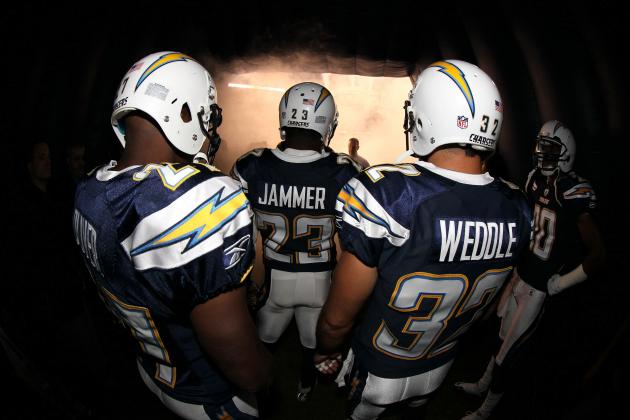 Stephen Dunn/Getty Images

In less than 10 days, the San Diego Chargers will have their first full-squad practice.
Rookies will get started July 23rd with the veterans joining them on July 25th. After a great offseason, including a strong draft, 25 new players will be present at camp. That 25 does not include the undrafted free agents that were invited to try out.
The talent on the Chargers is outstanding on both sides of the ball, but talent doesn't always win games. If it did, San Diego wouldn't have missed the playoffs the last two seasons. Like every year of late, the Chargers have a team built to contend for a championship.
There's just one thing: nobody knows it.
The Chargers aren't making pre-training camp headlines as a team like past seasons. In some players, coaches and even fans' minds, that's a good thing. There's no hype surrounding the Bolts.
Regardless of what's being said and what isn't, San Diego, like any NFL team, has players who have a bright future and others that need to work on things.
Begin Slideshow

»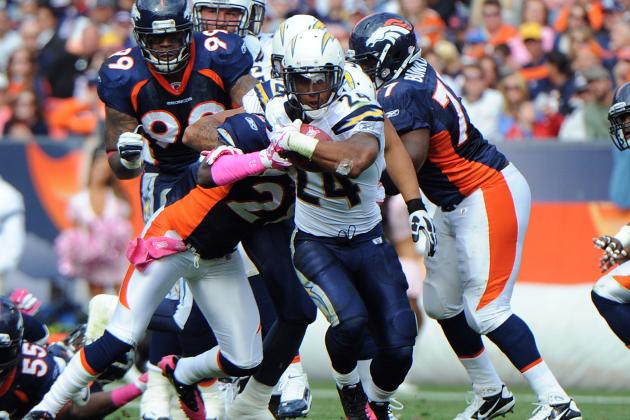 Bart Young/Getty Images

"Ryan Mathews is going to have a big year in 2012."

"This is the season Ryan Mathews breaks out."

"You're gonna want Ryan Mathews on your fantasy team."
We've all seen and heard the talk about the Chargers third year running back out of Fresno State. Last season, Mathews finished 10th in yards rushing. He missed two games and had to split carries with Mike Tolbert, who is now in Carolina.
Ramsdell said he saw @rmathews24 today and "Ryan has really worked hard this offseason. Looks great. Gonna have a big season." #Chargers

— Sharon Annie H. (@annieheilbrunn) July 14, 2012
Let's make a list.
Ryan Mathews Stock
First normal offseason: UP
Mike Tolbert to Carolina: UP
Le'Ron McClain is his new fullback: UP
More balanced passing attack: UP
The San Diego Chargers, finally, are putting all their faith into Ryan Mathews. His speed and elusiveness is going to be on full display come September. For now, he needs to work hard once training camp starts to keep his stock high.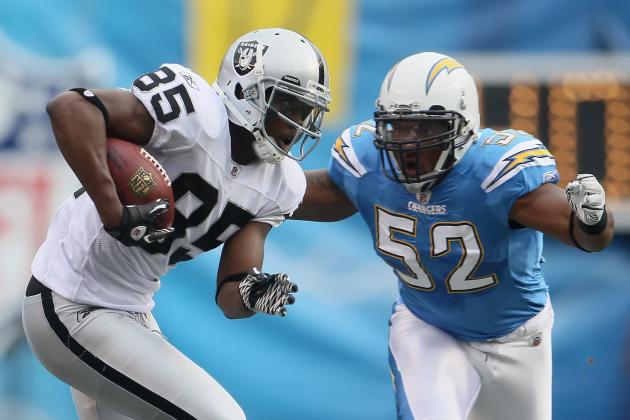 Jeff Gross/Getty Images

What could've been could still be.
Usually an opening phrase like that would introduce a player who's stock is up. Larry English is a different story. This is about his last chance to prove his value in San Diego this season. After missing 19 games in the past two years, English's chances look slim.
If healthy, Larry English has the potential to be a starting outside linebacker in the NFL. He has yet to stay healthy in his three years. English has the lowest stock on San Diego's roster all because of health issues.
What English should do is take all the criticism from experts and fans as motivation. He should build up a strong body that will prevent himself from getting injured and losing his spot in San Diego. Let's all hope that Larry English's stock will be "UP" throughout the season.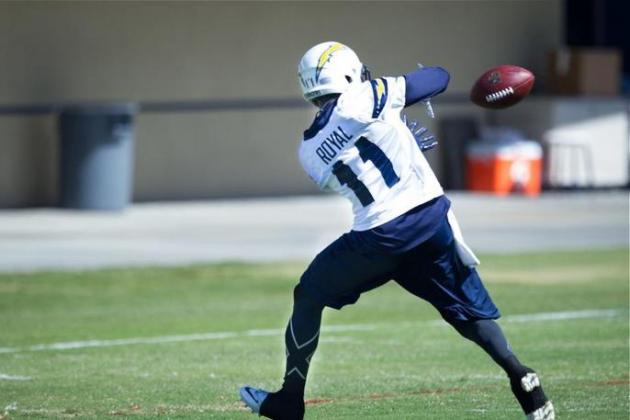 Photo by Chargers.com
A rookie sensation who became average the last three seasons.
Eddie Royal had 91 receptions in his rookie season, but has only had 115 in the past three years combined. That has to do with coaching. Under Mike Shannahan, Royal thrived. Under Josh McDaniels and John Fox, Royal was a mere return man. The Chargers know a little something about that.
A month ago at mini camp, Michael Gehlken, Chargers writer for the San Diego Union-Tribune, had this to say about Eddie Royal.
If these minicamps were open to public, Eddie Royal would be trending. Sharp, explosive in and out of breaks. Consistently gets separation.

— Michael Gehlken (@UTgehlken) June 20, 2012
The praise of Royal is coming from writers, players and coaches. When training camp is open to the public, like Gehlken hinted at, fans will start to recognize his talent.
After only being a Charger for a couple of months, Eddie Royal is already making a name for himself.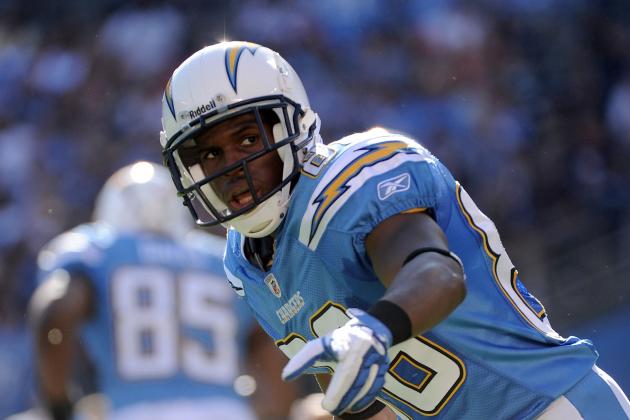 Harry How/Getty Images

You already disagree.
Vincent Brown will be entering his second season in the NFL this year. After showing glimpses of what he's capable of, he's left fans anticipating big things from number 86. Brown had 19 receptions for 329 yards and two touchdowns in his debut season. He mainly played the third wide receiver, taking the place of early 2010 star Patrick Crayton.
Philip Rivers loves the San Diego State alumnus. When Royal and Meachem were brought in, Rivers kept reminding people of Vincent Brown. His stock is down because of the additions of Royal and Meachem, which like Larry English, should motivate him to continually grow as a player.
The Chargers like to use Brown on the outside and in the slot every once in a while. With Malcom Floyd and Robert Meachem on the outside and Eddie Royal, the standout, in the middle, where does that leave Vincent Brown?
I'm a big fan of Brown. I'm hoping that they use him a ton, but that remains to be seen. We all know he's a great player with the desire to win, but until we find out the way he's going to be used, his stock is down.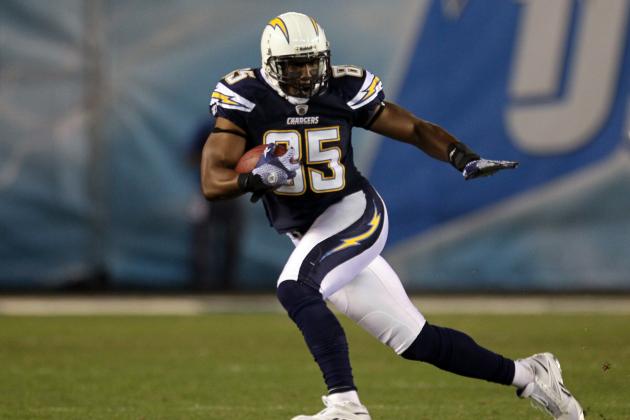 Stephen Dunn/Getty Images

He's 32 years old, entering his tenth season and recovering from a severe plantar fascia injury.
With all that being said, Antonio Gates is still one of the best tight ends in the game. A year ago, Gates' stock couldn't get much lower. After having a normal offseason this year, he's looking like his old self, no pun intended.
In an article written by Michael Gehlken on May 17th, he added a quote by Norv Turner regarding Antonio Gates:
"Gates looks great—he's back," Turner said. "Physically, he's back to where we want him to be. I think, like anybody, going through this offseason program helps you get better. (It's) the combination of conditioning, the combination of getting better in the areas you can improve, and being out there with your teammates."
Another thing that has raised his stock is his eating habits. Gates is making it a goal of his to lose weight for the upcoming season to give him a chance to be stronger throughout an entire season.
"I've always felt deeply that as you get older, you have to lose a little weight," said Gates, who turns 32 next week. "I've always played at 260 (pounds). I felt like this year, I can play at 255 ... That's just the key. When I watch guys who have longevity and played for 15, 16 years, one thing I continuously hear is guys maintaining health, maintaining weight. They control their weight."
One of the greatest tight ends to ever play in the NFL is looking to prove to everyone why he still the best in the league.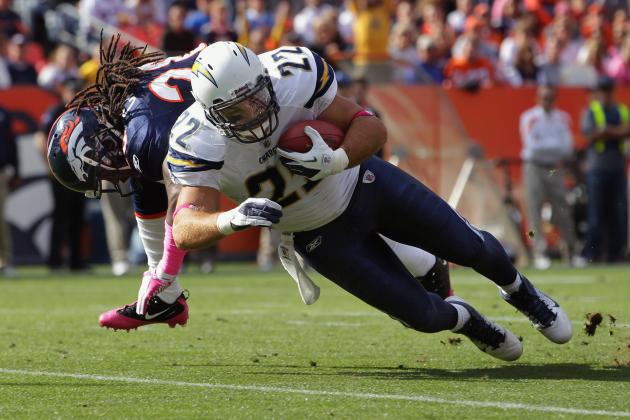 Doug Pensinger/Getty Images

Le'Ron McClain was an underrated signing this offseason. Almost everyone in the Chargers organization was excited. One person who probably wasn't: Jacob Hester.
Ever since Lorenzo Neal was released by San Diego, Jacob Hester has been the fullback. Since the time of Lorenzo, the Chargers haven't had a dominating rushing attack. Hester has done a great job. He's a likeable guy and does all the little things coaches love.
With the addition of McClain, Hester's role is now focused on special teams. He was the special team's captain last season and he should be again this year.
It wouldn't be surprising to see Hester take his talents elsewhere next season and become a starting fullback once again. Although, something tells me he'll be Charger for life.