Ranking the 6 Biggest Busts in the San Diego Padres' Farm System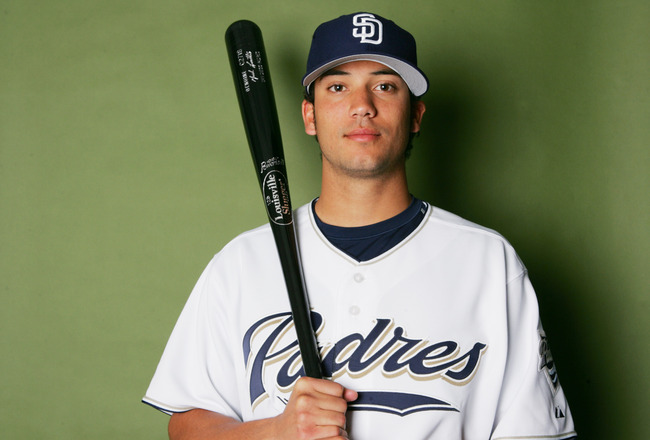 Ronald Martinez/Getty Images
All you have to do is say the name Matt Bush and many Padres' fans will cringe.
Selected No. 1 overall by the Padres in the 2004 MLB Draft, Bush was expected to be the cornerstone of the franchise for at least a decade.
Then, even before he took the field, he found himself in trouble. And, even when he got on the field, he wasn't that much better.
Finally traded in 2010, Bush was finally some other team's headache.
But, the hope that was placed in Bush and his potential is still a heavy subject for many fans, and some of the recent draftees have put themselves on the same track, although none have been the top overall selection, so they won't reach Bush's status.
Here's a look at the six biggest busts in the Padres' farm system.
6. Jeremy McBryde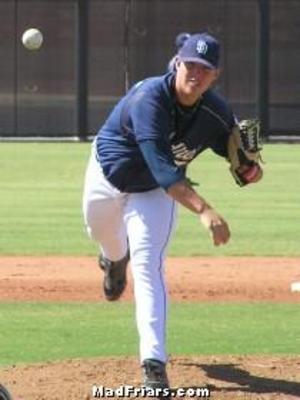 http://media.scout.com/Media/Image/49/494622.jpg
Jeremy McBryde is having trouble moving through the Padres' system.
He's struggled at every level, and I honestly think the only reason he keeps getting promoted is attrition.
He spent three years (although one was spent injured) at the Class-A Advanced level, but really hasn't been an impressive reliever.
He's kept his ERA down this year while at Double-A, but I'm wondering how long it's going to last.
Drafted in 2006, one would think that he would at least be on the tail-end of his Double-A stint, if not in Triple-A, but he hasn't progressed and I'm not sure he will.
McBryde is going to be one of those wait-and-see guys, who may be in the process of proving me wrong. And, if he does, I'll be the first to admit that I was wrong.
5. Matt Palmer
Rich Pilling/Getty Images
Matt Palmer is a big question mark to me.
He had success in the majors in 2009 when he went 11-2 with a 3.93 ERA, but he isn't the same pitcher as he was then.
Palmer carries a decent record for Triple-A Tucson at 5-5, but his ERA is through the roof at 6.29. And, he really hasn't been any better in years past.
Now, I know you can't place a lot of expectations on a player that was drafted in the 31st round.
But, when a guy does get called up to the majors and does what he did in 2009, bigger expectations will be placed on him.
And, when he doesn't perform, he's going to be considered a bust.
Which is why I placed him here.
4. Kyung-Min Na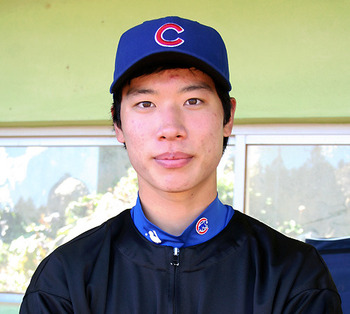 http://3.bp.blogspot.com/-JQTaBcyN4hk/TweDfOBPvlI/AAAAAAAAJHI/Qk06qoDhbY8/s1600/A.jpg
So, let me get this straight...the Padres traded away Anthony Rizzo for Andrew Cashner and Kyung-Min Na?
While I can understand Cashner, I don't understand Na being a part of the deal.
Honestly, I think the Cubs won the trade by a landslide as the Padres could've gone after other talents in the Cubs' system that would've still made the trade fair for both teams.
Na is worthless in my opinion and makes the busts list because he hasn't proven that he is a legitimate professional ball player.
His stats at every level are abysmal and give me a headache just thinking about them.
I hope the team sees something in him that many of us fans don't.
If not, and Rizzo continues to do what he's doing in Chicago, someone is going to have to explain this trade to the fans.
3. Josh Geer
http://www3.pictures.gi.zimbio.com/Josh+Geer+Oakland+v+San+Diego+Padres+n9PCB4ph1aul.jpg
You know those players you just want to go up and shake them madly?
Josh Geer is one of those guys for me.
I just don't get him and why he can't figure things out.
He was selected by the Padres in the third round of the 2005 draft and made his way through the system, eventually getting the call up to the majors in 2008 and 2009.
Then, things went downhill and are continuing on that path.
He's been recently demoted from Triple-A to Double-A and I honestly don't see him going anywhere, especially considering he's getting shelled almost as bad in Double-A as he was in Triple-A.
Honestly, I think we won't see him in the Padres' organization after this season.
Too much time and energy has been wasted on him, and it's clear his peak has passed.
2. Nick Hundley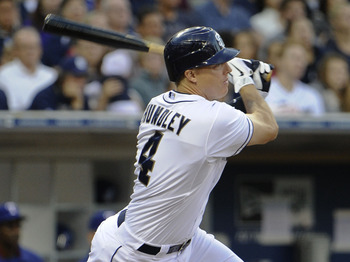 Denis Poroy/Getty Images
Some people may not agree in me saying that Nick Hundley is a bust, but I don't see how I can't put him on the list.
First, he fits the criteria of being in the minor leagues, after being demoted in favor of Yasmani Grandal.
Drafted in the second round of the 2005 draft, Hundley was a great catcher while at Arizona. But, that just didn't translate into pro baseball.
I look at his stats (major and minor league) and am confused at how he managed to stay in the big leagues for so long, or how he even got called up in the first place.
In the major leagues, he never batted better than .249 (except in 2010), including this year which saw him bat .166 in 55 games.
And, during his minor league stints, he batted in the low to mid-.200s.
Should the No. 1 player on the list start moving through the system, Hundley will take over the No. 1 spot.
1. Donavan Tate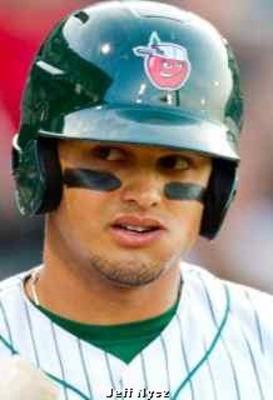 http://media.scout.com/Media/Image/106/1061260.jpg
At the end of May, I wrote an article stating that Padres' fans shouldn't lose hope on Tate, who was drafted behind Stephen Strasburg and Dustin Ackley.
While I still feel that way, it's hard to not put him as the No. 1 bust so far.
But, then again, you can consider former No. 1 overall pick Tim Beckham as a bust, but the jury is still out for some people in both cases.
Tate has the ability to be a big-league outfielder. And, just like Beckham, it's been a huge adjustment for him to playing professional baseball.
This year, he finally earned a promotion to Class-A Advanced Lake Elsinore and has been doing decently with a .256 average in 13 games.
The one thing I think is helping him thus far, is he's drawing more walks than usual, garnering a .431 on-base percentage in that same time frame.
Still, the hitting is not where the Padres or their fans would like it to be, so he still has a lot to prove.
While many expected him to be in the big leagues by next year (when he was drafted), he's taking the slow approach like Beckham.
But, it could prove to be valuable to him and the organization, and hopefully both will be better for it.
If he can continue to improve, he'll move down on the bust list and off entirely if he makes it to the big leagues.
Until then, I begrudgingly put him here, even though I know he's better than he's showing.
Keep Reading

San Diego Padres: Like this team?