Stock Up, Stock Down for Key Chicago Bears Heading into Camp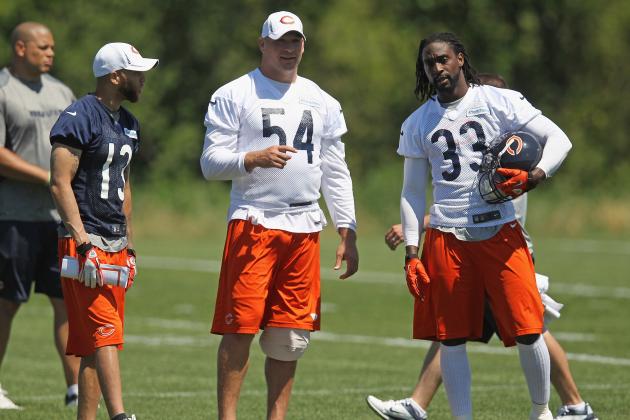 Jonathan Daniel/Getty Images

Training camp for the Chicago Bears is right around the corner. It's time for players to buckle down and really get down to business.
The team as a whole figures to be going into camp on a high right now. Positive moves in the offseason have made the Bears a bona fide contender in the NFL. It will be interesting to see how the team gels together.
There are players who will enter camp with their stock up or down for various reasons. Take a look at where some of the team's impact players fall.
Begin Slideshow

»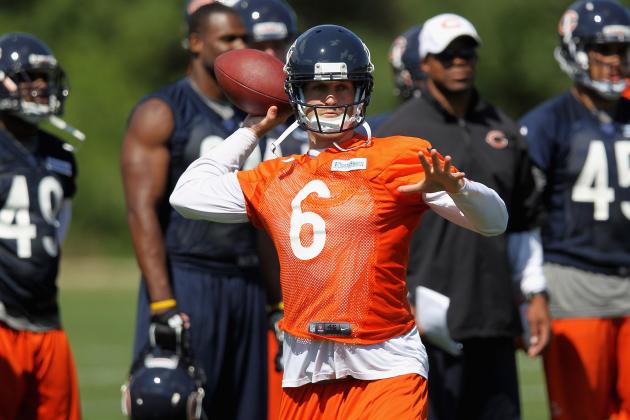 Jonathan Daniel/Getty Images
Jay Cutler
Jay Cutler should feel more comfortable than ever heading into camp. A new offense is in place built around his strengths, and he now has a multitude of weapons to use.
Cutler is poised to have a big year. The addition of Brandon Marshall gives him a go-to target. Alshon Jeffery and Michael Bush will be solid complementary players, and he still has Devin Hester and Matt Forte.
When camp starts, Cutler will be healthy and happy. His stock has never been higher.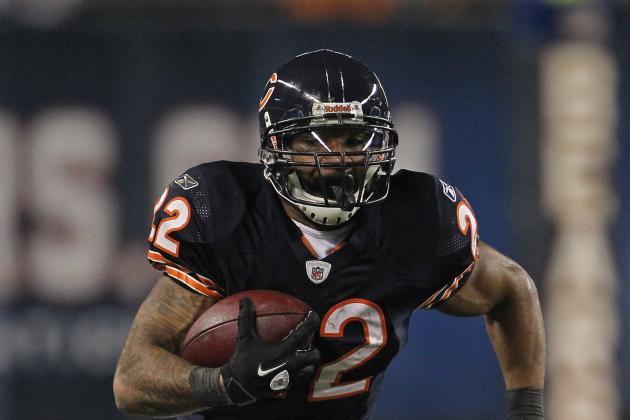 Jonathan Daniel/Getty Images
Matt Forte
The ongoing contract dispute has really put Matt Forte behind the eight ball. The only kind of contact he has had with the franchise recently is the trading of jabs in the media.
Forte's injury was not serious last season, so he should be healthy and in shape, but you can't help but wonder what kind of player will he be when he eventually shows up in camp.
His stock is down right now for the simple fact that he's not signed, might miss time in camp and will lose reps to a very capable Michael Bush.
With the new weapons on the team, his days of being 40 percent of the offense are long gone.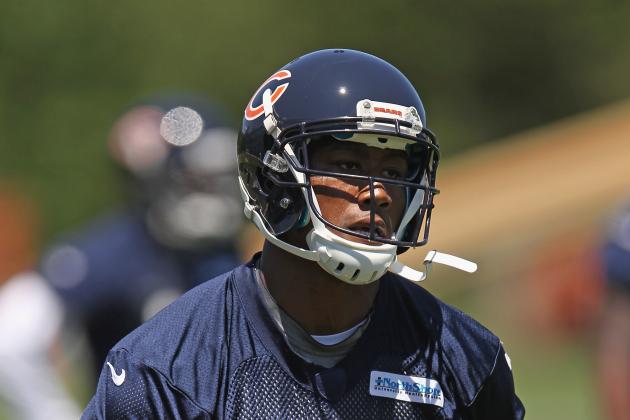 Jonathan Daniel/Getty Images
Brandon Marshall
Brandon Marshall was traded out of football purgatory in Miami. His off-field legal issues, according to Jared S. Hopkins of The Chicago Tribune (h/t ProFootballTalk), and he's ready to play football.
The last time Jay Cutler and Brandon Marshall were paired together, he had 104 receptions for over 1,200 yards. Both players are more focused and mature now and could put up big numbers this season.
Anytime you get a talented, but disgruntled, player out of a situation he didn't like and insert him into a place he loves, you get the best of him. Marshall's stock is high going into camp, and he has something to prove to his doubters.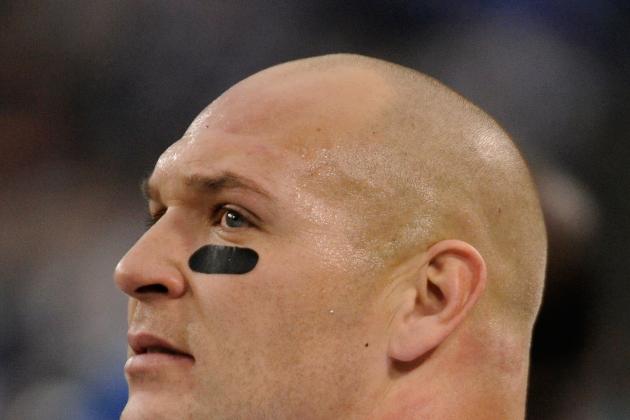 Hannah Foslien/Getty Images
Brian Urlacher
Without a doubt, Brian Urlacher can still play at a high level. He's still an elite linebacker and the catalyst of the defense, but his stock is pointing down.
Nobody can stay young forever, and the miles on a professional athlete's body will take a toll after a while. Urlacher is 34 years old and spent most of the offseason healing from a bad knee injury at the end of last year.
He's healthy and ready to go, but from now on, he and the team have to be leery about how many years he has left. Lovie Smith will no doubt rest his star linebacker in camp in order for him to last an entire season.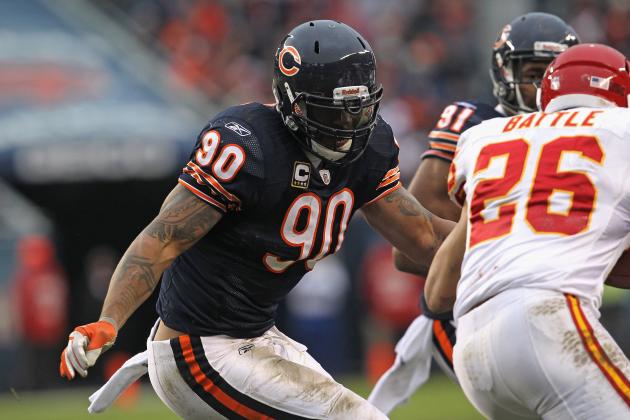 Jonathan Daniel/Getty Images
Julius Peppers
First-round Shea McClellin was drafted to help the team, and more notably, Julius Peppers. He finally has the help he needs on the other side of the defensive line.
Peppers has been a force to be reckoned with since joining the Bears, but his sack numbers have never been very high. That's because teams can afford to help off other lineman thus slowing Peppers down. Overall, the team's pass rush has been mediocre the last couple seasons.
The young athletic McClellin will rotate with Israel Idonije to help generate more of a rush opposite Peppers. If those two guys are successful, then Peppers can look forward to a big season.
His stock is high heading into camp with more help.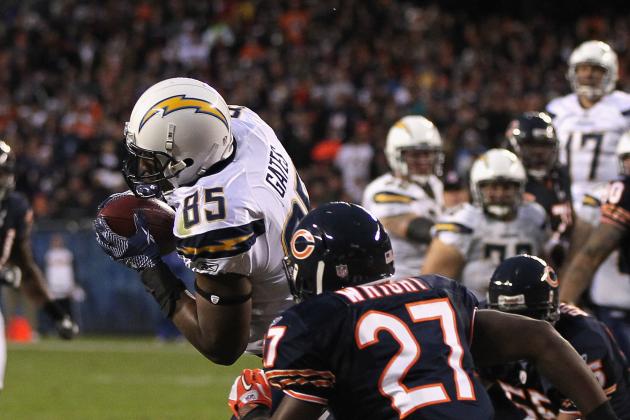 Jonathan Daniel/Getty Images
Major Wright
The Major Wright experience has been painful for him and the fans. He has spent a great deal of time injured, and when he has gotten on the field, it has been ugly at times.
This could be Wright's last shot to make some sort of an impact on the Bears. Chris Conte emerged last year as a dependable player who made the right plays, and Brandon Hardin was drafted to be the playmaker Wright hasn't been.
Wright might start at the top of the safety rotation at the beginning of camp, but he's on thin ice and could be bumped down sooner than later.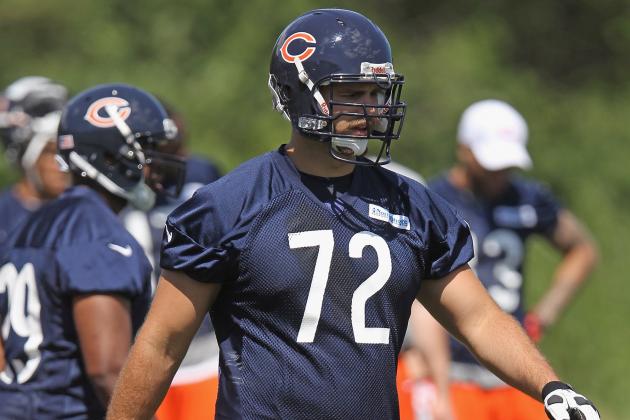 Jonathan Daniel/Getty Images
Gabe Carimi
There were high hopes heading into last year for first-round pick Gabe Carimi. When he started the season, it looked like he was already the team's best offensive lineman. Then, the injuries happened.
His rookie year was cut very short, but now, he's looking to bounce back. He enters camp healthy and will start at the right tackle position. Should he stay healthy this year, his future is very bright and could be a bookend tackle for years to come.
Carimi's stock has to be high entering camp as he looks to make amends for last year.