Before this postseason, it was still up for debate, but not anymore: LeBron James is officially that good.
And if there was still somehow any doubt, the 2012 NBA MVP and new world champion's efforts were justified even further at the ESPYs this week, where he was the recipient of three awards, including Best Male Athlete.
No matter where your allegiances lie (mine certainly don't align with Miami), it's now impossible to avoid admitting that LeBron is one of the best, if not the best, in the game right now. The league has spoken, the coaches have spoken, LeBron himself has spoken in the postseason and now the fans have made it official.
There's nothing like an ESPY to confirm what we already know to be true.
Here's a closer look at LeBron and some of the other most deserving winners at this year's ESPYs. You can see a full list of the winners here.
Los Angeles Kings: Biggest Upset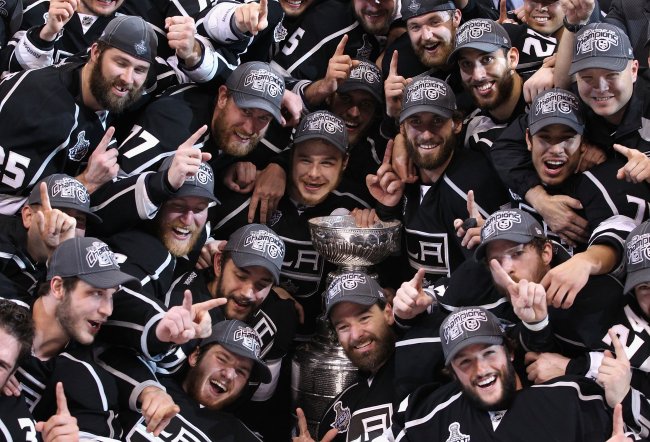 Christian Petersen/Getty Images
Somehow, despite the fact that they won the Stanley Cup, it still feels like the Kings aren't getting the attention they deserve.
In the last year, there hasn't been a team that has been as dominant as the Kings were during their title run. At no point during the Stanley Cup playoffs was there any concern that any team—no matter how high or low its seed—was capable of defeating the eighth-seeded Kings.
L.A. went 16-4 en route to the Cup, becoming the first eighth seed to win it and taking down the Canucks, the Blues, the Coyotes and the Devils in the process. Goalie Jonathan Quick was the machine that couldn't be outsmarted, registering a 1.41 postseason goals-against average and a .946 save percentage. Both of those marks were better than his already-stellar regular-season numbers.
It's not all that rare for an underdog to win a bunch of close games in the postseason on its way to a title, but it is rare for that underdog to look unbeatable from its first game forward. The Kings truly came out of nowhere to win, and they looked like the eventual champion from their first game on.
Tom Coughln: Coach of the Year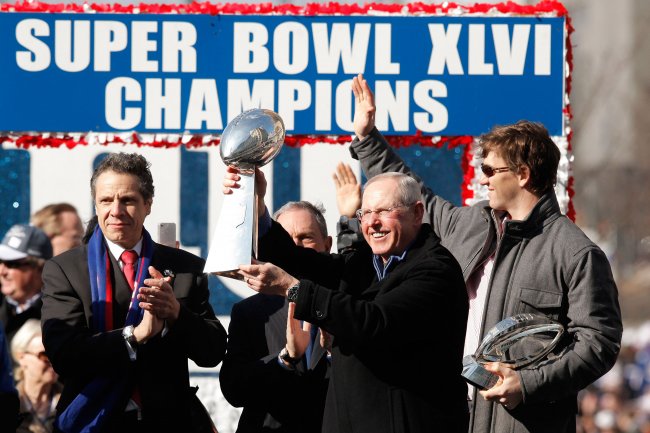 Andrew Burton/Getty Images
Lesson learned: Never underestimate Tom Coughlin and Eli Manning heading into the playoffs, no matter how bad their team looked in the regular season. The Patriots did—twice—and it cost them Super Bowls both times.
Coughlin coached an overachieving team to a championship for the second time in the last five years, overcoming a 9-7 regular-season record and abundant injuries to do so. It's not every day that a team that loses five of eight down the stretch wins the Lombardi Trophy, but somehow, the Giants did.
The first time Coughlin's Giants overcame immense odds to win the Super Bowl, it might have seemed like good luck; this time around, when they did the same thing, you have to credit Coughlin.
The Giants were far from dominant in 2011. They finished 32nd in the league in rushing, 29th in pass defense and 19th in rush defense, but one thing they knew how to do better than anyone was win close games when it counted. Just ask the Falcons, the Packers, the 49ers and, of course, the Patriots.
It's easy to coach a front-runner to a championship. It's never easy to do a same with an underdog—twice—but don't tell that to Coughlin.
LeBron James: Best Male Athlete, Best NBA Player, Best Championship Player
There's not an award LeBron didn't deserve to win this year. His whole career, he has been dogged by complaints that he doesn't care enough about winning championships because he cares too much about individual accolades, that he can't show up in big games, that when the pressure hits, he disappears.
Not anymore.
Whose ESPY win was the most deserved this year?
LeBron wasn't perfect throughout the 2012 playoffs, but he was when he really needed to be. That was most obvious in Game 6 of the Eastern Conference Finals, when he put up 45 points—including 30 in the first half—and 15 rebounds to single-handedly keep the Heat alive in an elimination game. He proved that if nobody else on his team wanted to win, he'd want it enough for everyone.
From then on, nothing could stop LeBron—not even the Thunder, who had gone 12-3 in the postseason before meeting Miami.
Shortly after winning the league MVP, LeBron finally won the trophy that really counts. And then he won an ESPY to prove that the fans are finally behind him, too.