Welcome to Friday's St. Louis Rams "News and Notes at Noon", the preeminent destination for all major Rams headlines with other updates of interest with brief analysis and commentary for Rams Nation.
Due to a publishing hiccup, Thursday's Rams "News and Notes at Noon" was not placed on the Rams homepage. That is very unfortunate for several reasons, especially when considering it was one of the highest content days that have came about in a long time and that many loyal readers were unable to find the piece.
Yesterday's edition was jam-packed and loaded with a multitude of interesting and fresh content.
Topics covered included ESPN's John Clayton saying that Roger Goodell wants teams to stay put, Pro Football Weekly's Rams ranking, a foxsports.com St. Louis training camp preview, Sam Bradford's thoughts about staying in school, a comparison of Robert Quinn to Grant Wistrom, the Rams being labeled as the league's second most improved team, where the St. Louis defensive line ranks, Sam Bradford's worst habit, Jeff Fisher's celebrity softball game and the possibility of Bradford being an NFL MVP candidate.
Please click here for the column and all of yesterday's Rams headlines, updates and analysis.
Steven Jackson Says He Would Play For a London Based Team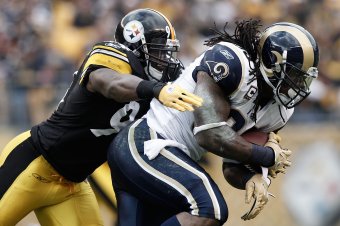 Jared Wickerham/Getty Images
According to a report by Sean Fay for Eurosport, Steven Jackson has been overseas promoting the Rams October 28th "home" game at Wembley Stadium in London versus the New England Patriots.
While there, the three time Pro Bowl honoree expressed a willingness to live overseas and play for a London based team:
I would love to (play for a British team), but then I might be a little different to some other players because traveling is one of my hobbies and I would embrace the opportunity to live in another country.

If London was awarded a franchise, would there be a backlash from the players? I don't know, but I think with most players, what we love to do more than anything else is just to have an opportunity to play the game.
In the above-linked piece, Jackson shares many more thoughts regarding the NFL's overseas fanbase and his take regarding the theoretic possibility of a potential permanent NFL team being headquartered there.
In addition, Jackson shared some interesting thoughts on the upcoming St. Louis season and the fact that surprising teams seemingly arise from the ashes every year:
We have brought in Coach Fisher who is an established coach in the NFL and he has put together a fine staff and also brought in some excellent new players through free agency and drafting.

Each and every year, there is a team that surprises in the NFL. The talent level across the different teams is very even so it comes down how well the teams gel and the leadership that is provided.

When week one comes along, every team will start with a 0-0 record and every team has an equal chance of getting to the Super Bowl.
As for the Rams situation regarding London, the organization originally agreed to play one home game per year in London for three successive seasons. However, the St. Louis Convention and Visitors Commission put a temporary halt to any London games, citing the Rams' lease with the city.
However, an eventual resolution was reached, via an amendment to the lease, that allowed the Rams to play one of the three games at Wembley Stadium: The previously mentioned contest with the Patriots this season.
That being said, an agreement regarding the additional proposed Rams home games in 2013 and 2014 has yet to be reached and could theoretically be used as a bargaining chip during the continuing lease negotiations with the Rams, a process that is currently in arbitration.
CBS Sports Columnist Predicts Rams Will Win the West This Fall
Jason La Canfora of CBS Sports offered this piece analyzing the NFL Playoffs over the past 10 years.
La Canfora asserts that during the past decade, on average, six new teams join the playoff picture each year while, subsequently, six fail to repeat as postseason qualifiers.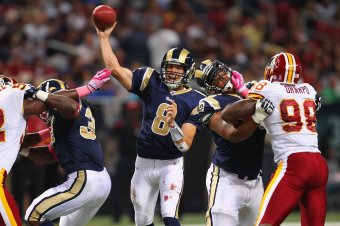 Dilip Vishwanat/Getty Images
The cbssports.com NFL insider offers his insight regarding the teams that he expects to make the leap back into the NFL playoff picture in 2012.
Not only does La Canfora expect the Rams to return to the NFC playoffs for the first time since 2004, but he expects St. Louis to win the NFC West.
La Canfora is not sold on a repeat of the strong 13-3 showing that the San Francisco 49ers displayed last year.
For a look at the other teams La Canfora expects to crash the playoff party and the reasons he selected the six specific teams from last year's playoffs to fail to return, please check out the aforementioned above-linked piece.
Matt Bowen, Former NFL Safety, Also Believes Rams Can Make the Playoffs
Seven-year NFL veteran safety (2000-2006) Matt Bowen, now a featured columnist at Bleacher Report, named six teams that he feels can go from worst to first in the coming campaign.
As you can read here, Bowen gives his reasons why St. Louis is a team capable of making a monumental leap forward into the league's upper echelon in 2012.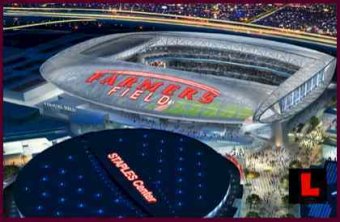 Howard Balzer Cites Source in Saying NFL Relocation Fee Would Top $700 Million Dollars
Howard Balzer, who has covered the NFL for 36 years, suggested that an NFL relocation fee would be "astronomical" and exceed $700 million dollars, according to an unnamed source who Balzer asserts is close to the league. Balzer admits, however, that he has yet to be able to verify his source's assertion.
In the interview with The ITD Morning After, which you can listen to via segment three and this link at insidestl.com, Balzer also discusses the situation with the Jacksonville Jaguars and NFL expansion fees, among other things.
If relocation fees would indeed be this high, one might be inclined to further wonder if the NFL truly prefers expansion rather than relocation, something I discussed in detail yesterday, as you can read here.
Columnist Asserts that Steven Jackson is the League's Top Back
James Dudko, a featured columnist for Bleacher Report, feels that St. Louis' own Steven Jackson is the league's best back.
In this piece, Dove shares the reasoning for his high praise of Jackson while sharing his picks as to who the top rusher for each of the league's 32 teams will be this Fall.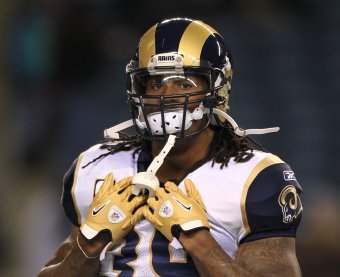 Otto Greule Jr/Getty Images
Jackson, who turns 29 prior to this season, has eight seasons under his belt. In seven of those, he has been the Rams featured back.
Jackson has amassed 2,138 carries and 369 receptions for a whopping total of over 2,500 career touches.
Jackson takes tremendous care of his body, however, as we know, the running back position takes a toll and the age of 30 typically represents a wall that running backs, even the great ones, cannot run over or around.
There have, of course, been exceptions. The likes of Marcus Allen, Franco Harris, Curtis Martin, Thomas Jones, Tiki Barber, John Riggins, Emmitt Smith, Tony Dorsett and Walter Payton all played exceptional football past the age of 30.
Jackson may be another who bucks the trend of rapid decline after entering the fourth decade of life. I do expect a very strong year from Jackson, however, and although I would not put him at the top of the list at this juncture, I certainly still believe he is among the NFL's premiere backs.
Have a great day, as always, STL Rams Nation.
Shane Gray covers the St. Louis Rams daily as a Featured Columnist for Bleacher Report. You are encouraged to check out the rest of his work here. Gray has also joined missourisportsmag.com and Missouri Sports Magazine. Finally, Gray also owns and operates stlramscentral.com.