Auburn Football: Why Gene Chizik Will Out-Recruit Nick Saban in Next 5 Years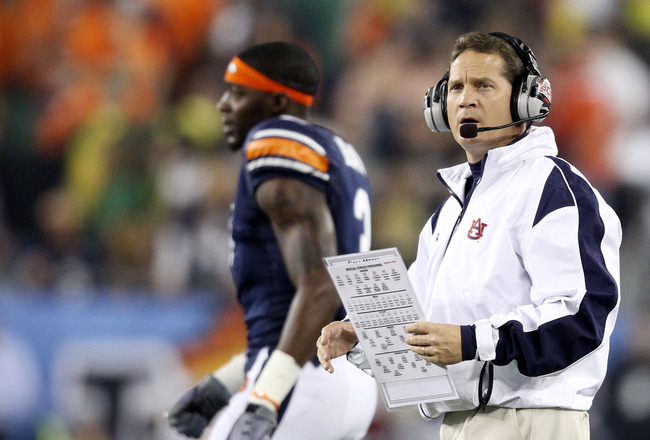 Christian Petersen/Getty Images
College football recruiting has reached an all-time high with fan following and coverage in the past few years. As the process evolves, so do the coaches and Gene Chizik has become one of the most innovative coaches on the recruiting trail. Daily, the Tigers are going nose-to-nose for top talent across the country.
Across the state, Nick Saban has rebuilt the prideful powerhouse Alabama football program with his great recruiting classes—unfortunately for Saban, Chizik has done the same at Auburn. Chizik will out recruit Nick Saban in the next five years.
There are a number of factors that lead to this conclusion—before the chicken littles begin let me finish—but prepare yourself for the recruiting acumen of Gene Chizik and his staff to vault the Tigers past the Tide on the recruiting trail.
Here are five reasons why Chizik and the Tigers staff push Auburn past the Tide in the national recruiting game.
The Hardship and Grayshirt Cloud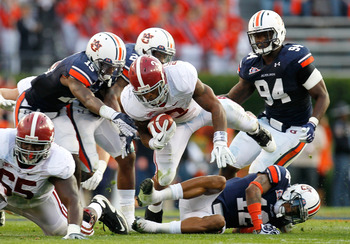 Kevin C. Cox/Getty Images
No matter how you explain the mass defection that seems to occur from Tuscaloosa year after year, it is impossible to say that it doesn't happen. Oversigning.com is a website that has been built around the over-signing crowded rosters that appear every spring in major conferences around the country—save the Big Ten which has had legislation governing roster limits for years.
Every SEC school has had its fair share of issues with over-signing—Auburn leads the nation in the past eight years with number of total signees—but the way the players have made it off campus at Alabama under Nick Saban is what gathers criticism.
There have been players that have left the Alabama program under medical hardship—saying they are no longer medically able to play—and admitted that they were asked to step away due to lack of performance, not actual medical issues. According to the Wall Street Journal, Nick Saban has been a repeat offender of this activity.
Coaches ask players to leave and dump the roster of under-performing players.
Another issue is grayshirting—the act of asking a player to delay enrollment because of scholarship limits on signing day. The latest case was Darius Philon, who was once committed to Auburn and then shifted to Alabama, only to later sign with Arkansas because he was reportedly told by Alabama staff that he no longer had a fall scholarship available.
Grayshirting is an unofficial term, but the process is frowned upon. Signing limits imposed by individual conferences are beginning to pop up.
Auburn has not had these types' issues under Gene Chizik. For a player to have a scholarship pulled on signing day is something that no player or parent wants, and Chizik has done well with ensuring that these issues have not arisen at Auburn.
Family First Mentality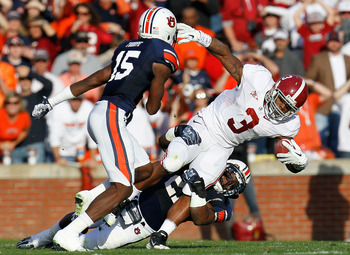 Kevin C. Cox/Getty Images
Every football program has its own way of building continuity with its players and fans, but Auburn is one of the few environments that a family feel is made a focus. The Tigers staff has built its recruiting efforts on making teammates feel welcome, while also embracing family members into the experience of Auburn football.
Auburn is one of the most unique fanbases in the country, helping build that unique family feel that is added to the game day experience for recruits and their parents.
The family first mentality is not a fit for every recruit, but Chizik has been able to bring in a host of big names in the past few seasons, and with the switch of Reuben Foster from Alabama to Auburn, something is being done right. It's the family feel is a common phrase by committed prospects.
Fun, Focused, Winning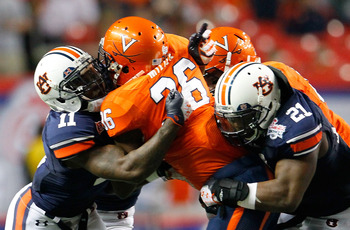 Kevin C. Cox/Getty Images
Gene Chizik has built his program around his kids having fun, being focused and wanting to win.
The Auburn program does things that are non-traditional team builders and host non-traditional events for recruits to show that Auburn is fun.
That playing football for Auburn as a college student is fun. The staff also shows that focused intentions and hard work will breed championships. The Tigers have been there before and they will get there again as long as the Chizik staff keeps the fun, focused and winning mentality on the Plains.
Tradition Rebuilt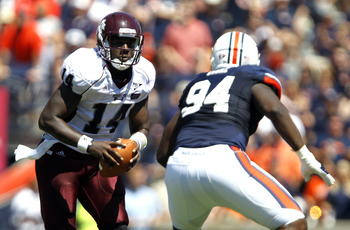 Butch Dill/Getty Images
It was great way before you got here is a famous phrase that is uttered by Gene Chizik often. He reminds his team that Auburn was a place that was built on hard work and there are champions that walked the halls before the current team.
What makes it so unique is the approach that tradition never dies, it continues to grow and rebuild.
With the hiring of Gene Chizik, tradition was rebuilt. Not only had players become more aware of traditions and of the "great before you got here" mentality, but fans suddenly have become more aware of the traditions that lay at Auburn.
The foundation that was lost in the shuffle of the final Tommy Tuberville years has been rebuilt stronger than ever. The Tigers are national contenders for every recruit, as recruits want to be a part of a rich tradition, but they also want to build their own legacy.
Auburn is a place that tradition is constantly being rebuilt, not ignoring the past but honoring it by creating new ways for Auburn to continue to grow and be the unique environment that it has become.
Innovation Breeds Success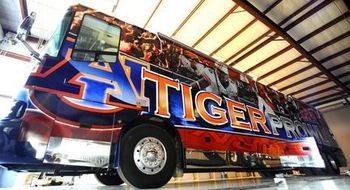 The Auburn Tigers coaching staff is known for its innovation on the recruiting trail. The Tigers have created Tiger Prowl and also began Big Cat Weekend, two premier events that show the ever evolving game of recruiting.
The Tigers took to the streets in an Auburn wrapped tour bus at one point—impressing recruits and the local Auburn alumni groups. The Tigers also host Big Cat Weekend—a weekend for student-athletes and their parents to come and enjoy Auburn. The focus isn't football at Big Cat, it is team building for some of the nation's top recruits.
The Auburn staff under Gene Chizik continues to invent new ways to bring the biggest names and recruits to the Plains. Chizik's staff knows that Nick Saban and company will get their fair share of talent, but if the Tigers continue on the path they are on, Chizik will surpass Nick Saban as the national recruiting powerhouse in the state.
Keep Reading

Auburn Football: Like this team?