Miami Football: What You Need to Know About Hurricanes' 2012 Coaching Staff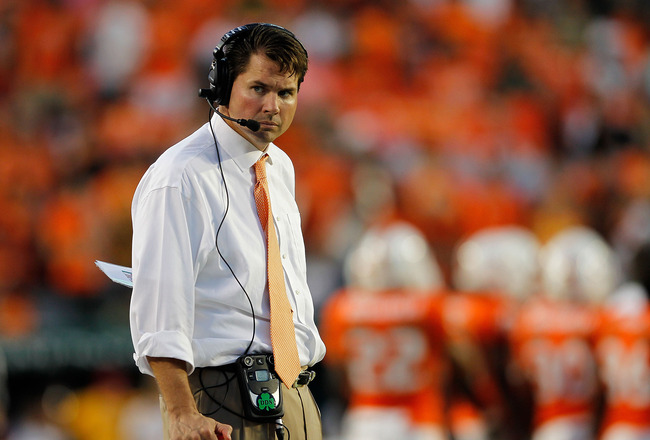 Mike Ehrmann/Getty Images
Last season was the first year under head coach Al Golden and while it seemed as though it was a failure—Miami finished 6-6—it really wasn't.
The suspensions really hurt what could have been a very successful season for the Hurricanes. Even with a poor record, there were many things I took away from the new coaching staff.
The best thing about them is that they are all dedicated 100 percent into bringing Miami back to what they were in the '80s, the team to beat.
Here is what you need to know about the Hurricanes' coaching staff.
Al Golden Is the Real Deal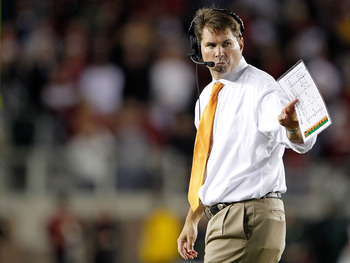 Mike Ehrmann/Getty Images
I was a little skeptical when Miami named Al Golden the new head coach of the Miami Hurricanes. I honestly wanted Miami to bring in Mike Leach or Jon Gruden, someone who could open up the offense or make the defense a lot better.
I than decided to research Golden before I make my final assessment and that is when I realized that he was, and is, the best man for the job.
Golden, much like Howard Schnellenberger, turned around an atrocious football program and made them relevant again. Although the current Hurricanes team is far from horrible, they still needed someone to make some serious changes.
What Golden was able to do in the last year and a half at Miami is simply amazing.
The Hurricanes finally have a coach who isn't going to put up with poor production. He is getting them in better shape than they ever have been in when he created UTough.
The best thing about Coach Golden though is his dedication to recruiting. I honestly believe previous coaches relied on the name, Miami, to get players to come to Miami. That won't work anymore, especially with how dominate the SEC has been lately.
Coach Golden recruits for the future, not the present. His main goal is to bring players to Miami that want to be part of something special, not for themselves, but for the team.
Golden is the number one reason why Miami will win a National Championship within the next few years.
Mark D'Onofrio Will Make the Defense Better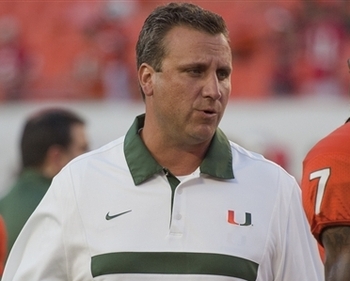 Mark D'Onofrio may not have gotten off to the best start last year as defensive coordinator but don't believe for one second that he isn't the right man for the job.
D'Onofrio was a coach at Temple with Al Golden and was quite successful, as he had a school record eight defensive players that were voted on the All-Conference team during his tenure.
Last season, the first with Miami, D'Onofrio's defense ended the season ranked No. 21 in scoring defense, holding teams to 20.8 points per game. With the injuries and suspensions it was actually quite impressive.
This season D'Onofrio will prove why Golden brought him to Miami. I honestly believe Miami has the key players on defense they need and the right coach to lead them into becoming one of the best defenses in the country.
Art Kehoe Knows How to Make Good Players, Better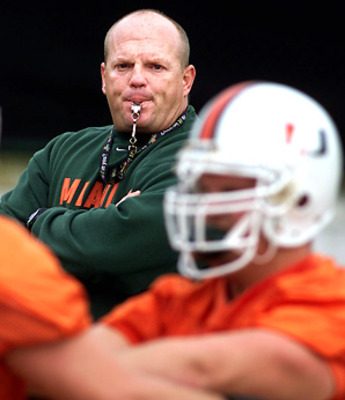 I really don't need to say much about how big it was to have offensive lineman coach Art Kehoe back at Miami. Every die-hard Hurricane fan knows who Kehoe is and what he means to the Hurricane program.
For those who don't know, coach Kehoe was a part of the Hurricanes program from 1979 to 1980 as a player and from 1981 to 2005 as part of the coaching staff.
After spending 24 years on the Hurricanes' staff, ex-Miami coach Larry Coker used Kehoe as a scapegoat and fired him after a 9-3 season.
Kehoe would go on to coach at Ole Miss and in the UFL until Coach Golden called him back to the team last season.
Hiring Coach Kehoe back to Miami was one of the smartest moves Coach Golden did when he started at Miami. Kehoe is a huge fan favorite and has coached multiple All-American offensive linemen during his tenure at Miami.
Coach Kehoe is an amazing motivator and truly understands the position more than most coaches in the country do. Although the line struggled at times last year, he will make them better this year, I can promise you that.
Jedd Fisch Has to Improve the Offensive Scoring Output
If there was one question mark about the coaching staff last year it was the play calling from offensive coordinator Jedd Fisch. There were times last season that brought me horrible flashbacks of the previous OC, Mark Whipple.
I am not 100 percent sure it was coach Fisch that was scared to pull the trigger on quarterback Jacory Harris or if it was the lack of faith he had in the offense. Whatever it was, they can not afford to have another poor offensive unit this season.
Coach Fisch has to find a way to get more points on the board or his job may be on the line, especially with how good the defense is.
During the first couple spring scrimmages, Coach Fisch looked to have opened up the playbook more as the Hurricanes' offense was cruising along.
Then came the spring game, when both offenses put up a total of one touchdown on the scoreboard. I understand that the defense is pretty solid, but scoring one touchdown between two offenses is embarrassing.
I truly hope Coach Fisch puts a little more faith in the offense this year because if he doesn't, Miami will be looking for a new offensive coordinator real soon.
Andreu Swasey Is the Best Strength and Conditioning Coach in the Country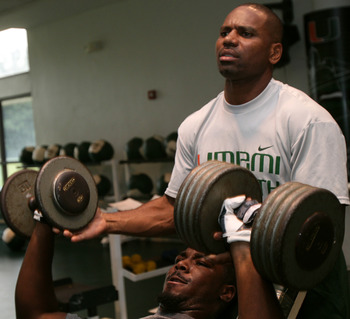 If there has been one constant over the last 12 years at Miami it is strength and conditioning coach Andreu Swasey. Just 41 years old, Swasey has improved the conditioning for multiple All-Americans and future Hall of Famers.
I know it's hard to determine who the best conditioning coach is but you really don't have to put much thought into it when you think about all the NFL players that come down to Miami to train during the off-season.
The most impressive thing about those NFL players that come back, a lot of them didn't even attend the University of Miami. That alone should tell you how great of a conditioning coach he really is.
Coach Swasey has already seen an amazing jump in strength numbers as 36 players can bench press 225 pounds at lest 20 times while seven more can bench 225 pounds at least 30 times.
Last season only 11 players could do 225 pounds at least 20 times and there weren't any that did it over 30 times.
There is a reason why that even with sub-par records, the Hurricanes produce NFL athletes, and that is because of Coach Swasey turning good athletes into amazing ones.
Keep Reading

Miami Hurricanes Football: Like this team?