Cleveland Browns' Complete 2012 NFL Preseason & Training Camp Guide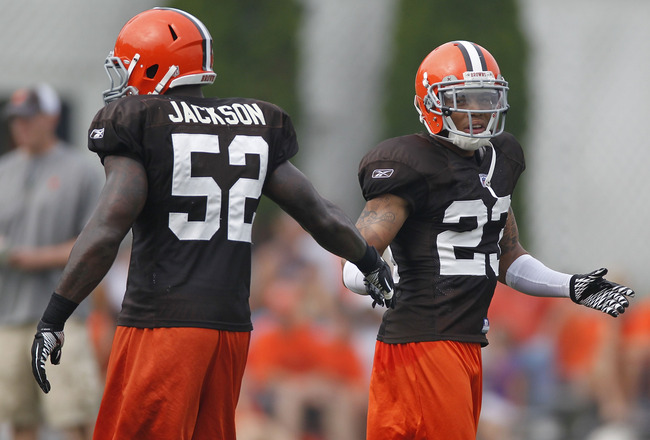 Gregory Shamus/Getty Images
Cleveland Browns training camp 2012 is set to kick-off at 8:45 a.m. on Saturday, July 28. Look no further, this guide contains everything you need, want and should be interested in knowing about camp.
Training camp is the fans' yearly chance to gossip, raise expectations and hope for a better season than the last. For the Cleveland Browns, a team who hasn't realized success since the 1980s, training camp means just a little bit more.
It's a time to watch the Cleveland Browns transform into who they will be in the upcoming season. The failures and shortcomings of a season ago are replaced with optimism and excitement.
It's a stretch of games whose outcomes are irrelevant and practices in which rookies will display their talents in hopes of procuring roster spots. Losing doesn't seem as bad, but winning tastes as great as ever.
Will Brandon Weeden blow away the incumbent signal caller Colt McCoy? Was Josh Gordon worth giving up a second-round selection in 2013? Who will end up making the team? Will there be any shocking cuts?
Biggest Question Marks
Jason Miller/Getty Images
The biggest question mark heading into the Cleveland Browns' training camp is whether Brandon Weeden will succeed. A quarterback is the most pivotal position on an NFL roster. Success or failure lies heavily in the performance of that position more so than any of the others.
A team can succeed without an elite caliber quarterback. Recently, teams have won the Lombardi Trophy without an elite quarterback such as the Tampa Bay Buccaneers (Brad Johnson) and Baltimore Ravens (Trent Dilfer).
The Browns' selection of a strong-armed and gifted athlete such as Brandon Weeden does not signal their intent on riding Trent Richardson to the Super Bowl.
If the Browns wanted a game-managing signal caller they could have stuck to their guns and put Colt McCoy back under center in 2012. They didn't do that and here we are.
Brandon Weeden is the defining player of the Mike Holmgren era in Cleveland. Either he will put the struggling Browns offense on his back and propel their pass-happy West Coast offense to new heights or the Browns will find themselves stuck in the drudgery of yet another rebuilding cycle.
It took the Browns' rival Pittsburgh Steelers over 38 years to turn their misfortunes as a franchise around between 1933 and 1972. The coming of Terry Bradshaw and several other successful drafts of the early 70s helped build a dynasty that dominated that decade.
Have the Browns done something similar? Is Weeden the Bradshaw to save a Browns franchise that has only graced the playoffs once since the team's expansion season in 1999?
He better be.
Will Josh Gordon contribute right away?
Is Josh Gordon going to step onto the NFL field and be able to contribute right away after missing the 2011 season? That hasn't stopped Gordon's new teammate Greg Little. Little led the Browns in receptions a year after missing an entire season for violations at the University of North Carolina.
Baylor's head coach Artie Briles, according to Mary Kay Cabot of the Cleveland Plain Dealer, seems to believe Gordon is ready to start immediately.
"There's not many people in football today with his strength and speed," said Briles. "The Browns did a great job of finding a diamond in the rough, and they're going to be extremely proud they got Josh Gordon."
Coming from a coach who dismissed Gordon from the team after a marijuana violation, there just may be something other than hype behind his comments. While Gordon did sit out a season because of NCAA transfer rules, he was still able to practice every week with Utah while sitting out the 2011 college football season.
Browns GM Tom Heckert shares that mindset. During a conference call to Cleveland media after the supplemental draft last Thursday, Heckert addressed the risk of taking Gordon and his expectations of him.
"I don't know if it's risky. That's where we thought he was as a player. He is a guy that can come in here and be an eventual starter for us and make plays for us. I think anytime you draft a guy there is always some risk involved, but we think we got a good football player and we were able to get him in the second round."
Will Brad Childress' involvement improve the offensive play-calling?
Brad Childress coached a Minnesota Vikings offense to great heights with Adrian Peterson in his backfield. His variation of the West Coast offense led to success when gunslinger and future Hall of Famer Brett Favre was inserted into the starting position.
Like Favre, Brandon Weeden has the arm it takes to fully stretch a defense and open up passing lanes underneath for dragging receivers and running backs in the flats.
Childress' experience with Pat Shurmur, Mike Holmgren and the entire offensive philosophy in Cleveland should alleviate some of the growing pains seen a season ago in an offense that ranked near the bottom of the league.
His mentorship of Shurmur should also help take some of the heavy burden that likely weighed down the embattled rookie coach a season ago.
With Childress' experience and the addition of some added firepower to the offense, there is no doubt that there will be some immediate improvements there this season.
How successful the offense is will depend on how much Childress can provide into the team's game-plan and how much Shurmur takes his recommendations into consideration.
After all, Shurmur will ultimately be the one still calling the plays on Sundays in 2012.
Is Mitchell Schwartz the missing link on the offensive line?
After watching the Cleveland Browns in 2011, one thing was painstakingly clear: Whoever was at quarterback was running for his life. Uncertainty and inconsistency at the right tackle position is a big cause of the problems upfront for the Browns.
The Browns defied popular draftnik opinion and selected Schwartz with the 37th pick of the draft. Other, supposedly more adept players were still available when they made the selection.
Will Schwartz's familiarity with center Alex Mack help his transition into the starting unit? A lot is riding on his ability to grasp the offense quickly and contribute from day one.
The play of guards Shawn Lauvao and Jason Pinkston was also questionable in 2011. Both players are young and will greatly benefit from the experience they gained last season.
However, an offensive line is a team within a team. It can only be as successful as all five players are able to be. If Schwartz can be the missing link on the right side, the rest of the unit may begin to perform as the well-tuned machine it looks like on paper.
Players on the Roster Bubble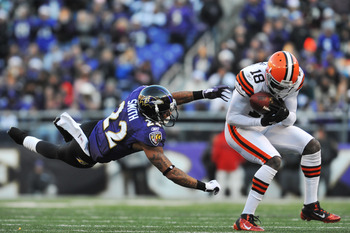 Larry French/Getty Images
For the first time in a long time, the Cleveland Browns may find themselves in a position where they have to remove talent from the roster due to a lack of space.
This is most evident at the wide receiver and running back positions.
Offense (In no specific order):
1. Carlton Mitchell: Mitchell has all of the physical characteristics and potential that you could ask for in a sixth-round draft pick. His size and speed is ideal for a flanker that can stretch the field and open up a defense.
However, he has been unable to see the field for much of the past two seasons. Unfortunately, the Browns seem ready to part ways with the promising youngster in the wake of drafting both Travis Benjamin and Josh Gordon this past offseason.
2. Thaddeus Lewis: Lewis is the little-known emergency quarterback who looks to be the odd man out in Cleveland. If the team chooses to move Colt McCoy or Seneca Wallace before the beginning of the season, he could find himself filling the third-string role that he filled a season ago.
3. Owen Marecic: After being considered a questionable fourth-round selection in 2011, Marecic did not live up to the heavy expectations for him to excel in the wake of Lawrence Vickers' departure. Instead of being the bruising, receiving threat out of the backfield that would excel in the West Coast Offense, he suffered several concussions and looked inept in any role he was put into.
4. Brad Smelley: Smelley may not be the answer to replace Marecic and he may not even have been drafted for that reason. Smelley's utility is certainly very helpful for an offense that could deploy him at several positions along their offensive front.
Unfortunately for Smelley, there is some pretty stiff competition. The Browns seem pretty intent on keeping their tight end unit of Benjamin Watson, Evan Moore, Alex Smith and Jordan Cameron intact for at least another season.
In order to make the team, he is going to have stand out significantly during training camp and contribute on special teams initially.
5. Josh Cooper: Josh Cooper's familiarity with Brandon Weeden is the reason he was brought into training camp. He was, though, severely overlooked by playing under standout teammate Justin Blackmon.
Originally, Cooper was believed to have a strong chance at making the Browns' 53-man roster. However, after the drafting of Josh Gordon last week, that belief may not have much viability.
Cooper plays the slot, a position that Jordan Norwood and Travis Benjamin are also competing for. Cooper may find himself as the odd-man out when cuts come, but he will hopefully help Weeden's transition and earn himself a practice-squad position for development and future utility.
6. Chris Ogbonnaya: Ogbonnaya was snatched up off of the Houston Texans practice squad where he was sent after failing to crack the roster. The Texans, after all, had two rushers who both broke the 100-yard mark against the Browns a season ago.
In similar fashion, he may miss out on another roster because the stable seems to have filled up this offseason. If Montario Hardesty and Brandon Jackson make it through preseason and training camp healthy, he will likely find himself looking for work this season.
Defense (In no specific order):
1. James Dockery: Dockery has not seen much of the field as of yet. Trevin Wade, this year's drafted cornerback, is going to be pushing Dockery for the final defensive-back roster spot. Wade's size and potential may be too much for him to overcome.
2. Ray Ventrone: Ventrone's utility as a special-teams player will continue to wear out eventually. He has not shown anything on the field that displays an ability to effectively fill in or be a rotational player in the secondary. Undrafted free agents Johnson Bademosi and Tashaun Gipson have tremendous upside and may unseat the veteran safety.
3. Ben Jacobs: The Browns picked up two linebackers in this year's NFL draft. Emmanuel Acho and James Michael-Johnson were chosen to provide quality depth improvements to the Browns' defense and special teams. Unfortunately, this means upgrading from Jacobs and other depth plays in the defensive backfield.
4. Quinton Spears: Like Jacobs, rookies Acho and Michael-Johnson will be stiff competition and likely fill in the roster spots held by these two.
5. Trevin Wade: Wade was projected to be a mid-round pick but fell all the way to the seventh round. He has potential and has the right size and skills to make an impact on an already improved Browns secondary.
His immediate impact will be limited pending making the roster and the health of Sheldon Brown, Joe Haden, Buster Skrine and Dimitri Patterson.
Players to Watch in Preseason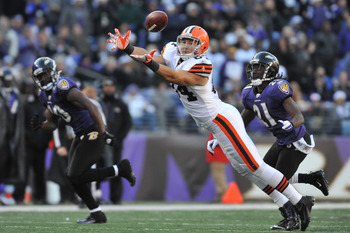 Larry French/Getty Images
There are a number of players worth watching during the Cleveland Browns' training camp this year. Most are new additions to the Orange and Brown, but some are youngsters that are on the verge of having a breakout season in 2012.
Jordan Cameron
Cameron saw little playing time in his rookie season because of the development process. His raw skills will have had a full season and offseason to progress. Everything coming out of training camp about him has been positive and encouraging.
He has the "WOW" factor you look for in a pass-catching tight end. If he can light it up in camp, he may earn the trust of the coaching staff and become an integral part of the Browns' passing attack sooner rather than later.
Greg Little
After missing a year of football due to a suspension, Little was not expected to be a polished a ready No. 1 wide receiver for the Browns a season ago. After watching his play, some people might have forgotten that sentiment.
Little dropped an inexcusable amount of passes in what was hopefully a season of readjustment and learning for the wide-out. Look to see if there has been any real improvement from Little during this offseason or if we can come to expect similar performances from Little this season.
Trent Richardson
Richardson has a rare all-around skill-set that will help him tremendously at the NFL level. His low center of gravity, powerful base and vision will provide for much entertainment early and often in the preseason.
The ways in which the Browns front office utilize him will be one of the biggest things to watch during this training camp.
His multi-dimensional attack ability will make him an explosive and unpredictable threat out of the backfield that will provide some much needed excitement to a stale offense from a season ago.
Travis Benjamin
Benjamin's flat-line speed is flat-out AMAZING. If he can succeed right away at his size, there may be A LOT to watch with him in training camp.
Special teams may also be an area in which Benjamin will excel, much like DeSean Jackson of the Philadelphia Eagles (a player Benjamin compares to both physically and on paper).
James Michael-Johnson
JMJ's size and speed will be a welcome sight during training camp. The Browns' linebacker corps has been abused and exploited over the top by opposing offenses. It isn't just in run defense, either.
The thing that concerns me, and should concern everyone else, is that one of JMJ's biggest criticisms is his pass defense and ability to stay with coverage. Watch this closely throughout camp and see how valid those concerns truly are.
Brandon Weeden
This is a no-brainer. Weeden is the glue that will hold this team together or allow it to fail miserably as in recent seasons. He is 28, soon to be 29 years old and must step in immediately with the ability to command the huddle and produce successful drives on offense.
Watch for fireworks as he attempts to connect with the newly added weapons of the Browns' new-look offense. His strong arm and tight spiral will be a welcome sight by fans and players alike during this camp.
Frostee Rucker
Rucker was brought in under the assumption that he would be a dramatic upgrade on the defensive line. Playing across from the Browns' dynamic pass rushing second-year man Jabaal Sheard, Rucker will need to anchor the outside and contain the edges in order to restrict opposing rushing attacks that gouged the Browns' defense in 2011.
Josh Gordon
Josh Gordon is the biggest question mark heading into training camp. However, he may be the biggest surprise. While sitting out this past college football season, Gordon still practiced each week at Utah.
He has the size, speed and ability to be an elite receiver at the NFL level. The question isn't if, it's when. Watch him closely and get a good idea of how soon and how much he will be able to contribute this season.
Mitchell Schwartz + Offensive line
Mitchell Schwartz is a physically imposing mauler of an offensive lineman. His ability to control and manhandle competition may not translate as well at the NFL level, but he is certainly capable of being an effective starter.
The addition of Schwartz has solidified an offensive line that is on the verge breaking out as one of the top units in the league.
Eric Hagg
The safety position is a big question mark heading into training camp. Second-year defensive back Eric Hagg looks to be the favorite to start opposite of T.J. Ward in the defensive backfield.
Hagg is young but experienced and could take a huge leap in his sophomore season. He will definitely benefit from Ward staying healthy this season and an improved pass rush that should take some of the pressure off the secondary.
However, Hagg struggled at times with tackling and made rookie mistakes resulting in lapses of coverage. Look to see if his improvements and development are as advertised by Cleveland media and the coaching staff.
Best Depth-Chart Battles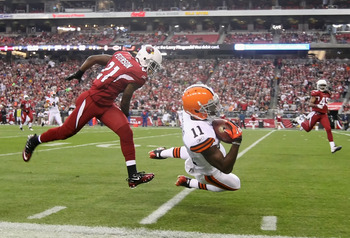 Christian Petersen/Getty Images
There are several training camp depth-chart battles that will define the Cleveland Browns in 2012.
Brandon Weeden vs. Colt McCoy
The Cleveland Browns have not yet named Brandon Weeden the starting quarterback. However, all signs point to the rookie taking the reins of the Browns' offense before opening day. Physically, the edge belongs to Weeden.
While there may not be much of a true competition still ongoing, do not completely count out McCoy's competitive drive. Whether he will be the Browns starting quarterback is not his only motivation.
If it is, in fact, Weeden who wins, McCoy will be auditioning each week for other teams in search for answers at the quarterback position.
This is sure to bring out the best in McCoy, especially with the added bonus of the offensive offseason additions Tom Heckert has added to the roster.
Sheldon Brown vs. Dimitri Patterson
Patterson was recently signed to a three-year contract worth a potential $18 million. The Browns value him and are clearly beginning to think and plan for the end of Sheldon Brown's utility as a starting cornerback.
However, Patterson performed best when covering targets from the slot. Is he ready to challenge the veteran for starting playing time across from Joe Haden?
Whatever the case may be, both Patterson and Brown will likely see the field a lot in 2012. If Patterson can continue to develop and bring his game to the next level during training camp, he may have a shot at unseating the aging Brown.
Josh Gordon vs. Mohamed Massaquoi
The Cleveland Browns took a huge risk by selecting Josh Gordon in the Supplemental Draft on July 12. Gordon, though, has promised to repay the Browns for taking the chance on him.
He looks the part. If his physical attributes can translate into success early on, he will make a strong push to replace third-year veteran Mohamed Massaquoi.
Massaquoi has never developed into the primary receiving threat the Browns hoped when they drafted him in tandem with Brian Robiskie in the second round of the 2009 NFL draft.
If Gordon is unable to beat out Massaquoi, it may raise questions about the decision to give up a second-round pick for a player who sat out the entire 2011 college football season.
However, Gordon will have the guidance of fellow wide-out Greg Little. Little also missed his final college season before being selected by the Browns in the second round of the 2010 NFL draft.
Brandon Jackson vs. Montario Hardesty
Montario Hardesty was a risky pick when the Browns moved up to take him at the end of the second round of the draft two seasons ago. Meanwhile, the Browns brought in Brandon Jackson last season for depth.
Unfortunately, Jackson suffered a season-ending toe injury during preseason and has become a forgotten commodity in the Browns backfield.
Jackson carried the load of the Green Bay Packers backfield during their Super Bowl-winning season two years ago. He has the ability to be a consistent and reliable rusher who can also provide a capable target out of the backfield on swing passes and flares.
The No. 2 running back figures to be the only other running back involved in the offense with Trent Richardson expected to carry a majority of the load.
Travis Benjamin vs. Jordan Norwood vs. Josh Cooper
Browns' rookie Travis Benjamin can flat-out fly on the football field. His size and speed best translates to a slot receiver at the NFL level.
Currently, the Browns have utilized Jordan Norwood in that position. Norwood's numbers may not have been that impressive, but he showed he has what it takes to play the position effectively.
Enter Josh Cooper. Cooper has the benefit of playing with Brandon Weeden in college and rooming with him as he attempts to crack the Browns' roster. Cooper plays similarly to Norwood but plays with more size and strength.
There isn't room for all three of these receivers on the Browns' roster. GM Tom Heckert is going to have to make a tough decision before camp and preseason have concluded.
Billy Winn vs. John Hughes vs. Scott Paxson
Defensive tackle Phil Taylor's injury has opened up a battle for the starting defensive tackle spot next to Ahytba Rubin. Scott Paxson has been slotted in with the first-team defense during organized team activities.
Paxson, though, shouldn't take comfort in that. He's likely there because of his NFL experience. Once the team puts on pads at training camp he is going to have Billy Winn and John Hughes champing at the bit behind him for the opportunity to become a starter.
The selection of Hughes, if you remember, was huge shock pick in the third round of April's NFL draft. Hopefully he will use the chip on his shoulder to impress and make an impact early to warrant his third-round selection.
Billy Winn best projects to play the position vacated by Taylor's injury. He's a block absorber but also a gap shooter than can get into the backfield and disrupt plays before they can develop.
His ability to play as a tandem with space-eater Rubin would provide the Browns with a formidable duo in the middle of their front seven.
Training Camp and Preseason Schedule 2012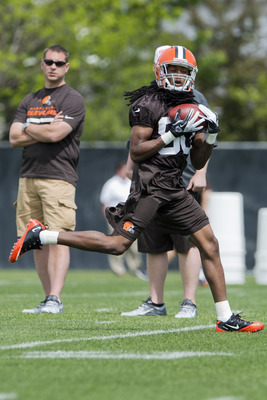 Jason Miller/Getty Images
Here is the full Cleveland Browns training camp and preseason schedule.
| | | |
| --- | --- | --- |
| Date | Attire | Time |
| Sat., July 28 | Helmets | 8:45 – 11:15 a.m. |
| Sun., July 29 | Full Pads | 8:45 – 11:15 a.m. |
| Mon., July 30 | Full Pads | 8:45 – 11:15 a.m. |
| Wed., Aug. 1 | Full Pads | 2:00 – 4:30 p.m |
| Thur., Aug. 2 | Full Pads | 8:45 – 11:15 a.m. |
| Fri., Aug. 3 | Full Pads | 8:45 – 11:15 a.m. |
| Sat., Aug. 4 | Full Pads | 8:45 – 11:15 a.m. |
| Mon., Aug. 6 | Full Pads | 2:00 – 4:30 p.m. |
| Tues., Aug. 7 | Full Pads | 8:45 – 11:15 a.m. |
| Wed., Aug. 8 | Family Night at Cleveland Browns Stadium | 7:00 – 8:30 p.m. |
| Fri., Aug. 10 | BROWNS AT DETROIT LIONS | 7:30 p.m. |
| Sun., Aug. 12 | Full Pads | 2:00 – 4:30 p.m. |
| Mon., Aug. 13 | Full Pads | 8:45 – 11:15 a.m. |
| Tues., Aug. 14 | Shells | 8:45 – 11:15 a.m. |
| Thurs., Aug. 16 | BROWNS AT GREEN BAY PACKERS | 8:00 p.m. (ET) |
| Sun., Aug. 19 | Full Pads | 2:00 – 4:30 p.m. |
| Tue., Aug. 21 | Full Pads | 8:45 – 11:15 a.m. |
| Wed., Aug. 22 | Shells | 8:45 – 11:15 a.m. |
| Fri., Aug. 24 | PHILADELPHIA EAGLES AT BROWNS | 7:30 p.m. (ET) |
| Thurs., Aug. 30 | CHICAGO BEARS AT BROWNS | 7:30 p.m. (ET) |
Source: ClevelandBrowns.com
Training Camp 2012 Information and Logistics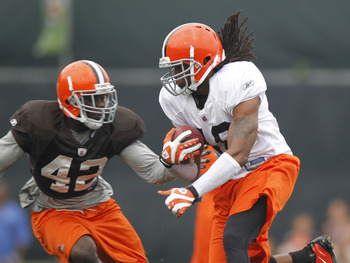 Gregory Shamus/Getty Images
Where: Cleveland Browns Training Facility, Berea, Ohio
When: July 28 - Aug. 22
History: The Cleveland Browns began using the 13-acre complex for training camp in 1992. It was built in 1991 and renovated in 1999.
Facilities: Meeting rooms, locker room, video room, 2,100 sq. ft. auditorium with 120 seats, 60,000 ft. indoor field house that includes a 70-yard field, 3,100 sq. ft. athletic training room, three regulation sized grass football fields and a restaurant-sized kitchen.
Media: The Dino Lucarelli Media Center includes a media workroom, two television/radio interview rooms, a kitchen and private locker space for media members.
Source: ClevelandBrowns.com
Training Camp Roster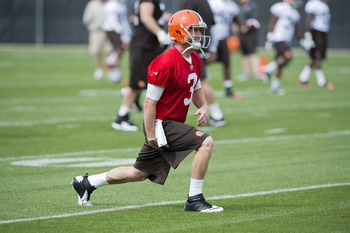 Jason Miller/Getty Images
Here is the 2012 Cleveland Browns roster as they head into training camp.
Quarterbacks:
| | | | |
| --- | --- | --- | --- |
| # | Name | Pos. | Exp. |
| 9 | Lewis, Thaddeus | QB | 1 |
| 12 | McCoy, Colt | QB | 2 |
| 6 | Wallace, Seneca | QB | 9 |
| 3 | Weeden, Brandon | QB | R |
Running backs:
| | | | |
| --- | --- | --- | --- |
| # | Name | Pos. | Exp. |
| 20 | Hardesty, Montario | RB | 2 |
| 29 | Jackson, Brandon | RB | 5 |
| 48 | Marecic, Owen | FB | 1 |
| 25 | Ogbonnaya, Chris | RB | 2 |
| 33 | Richardson, Trent | RB | R |
| 47 | Smelley, Brad | FB | R |
| 44 | Williams, Eddie | FB | 2 |
Wide receivers:
| | | | |
| --- | --- | --- | --- |
| # | Name | Pos. | Exp. |
| 80 | Benjamin, Travis | WR | R |
| 88 | Cooper, Josh | WR | R |
| 16 | Cribbs, Joshua | WR | 7 |
| 86 | Gordon, Josh | WR | R |
| 15 | Little, Greg | WR | 1 |
| 11 | Massaquoi, Mohamed | WR | 3 |
| 18 | Mitchell, Carlton | WR | 2 |
| 10 | Norwood, Jordan | WR | 3 |
| 83 | Reed, Bert | WR | R |
| 85 | Saffold, Jermaine | WR | R |
| 17 | Spencer, Owen | WR | 1 |
| 13 | Windsor, Rod | WR | 1 |
Tight ends:
| | | | |
| --- | --- | --- | --- |
| # | Name | Pos. | Exp. |
| 84 | Cameron, Jordan | TE | 1 |
| 87 | Gronkowski, Dan | TE | 3 |
| 89 | Moore, Evan | TE | 3 |
| 81 | Smith, Alex | TE | 7 |
| 82 | Watson, Benjamin | TE | 8 |
Offensive linemen:
| | | | |
| --- | --- | --- | --- |
| # | Name | Pos. | Exp. |
| 78 | Alford, Dominic | OL | 1 |
| 63 | Anderson, Jake | OL | R |
| 61 | Cleveland, Matt | OL | R |
| 75 | Cousins, Oniel | OL | 4 |
| 64 | Daniels, Stanley | OL | 2 |
| 53 | Gerhart, Garth | OL | R |
| 77 | Greco, John | OL | 4 |
| 66 | Lauvao, Shawn | OL | 2 |
| 55 | Mack, Alex | OL | 3 |
| 60 | Miller, Ryan | OL | R |
| 62 | Pinkston, Jason | OL | 1 |
| 72 | Schwartz, Mitchell | OL | R |
| 74 | Shaw, Jarrod | OL | 1 |
| 68 | Shugarts, Jeff | OL | R |
| 73 | Thomas, Joe | OL | 5 |
Defensive backs:
| | | | |
| --- | --- | --- | --- |
| # | Name | Pos. | Exp. |
| 37 | Bademosi, Johnson | DB | R |
| 24 | Brown, Sheldon | DB | 10 |
| 38 | Davis, Emanuel | DB | R |
| 31 | Dockery, James | DB | 1 |
| 39 | Gipson, Tashaun | DB | R |
| 23 | Haden, Joe | DB | 2 |
| 27 | Hagg, Eric | DB | 1 |
| 21 | Patterson, Dimitri | DB | 5 |
| 34 | Reed, Antwuan | DB | R |
| 36 | Sims, David | DB | 1 |
| 22 | Skrine, Buster | DB | 1 |
| 41 | Ventrone, Ray | DB | 6 |
| 26 | Wade, Trevin | CB | R |
| 43 | Ward, T. J. | DB | 2 |
| 28 | Young, Usama | DB | 5 |
Defensive linemen:
| | | | |
| --- | --- | --- | --- |
| # | Name | Pos. | Exp. |
| 58 | Benard, Marcus | DL | 3 |
| 94 | English, Auston | DL | 1 |
| 49 | Green, William | DL | R |
| 93 | Hughes, John | DT | R |
| 95 | Parker, Juqua | DE | 11 |
| 69 | Paxson, Scott | DL | 2 |
| 71 | Rubin, Ahtyba | DL | 4 |
| 92 | Rucker, Frostee | DE | 6 |
| 70 | Sanford, Brian | DL | 2 |
| 91 | Schaefering, Brian | DL | 2 |
| 97 | Sheard, Jabaal | DL | 1 |
| 96 | Stephens, Emmanuel | DL | 1 |
| 98 | Taylor, Phillip | DL | 1 |
| 67 | Tripp, Kiante | DT | 1 |
| 79 | Winn, Billy | DL | R |
Linebackers:
| | | | |
| --- | --- | --- | --- |
| # | Name | Pos. | Exp. |
| 59 | Acho, Emmanuel | LB | R |
| | Dickson, JoJo | LB | 1 |
| 40 | Fort, L.J. | LB | R |
| 99 | Fujita, Scott | LB | 10 |
| 51 | Gocong, Chris | LB | 6 |
| 52 | Jackson, D'Qwell | LB | 6 |
| 54 | Jacobs, Benjamin | LB | 1 |
| 50 | Johnson, James-Michael | LB | R |
| 56 | Maiava, Kaluka | LB | 3 |
| 47 | Robertson, Craig | LB | 1 |
| 90 | Spears, Quinton | LB | 1 |
Special Teams:
| | | | |
| --- | --- | --- | --- |
| # | Name | Pos. | Exp. |
| 4 | Dawson, Phil | K | 13 |
| 2 | Hodges, Reggie | P | 5 |
| 5 | Lanning, Spencer | P | 1 |
| 7 | Wolfert, Jeff | K | 1 |
| 57 | Yount, Christian | LS | 1 |
2012 Rookie Class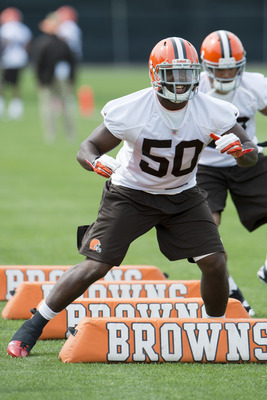 Jason Miller/Getty Images
Trent Richardson, RB, Alabama (Rd. 1, Pick No. 3)
Pick Synopsis: Trent Richardson will immediately impact the Cleveland Browns' offensive success. His selection fills a void left by the troubled and departed Peyton Hillis. The multi-dimensional threat that he brings to the table as both a rusher and a pass catcher will be integral to the success of Cleveland's West Coast offense.
Whether or not the Browns had to give up picks in order to select him, they made the right decision by doing what they felt was necessary to ensure they landed Richardson. After missing out on Robert Griffin III, the Browns could not afford to miss on the best running back prospect since Adrian Peterson.
Projection: Richardson will be the primary ball-carrier for the Browns in 2012. He will likely receive anywhere between 75 to 80 percent of the carries.
Brandon Weeden, QB, Oklahoma St. (Rd. 1, Pick No. 22)
Pick Synopsis: Brandon Weeden has a good combination of arm strength, maturity and football I.Q. that it will take to succeed at the NFL level. His success at Oklahoma State has been attributed to the offensive system in which he played and the mediocrity of the defensive competition in the Big-12 Conference.
Clearly, the Browns saw Weeden's performance and intangibles on their face and not as something inflated due to other circumstances. As a rookie, Weeden will have a large task in front of him if he is going to turn one of the worst offenses in the NFL into a winning franchise.
Projection: While Weeden and Colt McCoy are currently in the middle of a quarterback "competition" it appears very like Weeden will earn the starting nod to begin the season. Weeden, who turns 29 years old in 2012, was not drafted in the first round to sit behind Colt McCoy.
Mitchell Schwartz, OT, California (Rd. 2, Pick No. 37)
Pick Synopsis: The Cleveland Browns needed to bolster an offensive line that was inconsistent at best a season ago. Mitchell Schwartz has the size and ability to come in and immediately help them seal up the weak right side that caused most of their problems.
His transition could be easier than expected if the Browns' offensive overhaul works out as planned. All in all, Schwartz will be a vital cog to a group of rookies who will be expected to improve the Browns' awful offense.
Projection: The Browns desperately needed to address the right tackle position in this draft. By taking Mitchell Schwartz atop the second round, they did just that. More than likely, barring an injury or a complete inability to adjust to the NFL game, he will be the Week 1 starter for the Browns at right tackle.
Josh Gordon, WR, Utah (Supplemental draft, Rd. 2)
Pick Synopsis: The Browns selected Josh Gordon with a second-round pick during the NFL Supplemental Draft on July 12. GM Tom Heckert obviously liked what he saw in Gordon and believes that he can come into Cleveland and be a No. 1 receiver. Still, the risk of the pick has been a strong point of criticism.
Risk versus reward, though, favors the Cleveland Browns. If Gordon pans out as expected, the Browns will have secured a starting running back, quarterback, wide receiver and right tackle from the first two rounds of the 2012 offseason.
Years from now this will be remembered as one of the best and gutsiest picks from a regime that hasn't gotten its fair share of credit due to growing pains on the field.
Projection: Gordon's immediate impact will be determined by the rate at which he is able to learn the terminology of the Browns' West Coast offense. He didn't play last season at Utah but did practice with the team throughout the season and stayed in "football shape" while unable to play.
Expect him to quickly surpass the competition and earn a starting flanker position sooner rather than later.
John Hughes, DT, Cincinnati (Rd. 3, Pick No. 87)
Pick Synopsis: When the Browns selected John Hughes in the third round, it sent many draft analysts scurrying through their notes and projections to find Hughes. Nearly everyone seemed thrown off by the pick. Clearly, the Browns saw something in him that others didn't.
Hughes is a space-eater that will help the Browns front seven clog up the running lanes of opposing offenses. Additionally, he has the strength and ability to also create penetration in passing situations. The speed of his development will be key to the future success of this Browns' defense.
Projection: An injury to starting defensive tackle Phil Taylor has opened a window of possibility for Hughes and other young linemen. Hughes' strong gap-stuffing abilities may project him to better fill in behind Ahtyba Rubin instead of filling in for the injured Taylor.
Regardless of the capacity of his involvement, Hughes is going to get his chance and see the field often this season. He will be an integral rotational player for the Browns for years to come.
Travis Benjamin, WR, Miami (FL) (Rd. 4, Pick No. 100)
Pick Synopsis: The Cleveland Browns went into yet another draft with the wide-receiver position as a perceived weakness. Their selection of Travis Benjamin makes sense in so many ways. For one thing, he adds a dynamic and speedy threat that the Browns have been missing for so long.
His ability to contribute on special teams shouldn't go overlooked, either. With Josh Cribbs approaching the end of his contract, the Browns will have a decision to make on whether to retain Cribbs on the roster.
Benjamin's size shouldn't be a huge concern. Philadelphia Eagles' wide receiver DeSean Jackson is similarly built and has excelled in the NFL because of his elite speed and ability to beat press coverage. Benjamin will need to overcome those tough coverages if he is to succeed as Jackson has.
Projection: Benjamin's rookie season is going to be a learning experience for him and the coaching staff. His ability to pick up the terminology of the West Coast offense and hold onto the football will determine how much he sees the field early on.
The Browns' wide receivers have been horrid, so it should not shock you if Benjamin's speed alone gives him more snaps than veterans Josh Cribbs, Jordan Norwood and Mohamed Massaqoui.
James Michael-Johnson, LB, Nevada (Rd. 4, Pick No. 118)
Pick Synopsis: James Michael-Johnson is a quick, instinctive and strong linebacker, a position of great need for the Cleveland Browns. Most importantly, he is a sound tackler.
The Browns have been plagued by fundamental lapses too often in recent years, and JMJ's technique and ability to shed blocks will greatly help the defense improve from the struggles of a season ago.
Projection: Michael-Johnson could find himself starting at the weak side linebacker position with a strong training camp and preseason performance. The absence of Scott Fujita has left the position open and it is JMJ's for the taking.
Ryan Miller, OG, Colorado (Rd. 5, Pick No. 160)
Pick Synopsis: At this point in the draft the Browns transitioned their strategy to add depth at positions of need rather than try to address starting position woes.
Miller is a strong and imposing 6'7". For a guard, that isn't an ideal size due to the leverage needed to excel at the position is best obtained from a lower base. A lower base is much harder to establish in a three-point stance when starting from as high up as Miller will be.
Projection: Miller is really a hit-or-miss pick and worth the risk with a fifth-round selection. On the positive side, he could make the roster and contribute mostly on special teams. However, on the flip side, he may take time to develop and could start the season on the practice squad.
Emmanuel Acho, LB, Texas (Rd. 6, Pick No. 204)
Pick Synopsis: Acho was projected to be a mid-round pick and likely fell due to size concerns. Besides that, he looks the part of a successful linebacker. He was a team captain for the Texas Longhorns and was constantly making plays.
His long arms and strength gave him the upper hand in college but he will have to rely less on those attributes and more on improving his technique and reads if he is going to succeed at the more competitive NFL level.
Projection: With the weak side linebacker position seemingly up for grabs, Acho has a chance to impress and earn some early playing time. If he needs time to develop, and he likely will, he will find himself catching on with the special-teams coverage units until he has a season of NFL conditioning and practice under his belt.
Billy Winn, DT, Boise State (Rd. 6, Pick No. 205)
Pick Synopsis: Winn was projected as a second- to third-round pick by some scouting agencies. Concerns about his work ethic may have led to his slide to the end of the sixth round. Winn, though, was a monster on the inside when at his best. His ability to penetrate and disrupt an offense will be a great asset for the Browns front seven.
Projection: Winn's motivation and work-ethic issues should be cleared up by his desire to catch on with an NFL team. A long-term contract is what every rookie drafted this late should be motivation enough.
Best-case scenario is Winn will explode during training camp and earn the starting tackle position next to Ahtyba Rubin.
Trevin Wade, CB, Arizona (Rd. 7, Pick No. 245)
Pick Synopsis: Trevin Wade's size and ability project him to be an outside cornerback rather than a nickel- or dime-package coverage man.
With Sheldon Brown entering his 11th NFL season, this pick may have been made with the future in mind. After re-signing Dimitri Patterson to a three-year deal, the Browns have a pretty solid crop of cornerbacks for this season.
Projection: The Browns have brought in a lot of competition at the cornerback position. If Wade can play to his earlier projections and outperform incumbent James Dockery, he may be the favorite to round off the Browns' defensive backfield. However, it is more likely he will begin his NFL career on the Browns' practice squad.
Brad Smelley, FB/TE, Alabama (Rd. 7, Pick No. 247)
Pick Synopsis: Brad Smelley was an integral facet of the Alabama Crimson Tide's offense. His versatility in being able to line up in the fullback, tight end or slot positions is an important part of the Cleveland Browns' West Coast offense. Alex Smith has played this role in their offense.
Trent Richardson vouched for his fullback when asked about picking him. Let's pretend this pick wasn't about cronyism and about his excellent receiving ability and versatility.
Projection: Smelley's utility may be enough for the Browns to part ways with Owen Marecic. Marecic struggled in his rookie season and didn't live up to his fourth-round draft selection.
The need for a pure blocking fullback in the Browns' offense is minimized by the amount of moving around and formation shifts that happen pre-play. This gives a clear advantage to Smelley if the personnel decision comes down to him and Marecic.
2012 Undrafted Free Agents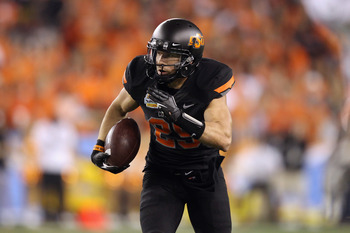 Christian Petersen/Getty Images
Josh Cooper, WR, Oklahoma State
Cooper looks to have a good shot at making the Browns' roster. His familiarity with Brandon Weeden and ability to catch a football will do him well when competing against a crop of wide receivers that has been less than underwhelming over the past few seasons.
At the same time, the Browns drafted Travis Benjamin in the fourth round and just selected Josh Gordon in the second round of the supplemental draft. If he is going to make the team, it will be because of his rapport with Weeden.
Johnson Bademosi, DB, Stanford
Bademosi lit up the stopwatches at the NFL Scouting Combine while posting a 4.35 40-yard dash time. His 6'1" frame makes him capable of playing both the safety and cornerback position at the pro level. This will be incredibly useful for the Browns because of this utility. The recently departed Mike Adams was versatile like that.
Tashaun Gipson, S, Wyoming
Gipson also has the advantage of versatility on his side. There is no wonder why the Browns brought in him as well as Bademosi. He doesn't have the physical gifts Bademosi has, but he was impressive at cornerback before switching to safety during his senior season. If he doesn't catch on with the 53-man roster, he may be kept for development on the practice squad.
J.B. Shugarts, OL, Ohio State
Shugarts anchored the opposite side of an offensive line that featured second-round pick Mike Adams at the other tackle position. The Buckeye line had its share of struggles in 2011 and some of that was due to struggles from Shugarts' inability to stay onsides.
Off-the-field distractions, Jim Tressel's resignation and suspensions of star players certainly didn't help matters. Shugarts will likely find himself without a job at the conclusion of training camp.
Adonis Thomas, RB, Toledo
Thomas can provide the Browns with electric speed and ball-carrier vision. He averaged 6.2 yards per carry his junior and senior seasons at Toledo. Those numbers were good enough for best in the Mid-American Conference.
Thomas was brought in for the Browns' rookie minicamp in May and made a big impression on the Browns staff. The Browns felt comfortable enough with Thomas that they let go practice-squad rusher Armond Smith in the process.
Jermaine Saffold, WR, Missouri State
Saffold has the size and speed that make NFL personnel directors get excited. However, he is very raw and is a long-shot to make the Browns' roster. If he can develop on the practice squad there may be a spot for him in the NFL eventually due to his impressive physical attributes.
Bert Reed, WR, Florida State
Reed looks like a similar player to Travis Benjamin. He is a smaller-framed speedster who has utility on special teams. His production wasn't very impressive at Florida State, meaning he was likely brought in for his speed and potential. If he can hone his skills quickly, he may catch on with the practice squad but has some stiff competition.
L.J. Fort, LB, Northern Iowa
Fort led the Division I FCS with 184 tackles during the 2011 season (14.5 per game). He was named FCS National Defensive Player of the Year for his efforts last season. The Browns desperately need depth in their linebacker corps and Fort could shock people at camp.
He is a pure tackler and could impress with his hard-nosed fundamental approach to the game. I wouldn't be shocked to him in Orange and Brown someday.
Jake Anderson, OL, Akron
Anderson was a four year letterman as a Zip and did not miss a single game during his collegiate career. He played right tackle at Akron but was situated at left tackle during Browns' rookie minicamp.
He has the size and strength to make a real run at making the roster. He will need to be versatile and able to play both the guard and tackle positions if he is to catch on with the Browns' 53-man roster.
Mike Allen, CB, James Madison
Another defensive back that is vying for one possible roster spot that is available. Allen, a converted wide receiver, has impressive drill numbers in comparison to his competition. However, he is said to have small arms and needs to get stronger to play effectively in his 6-foot frame.
Emanuel Davis, CB, East Carolina
The Browns secondary is beginning to get crowded with competent players. His nine pass deflections and two interceptions in 2011 earned him Second Team All-Conference USA honors. Also, his character and injury concerns likely pushed him out of the draft.
The best-case scenario for Davis is that he lands on the practice squad for development. However, the competition for that will be stiff.
Matt Cleveland, OL, Idaho
Cleveland is another experienced collegiate lineman competing for a depth spot on the Browns' 53-man roster. He missed the 2008 season with an injury but started every game at left tackle during the three seasons after that.
He's a long shot to make the active roster, but his pass-protection skills could be useful in order to help keep rookie QB Brandon Weeden upright.
Antwuan Reed, CB, Pittsburgh
Reed is an experienced starter but doesn't demonstrate very much that shows he can contribute to the improved Browns' secondary. His game-speed looks a little faster than his combine and pro day 40-yard dash times, but he looks too physically limited to succeed in the NFL.
William Green, DE, Florida
Green played for a big-time program in the SEC and started. That alone is worth a look for the Browns, who have had serious trouble along their defensive line, especially on the edges. While Green doesn't have elite athleticism, he isn't a slouch, either.
He plays at 250 pounds, the light weight that GM Tom Heckert prefers in his ends. Green could catch on with the practice squad because he is the only end of the bunch.
Garth Gerhart, OL, Arizona St.
Gerhart's brother Toby Gerhart will likely be the starting running back of the Minnesota Vikings on opening day. He has experience at all three of the interior line positions with center being his primary position. His versatility will make him an attractive option when slimming down the roster during training camp.
If he can impress and the Browns decide to carry an extra lineman for depth, he has a chance of making the roster. However, he has a good chance of finding himself on the practice squad.
2012 Free Agency and Trade Additions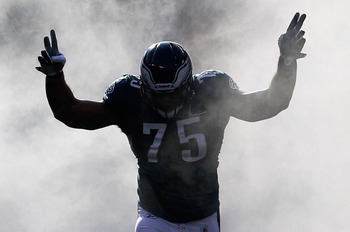 Rob Carr/Getty Images
The Cleveland Browns have once again refrained from diving into the free agency market in 2012. Instead, they resisted and stuck to their plan of building through the draft.
However, they did not completely refrain from looking to the free-agency pool for additions to bolster a very important position of need: Defensive end.
Free agency signings:
1. Juqua Parker, DE

Contract: One-year, $3 million
Analysis: Parker will bring a veteran presence to a defensive line that is filled with youth. He is aging and is a stop-gap for this season until a long-term solution can be found opposite of Jabaal Sheard. If Frostee Rucker, the team's other free agency signing, performs as expected, Parker will likely be used as a situational pass rusher and rotational player for the Browns in 2012.
2. Frostee Rucker, DE

Contract: Five-year, $21 million ($8 million guaranteed)
Analysis: Frostee Rucker started on a formidable Cincinnati Bengals front seven a season ago. Rucker may be just what the Browns' ailing rush defense needs in order to make significant improvements after a season of poor play against the run. He will likely start right away across from Jabaal Sheard as expected.
Re-signed free agents:
1. Dimitri Patterson, CB, Contract: three-year, $18 million ($6 million guaranteed)
2. Jordan Norwood, WR, RFA Tender: $456,000
3. Phil Dawson, K, Franchise Tag: $3.8 million
4. John Greco, OG, two-year, $1.4 million
5. Alex Smith, TE, one-year, $850,000
6. Brian Schaefering, DL, RFA Tender: $615,000
7. D'Qwell Jackson, LB, five-year, $42.5 million ($19 million guaranteed)
Reserve/Future contracts:
Jarrod Shaw, OL; Stanley Daniels, OL; Craig Robertson, LB; David Sims, DB; Dominic Alford, OL; Owen Spencer, WR; Jeff Wolfert, K
Offseason trades:
The only offseason trades the Browns conducted occurred during the NFL draft.
Game-by-Game Preseason Analysis and Predictions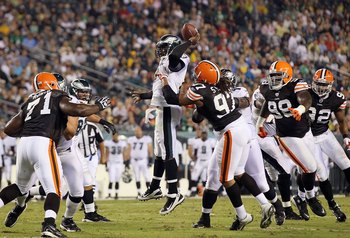 Jim McIsaac/Getty Images
Preseason Week 1 @ Detroit Lions
When: Fri., Aug. 10 @ 7:30 p.m. ET
Overview: This will be the first NFL test for Brandon Weeden. Unlike most other starting quarterbacks, Weeden may see an increased workload in order to help his transition and provide him some much-needed experience.
Key matchup: Brandon Weeden vs. Lions' pass rush. The biggest question mark about Weeden is his ability to react to the speed and pressure of an NFL pass rush. He will be tested early by the Lions' fierce rush.
Prediction: The Browns' starters increased playing time because of the amount of youth on the team will be the deciding factor. Browns win, 27-17.
Preseason Week 2 @ Green Bay Packers
When: Thurs., Aug. 16 @ 8 p.m. ET
Overview: The Green Bay Packers passing game led by Aaron Rodgers ate up the Cleveland Browns secondary during their preseason matchup a season ago. The Browns have not changed a lot in their secondary this offseason and will need to play better in limited action against Rodgers and the Packers' starting offense.
Key matchup: The highly esteemed Browns' secondary against Aaron Rodgers and the high flying Packers' aerial assault.
Prediction: There isn't a team more built for success than the Green Bay Packers. Their depth, offensive prowess and excellent coaching will lead them to a decisive preseason victory over the young Browns in front of their hometown fans. Packers win, 34-23.
Preseason Week 3 vs. Philadelphia Eagles
When: Fri., Aug. 24 @ 7:30 p.m. ET
Overview: This matchup is a teaser and exhibition before the opening weekend matchup between these two teams. The Eagles have had a few seasons without GM Tom Heckert. Heckert has built the Browns in the same fashion the Eagles were constructed and it will be interesting to see how they have progressed against how his former team has done so.
As is customary for the third preseason matchup, both teams will likely employ their starters for at least the first half.
Key matchup: Both rushing attacks against suspect opposing rush defenses. Trent Richardson and LeSean McCoy have the opportunity to have big games against rush defenses that struggled significantly against the run in 2011. Besides McCoy, the Browns will need to keep tabs on Michael Vick out of the backfield.
Prediction: This game will see both teams looking to preserve as much as possible of their game plans for their Week 1 matchup. Browns win, 14-9.
Preseason Week 4 vs. Chicago Bears
When: Thurs., Aug. 30 @ 7:30 ET
Overview: The final preseason matchup is more or less a toss up. Most starters who have solidified their positions will see minimal to no work in this contest. With that being the case, an entire game played by backups and roster hopefuls could go either way.
Key matchup: The most interesting matchup here will be the depth of the Browns against the depth of the Bears. Colt McCoy and Seneca Wallace have both started in the NFL and should be able to take advantage of their experience over the depth players being employed by the Bears.
Prediction: The Browns have surprisingly added some very solid depth to a roster that was recently void of it. Look for the involvement of McCoy and Wallace to guide the home-team Browns to an easy victory to wrap up the preseason and head into the 2012 NFL season with some momentum. Browns win big, 35-7.
Projecting the Final 53-Man Roster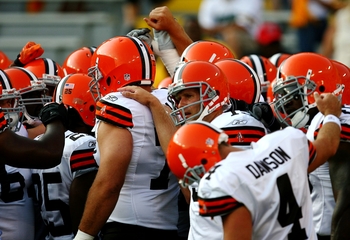 Jonathan Daniel/Getty Images
The Cleveland Browns will be forced to make some tough decisions when cutting down to 53 players during preseason. However, there are not many big surprises when it comes to who will stay and who will go.
Injuries, new signings and poor performances may alter a few of these projections before the Browns take the field against the Philadelphia Eagles.
Quarterbacks:
| | | | |
| --- | --- | --- | --- |
| # | Name | Pos. | Exp. |
| 12 | McCoy, Colt | QB | 2 |
| 6 | Wallace, Seneca | QB | 9 |
| 3 | Weeden, Brandon | QB | R |
Running backs:
| | | | |
| --- | --- | --- | --- |
| # | Name | Pos. | Exp. |
| 20 | Hardesty, Montario | RB | 2 |
| 29 | Jackson, Brandon | RB | 5 |
| 48 | Marecic, Owen | FB | 1 |
| 33 | Richardson, Trent | RB | R |
Wide receivers:
| | | | |
| --- | --- | --- | --- |
| # | Name | Pos. | Exp. |
| 80 | Benjamin, Travis | WR | R |
| 88 | Cooper, Josh | WR | R |
| 16 | Cribbs, Joshua | WR | 7 |
| 86 | Gordon, Josh | WR | R |
| 15 | Little, Greg | WR | 1 |
| 11 | Massaquoi, Mohamed | WR | 3 |
| 10 | Norwood, Jordan | WR | 3 |
Tight ends:
| | | | |
| --- | --- | --- | --- |
| # | Name | Pos. | Exp. |
| 84 | Cameron, Jordan | TE | 1 |
| 89 | Moore, Evan | TE | 3 |
| 81 | Smith, Alex | TE | 7 |
| 82 | Watson, Benjamin | TE | 8 |
Offensive linemen:
| | | | |
| --- | --- | --- | --- |
| # | Name | Pos. | Exp. |
| 75 | Cousins, Oniel | OL | 4 |
| 64 | Daniels, Stanley | OL | 2 |
| 77 | Greco, John | OL | 4 |
| 66 | Lauvao, Shawn | OL | 2 |
| 55 | Mack, Alex | OL | 3 |
| 60 | Miller, Ryan | OL | R |
| 62 | Pinkston, Jason | OL | 1 |
| 72 | Schwartz, Mitchell | OL | R |
| 73 | Thomas, Joe | OL | 5 |
Defensive backs:
| | | | |
| --- | --- | --- | --- |
| # | Name | Pos. | Exp. |
| 24 | Brown, Sheldon | DB | 10 |
| 23 | Haden, Joe | DB | 2 |
| 27 | Hagg, Eric | DB | 1 |
| 21 | Patterson, Dimitri | DB | 7 |
| 22 | Skrine, Buster | DB | 1 |
| 41 | Ventrone, Ray | DB | 6 |
| 26 | Wade, Trevin | CB | R |
| 43 | Ward, T. J. | DB | 2 |
| 28 | Young, Usama | DB | 5 |
Defensive linemen:
| | | | |
| --- | --- | --- | --- |
| # | Name | Pos. | Exp. |
| 58 | Benard, Marcus | DL | 3 |
| 93 | Hughes, John | DT | R |
| 95 | Parker, Juqua | DE | 11 |
| 69 | Paxson, Scott | DL | 2 |
| 71 | Rubin, Ahtyba | DL | 4 |
| 92 | Rucker, Frostee | DE | 6 |
| 91 | Schaefering, Brian | DL | 2 |
| 97 | Sheard, Jabaal | DL | 1 |
| 98 | Taylor, Phillip* (PUP) | DL | 1 |
| 79 | Winn, Billy | DL | R |
Linebackers:
| | | | |
| --- | --- | --- | --- |
| # | Name | Pos. | Exp. |
| 59 | Acho, Emmanuel | LB | R |
| 99 | Fujita, Scott | LB | 10 |
| 51 | Gocong, Chris | LB | 6 |
| 52 | Jackson, D'Qwell | LB | 6 |
| 50 | Johnson, James-Michael | LB | R |
| 56 | Maiava, Kaluka | LB | 3 |
Special Teams:
| | | | |
| --- | --- | --- | --- |
| # | Name | Pos. | Exp. |
| 4 | Dawson, Phil | K | 13 |
| 2 | Hodges, Reggie | P | 5 |
| 57 | Yount, Christian | LS | 1 |
Keep Reading

Cleveland Browns: Like this team?