London Olympics 2012 Basketball: The 11 Best Players Not on Team USA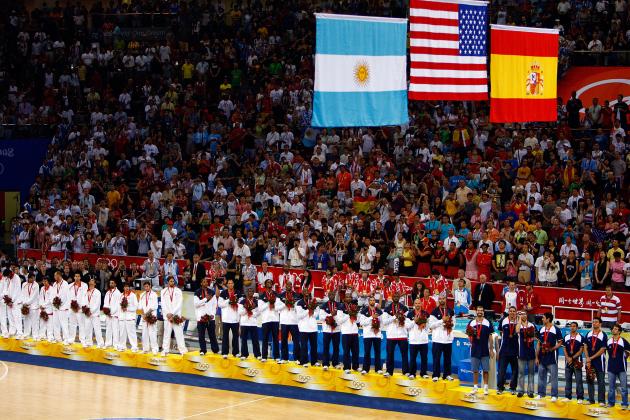 Jamie Squire/Getty Images
The Best Olympic Basketball Players not playing for the flag int he middle.
To honour the forthcoming 2012 London Olympics, it's time to recognise the highest-calibre players that will be competing for second place.
The United States is widely expected to win the gold medal, but that doesn't mean the other teams don't have some star power of their own. Here are the 11 best non-American players on Olympic rosters.
As usual, contribute to the dialogue at the end with your thoughts.
Begin Slideshow

»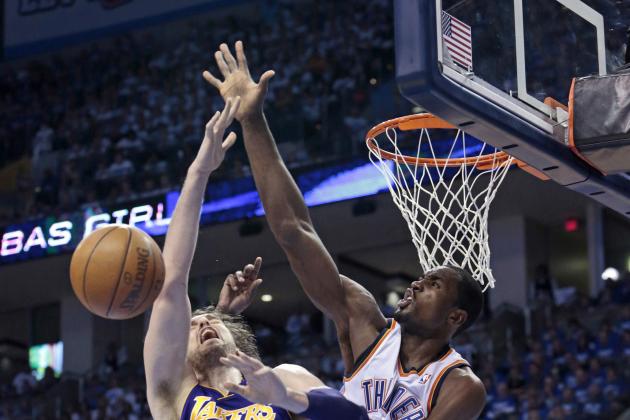 Brett Deering/Getty Images
Serge blocks Spanish teammate Pau Gasol in an NBA game.
Fresh off a run to the Finals, Serge Ibaka probably deserves to be higher on this list, but frankly if you don't start, you're lucky to even be on this list.
Expect Serge to play a lot of minutes when opponents are overmatched by Spain. Talking about you, Australia, China, Great Britain and Russia. Key factor for minutes will be if Ibaka can slide to power forward to spell Pau Gasol.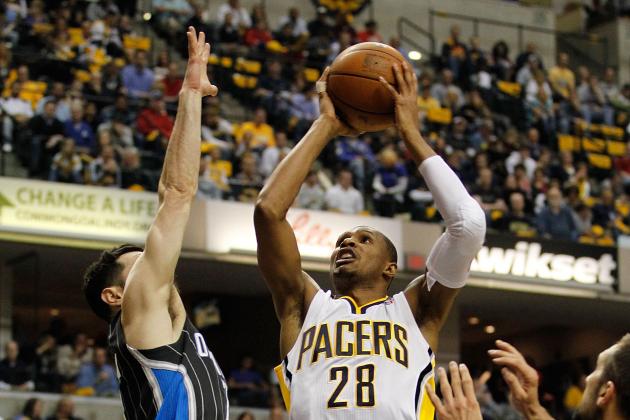 Gregory Shamus/Getty Images
Barbosa is a dynamic player that excells in perimeter shooting but can also attack the basket.
Barbosa is an integral part of Brazil's Big Three with Nene and Varejao and can help Brazil to the medal round with clutch shooting. Barbosa is one of the NBA's better perimeter shooters. If he is clutch, Brazil, an overlooked dark horse, may have some upsets in store.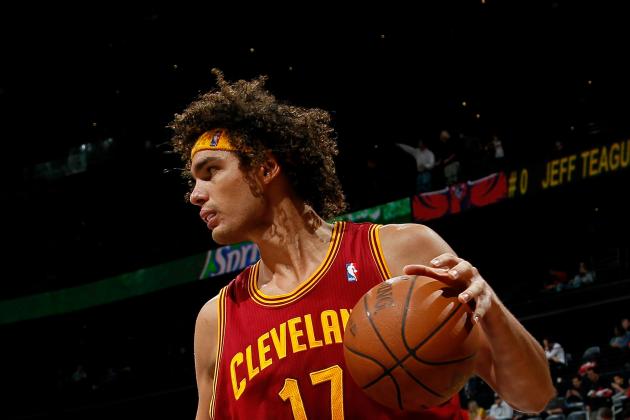 Kevin C. Cox/Getty Images
Varejao will need to do a little bit of everything for Brazil in London.
Pete Rose will forever be remembered as "Charlie Hustle," but Varejao's eight years in the NBA have given him a claim to the nickname "Carlos Hustle." Very few NBA players have ever busted their hump like Varejao.
Expect him to rack up double doubles, blocks and rebounds throughout the tourney. Watch for Varejao's tenacity at chasing down loose-ball rebounds. This can be vital for Brazil's hopes in elimination games.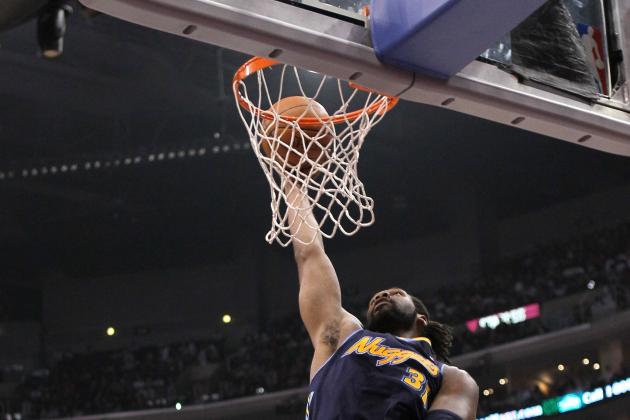 Stephen Dunn/Getty Images
Nene's efficiency at scoring barely lifts him ahead of his Brazilian teammates.
Aside from free throws, Nene is one of the most efficient scoring big men in the NBA. That's not going to change in the Olympics, with the exception of a future matchup against Marc Gasol.
With Nene on the Wizards, this will be the last opportunity for basketball fans to watch Nene in meaningful matchups for some time.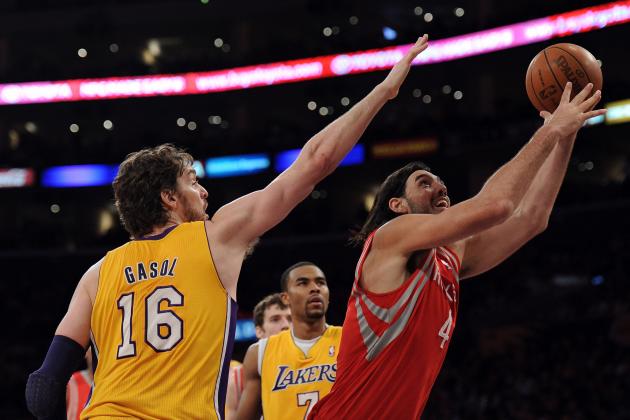 Harry How/Getty Images
Scola. a staple of Argentinian teams the last decade, will look to win his third Olympic Medal.
Scola, a gold-medal winner in Athens, will be part of a strong Argentinean team looking to stage another Olympic upset. Argentina won't win it all, but Scola can lead Argentina in scoring and a good shot at a medal with a win over France in Group A play.
Scola will score 20-plus a few times and have an opportunity to land a new job after getting amnestied by the Rockets.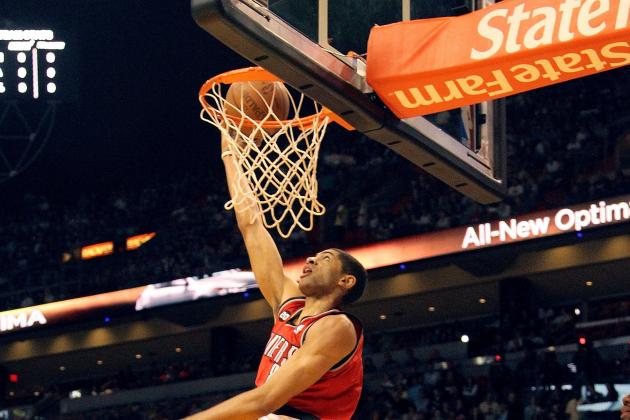 Mike Ehrmann/Getty Images
Look for big things from Batum in London.
Seeing Batum this high on the list will make basketball fans that don't stay up for West Coast games scratch their head, but Batum will be one of the breakout players this tournament. A SG can never replace the inside presence France will lack without Joakim Noah, but Batum's play on both sides of the ball will significantly improve France's medal chances.
The closer three-point line in international play will demonstrate that Batum's .391 field-goal percentage from beyond the arc this season was no aberration. He'll rack up threes, and his length will allow him to play impressive defence, thanks to the more condensed play of the international game.
Expect Batum to have one-plus numbers in the block and steal departments.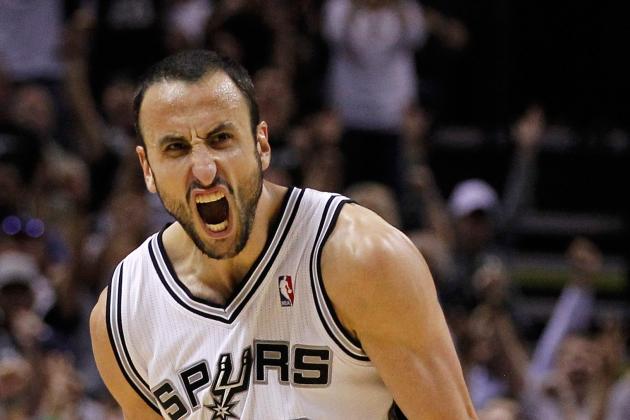 Tom Pennington/Getty Images
Make sure to watch some Argentina games, because this may be Manu's last international tournament.
Even though Ginobili, a onetime NBA Sixth Man of the Year, will be a day past 35 when Olympic basketball starts, he is still one of the best shooters in the world and can excel in this Olympic tournament.
Ginobili is one of the few non-American players competing who has a gold medal. He won a bronze in 2008, and if he can lead an upset over Spain, he will get a silver to complete the trifecta. Beating Spain would be a gargantuan task, and if Argentina could somehow beat the Americans, it would probably be the biggest upset of all time.
Despite the unlikely nature of this task, with a bronze medal this Olympics, Argentina's run of excellence the past 11 years is undoubtedly the greatest run in the history of any country not sandwiched between Canada and Mexico.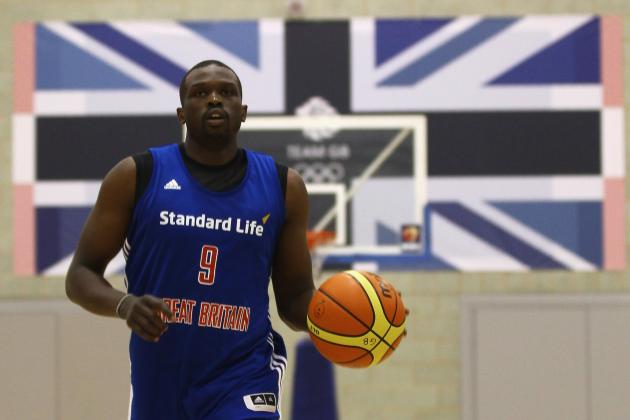 Matthew Lewis/Getty Images
Luol Deng, Great Britain's lone star.
There will be nothing great about Great Britain this Olympics, but Luol Deng will put on a one-man show in matchups against China, Nigeria and Australia. Deng, a player that routinely racks up minutes in the NBA, may not see the bench this tournament.
With the help of his hometown crowd, Great Britain advances to the quarterfinals, but only if Deng carries them the whole way.
Brett Deering/Getty Images
Parker hopes to lead France to the medal ceremony.
Parker has lost a step, but he's still the best PG in this tournament not playing for the red, white and blue. If opponents have to key on Batum's shooting, Parker can score proficiently by taking it to the basket and shooting teardrops in the paint.
Unfortunately, without Noah, France may find themselves watching the medal ceremony from the stands with teardrops streaming down their faces. France will be in competition with Spain, Argentina and Brazil to earn a place at the medal ceremony.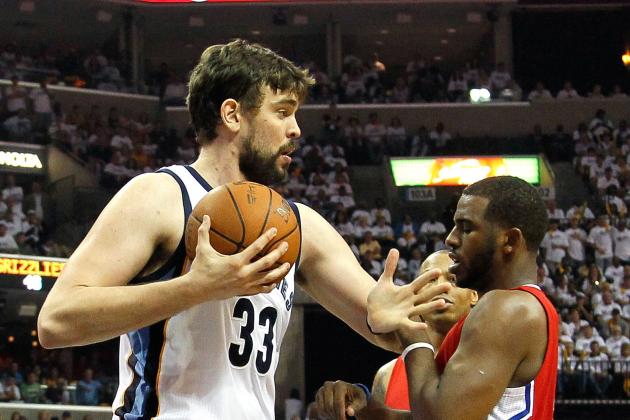 Kevin C. Cox/Getty Images
Marc's play in the tournament will determine if he should have been No. 1 on this list.
If Marc stays healthy, he will be No. 1 on this list come Rio, but until then, you can take a wild guess whose brother is next on this list. Marc is one of the best big men in the NBA and will tandem with Pau to form the best center-power forward combination in the Olympics.
If Ricky Rubio weren't hurt, Spain would have more than a chance to upset the Americans, but a frontcourt led by Jose Calderon and Juan Carlos Navarro will be utterly dominated by Chris Paul and Kevin Durant. Spain should win silver, and Marc will compete with Pau to lead Spain in scoring.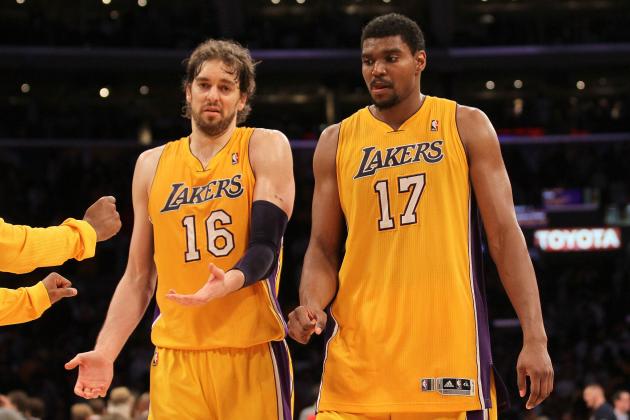 Stephen Dunn/Getty Images
Pau is the Spaniard on the left.
After Marc's performance in the 2011 NBA playoffs, it looked like he was poised to pass Pau up as a better player, but Pau, perhaps thanks to the difficulty opponents had trying to stop Bynum, had a better year than Marc.
Based on his performance in the playoffs the last two seasons, Marc may be more valuable than Pau in clutch situations, but Pau gets the edge because of experience, especially the experience of playing great basketball on the Lakers in the frontcourt with one of the best centers in the world, Andrew Bynum.
Since Marc is one of the best centers in the world and is brothers with Pau, don't expect any difficulty playing together. Spain's gold medal hopes run through the Gasols. They will only go as far as Marc and Pau can take them.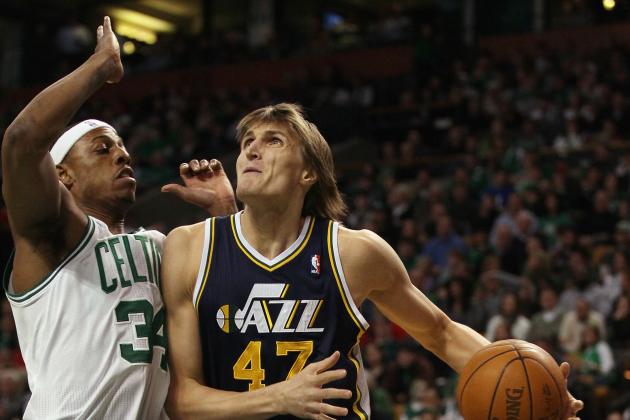 Elsa/Getty Images
AK-47 deserved to be on this list.
First Runner-Up: Andrei Kirilenko (Russia)
AK-47 definitely deserved to be on this list, but will he still be a deadly shooter a year removed from the NBA?
Second Runner-Up: Rudy Fernandez (Spain)
Another glaring omission. If Brazil plays poorly, and Barbosa is one of the reasons, his spot belonged to Rudy. But if anyone ever was destined to be overlooked, it would be a guy named Rudy.
Best of the Rest
Jose Calderon (Spain), Juan Carlos Navarro (Spain), Andres Nocioni (Argentina), Carlos Delfino (Argentina), Boris Diaw (Brazil), Ronny Turiaf (France), Timoty Mozgov (Russia), Patrick Mills (Australia), Al-Farouq Aminu (Nigeria).