USA vs Dominican Republic: Blake Griffin Injury Won't Hurt Team USA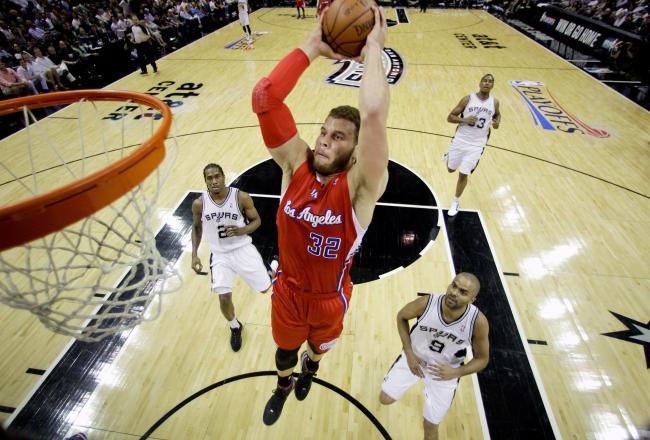 Pool/Getty Images
Even without Blake Griffin, who injured his left knee during a scrimmage, Team USA will have absolutely no problem beating the Dominican Republic in Thursday night's matchup scheduled to air at 9 p.m. EDT on ESPN.
This team is just that good.
Griffin is one of the best basketball players in the world, but Mike Krzyzewski still has quite the roster to go to war with.
In its quest for the gold medal at the 2012 London Olympics, Team USA boasts a roster that includes Carmelo Anthony, Kobe Bryant, Tyson Chandler, Kevin Durant, James Harden, Andre Iguodala, LeBron James, Kevin Love, Chris Paul, Russell Westbrook, Deron Williams and the injured Griffin.
Anthony Davis will fill in for Griffin.
Not to poke fun at the Dominican Republic roster, but when Al Horford is the biggest threat, there is simply no way that Team USA can lose.
Sure, the frontcourt is looking rather thin in Griffin's absence, but Griffin isn't a defensive powerhouse.
If there's one thing that the U.S. should be worried about, it's the team's ability to defend the paint when Chandler is on the bench. The team doesn't have to worry about inside scoring because it has the best perimeter scorers in the world, thus, big men are a luxury, not a necessity.
Horford is a solid player, but he's no offensive juggernaut.
Griffin's absence might actually be a good thing for Team USA, but more so for the fans. We might get our first chance to see Davis play with world-class professional talent on Thursday,—something we have all been waiting for.
Even if Davis gets manhandled by Horford, which doesn't seem very likely, Love can easily step in to take on the defensive task.
How many points will the US score against the Dominican Republic?
James could probably cover him too. The man is literally a superhuman on a basketball court. We've yet to see something that he can't do.
Either way, say Horford scores 40 points and dominates Chandler, Love and whomever else in the post (yes, funny joke), the United States is still going to score at least 100 points on the Dominicans, and that's being cautiously optimistic.
The most naive of all international basketball fans would have no argument in picking against Team USA in Thursday's matchup or the entire Olympic tournament in general.
There's a reason why this team is being compared to the "Dream Team."
This article is
What is the duplicate article?
Why is this article offensive?
Where is this article plagiarized from?
Why is this article poorly edited?