Florida Football: Best and Worst-Case Scenarios for the 2013 Recruiting Class
Al Messerschmidt/Getty Images
While recruiting can be a fickle game of back and forth and even border along the lines of stalking, there is a reason we pay so much attention to it.
Recruiting is the lifeblood of every college program.
This is not the NFL. There is no free agency, no trades and no draft. The only way to get talented players on your roster is to hit the recruiting early and hard. Even before the ink was dry on the 2012 recruiting class, the coaches had already turned their attention to the class of '13.
This is the nature of the beast in college football. Football coaches working late into the night trying to figure out a way to impress a teenager and convince them to come to their school.
Muschamp and Co. have started this recruiting class off strong, but there is always room for improvement.
Let's take a look at the kids that the Gators have already secured commitments from, how strong those commitments are and a look at some targets that could end up in orange and blue.
Committed Prospects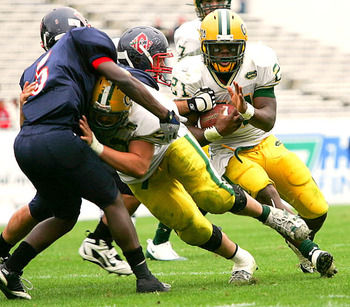 Photo Credit: Orlandosentinel.com
The Gators currently have 18 recruits committed to the class of 2013. The Gators are ranked third by ESPN, sixth by Rivals and eighth by Scout.
What is important is that the 18 recruits have begun forming a very strong bond with each other. Players regularly tweet to on another and are actively recruiting other prospects to join them at Florida.
While nothing is certain in recruiting, I expect that Florida will keep commitments from all 18 of these players and should sign a class of 23 players.
With five spots left open in the class, Florida still have room in this class to secure a top-three recruiting class and potentially compete for the best overall class.
Committed Recruits
4* RB, Kelvin Taylor
4* DT, Caleb Brantley
4* OLB, Daniel McMillian
4* WR, Ahmad Fulwood
4* S, Keanu Neal
4* OLB, Quinton Powell
4* S, Nick Washington
4* RB, Adam Lane
4* WR, Marqui Hawkins
4* QB, Max Staver
4* ILB, James Hearns
4* OLB, Dillan Lawson
4* OT, Rod Johnson
4* CB, Tre Bell
4* WR, Rodney Adams
4* OG, Cameron Dillard
4* OG Josh Outlaw
4* DT, Joey Ivie
Top Uncommitted Targets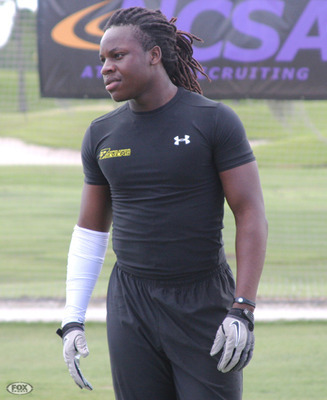 Photo Credit: scout.com
There are still some extremely talented prospects who have yet to declare their allegiance. While getting the most talent as possible is something that can not be overlooked, recruiting for positions of need is equally important. In 2012, the Gators addressed pressing needs along both lines and have continued to do so with this class.
The 2013 class is filled with positions of need (running back, linebacker, wide receiver, safety), and the rest of the class should follow suit.
Gator fans should keep their eye on these eight prospects, Vernon Hargreaves III, Marcel Harris, Demarcus Walker, Ebenezer Ogundeko, Jordan Sherit, Laremy Tunsil, Priest Willis and Stacy Coley.
While there is not room on the roster for all of these prospects, they are all seriously considering Florida and are some of the most talented players in the country.
Best-Case Scenario
Photo Credit: TBO.com
Now, in a perfect world, Coach Muschamp would walk into the top 20 players on his list, offer them a scholarship and they would commit on the spot. While we don't live in a perfect world by any stretch of the imagination, we can still dream of all the pieces falling into place and everything going in the Gators' favor.
In the best-case scenario, the Gators would find two extra scholarships (presumably through players transferring) and be able to sign seven more players in the class for a total of 25.
Those players would be Vernon Hargreaves III, Marcel Harris, Demarcus Walker, Ebenezer Ogundeko, Jordan Sherit, Laremy Tunsil, Priest Willis and Stacy Coley.
Hargreaves is the consensus top-rated cornerback in the class, and his recruitment seems to be wide open right now. Following The Opening last week in Oregon, Hargreaves went on a West Coast recruiting tour and he seemed to enjoy USC. Even going as far to name them as his leader. This could just be a gut reaction to a good recruiting trip, but in our perfect world, Hargreaves spurns the Trojans and becomes a Gator.
Marcel Harris is a player who really impressed me at The Opening. Harris showed his ball hawking ability and gave opposing quarterbacks fits in the 7-on-7 tournament.
Walker, Ogundeko and Sherit would be welcomed additions to the defensive line who could lose a couple players to the NFL draft. Stacy Coley is one of the top targets at receiver in the state and would pair nicely with the other receivers in the class.
Laremy Tunsil is the consensus top offensive tackle and would be able to come onto campus and immediately push for a starting job.
Worst-Case Scenario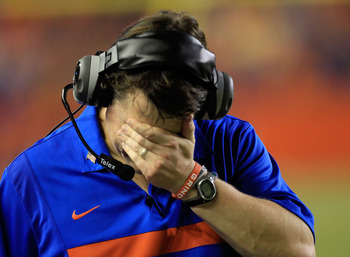 Sam Greenwood/Getty Images
The worst-case scenario for the Gators isn't pretty.
With Hargreaves declaring USC as his leader, the Gators are on the verge of letting two top flight cornerback prospects from the state go to other schools (Tracy Howard choose Miami over Florida last year.) Along with Hargreaves, Sherit would choose to head out west to play with his friend from "Team Tampa" and Ogundeko would choose to stay closer to home and pick Notre Dame.
Tunsil spurns the Gators in favor of Georgia, while Coley lands at Miami and Harris at Texas.
The Gators still sign Walker, but are left to scramble to fill out their roster and sign a class of 23 players.
What Will Likely Happen
Photo Credit: Demarcus Walker's twitter @livinglegend_44
The reality will fall somewhere in-between the dream and doomsday scenario.
With Ogundeko set to make his announcement between Notre Dame, Florida and Syracuse on July, 20 there should be some light shed on the rest of the recruiting class. Ogundeko has said that distance from home will not be a factor in his decision, but I think Florida got in the race too late and he will choose the Irish.
With that spot open, Sherit decides to stay close to home and he commits to Florida. Sherit, who is an excellent student, will choose Florida based partly on the school's strong academic background. Hargreaves III will realize that staying close to home and being able to play with his high school friend are too good to pass up and he will also choose Florida.
Marcel Harris is believed to be between Texas and Florida, but with Matt Elam likely to declare for the NFL draft, the opportunity to stay close to home and contend for a starting job as a freshman lead to him choosing the Gators over the Longhorns.
Demarcus Walker is being heavily recruited by Nick Washington and his family, and I think he also ends up in orange and blue on National Signing Day.
That leaves one more spot open in the class, and it will give the Gators the top-ranked lineman for the second straight year. Tunsil will likely end up in Gainesville and contend with Patchan and Humphries for a starting job as a freshman.
Adding these five players to the Gators' already strong 2013 recruiting class could give the Gators their first top-rated recruiting class since the heralded class of 2010.
Keep Reading

Florida Gators Football: Like this team?