Big Ten Football Q&A: Let's Use Denard Robinson's Hair for Nefarious Purposes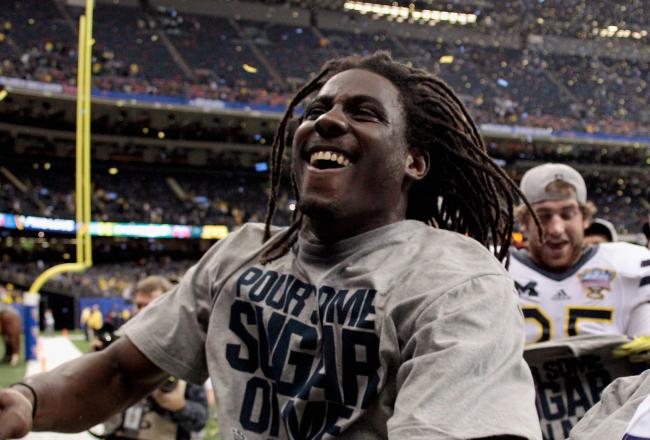 It's a gold mine.
Chris Graythen/Getty Images
On Thursdays on The Big Ten Blog, we will feature questions from the B/R inbox, Twitter and email. Do you have a question for next week's Q&A? Send them to Big Ten lead blogger Adam Jacobi via the B/R inbox, on Twitter @Adam_Jacobi or at ajacobi@bleacherreport.com.
@Adam_Jacobi If you made a rope out of Denard Robinson's hair, could you use it to climb to the top of the Big House? #B1GMailbag

— RossWB (@RossWB) June 28, 2012
Ah yes, Shoelace's dreadlocks. I'm glad you asked. Can we call them headlaces in his honor, by the way? No? No, OK. Thought I'd ask.
At any rate, this seems like a pretty easy math question. Assuming 120 square inches of scalp (a figure which I took from this book), four square inches per dreadlock and that each dreadlock is 16 inches long, you start to see what a limited amount of material we're working with. Since we'd have to tie the dreadlocks together, we're barely clearing more than a couple stories.
I'm afraid we wouldn't get to the top of Michigan Stadium without 10 Denard Robinsons, and if we had 10 Denard Robinsons, we should use them for much better things than climbing tall walls. Like taking over the world one football game at a time.
@Adam_Jacobi Is "can you pass the bourbon plz?" a B1G question?

— Brandon Armstrong (@chubs_kgun) July 12, 2012
Well... I'm glad you asked. For Penn State fans, today, yes it is. Utterly brutal day. But it all needs to come into the light one way or another, so here you go. Let's not linger.
If Iowa started a full-scale war with Nebraska, who would win? RT @Adam_Jacobi Thursdays are for Q&As.

— Rodger Sherman (@sippinonpurple) July 12, 2012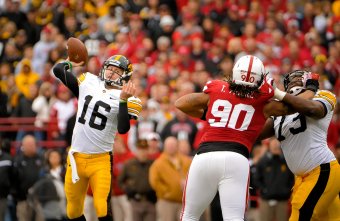 Eric Francis/Getty Images
I'm glad you asked. Iowa and Nebraska have a long-standing enmity that only the banks of the Mighty Mo can stem back. Then we started building bridges across the rivers in about 1930 or so (technology doesn't come to the Midwest very easily; it's basically a third-world country between the Mississippi River and Las Vegas) and tensions flared again. But now that there's a football rivalry to undertake, that might be the flashpoint this powder keg needs.
So let's say that in 2012, Iowa beats Nebraska with a series of dubious, Dan Beebe screw job-esque calls, to the point that Ndamukong Suh is flagged for roughing the passer despite watching the game in his living room in Detroit. With Omaha as a strategic base, the masses mobilize from Lincoln and—what's that, Twitter user @danwhite77, you have a better, more simple answer?
The rest of America RT @sippinonpurple: If Iowa started a full-scale war with Nebraska who would win? RT @Adam_Jacobi Thursdays are for Q&As

— Dan White (@danwhite77) July 12, 2012
D'awwww. He's probably right. Let's move on.
@adam_jacobi 4th week in a row requesting this one: Can you rank the B1G head coaches in their order of sex appeal? 1 being the lowest...

— HomelessMark (@MarktheNomad) July 12, 2012
Is Brady Hoke the sexiest coach in the Big Ten?
The people demand answers to this question, so I'm glad you asked. Obviously, sex appeal is a very subjective thing, so you need an ideal to work off of in order to properly put together a ranking like this.
I, obviously, nominate myself as that ideal.
So while I don't feel entirely comfortable objectifying each of the B1G coaches in any great detail, I do believe you're owed at least an accounting of where these people sit in tiers. It's my way of saying thanks for reading.
TIER 1: Women want me, and these men want to be me: Brady Hoke, Bill O'Brien, Bret Bielema
Note on Mr. Bielema: There are some men where you can just look at them and say, "That guy drinks a lot of beer." Bielema and I are two of those men.
TIER 2: They could stand to try a little harder to look like me: Pat Fitzgerald, Kevin Wilson, Urban Meyer
Note on Mr. Meyer: Boyish good looks are kinda my thing, but I'm not even sure this guy's capable of growing a beard. Is he 12 years old?
TIER 3: At least they have a moustache: Danny Hope, Jerry Kill
Note on Mssrs. Hope and Kill: You can trust men with moustaches. Also, it's impossible for a man to have a strong moustache and a weak handshake. It's as much of a lock as a man with a ponytail having a criminal record.
TIER 4: I hope they have nice personalities: Tim Beckman, Bo Pelini, Mark Dantonio, Kirk Ferentz
Note on Mr. Ferentz: He can take that full head of salt-and-pepper hair and strong jaw line and linebacker build and get the hell out, as far as I'm concerned.
Again: let the record show that this question was asked and answered, and let us never bring it up again.
This article is
What is the duplicate article?
Why is this article offensive?
Where is this article plagiarized from?
Why is this article poorly edited?