Olympic Gymnastics 2012: Analyzing China's Chances Despite Little Information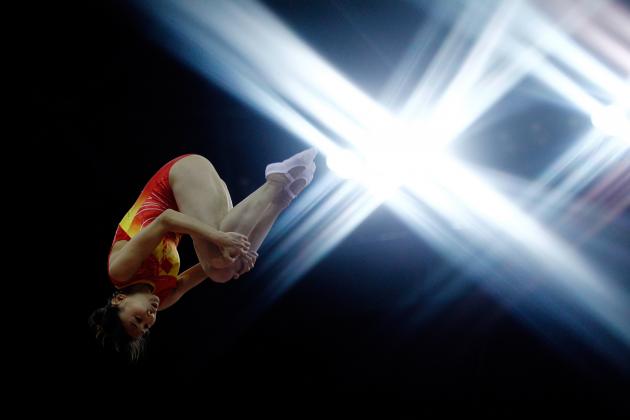 Paul Gilham/Getty Images

Rumors are, by definition, unsubstantiated reports or idle speculation. However, where the 2012 Chinese Olympic women's gymnastics team is concerned, so little information is available to the general public, one cannot help but wonder how they will perform.
Though not known for wearing their hearts on their sleeves, the Chinese coaches and team members have been conspicuously quiet. OK, team members are inherently mum, but are the coaches worried, or should the U.S. be concerned about these dynamos, beyond allegedly changing passports and birth certificates?
Then again, the Chinese could be merely working diligently behind the scenes toward improving difficulty (D) scores on bars and vault.
Now that the women's team has been determined, Yao Jinnan, Sui Lu, Huang Qiushuang, Deng Linlin and He Kexin are under scrutiny and under wraps, with Jiang Yuyuan and Tan Sixin tagging along.
If the recent Chinese National Championships is any indicator, the women are lagging woefully behind the Romanians and Americans. Of course this does not mean they can't improve, but surpassing either country will require feats of magic on their part and bad luck for the U.S. and Romania. Only one Chinese gymnast scored a 15 during event finals. Count 'em—one.
It's a good bet the team is working feverishly on improving their D scores overall, and more than likely trying to stand up Amanar vaults.
How they will fare at the 2012 Summer Games is anyone's guess as training continues behind closed doors. On Sunday, we'll finally see what's behind the curtain...but here is what we do know from a short-term historical perspective.
Begin Slideshow

»
He Kexin has made it onto her second Olympic team. She defeated Nastia Liukin in the Beijing Games on the uneven bars apparatus finals, after an initial tie that was broken by dropping the next lowest judging score according to Olympic rules.
However, Kexin has lost some edge over the past four years—after all, she is 20 years old now, according to the state of China. At the 2012 Chinese Nationals, Kexin posted a 15.650 on bars with a starting value of 7.1. The routine is impressive, with legs glued together through her giant swings, but there is no way of knowing if she has improved since then or even if she remains the best bar worker on the team.
Her teammates never scored higher than a 14.175 during any individual event finals. Not a good sign.
Huang Qiushuang makes her maiden voyage to the Olympics. She scored a 14.000 on floor exercise during the all-around event—not that impressive.
In fact, all scores throughout the meet were low, perhaps artificially low to keep international competitors off balance. Either that, or those judges are really tough!
It couldn't be that the team has lost its edge...naaaaah.
Huang performed better at the ZiBo Cup competition this year, winning silver on bars with a 15.200 and again on beam, scoring a 14.775. Now that's more like it.
Still, it isn't enough to challenge the big girls this summer.
Then there is Sui Lu, a strong beam worker as she proved at the 2011 Tokyo World Championships. However, on floor, her difficulty is low (5.7); she stumbled out of dance elements and stepped out of bounds on her dismount at the Chinese Nationals for a score of 13.825 during event finals.This number landed her first place.
Seriously?!
Lu is capable of much higher scores, of course. She had a rough day during event finals, but during the all-around was awarded a 16.650 on beam and a 15.700 on floor. If she keeps her composure she could be a threat come late July.
Yao Jinnan suffered a mild knee injury during vault podium training at Nationals and subsequently scratched. She has since recovered from the sprain.
However, at the FIG Zibo Cup, Yao performed a bar transition skill that, if she is the first to complete it successfully at the Olympics, will then bear her name in the Code of Points. For now, it is a Shapo one-half from a stalder.
If Russia's Viktoria Komova (who incidentally performed it at the 2011 Worlds, though nothing official came of it) or anyone else does it first, they win the honor. The trick is cool.
Jinnan's routine scored a decent 15.675, considering she faltered slightly on her pirouettes, missing a couple verticals.
Deng Linlin returns to the Olympic stage as the all-around champion from Nationals with a 56.550, more than five points behind American Gabby Douglas' U.S. Trials tally. Deng did not medal in any event finals.
Her balance beam routine was decent but lacked fluidity throughout. Time after time, the seconds tick by as she sets up for any given trick, almost as if concentration overtakes confidence. She will need to shake those demons off if she plans to medal.