UFC on Fuel TV 4 Results: 4 Fights to Get Mark Munoz Back on Track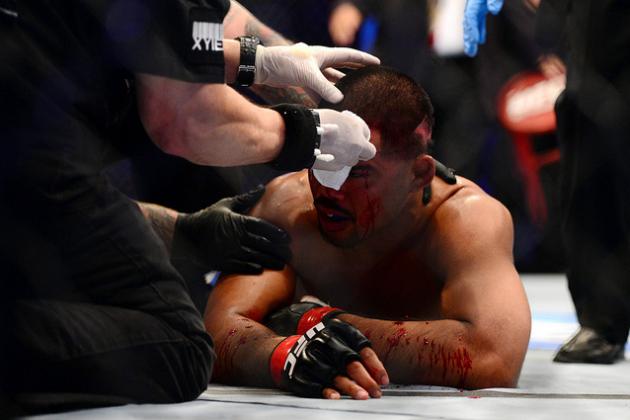 Mandatory Credit: Kyle Terada-US PRESSWIRE
Last night, headliner Mark Munoz saw his hopes of a shot at UFC champion Anderson Silva cut at the knees by white-hot prospect Chris Weidman. The NCAA champion was overwhelmed by Weidman, and finished in the second round after a gorgeous counter-elbow sent him to the canvas where he would eat approximately 16 unanswered shots to the head.
Munoz has never been manhandled like that, and he has cage time with longtime veterans Yushin Okami, Chris Leben and Demian Maia. In fact, not even wrestler Aaron Simpson had the wrestling necessary to control The Filipino Wrecking Machine the way that Weidman did last night.
While Munoz found himself on the wrong side of a physical rinsing, it's hardly the last that we will see of him. With impressive wrestling and even better ground and pound, the Kings MMA fighter will continue to be a handful for most opponents.
Here is a look at four fights that Munoz should consider to get him back on track.
Begin Slideshow

»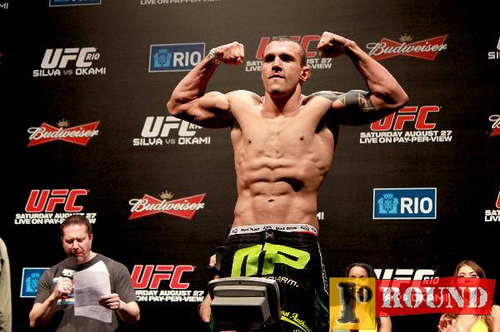 Photo by Marcio Valle
With his only loss in 13 fights coming via DQ from an illegal knee, 11-1 (1) Luis Cane was once a promising up and comer in the UFC Light-Heavyweight division. Since that time, the Brazilian has gone 1-3 inside the UFC and is hoping for a clean slate down at middleweight.
Cane was originally expected to be the pick-me-up needed for Yushin Okami at UFC 150 next month. Forced from the bout due to injury, "Banha" was replaced by Rousimar Palhares and is currently awaiting an opponent for himself.
The pairing of Munoz vs. Cane is similar to the one that Cane had last, considering that he is a dangerous striker with discipline and a solid chin. With a black belt in BJJ to aid him on the ground, he may be able to neutralize the takedowns of Munoz.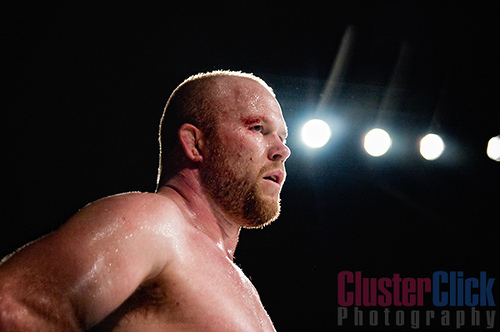 Courtesy of ClusterClick Photography
Subliminal message: This slide talks about two potential opponents, but I only shared a photograph of one. Take that to mean whatever you want it to mean.
UFC 149 has another interesting middleweight battle which could select an opponent for Anderson Silva. If Hector Lombard beats Tim Boetsch, he just may cut in line ahead of Weidman and duel the Spider first.
Regardless of who comes out on top, the man walking home without a winner's purse is an excellent candidate to face Munoz, as either man will find themselves as a top 10 middleweight looking to get back into the winning side of things.
Due to the nearby dates of UFC on Fuel 4 and UFC 149, the loser of this bout will be on a similar timeline to Munoz and should be ready to get back in the cage around October/November.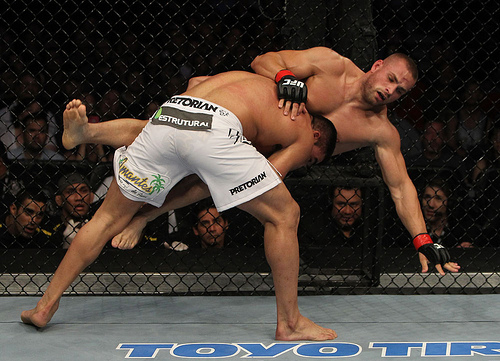 Courtesy of GracieMag
Oft-forgotten middleweight Ronny Markes has been out of action since a February win over Aaron Simpson.
The UFC on Fuel victory was the sixth in a row for Markes, who was offered a UFC contract after soundly defeating Paulo Filho in 2011. Now 2-0 in his UFC career, he is looking to come back and challenge a game opponent.
Fighting out of the famed Nova Uniao camp, Markes has already shown that he can handle fighters who wish to challenge him with a strong wrestling game. Could Munoz be the one to derail the 13-1 fighter?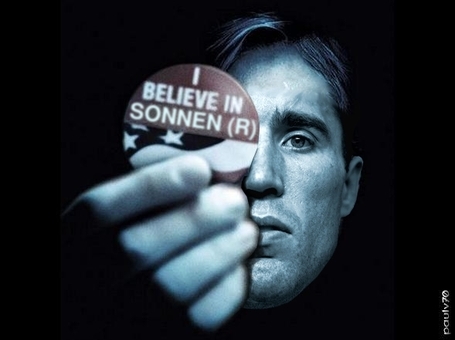 Courtesy of Heavy.com
This fight was originally supposed to take place at UFC on Fox 2 back in January. A training injury to Munoz sent him to the sidelines and Sonnen would go on to battle Michael Bisping. Since that time, Sonnen and Munoz both lost their next bouts and are looking for their place within the division.
There is more history between the two, as Munoz and Sonnen met during their wrestling days. Sonnen admitted that Munoz was the superior wrestler, and that the Oregonian even attempted an illegal kneebar in competition in order to get an advantage. Who has the better wrestling for MMA?
After the American Gangsta saw Weidman dominate Munoz last night, he was quick to praise the Serra-Longo standout.
There is no way to deny what we just saw. Weidman is on a roll, he is tapping guys out, getting Fight of the Night and doing everything he needs to do. Now he is playing with the big boys. Now he is in the main event. The test was passed with flying colors. Chris Weidman, present company included, you are the best middleweight in the UFC.
By Chael's assessment, he and Munoz have been soundly defeated by the top two middleweights in all of MMA. Now it's time to battle for a bronze medal.