Tate Forcier: The Quarterback of the Future for the Michigan Wolverines
February 17, 2009
Tate Forcier is a home grown San Diego, California boy with exceedingly great talents at the quarterback position.
Michigan and Michigan fans, you guys recruited one heck of a player. I lived in San Diego and played quarterback out there and had the honor of playing against this guy before.
I've never seen a quarterback with the speed, agility, arm strength, and accuracy he has in San Diego before. Forcier also has amazing footwork and is really quick with his feet.
To prove that Tate has speed, he is running a 40 time at 4.4, which is insane speed for a quarterback. Another thing that sets him apart is his scrambling ability. And he throws just as well as he runs, which is sometimes hard to find in scrambling quarterbacks.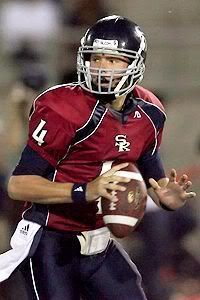 As a senior at Scripps Ranch High School in San Diego, California, Tate stacked up 771 rushing yards with 11 touchdowns, and amassed 3,331 yards passing with 23 touchdowns.
All together that is 4,102 all purpose yards with 34 touchdowns.
Michigan is not only getting a quarterback who can put up numbers, but a guy who can make plays when there aren't any and has the ability to take over a game on offense.
Forcier had 30 scholarship offers from schools across the nation, such as Arizona, Arizona State, Virginia, Virginia Tech, Florida, LSU, Oregon, and Penn State.
Instead he chose the Wolverines of Michigan.
I can't wait to see Michigan vs. Ohio State, Pryor vs Forcier.
Yes, that should be a great matchup to watch, wouldn't you say?
Well, Michigan fans, welcome to the Forcier era.