A Lakers' Toast to Steve Nash: The Top 10 Lakers Point Guards of All Time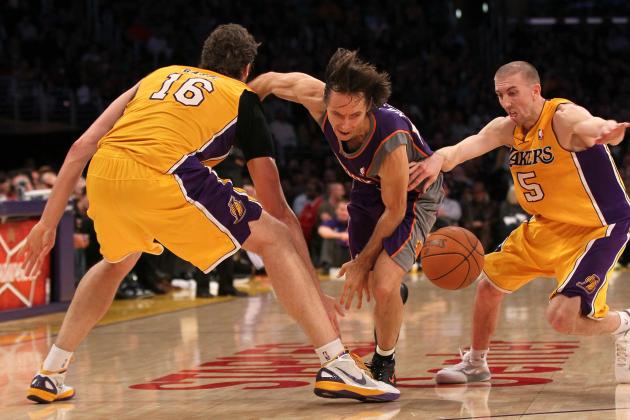 Stephen Dunn/Getty Images

Nobody saw this coming.
Not even a hound dog's ultra-sensitive nostrils could have detected this scent. The thief in the night has arrived, blindsiding us all with an oncoming, explosive-filled semi-truck.
Steve Nash is a Laker.
And I would have thought the world would end before this sort of fairytale unfolded.
While reality sinks its grip into every basketball fanatic, Nash is back to business-as-usual, still recovering from surreal feelings of his own.
As Los Angeles welcomes the future-Hall of Fame point guard with open arms, the rest of the NBA looks on with clenched fists and vomit-filled throats.
Score three points and an assist to the Lakers and Mitch Kupchak; reward David Stern and the rest with a flagrant 2 foul. Karma remembers, and it does not easily forget.
In light of these recent developments, Lakerland would like to offer up a toast.
With martini glasses lifted high, this is to Steve Nash, one of the greatest NBA point guards of all time. To Steve Nash, the Lakers' savior and future championship-ring bearer.
In celebration of L.A.'s newly-added No. 10 jersey, this is an updated list of the top 10 Lakers point guards of all time.
Enjoy.
Begin Slideshow

»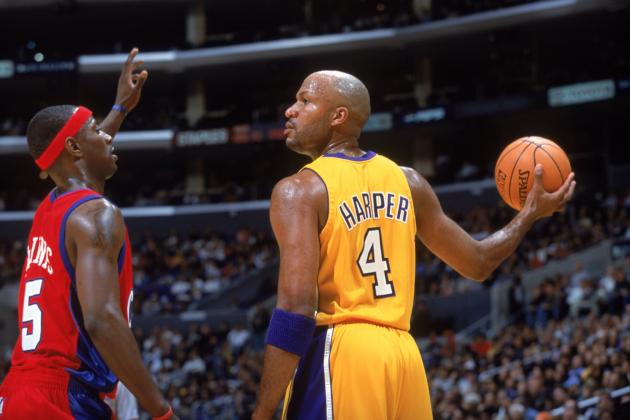 Jeff Gross/Getty Images

Many people remember Ron Harper for his contributions to the Michael Jordan-led Chicago Bulls.
But, when Phil Jackson joined the Los Angeles Lakers in 1999, faithful Ron followed by his coach's side.
He started for the for the Lakers' 1999-2000 and 2000-2001 championship squads. Not only did he continue to be an excellent defender, but he demonstrated solid range with dependable outside shooting in the triangle offense.
Harper's best stint with the Lakers came during the 1999-2000 season, when he averaged seven points and four rebounds per game.
While the numbers appear bland for a top-10 player, they don't begin to speak of the leadership and experience he brought the Lakers' newbies. After all, this was in fact the beginning of what would be considered a Los Angeles dynasty.
And, Ron Harper was a great contributor to it all.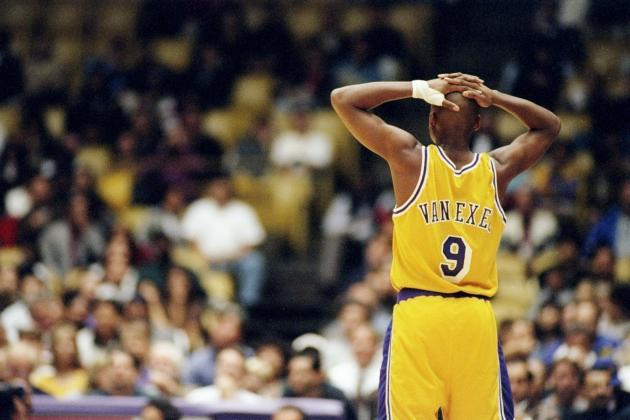 Harry How/Getty Images

Following the twilight of the "Showtime" era, Nick Van Exel was selected 37th overall in the 1993 NBA draft in what was to be the start of the Lakers' new rebuilding process.
He instantly became a crowd favorite, as he was well-known for his flashy play, quickness, streaky shooting and buzzer-beating shots.
After the Lakers failed to miss the playoffs for the first time in years during the 1994 season, Van Exel led his team to the 1995 Western Conference Semifinals where they were ousted by the San Antonio Spurs in six games.
Until 2005-2006, Nick Van Exel held the Los Angeles record for most three-point baskets made. This was eventually broken by current-Laker Kobe Bryant.
On June 24, 1998, Van Exel was traded to the Denver Nuggets as a result of reported irreconcilable differences with then-head coach Del Harris.
During his career with the Lakers, Nick posted a remarkable 14.9 points and 7.3 assists per game, finishing top 10 in that category twice.
You know Nick left his mark when Ramon Sessions' driving layups and bursts of speed bring flashes of Van Exel back to mind. He was a great talent to watch.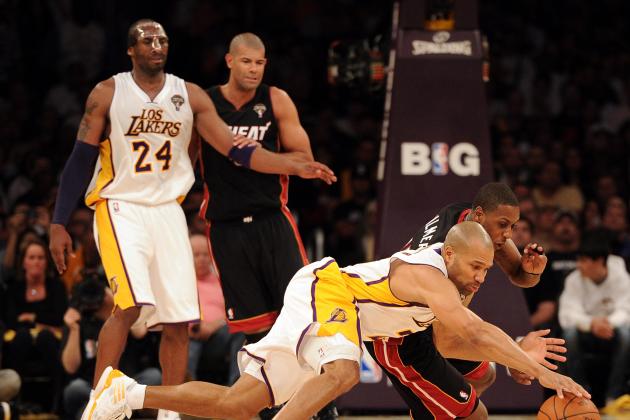 Harry How/Getty Images

Derek Fisher will always be remembered for the "shot" that was heard around the world.
It still feels like yesterday, with 0.4 seconds left on the clock and the ball leaving Fisher's hands, the Lakers' fate decided by the end result.
Of course, nobody left disappointed—in the City of Angels, that is.
Words cannot express the value Fisher brought to the teams he played with. He competed with true grit and hustle, his leadership was second to none and his drive to win was beyond compare.
He provided all of the intangibles, from taking charges to knocking down big-time shots in the playoffs.
He is a champion's champion.
We still miss our hero.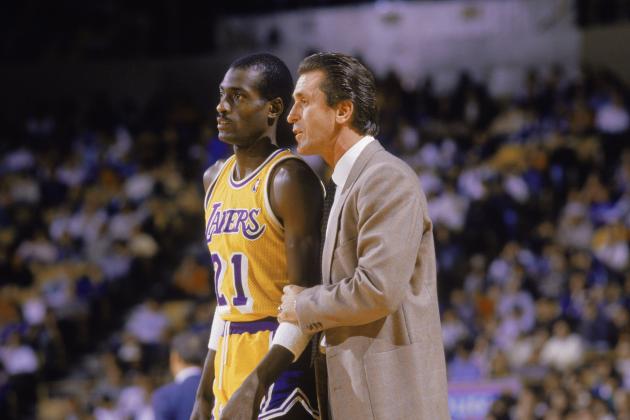 Stephen Dunn/Getty Images

While Michael Cooper is considered to be a combo guard/forward, he did spend a significant amount of time relieving Magic Johnson at the point guard position.
Drafted in 1978 with the 60th overall pick, Cooper became a vital part of the "Showtime" team.
You could view him as a latter-day Ron Artest, minus the attitude.
During his 12 years in Los Angeles, Cooper was named to eight NBA All Defensive Teams, including five First Teams.
In 1987, he won the NBA Defensive Player of the Year award and was a member of five NBA championship teams.
Among many of Larry Bird's popular quotes, he says that Michael Cooper was the best defender he ever faced.
A crowd favorite, fans would often cheer, "Cooooooop" every time he touched the ball, and his famous alley-oop plays were dubbed Coop-a-loops.
Michael started and finished his NBA career with the Lakers, averaging 8.9 points, 4.2 assists, 3.2 rebounds and 1.2 steals per game.
Incredibly, after leaving the team after the 1989-90 season, Cooper was ranked among the club's all-time top 10 in three-point field goals, games played, total minutes played, steals, blocked shots, assists, defensive rebounds, offensive rebounds and free throw percentage.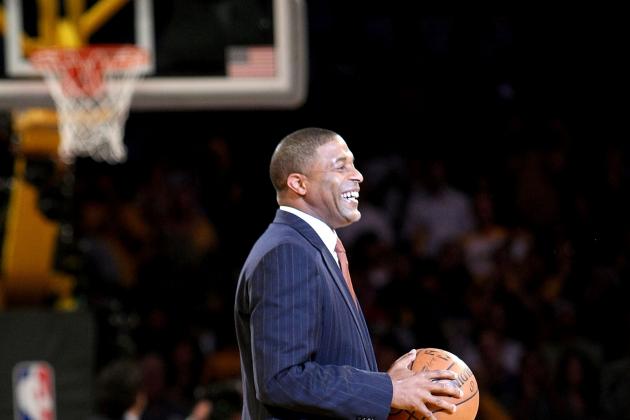 Stephen Dunn/Getty Images

In the 1977 NBA draft, Norm Nixon was selected 22nd overall by the L.A. Lakers.
Nixon was incredibly efficient and fast, averaging 15.7 points and 8.3 assists per game during his career. He even led the NBA in assists for one season, although it was following a trade that landed him with the Clippers after six successful years.
He was a part of two Lakers championship teams in 1980 and 1982, while providing great production at the point guard position.
Norman is famously remembered for faking a free throw at the end of a Lakers-Spurs game on November 30, 1982. This caused a double lane violation call, but strangely enough, the referees wrongly opted for a jump ball instead of allowing Cooper to re-shoot the free throw. As a result, the ending to this game was later replayed in April of 1983.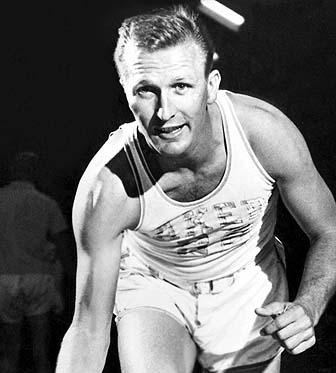 Photo credits: Los Angeles Times, Associated Press, Getty Images, NBAE via Getty Images, Reuters, Agence France-Presse, Los Angeles Lakers
Slater Martin was world-famous for his aggressive defense and outstanding playmaking abilities. He is considered one of the best NBA defenders of the 1950s as evidenced by the fact he held another Hall-of-Famer, Bob Davies, scoreless.
Playing alongside George Mikan for the Minneapolis Lakers, they went on to win four NBA championships from 1950-54. He won another title with the St. Louis Hawks in 1958
He finished his career averaging 10.4 points per game and left a legacy behind that is still remembered by many.
On May 3, 1982, Martin was inducted into the Naismith Memorial Basketball Hall of Fame.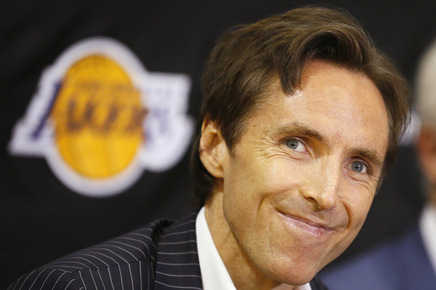 The Associated Press
L.A.'s new golden boy has arrived, and look how happy he is.
Boasting two MVP awards, Steve Nash brings all the ingredients to a Lakers team desperate to win it all.
His leadership, selflessness and overall talent are the perfect blend for a squad that never quite found its identity or groove last season. With a new general patrolling the court, the Lakers may have found their missing link which has kept them from NBA glory for what seems like decades too long.
As a future Hall-of-Famer, Steve Nash is sure to bring a spirt of excellence and championship drive to his new team.
So, get strapped in and buckled up folks; next season is going to be one hell of a ride.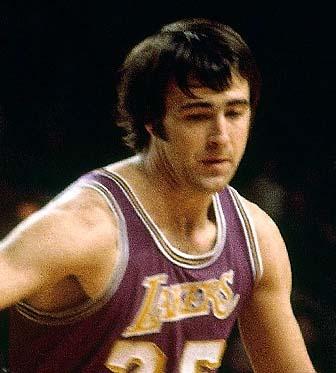 Photo credit: NBAE / Getty Images
Gail Goodrich experienced quite a roller-coaster ride during his NBA career, not befitting of an NBA star.
The Los Angeles Lakers selected Goodrich with the last pick in the 1965 NBA draft. He struggled to find his form, and was eventually lost in the expansion draft to the Phoenix Suns after three seasons of benching and limited playing time.
To everyone's surprise, Goodrich had a break-out year in his first season with Phoenix, averaging 23.8 points per game as a starter, tops on his team and sixth in the league. He also ranked seventh in assists, posting 6.4 per game and was selected to play in the 1969 NBA All-Star game.
Goodrich averaged 20 points and 7.5 assists per game the following year, but was traded back to the Lakers in exchange for a 7'0" center by the name of Mel Counts.
The Lakers were thrilled to have him back, to say the least.
The trade immediately paid off huge dividends, as the Lakers featured a backcourt of Jerry West and Goodrich, while Wilt Chamberlain plugged up the middle.
This team was virtually unbeatable, as they assembled a 33-game winning streak and finished with a 69-13 record, an NBA record at the time. Of course, it did not end there. They steamrolled their way through the postseason and brought home their first championship since moving from Minneapolis to Los Angeles.
The next few years, Goodrich would be among the league leaders in scoring and made several more All-Star game appearances.
When Chamberlain and West finally retired, Goodrich wanted out of L.A. He was sent to the New Orleans Jazz in exchange for two first-round draft picks and one second-round pick.
While the move was highly criticized at the time, it ultimately paid off for the Lakers a few years later as they used one of their picks to select Magic Johnson with the first overall choice in the 1979 NBA draft.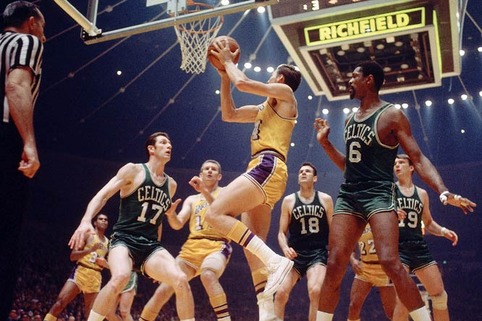 Photographed by: Walter Iooss Jr./SI
How do you begin to describe someone who possesses every possible quality a star player could dream of having?
Jerry West has it all, and with his perfectionist mindset, "all" still was not good enough.
West was famously quoted after a game in which he hit 16 of 17 shots, made all 12 free throw attempts, and recorded 12 rebounds, 12 assists and 10 blocked shots: "Defensively, from a team standpoint, I didn't feel I played very well. Very rarely was I satisfied with how I played."
What level of intensity and sheer desire for victory does one possess when they make a statement after a monster game like that?
Jerry West's integrity to the game has resulted in success one can only begin to fathom.
He is world-famous for the logo that bounces up and down when the most talented players on the planet take the basketball court. And, let's not forget to mention the most famous buzzer-beater of all time: a 60-foot swish that tied Game 3 of the 1970 NBA Finals against the New York Knicks. Now, that is someone who certainly deserves the nickname Mr. Clutch.
During West's 14-year playing career with the Los Angeles Lakers, he became the third player in NBA history to score 25,000 points. Jerry West was an All-Star every single year of his career and he led the Lakers to the NBA Finals nine times. Can you say unreal?
He finished his career averaging 27 points, 6.7 assists and 5.8 rebounds per game on nearly 48% shooting. Not bad for a man who stands 6'2".
Not only is Jerry West one of the greatest Lakers of all time, he is undoubtedly one of the greatest players to every play the game.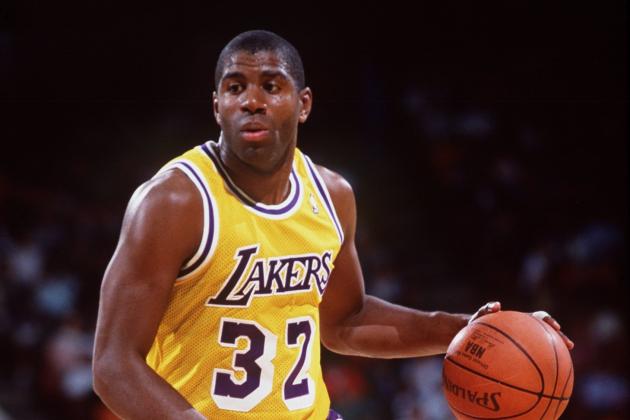 Stephen Dunn/Getty Images

Not only is Magic Johnson (arguably) the greatest Laker ever, he is undoubtedly the greatest point guard the human race has ever seen. Flair, passion and intensity only scratch the surface in trying to describe watching Johnson gracefully handle the basketball. It truly was magical.
Never has one player absolutely revolutionized the game of basketball as Magic Johnson has. Standing at 6'9" tall, he is the tallest point guard in NBA history.
His skills, charisma and humility gained the adoration of the masses; he was the epitome of Showtime.
Whether it was an around-the-back, no-look pass to James Worthy or a timely drained three-pointer, Magic always did the right thing at the right time.
During his 13-year NBA career with the Lakers, Johnson accomplished what players can only dream of doing. He won the Most Valuable Player Award and Finals MVP award three times each while winning five NBA championships.
Johnson was a 12-time NBA All-Star and a nine-time member of the All-NBA First Team. He surpassed Oscar Robertson's career assist total, but that was eventually taken over by another great, John Stockton.
Magic's all-around play inspired the way basketball statistics were recorded. Because of Johnson's iconic play-style, the term "triple-double" was formed to describe his seemingly-everyday feat.
His career sadly ended with the famous "Decision" that shocked the world. There's no telling how far Magic could have ascended had his health remained stable.
He ended his career with averages of 19.5 points, 11.2 assists and 7.2 rebounds per game while efficiently shooting 52% from the field.
The memories of jaw-dropping passes, clutch shots and signature smiles will certainly never be forgotten. The Magic and beauty of basketball was born when this special player arrived. Thank you for that ride.