Abby Wambach's Top 10 Moments for the US Women's National Team
George Frey/Getty Images
Abby Wambach has been the linchpin of the USWNT striking attack for nearly a decade. She has amassed numerous goals and had several dramatic moments on the pitch. She is one of the all-time greats.
Throughout her decade-plus time of service to the USWNT she has almost done it all. Everything except capture a World Cup.
She is one of America's most beloved sports figures. Wambach will look to make more memories and moments in a couple of weeks as the USWNT look to grab another gold in London.
Let's gander at ten of the prolific scorer's best moments with the USWNT.
2011 Women's World Cup vs. Japan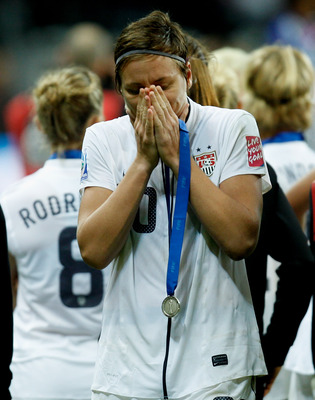 Friedemann Vogel/Getty Images
I could have went with her first USWNT appearance against Germany back in 2001, but that was a rather uneventful affair for the newcomer.
Losing in the finals was heartbreaking. But there was one silver lining for the gut-wrenched forward.
Her goal in the match moved her past USWNT legend Michelle Akers on the all-time World Cup goal list. At 13 career World Cup goals she sits second all-time behind Brazil's Marta and Germany's Birgit Prinz.
Anytime you move past a name such as Akers, it is to be noted. 13 World Cup goals goes to show how much work Wambach has put in under the crest.
50th Goal, 2006 Four Nations vs. Norway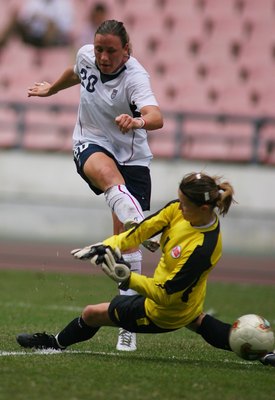 China Photos/Getty Images
The USWNT opened up the Four Nations tournament with a 3-1 victory over Norway.
The 85th minute goal gave Wambach 50 in her USWNT career. A solid mark.
In fact, 50 goals would still be good enough for 9th on the all-time USWNT list. It only took Wambach a little over four years to get halfway to 100.
The USWNT would go on to win the Four Nations tournament with two wins and seven points.
2003 World Cup vs. Norway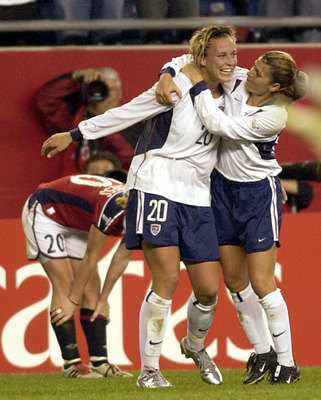 A. Messerschmidt/Getty Images
The Quarterfinals were on and the USWNT had their hands full with Norway.
In the 24th minute of action Wambach scored the lone goal of the match. The win put the women one step closer to their goal, but would suffer a 3-0 defeat at the hands of eventful tournament winners Germany.
However, without Wambach's goal they would have been ousted and not placed. Two years in to her USWNT career and Wambach was already providing big time goals.
2007 World Cup vs. England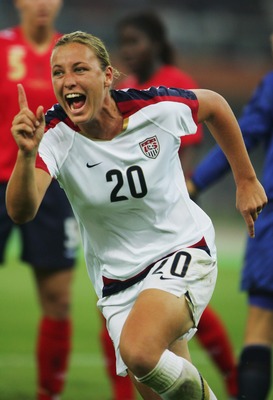 Guang Niu/Getty Images
Another Quarterfinals appearance in the World Cup. Another victory.
The USWNT clobbered England and cruised to a 3-0 win. Wambach scored in the 48th minute.
However, Wambach earned this spot just by stepping on the pitch. She became the 20th player in USWNT history with 100 caps.
Wambach currently sits 9th on the all-time caps list with 182 and counting.
2007 World Cup vs. North Korea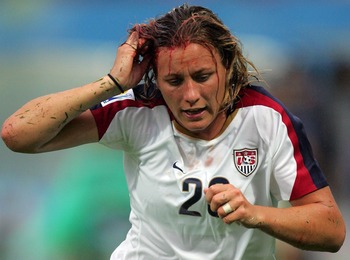 Ronald Martinez/Getty Images
It did not take long for Wambach to get bloody at the 2007 World Cup.
In the first match, against North Korea, Wambach collided with Ri Kum Suk while defending. She went off the pitch and got patched up.
Question her toughness? Read this excerpt from USA Today about that match:
In the locker room, Amann begins sewing Wambach's scalp back together using 10 stitches. "Eventually it coagulates," he says. "But initially it's the pressure from the stitches bringing the skin together that stopped the bleeding."

Reeling from an adrenaline rush, Wambach storms out of the locker room, races through the tunnel into the brilliant light of the field and takes her place next to referee Nicole Petignat, who whistles her back into the game just 10 minutes after the collision.

"I cursed...and hurried up and got my jersey on and ran as fast I could to the midfield stripe to get back on," Wambach says.
The heart and determination to return shows what kind of player Abby Wambach is.
100th Goal, 2009 vs. Canada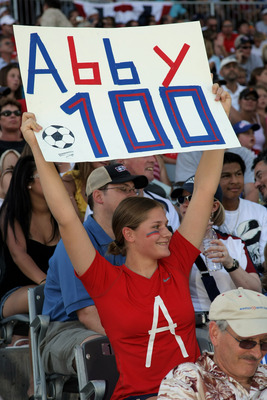 Doug Pensinger/Getty Images
In a friendly against Canada in 2009 Wambach got to the century mark.
What made it more special was that she did it in front of her hometown crowd of Rochester, New York. And nearly a decade earlier that is where Mia Hamm reached 100 herself.
The match was only Wambach's second since returning from a broken leg. It didn't take her long to find the back of the net and return to her scoring ways.
Did it mean a lot to Wambach? She told USA Today, "I couldn't dream of a more picture perfect ending," she added. "I would give any Olympic gold to do that."
First USWNT Goal, 2002 vs. Finland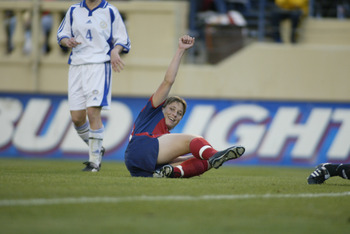 Jed Jacobsohn/Getty Images
It's always a big moment when you score for the first time at the highest of levels.
For Wambach, that happened back in 2002 against Finland. April 27, 2002, to be exact.
We know what she has done for American soccer since, but it is always important to remember where it all started.
From that first goal a decade ago Wambach continues her march up the all-time list. She is only a mere 20 goals away from tying Mia Hamm as the USWNT's all-time goal scorer. I think it is safe to say in the near future we will witness Wambach surpassing the legend for that top spot.
Passing Kristine Lilly, 2012 vs. Canada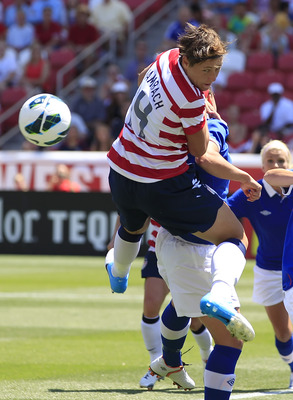 George Frey/Getty Images
Wambach entered the match with 129 goals, one behind Lilly for second all-time.
The CONCACAF Olympic Qualifying finals started quickly as Wambach assisted on Alex Morgan's goal just four minutes into the action. Later in the first half Wambach would make history and put the match away.
Wambach hit paydirt in the 24th minute and tied Lilly at 130 goals. The question then became: Can Wambach pass her today? That was answered in less than five minutes.
In the 28th minute of action Wambach scored again and moved in to second on the scoring list for the US.
2004 Olympics Gold Medal Game vs. Brazil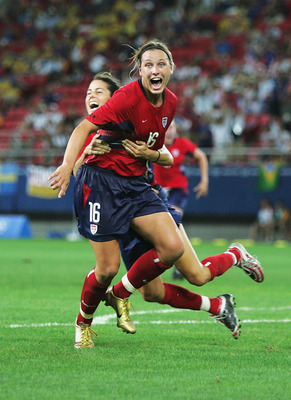 Shaun Botterill/Getty Images
Wambach's flare for the dramatic against Brazil did not start at the 2011 World Cup.
The Americans and Brazilians were tied at one goal a piece in the gold medal game at the end of regulation. Extra time began. The 112th minute proved to be one of the greatest moments in Wambach's career and USWNT history.
Kristine Lilly took the corner and struck it well. What else would be on the other end besides Wambach's noggin? One of the most feared weapons in women's soccer.
The goal truly was golden.
2011 World Cup vs. Brazil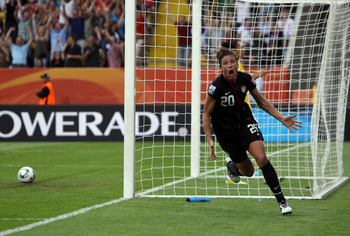 Martin Rose/Getty Images
In USWNT lore, the stoppage time header by Wambach at the 2011 Women's World Cup is only behind Brandi Chastain's penalty kick goal celebration.
The USWNT went up early on a Brazil own goal and it seemed like things would fall their way. But Marta, arguably the world's greatest player, equalized in the 68th minute on a penalty that was initially missed. The questionable call to re-take the penalty gave Marta the second chance she needed to sink it.
Questionable referring reared its ugly head in extra time when the officials missed an offside call that resulted in another Marta finish.
And then as the Brazilians stalled to try and run out the clock they actually gave the US more stoppage time to work with. Then it happened.
Rapinoe crosses. Wambach scores. We head to penalty kicks.
It did not win gold. It wasn't even a game winner. But the dramatics surrounding it with the eyes of the world watching makes this one of the all-time moments for the USWNT and women's soccer in general. Goosebumps raise thinking about that moment.
This is the defining moment of Wambach's career.
Keep Reading