WWE Money in the Bank 2012 Predictions: Match-by-Match Breakdown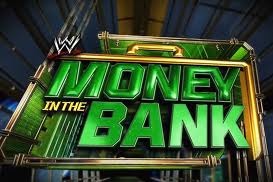 The Money in the Bank PPV is finally upon us, but to be honest the lead up compared to last year's is kind of letting me down.
I mean, to be fair, last year had CM Punk vs. John Cena in the beginning of what would be an amazing feud that made Punk as over as he is now.
Anyway, this year isn't that bad. For the first time, we have a four-man Money in the Bank ladder match, a WWE Title match with an unpredictable referee and more.
Here is a closer look at each match.
Begin Slideshow

»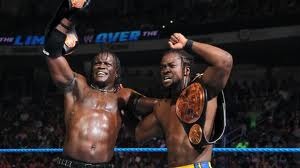 A good way to start the show is with a high-flying tag team match that could have title implications down the line if Hunico and Camacho play their cards right.
It's great to see that the faults of Evan Bourne haven't hindered Kofi Kingston's tag team career and R-Truth's only gotten better since getting to work with The Rock at Survivor Series.
Neither of these guys got too much screen time in the last week so getting the tag champs in a match on the dark match is at least showing that the WWE still cares about the tag division.
Anyway, a win for Hunico and Camacho could lead to a spot on the Summerslam card in a rematch for the belts.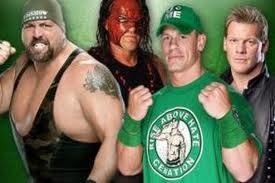 Participants: John Cena, Kane, Chris Jericho, Big Show
This is one of the more intriguing events to happen. Normally, the WWE reserves these matches for mid-card talent who are looking for ways to get up in the ranks, but the WWE wasted it on a four-way match between four former World Champions.
Don't get me wrong, having the inventor in the match (Jericho) is awesome and Kane is a former winner himself.
Big Show and ladder matches aren't something I like, but the overall build up has been good.
All guys are looking for their chance to inch back into the title picture so this might not be too bad.
Imagine Cena winning and using the briefcase to turn heel.
Someone was thinking it along the line. I'm just putting it out there.
Anyway, with the history and the amount of matches these four guys have had against one another, they know their spots and have the capability of putting on a half decent ladder match.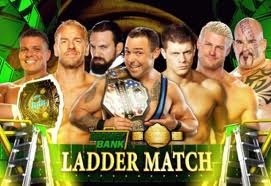 Participants: Damien Sandow, Tyson Kidd, Christian, Santino Marella, Tensai, Cody Rhodes, Dolph Ziggler, Sin Cara
Now this is more like it.
A bunch of mid-card talent sprinkled in with a couple of former World Champions duelling it out for the briefcase.
A lot of these guys have come up quite quickly so it will be hard to see them winning it. No offence Sandow and Kidd, although Sandow has been a great addition to the roster and it is nice to see Kidd come back post-Hart Dynasty.
It's always a MITB match when the Intercontinental Champion is involved so Christian has to be in the mix, plus the US Champ Santino.
Christian is finally being used in the right way. Ever since Edge's unfortunate retirement, Christian has been given the ball and he's run with it. An epic rivalry with Randy Orton and keeping his heat through injury has served Captain Charisma well.
Tensai will continue to be dominant but he won't win this match. He could use a bit more time before he gets a World Title put on him. Whether or not he has past WWE experience and was a World Champion in Japan, he's a relatively new/returning face to the company and if pushed right, he'll get that World Title the same way Mark Henry did last year.
Rhodes is a good pick for this contest. He doesn't have the Intercontinental Title. He is just about ready to be a main-event-level star and he has done everything right for himself. He's gotten over with the crowd as a heavy heel and his work in the ring is second to none. Of course, look who is father is.
Ziggler is in about the same boat. He has gotten plenty of title matches recently and we all know it is just a matter of time before he gets a good title run.
Sin Cara is getting back from injury and with all of his previous problems, WWE is keeping a watch for him. It'll be exciting to have him in the match. He will add some high flying to the foray, but that's all.
Overall, Rhodes or Ziggler makes the most sense to win this match. They both have heel heat and are inches away from getting into the World Title picture on a more consistent basis.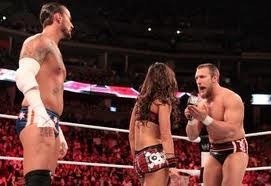 These two have been a treat to watch the last few months. Back when they were both champions and matched up on RAW, we knew they were headed for a feud that would give us a reason to watch.
Who knew a girl would be involved?
With AJ as the special referee in this match, it's hard to predict who is going to win. We could get the curve ball and AJ screws Punk out of the title and this was a whole thing between Bryan and AJ the whole time.
Or we get the standard classic match that we know these two can put on and AJ does her dirty work afterwards.
Either way, AJ has been spectacular and has added a great twist to this already-awesome rivalry.
Punk has had a lengthy run as WWE Champion and has had a lot of quality matches along the way, like a fighting champion should.
AJ will no doubt play a role in the finish, but if they want that Punk vs. John Cena III at SummerSlam, it makes sense to keep the belt on Punk.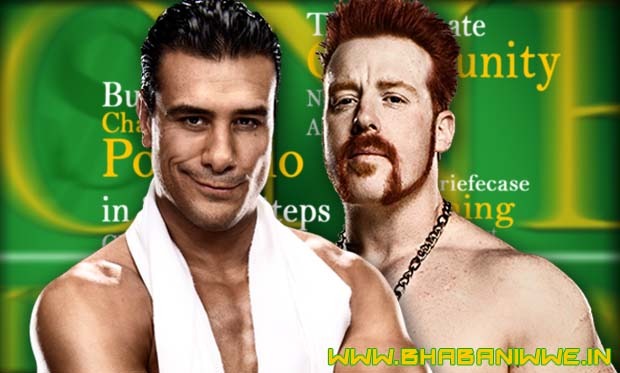 It's one of those matches to prolong a storyline further.
Quite honestly, I'm drawing a blank on this slide because I don't know where to begin. Del Rio wanted his title shot. He had to be in a Triple Threat match and he lost. He is now getting another shot at the belt against a formidable foe in Sheamus.
Del Rio is a former champ and the World Title picture could use a little spice. The problem for Del Rio is that his WWE Title runs weren't that impressive.
A World Title run could be exactly what he needs. He would be on SmackDown—away from the lights and glamour of live TV—and he would still get exposure on both shows anyway. Everybody wins.
Again, it is one of those matches I can see being a precursor for another title match at Summerslam. An easy out would be for Sheamus to use his rematch clause at the summer blockbuster.
What do you think?
Mark Pare is a Featured Columnist. You can follow him on Twitter, and don't forget to check out his sportswriter page.