UFC on Fuel 4: Chris Weidman Should Not Take on Anderson Silva Just Yet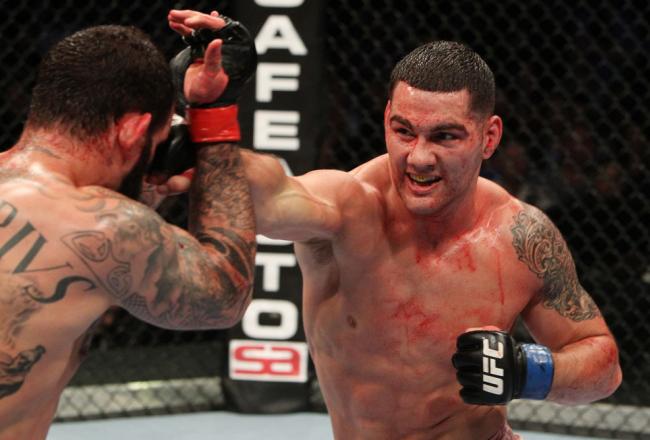 It's Thursday morning, just hours since UFC on Fuel 4 ended. Chris Weidman has barely had time to remove his hand-wraps, yet in the minds of those who witnessed tonight's masterpiece of violence, he is already being matched up with Anderson Silva.
And who can blame the armchair Joe Silvas who are clamoring for this match-up? The former All-American wrestler from Hofstra University has just dismantled Mark Munoz in a manner normally reserved for the antagonists from Kimbo Slice's home movies.
As Chael Sonnen pointed out on the post-fight broadcast, no one manhandles Mark Munoz the way Chris Weidman just did. The fight may be remembered for the brutal ending, due to Josh Rosenthal's contemptuously late stoppage, as if Munoz had demanded that his wife make him a 'steak, medium-rare, just the way I like it'.
It should be remembered for what transpired beforehand. Weidman's ability to out-wrestle, control, and eventually out-strike the 'Filipino Wrecking Machine' was, in many ways, a revelation. We knew he was good, but did we know he was this good?
With all that said, the UFC should proceed with caution when it comes to picking Weidman's next opponent. Equally, the Serra-Longo protege should think carefully before seeking out the pound-for-pound king.
There is always a sense of excitement when a new contender emerges, particularly in a division that desperately needs some fresh faces. No one is especially giddy at the prospect of Anderson Silva taking on Michael Bisping or Brian Stann, so the Weidman bandwagon is certainly understandable.
However, it is easy to forget that the 28-year-old New Yorker is still a relative novice, with only nine fights on his record. Is it really worth rushing him into a title bout against the greatest fighter this sport has ever seen?
Granted, Weidman is a stylistic nightmare for the Brazilian. But imagine how big this fight could be a year or so down the line if the 28-year-old remains on his current trajectory, and the UFC takes the time to build up his profile.
In the same way that Jon Jones walked through 'Shogun' Rua, Weidman-Silva may end up being another passing of the torch. Such an encounter is more sensible in the long run. After all, why risk stalling the progress of a potential star simply for short-term gains?
This article is
What is the duplicate article?
Why is this article offensive?
Where is this article plagiarized from?
Why is this article poorly edited?