Cincinnati Bengals Mailbag: 7/12 Edition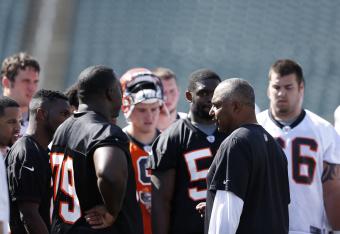 Joe Robbins/Getty Images
This is the inaugural edition of a weekly Cincinnati Bengals mailbag answering your burning questions about anything related to the team, organization and its players. Want to participate next week? Follow me on Twitter and send me a question on Wednesdays to have it featured right here!
This week, we'll tackle potential disappointments and issues facing the Bengals in 2012. We'll also talk offensive schemes and specific roles for individual players within those schemes. Finally, the ever-hot issue of Marvin Lewis' future in Cincinnati rounds out this week's mailbag.
@Chris_Roling what position will impress the least this season?

— Lex Brolezal (@pianonerd3394) July 11, 2012
Well, Lex, if I were a betting man, my first choice would be the running back position. Each position on the Bengals' roster has adequate depth, with the exception in my book being the running back spot.
A year ago, the Bengals had a 1,000-yard rusher in Cedric Benson, but he consistently went down with the first hit and was horrendous in short-yardage situations. To remedy this, the team signed BenJarvus Green-Ellis this offseason, but I don't think it's enough.
BJGE is a solid short-yardage back that doesn't turn the ball over, but that happened in New England with Tom Brady as the quarterback. Opposing teams were not focused on stopping him at all. Now he's playing in the AFC North, and as much as I love Andy Dalton, he won't get the same amount of respect from defenses.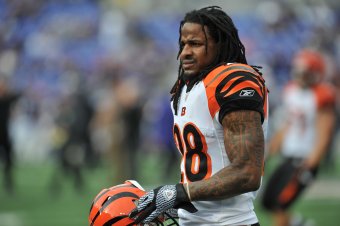 Larry French/Getty Images
Behind "The Law Firm" is Bernard Scott, a back who has yet to prove he can carry a load, and Brian Leonard, who is an efficient third-down back. To me, the trio is eerily similar to the committee used last season. That's not necessarily a good thing, and could lead to some disappointing results.
@Chris_Roling will pass rush be an issue next season?

— Simon Hunter (@BengalsSimon) July 11, 2012
Simon, I can see why you may think the pass rush would be an issue for the Bengals next season. After all, of the 45 sacks the defense recorded in 2011, 14 of those aren't returning to the team in 2012 (Jonathan Fanene, Frostee Rucker and Chris Crocker).
Despite this, I don't see it being an issue for the team. Defensive tackle Geno Atkins will still record a high amount of sacks and also open things up for those around him. If Carlos Dunlap can stay healthy, he has the ability to be one of the best pass-rushing defensive ends in the NFL.
I love the additions of Devon Still and Brandon Thompson via the draft. Still can rush in a similar fashion to what Fanene did last year from either the end or tackle spot.
Two guys to watch out for are Jamaal Anderson and Derrick Harvey, the first-round busts picked up in free agency. I'm not high on Harvey, but I love Anderson's skill set. Both were labeled "busts" because they couldn't perform at a high level on every down and match expectations. This year, they have no expectations placed on them and could excel as part of a deep rotation.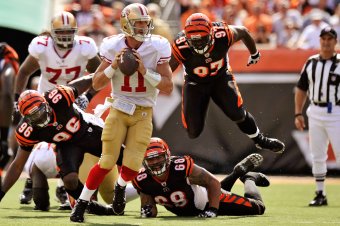 Jamie Sabau/Getty Images
Keep in mind a large amount of sacks came from the secondary last year, and with Crocker being replaced by the athletic freak that is Taylor Mays, I think it's a safe bet the Bengals' secondary could record even more sacks in 2012 than they did last year.
@Chris_Roling will we see a true 2 tight end set this year?Will Brian Leonard see reduced 3rd down play with bjge coming in?

— Sean Thorfinnson (@mtnsean) July 11, 2012
Hey Sean, I think as the NFL as a whole attempts to mimic the Patriots' tight end aerial attack, all teams will introduce more sets as well, and that includes the Bengals. We can already see them shifting toward this trend personnel-wise with the drafting of Orson Charles.
As we all know, Jermaine Gresham is an outstanding red-zone target and is due for more passes thrown his way. I believe lining him up with someone like Charles, Colin Cochart or even Donald Lee will create some mismatches. Lining up Gresham at a wide receiver spot is an option as well, which could be great for Dalton and the offense.
Regarding Brian Leonard, I think he'll receive around the same amount of touches as he did a year ago. He's an excellent pass-protector, but so is Green-Ellis. With that being said, I'm sure it will be Leonard on the field on 3rd-and-long, and Green-Ellis out there on 3rd-and-short.
Andy Lyons/Getty Images

@Chris_Roling will Jay Gruden use a full offseason to further install a diverse and more complex offensive system?

— Vance Meek (@vancemeek) July 11, 2012
Absolutely Vance. The offense last season was one of the most basic forms of a West Coast offense. In fact, according to Josh Kirkendall of cincyjungle.com, the offense employed by Jay Gruden was even more predictable than that of the widely-hated ex-offensive coordinator, Bob Bratkowski.
This happened for obvious reasons thanks to the NFL lockout that shortened both the offseason and time that then-rookie quarterback Andy Dalton had to learn the offense.
Now that there is a full offseason and a year of NFL experience under Dalton's belt (not to mention playoff experience), it is only natural for the offense to evolve. I doubt the offense next season will be predictable at all now that the team has a back that can catch passes out of the backfield on any down.
Add in a potential receiver-by-committee approach and A.J. Green learning all the receiver spots on the field, and the Bengals' offense is going to look drastically different in 2012. From what we've all heard, Dalton is working on his arm strength as well, which means stretching the field even more.
I believe the Bengals are following the trend the rest of the NFL is creating in relying more on the passing game. They are certainly molding the roster in that fashion. Look for Gruden to open it up in 2012 and potentially eliminate the red-zone woes of last season altogether.
Tyler Barrick/Getty Images

@Chris_Roling What role (if any) do you see Andrew Hawkins playing in 2012?

— Matt Gray (@mattkgray) July 11, 2012
Well, Matt, this is certainly one of the bigger questions as we approach training camp because of the large amount of bodies the team has at the position. Personally, I think Andrew Hawkins is a lock for the roster because of his versatility.
Hawkins can contribute in a big way on special teams returning and covering kicks. He's also great for gadget plays like bubble screens. In a diverse offense like Jay Gruden's, gadget players are important to have around. Most offenses in the NFL have one, and Hawkins is that for the Bengals.
It's hard for me to see Hawkins getting more touches than he did last year, but he'll get about the same if it were left up to me. He's a game-breaking receiver in the open field, and you can't let that walk. He's also another wrinkle opposing defenses have to spend time preparing for, and that's always a good thing.
@Chris_Roling What do you think about the Marvin contract issue? Time to let him move on & see what Zimmer/Gruden can do?

— Joe (@JoeskiBroski) July 11, 2012
Personally, Joe, I think regardless of the results in 2012, Marvin Lewis' time is up in Cincinnati, at least in his current role. It's been an up-and-down relationship, but he has done a wonderful job of turning things around and helping the Bengals to become more of a modern NFL franchise.
With that being said, Lewis is still one of the worst game-managers in the NFL in my opinion. He's awful with challenges and managing timeouts. That can be crippling for a team's season.
I think the best course of action at this point would be to offer Lewis some sort of player personnel job within the organization, although don't ever mutter the words "general manager" in Cincinnati. If he doesn't accept that position, or it isn't offered, then he needs to go.
In his place, the best move in my book would be to promote Mike Zimmer to head coach. Jay Gruden is a good candidate, but there are a plethora of jobless coordinators that can implement a successful West Coast offense. There are none like Zimmer who can turn a bargain-bin defensive unit talent-wise into an elite unit, and consistently at that.
Want to participate and have your question featured in the mailbag next week? Hit the button below to follow me on Twitter and send me your questions every Wednesday!
This article is
What is the duplicate article?
Why is this article offensive?
Where is this article plagiarized from?
Why is this article poorly edited?

Cincinnati Bengals: Like this team?