NHL Trade Scenarios: Rangers Who Might Have a New Home Next Season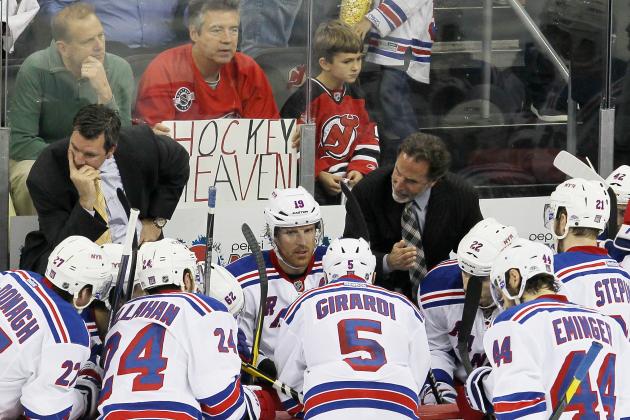 Jim McIsaac/Getty Images

It's no secret that the Rangers have been in major need of some offense.
So far, the Rangers' offseason hasn't been as eventful as some would have hoped. To this point, the Rangers have brought in several bottom-six players. They picked up some toughness in Arron Asham to replace Brandon Prust. The one goal they have failed to accomplish is landing that ever-elusive puck-moving defensive player, but Michael Del Zotto took some strides last season to fill that role.
The Rangers are looking for that one true goal scorer who will put them over the edge. At this point, it appears to be Rick Nash or Bobby Ryan. The Rangers are hoping the guy they bring in will address what was exposed during last year's playoffs. Scoring.
The Rangers still have plenty of depth, which they could move for the right guy. Here are a few players who might move before the start of the 2012-2013 NHL season.
Begin Slideshow

»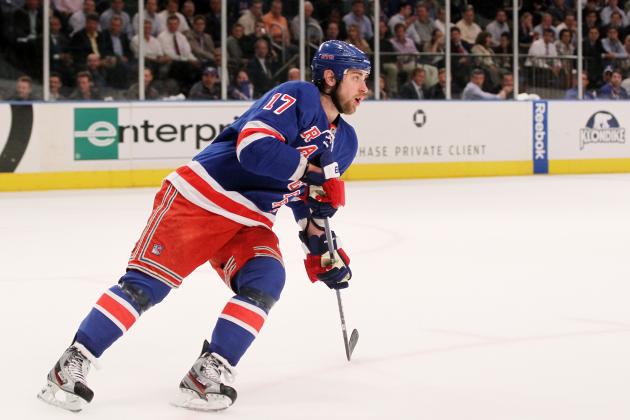 Bruce Bennett/Getty Images

Brandon Dubinsky signed a large contract and underachieved greatly. After back-to-back 20-plus-goal seasons, Dubinsky only netted 10.
Dubinsky is a tough, physical player. He will go to the low areas and battle hard. He likes to throw his body around and isn't afraid to drop the gloves. Dubinsky is a young player who still has time to develop into a solid two-way player.
At this time, Dubinsky is a risky player, one that requires teams to evaluate the risk/reward factor. His production last year was that of a third-line player, but his contract is that of a top-six center. Ultimately, this drops his trade value a bit.
Trade Value: C-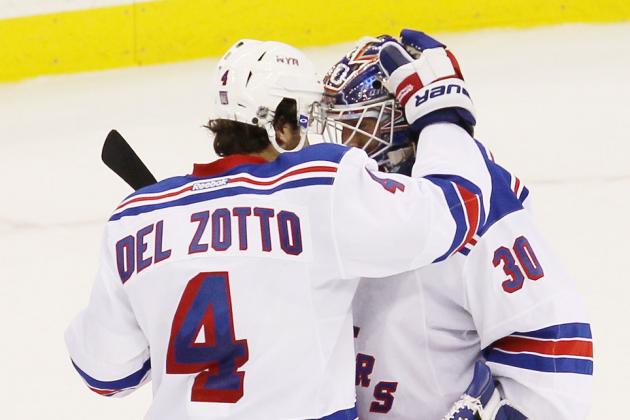 Jim McIsaac/Getty Images

Del Zotto had an excellent start to his rookie campaign, simmered down in his sophomore season, then heated back up last year. The Rangers have depth defensively, and many teams could have some interest in Del Zotto. The Rangers might capitalize on this and package him up to address their scoring woes.
He has played in 204 regular-season NHL games, scoring 21 goals and assisting on 68 others. Del Zotto has shown that he has the potential to be a good offensive defenseman, and he has shown that he could be a solid defender as well. After last year, MDZ cut his career minus-25 down to a minus-five.
Michael Del Zotto can skate, and with his offensive mind, teams might have interest in this Ontario native. The Rangers could decide they would like to develop him a little further, but Del Zotto is a restricted free agent. The Rangers' depth could possibly allow them to address other needs by trading Del Zotto.
Trade Value: B-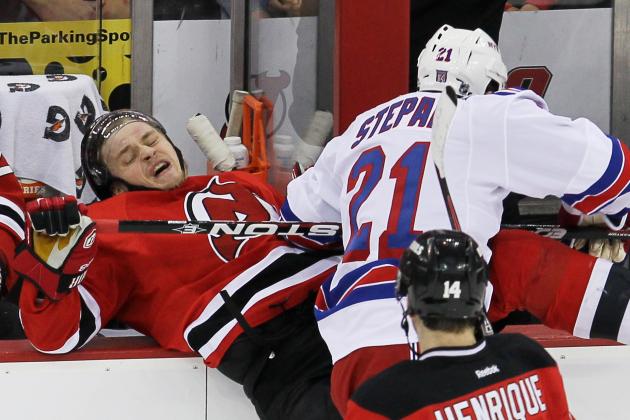 Jim McIsaac/Getty Images

Derek Stepan has the makings to one day be a top forward in the game. Only in his second NHL season, Stepan has scored 38 goals and 96 points in 164 games.
Stepan has Ryan Callahan qualities to his game. Derek Stepan will throw the body around and play a two-way game, but more importantly, he can find the scorer sheet.
Stepan is drawing a lot of interest from other teams, and for good reason. So much so, that Glen Sather had to publicly announce he is off limits. Stepan was only off limits until Shea Weber talks came around. Sather quickly reconsidered Stepan's availability.
Trade Value: B+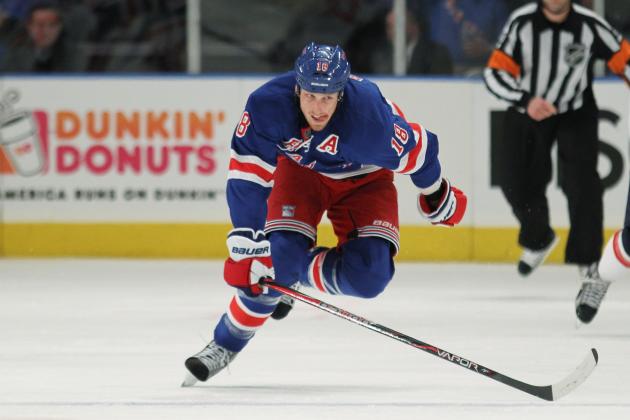 Bruce Bennett/Getty Images

Just a year ago, Marc Staal was top defender in the league until a concussion sidelined him. As the season progressed, Staal began to return to form. Staal very much could have been untouchable, but the fact that both of his brothers now play for the Carolina Hurricane causes some to wonder how long Staal will be in New York.
Before the injury, Staal was a shutdown defender with the responsibility of neutralizing other teams' top guys. Staal did exactly that. Although he wasn't a big offensive threat, he knew when to jump into the plays.
Staal would be an asset to any club.
Trade Value: A-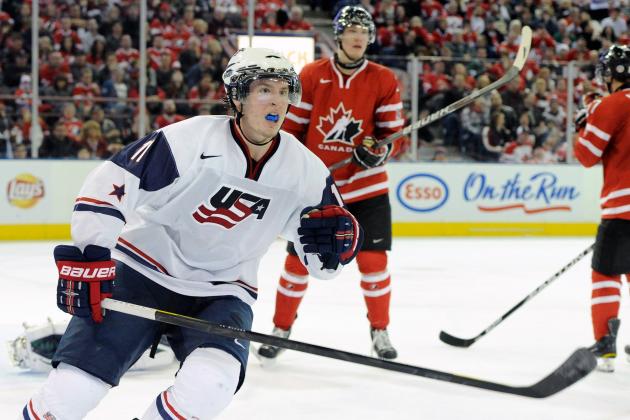 Richard Wolowicz/Getty Images

If the Rangers are going to go for that home run trade, they will need to include some of their top prospects. It is difficult to speculate who they are willing to part ways with, but there are several who might be on other teams' radar.
Ryan Bourque: This center plays with speed. Bourque isn't known for his goal-scoring touch, but more for his tenacity. He plays a quick game and has no problem going into the dirty areas. He could develop into a solid two-way player and could easily become a top-nine guy.
J.T. Miller: Miller is a guy quickly making a name for himself. He was one of 22 players to make the U.S. World Junior Team. Miller has more of an offensive upside to his game. He is capable of becoming a top-six center by the end of his first season.
Christian Thomas: This right winger has a scoring touch to his game. Couple that with his speed and willingness to battle to get to the net, and that makes him a very dangerous player. What is impressive about Thomas is his character. Thomas could develop into a superstar and have a Chris Kreider-like effect when his number is called.
Tim Erixon: Erixon only saw 18 games with the New York Rangers last year. In his brief time in the NHL, he recorded two assists. Hockeyfutures.com describes Erixon as "a smart defenseman who plays a solid two-way game. He can quarterback a power play, but is not strictly an offensive blueliner. Erixon has a heavy shot, sees the ice very well, passes well and is very responsible in his own zone." Erixon could develop into a top-four defender in the next couple of seasons.

The only issue with prospects is the uncertainty of when these players will be NHL ready. Another risk factor, as we all found out, is they might opt to sign elsewhere when the time comes. It is highly unlikely, but Justin Schultz just left Anaheim to sign a big pay check with Edmonton without ever playing in an NHL game. Although this scenario is uncommon, it could still happen.
Trade Value: B+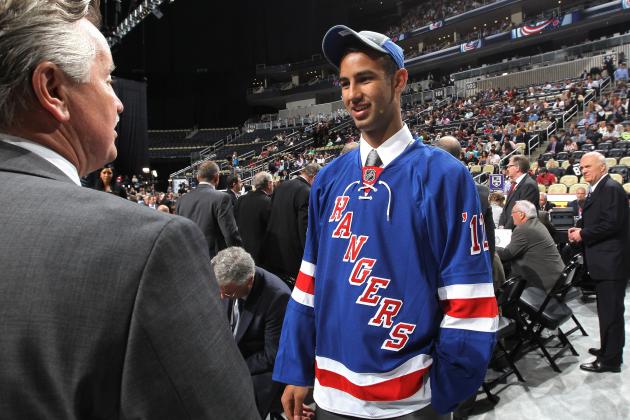 Bruce Bennett/Getty Images

The Rangers have depth. So much depth that they could afford to lose some picks. Draft picks are always valuable to any team in a rebuilding process. The only downfall with the Rangers' draft picks is the fact that they will be lower-end picks.
Trade Value: A-