Michael Phelps: Endorsement Deals We'd Like to See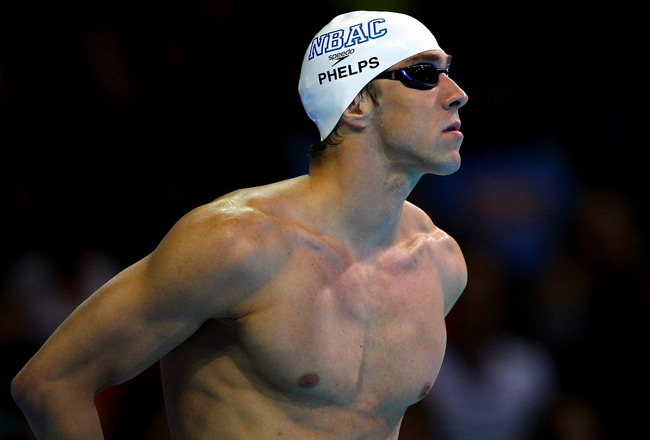 Al Bello/Getty Images
Michael Phelps certainly has a good start to his list of celebrity endorsements. But as Mark Spitz learned, it is best to strike while you are still hot.
After he's finished in London, Phelps will have some extra time on his hands. Adding a few more endorsement deals and cutting some commercials will be a great way to spend some of it.
Bleacher Report understands that Phelps is a bit too busy to worry about that right now, so we're getting a head start for him.
Here are a few endorsement deals that make too much sense to pass up.
Jimmy John's Sandwiches
Phelps has had a good run with Subway. We saw him swimming through pavement and wheat fields, he's worked out with Jay Glazer and got to "be himself" with Jared.
The spots seem about done, and nobody wants to see Phelps get as stale as Jared has become (insert your own joke regarding day-old Subway bread here).
Jimmy John's is the emerging name in the sandwich business. They have fun, creative adds...and definitely can push the edge, as seen in the hostage-situation commercial above.
It's time for them to add a series of commercials with Phelps as a delivery guy, offering everything from yacht service to late-night dorm party delivery.
Phelps could arrive port-side of a speed-boat, matching their motor stroke-for-stroke. He could be training alongside a yacht and the captain could ask "pardon me, but do you have any Jimmy John's?"
They could also play off Phelps' wild side and have him show up in a smoke-filled dorm room with a bag of sandwiches, and then stay to join the party.
Subway commercials are simply too boring, and that isn't Phelps. It is time for a change.
Kawasaki Jet Ski®
It is difficult to remember the last time I saw a commercial for a personal watercraft. It isn't that they aren't out there...they are.
It's just that they simply aren't memorable.
If Kawasaki would like to again take a stranglehold on the watercraft market, they need to turn their attention to Phelps.
Who wouldn't want to see a competition between Phelps and a Jet Ski?
It would feature Phelps with a bikini-clad "rider" on his back, squaring off with a driver on a Jet Ski. They could race for speed, agility and wave-jumping.
The spots would certainly bring some fun back to commercials for an industry that is all about fun. And after watching the spot above, they definitely need it.
Hawaiian Tropics

It is time for a new image for Hawaiian Tropics.

In an effort to encourage equal opportunities for the genders, it is about time for Hawaiian Tropics to add the renowned swimmer to their lineup. They are known for their bikini models throwing on their lotion, but is it just for women?
It is time for them to come out with a new high-SPF water/swim-proof sunscreen for Phelps to wear while training in an outdoor pool.
Even if the product is geared towards women, wouldn't they rather see it going on Phelps?
Still, to be safe...it should be applied by a team of their models.
Twinkle Silver Polish
Phelps will be looking to build on his already impressive load of gold medals in London. If he's successful, an ad for the Twinkle Silver Polish Kit would be ideal.
Phelps, strewn with gold medals, could be given the silver polish as a gift in the locker room. Befuddled, he could ask Ryan Lochte what he should do with it.
This would lead to several different endings for the spots. A disappointed Lochte could say "here...I'll take it."
In another ending he could suggest re-gifting it to Ian Thorpe and the Australian relay team. Finally, he could offer "I bet the men's hockey team would like it."
Of course, if Lochte beats Phelps in one of their events, the spots could take a whole new angle.
Gillette Razors
Frankly, I'm shocked this hasn't transpired yet. Swimmers shave...well, everything. Where is Gillette offering Phelps a huge contract to represent their latest line of male hygiene razors? (They do have a deal with Ryan Lochte.)
At a minimum, they need to sign Phelps up for their standard facial lines.
Phelps showed up at the Beijing Games with a Fu Manchu, and was sporting some kind of a goatee prior to the U.S. Olympic Trials.
The goatee is hardly new...he has flashed variations of that look many times before. But Gillette could do us all a favor and sign a deal with Phelps that has one simple qualifier.
NO MORE FACIAL HAIR!
I'm certain Phelps thinks it's fun, but he just doesn't carry these looks off well.
A clean-shaven Phelps is much easier to look at. Come on, Gillette. We're BEGGING you!
Keep Reading