WWE Money in the Bank: 5 Reasons Why Dolph Ziggler Will Win Ladder Match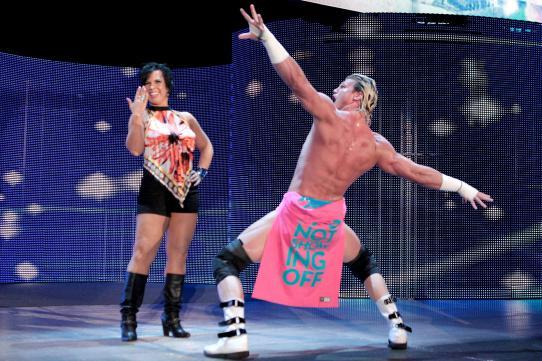 Photo courtesy of WWE
One of the biggest matches at this Sunday's Money in The Bank pay-per-view will be the ladder match for the World Heavyweight championship contract.
While there are several talented wrestlers in the match, Dolph Ziggler will be the one in the end who wins it.
Ziggler has been stuck at mid-card status for way too long now, and is arguably the most talented star going into the ladder match on Sunday.
The Money in the Bank ladder match will give Ziggler the push we have all been waiting for.
It will help him break through the glass ceiling, and put him one step closer to a true World Heavyweight title run.
With a majority of the fans behind Ziggler as we get set for The Money in the Bank pay-per-view on Sunday, it's time for him to prove that it's not showing off if you can back it up.
Dolph Ziggler will win the Heavyweight contract ladder match this Sunday.
Here are five reasons why.
Begin Slideshow

»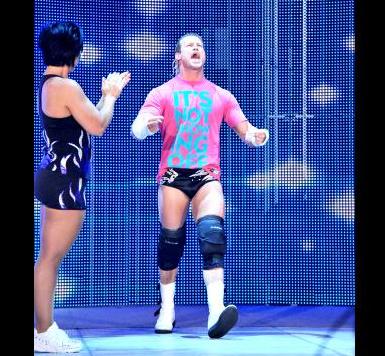 Photo courtesy of WWE
Ziggler seems to be a pretty popular wrestler right now.
From the chants during his matches on RAW and SmackDown, to the popularity of his YouTube show, it's clear that a lot of fans will be cheering for Ziggler as we gear up for the Money in the Bank pay-per-view.
This is just all the more reason why Ziggler will win the ladder match.
Ziggler is arguably the most popular wrestler going into this match. While Cody Rhodes might be another favorite to win, Rhodes is still not on the same level as Ziggler. Christian, too, could be considered a fan favorite, but the reality of him winning is much slimmer than Ziggler or Rhodes.
With so many fans behind him, it's time to give the WWE the benefit of the doubt and hope that they will put Ziggler over in this match, and give us what we want:
Ziggler as the Money in the Bank winner and one step closer to achieving a true World Heavyweight championship reign.
Does the WWE creative team like to change their plans at the last minute? Sure, they do it all the time. Just look at the Royal Rumble. Wasn't Jericho supposed to win? Isn't that what a lot of fans wanted? They instead gave the win to Sheamus.
This match, though, will be different.
The WWE will give the fans what they want and Dolph Ziggler will win the Money in the Bank ladder match.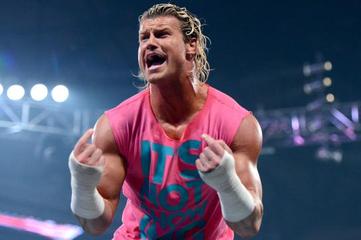 Photo courtesy of WWE
It feels like we have been talking about Ziggler's deserved push for forever now.
Has the man not been entertaining us for years? He's had to deal with being held down by Vickie Guerrero and Jack Swagger for months.
Well, now it's truly time for Ziggler to reach the upper echelon of the WWE.
Ziggler has paid his dues, especially since he debuted in the WWE as a cheerleader in the Spirit Squad.
He has also been at mid-card status for a while now. He had a brief World Heavy Weight title run back in 2011, and by brief I mean it only lasted about 11 minutes. Now it's time for him to finally achieve a real Heavyweight title run.
Besides already paying his dues, Ziggler has constantly been one of the best when it comes to putting other wrestlers over.
Do you know of any wrestler who can sell a Brogue Kick better than Ziggler?
He makes other wrestlers look extremely good because of how well he can sell a move.
Another example would be when he went against Jack Swagger last month and made it seem like he had injured his knee.
While Ziggler would win the match, he sold the injury so well that it was hard to tell if he had really hurt himself or not.
Dolph has been a cheerleader, constantly helps make other wrestlers look better than they really are and has been stuck at mid-card status for way too long.
Ziggler will win the Money in the Bank ladder match because it's his time to be a top star.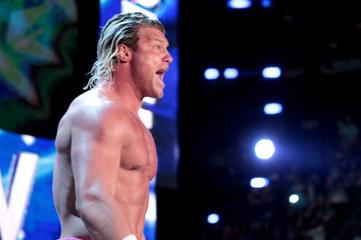 Photo courtesy of WWE
Ziggler winning the ladder match would help give the WWE universe something it desperately needs.
A face wrestler that we as fans made face.
What I mean by that is Ziggler really wasn't intended to be a face wrestler. He had a heel gimmick going for a while, especially with Vickie Guerrero acting as his unneeded mouthpiece.
A win at Money in the Bank could help Ziggler drop Vickie and would also give a lot of fans what they want.
Since the WWE launched its YouTube channel, and even slightly before that on episodes of Z! True Long Island Story, fans have been getting behind Ziggler and his cocky promos.
Ziggler hasn't done anything to make fans cheer for him as though he was a good guy; fans just do it because we know how good Ziggler is.
This is the main difference between a fan-chosen face and one that is made by the WWE.
John Cena and even CM Punk could be considered wrestlers who were made face by the WWE. Sure, while fans got behind Punk when he delivered his famous promo, now Punk seems more like a created face, trying to be some type of knight in shining armor to WWE Diva AJ.
Ziggler could be the type of face we need in the WWE Universe, one that reminds us of a cocky Mr. Perfect or Ric Flair.
A face that the fans choose to cheer for because we understand what a good wrestler is, and enjoy the arrogance Ziggler brings by being the best there is.
When Dolph Ziggler wins the Money in the Bank ladder match, he can finally dump Vickie Guerrero and be a true fan-made face wrestler.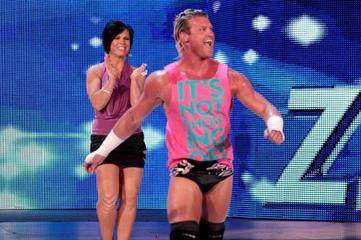 Photo courtesy of WWE
Ziggler winning the ladder match at the Money in the Bank pay-per-view would help him carry the momentum that he has been building since the WWE decided it was time for Ziggler to dump Jack Swagger.
Since Ziggler and Swagger split up, we have seen Dolph more involved in the Heavyweight championship scene.
It might not have been planned for Ziggler to be so involved with the championship, though. There was always speculation that Ziggler was set to feud with Randy Orton, but Orton ended up getting himself suspended.
Ziggler has been involved with several matches against World Heavy Weight champion Sheamus, and a Money in the Bank win would keep pushing Ziggler forward.
While he hasn't been able to overcome the Great White one-on-one, having the ability to have a title match at anytime would more than likely help Ziggler pin Sheamus.
With Ziggler proving that he can go toe-to-toe with almost anyone and put on a great match, why would the WWE decide to derail him now?
When Alberto Del Rio was sidelined with a concussion for the No Way Out pay-per-view, Ziggler was able to step in and deliver a match that was probably better than the originally-planned Del Rio-Sheamus match.
Even the fans are now starting to get behind Ziggler.
Have you seen how week after week since Ziggler dumped Swagger, more and more fans are cheering for him?
Clearly, Ziggler has a lot of momentum behind him as he heads into the Money in the Bank pay-per-view, more than any other competitor in the ladder match.
With so much pushing Ziggler forward, the only step for him now is to grab that brief case.
If by now you still aren't sold on the idea of Dolph Ziggler winning the Money in the Bank ladder match, well then my friend, you need to wake up and smell the roses.
Ziggler has all the key features to be a top wrestler in the WWE. One of Ziggler's best features, though, is how well he can cut a promo.
This week's episode of WWE Download proved just how good Ziggler is on the mic.
As Ziggler tears into Alberto Del Rio at the end of the episode, he blurs the kayfabe line. What he says about Del Rio is absolutely true.
He gets more chances than Ziggler takes brogue kicks to the face. Do we as fans really want to constantly see Del Rio involved with the World Heavyweight title? Ziggler also mentions that Del Rio is boring, which again is absolutely true.
Ziggler's wrestling ability and his promo skills clearly demonstrate that he is on a top level.
It goes far beyond just cutting a good promo, though.
Not only will he win the ladder match because of the previously-mentioned reasons, but of all the competitors in the ladder match, Ziggler is truly the only one who can combine sport and entertainment. He is the only one who constantly delivers night after night. Whether it's selling every move as though it's real or showing us his promo ability on his YouTube show, Ziggler is clearly a cut above the competition.
At this year's Money in the Bank pay-per-view on Sunday, Dolph Ziggler will win the ladder match. Ziggler will finally break the glass ceiling and go from a mid-card spot to being a top talent in the WWE like he rightfully deserves.