Spotlighting the Pittsburgh Steelers' WR Position Heading into the 2012 Season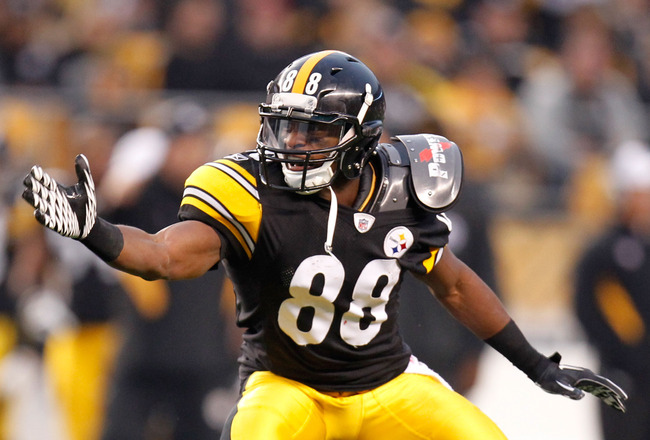 Will 2012 be a breakout season for Steelers WR Emmanuel Sanders?
Gregory Shamus/Getty Images
The Pittsburgh Steelers have stealthily built themselves one of the more explosive passing offenses in the league. Yes, there are troubles with getting the ball into the end zone, but between the 20s, the Steelers have been on fire in the air in the past two seasons.
Quarterback Ben Roethlisberger is one reason for this; the other is his group of fast, young and reliable receivers.
Let's take a look at each of these receivers and see just what they may each contribute to Pittsburgh's offense in the upcoming season.
Mike Wallace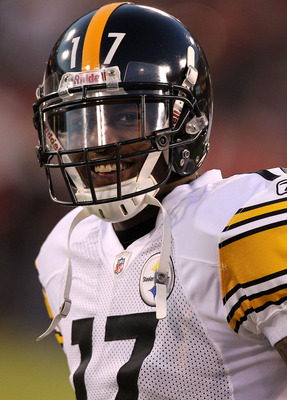 Mike Wallace gave the Steelers 1,193 reasons last year why he deserves a payday.
Karl Walter/Getty Images
Mike Wallace is the Steelers' most productive receiver and he knows this—that's why he has yet to sign the $2.7 million first-round tender the team offered him earlier this offseason. Contract talks between the two sides are currently at a stalemate, and with no hard deadline for him to sign, his holdout could continue into training camp.
The Steelers had the option to reduce the tender amount by $2 million on June 15, but opted to not take that route; he has until Week 10 of this season to agree to a deal or to the tender.
Wallace has every reason to desire a lucrative long-term deal. He caught 72 of the 113 passes thrown to him last season for 1,193 yards and eight scores and has been highly productive for two years in a row. The cap issues facing the Steelers beyond 2012 likely have something to do with the inability to get a contract done, but likely some level of agreement will be reached, and Wallace won't hold out into the season.
The only risk of missing camp is that the Steelers have just installed a new offense under coordinator Todd Haley. Though Wallace has his playbook, he hasn't worked with Haley, Ben Roethlisberger and his other teammates to execute the plays. While Wallace is adept at simply getting open and making a catch, there's more to offensive football than that, and he'll be a bit behind once he does report to the team.
Regardless, expect another big season from Wallace this year. He's nearly a lock for another 1,000-plus yard year in 2012.
Antonio Brown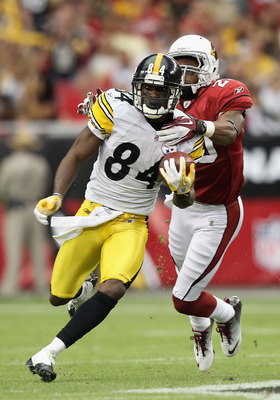 Antonio Brown was one of 2011's biggest surprises.
Christian Petersen/Getty Images
Mike Wallace wasn't the only Steelers receiver to break 1,100 yards last year—Antonio Brown also hit that mark, catching 69 of 123 passes thrown his way, for 1,108 yards and two scores.
This year, the element of surprise won't be in Brown's favor, but the new Todd Haley offense should continue to feature him heavily. Though the return of Emmanuel Sanders could cut into Brown's targets this season, it's not inconceivable that he'll yet again top 1,000 receiving yards.
Brown is fast and reliable and benefits greatly from the double-teams that Wallace frequently sees. With two weapons like these at their disposal, it's no surprise the Steelers have gotten so strong in the passing game.
Emmanuel Sanders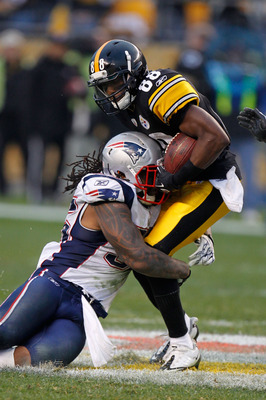 Sanders needs to stay healthy, which is easier said than done.
Gregory Shamus/Getty Images
Emmanuel Sanders should see more targets thrown his way as he becomes the Steelers' top slot receiver this year—that is, if he can stay healthy. Plagued by a number of injuries in his time in Pittsburgh, even head coach Mike Tomlin has noted that he's concerned about Sanders' durability.
Last year, Sanders appeared in 11 games and was targeted 43 times, catching 22 passes for 288 yards and two scores. If he can avoid injury this year, this may be Sanders' breakout season, one in which he may find himself with 700 or more receiving yards.
For Sanders, though, that's one big "if." He looks to be featured more prominently, but he's yet to complete a full 16-game season. At some point, Sanders needs to fulfill his potential—as a restricted free agent next season, he needs to prove he's just as valuable as Antonio Brown and Mike Wallace to likely stay around beyond 2013.
Jerricho Cotchery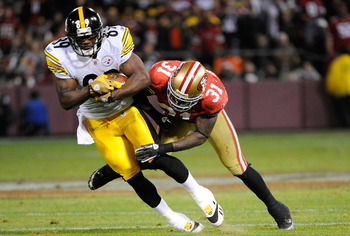 You know what? Jerricho Cotchery is a pretty good receiver, even if he won't be used constantly this season.
Thearon W. Henderson/Getty Images
Jerricho Cotchery, who is entering his second season in Pittsburgh, generated a good deal of interest during free agency but ultimately chose to return to the Steelers, signing a two-year contract this offseason.
Cotchery will be competing for the team's No. 3/slot receiver job with Emmanuel Sanders. While Sanders seems almost a lock to win that job, with Sanders' injury history, Cotchery could ultimately end up with significant playing time.
Even if he doesn't, look for Cotchery to be used on a fairly regular basis, especially in the red zone. Last year in 13 games, Cotchery was targeted 30 times, catching 16 passes for 237 yards and two scores. Cotchery also provides some veteran leadership to a receiving corps that needs it now that Hines Ward has retired.
Chris Rainey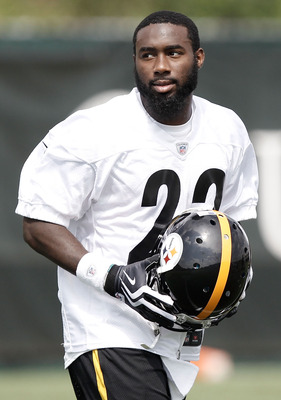 Chris Rainey may be one of the best uses of a Steelers' draft pick in some time.
Jared Wickerham/Getty Images
Chris Rainey is a hybrid running back/wide receiver drafted by the Steelers this year in the fifth round. A Dexter McCluster-type, the Rainey addition has Todd Haley written all over it.
Though Rainey is quite small and thus is extremely limited in pass protection and run-blocking situations, he'll still have his uses, albeit highly specialized ones. He's extremely fast and possesses good hands and gives the Steelers offense a dimension they've lacked for some time.
Rainey has already looked good in OTAs and minicamp, and there's no chance he won't make the active roster this year. The Steelers have special plans in mind for Rainey this year, and though his snaps may be limited, they're likely to produce some dynamic results.
Marquis Maze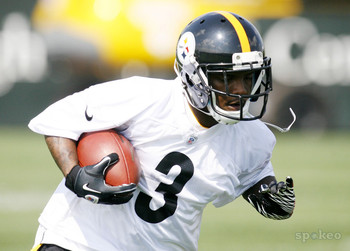 Marquis Maze's future is either special teams or the practice squad (Photo: Spokeo/US Presswire).
Marquis Maze came to the Steelers as an undrafted free-agent rookie. Though he had some collegiate success in Alabama—catching 56 passes last year for 627 yards and a touchdown—his small size is a major liability in the NFL.
At just 5'8" and under 190 pounds, Maze is one of the smallest receivers in the league. Lucky for him, he has punt and kick return abilities, with nearly 800 return yards last season alone.
The Steelers have a lot of fast players who can handle returns, however, which could spell trouble for Maze's chances to make the 53-man roster. The practice squad may be his ultimate destination this season.
Derrick Williams
A propensity to drop passes is what got Derrick Williams cut from the Lions last September.
Rick Stewart/Getty Images
Derrick Williams was a Detroit Lions fifth-round pick in 2009 and has caught just nine passes in his 18-game career. The Lions released him last September, and the Steelers picked him up in January.
Williams' only hope to make the 53-man roster is if he shines on special teams, and even then, it's a long shot. The Steelers may have just five receivers on their 53-man this year instead of six, and there are a number of players who can contribute offensively who also can perform special teams duties. Williams will likely be a camp cut.
Toney Clemons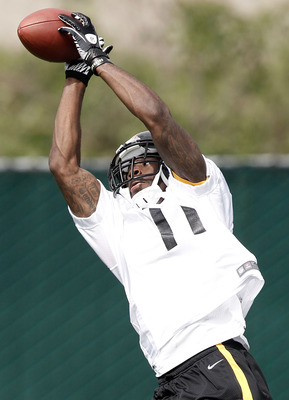 Toney Clemons has a lot of work to do, but that doesn't mean he's out of the running to make the 53-man roster.
Jared Wickerham/Getty Images
Toney Clemons was a Steelers seventh-round draft pick this year and will be battling it out for what is likely the fifth and last receiver roster spot this year.
Clemons performed well at Colorado last season with 44 receptions for 680 yards and eight scores. His size and speed are ideal, but he's a raw prospect who will need some coaching up in camp.
If Clemons does make the 53-man roster, he'll likely only get time on special teams this year. If he doesn't, then the practice squad is most definitely in his future.
David Gilreath, Juamorris Stewart, Jimmy Young, Tyler Beiler
Of the long-shot Steelers receivers currently on the roster, Tyler Beiler has the best chance to stick around—on the practice squad (Photo: Steelers.com).
David Gilreath, Juamorris Stewart, Jimmy Young and Tyler Beiler are all long shots to remain Pittsburgh Steelers beyond camp—and in fact, none may actually make the practice squad either.
Of the four, Beiler has the best chance to end up on the practice squad. He's a small-school player, coming from the Division III Bridgewater, but had 46 catches for 843 yards and nine scores last season. He's fast and has proved he can make an impact on the field. More development will be beneficial to him.
The other three receivers—Gilreath, Stewart and Young—all are lacking in requisite skills and all have limited upsides. They are likely going to be used as camp bodies only. It will take quite the disastrous spate of injuries for any of them to remain with the Steelers come September.
Keep Reading