Arsenal Transfers: Robin Van Persie & 5 Others the Gunners Will Struggle to Sell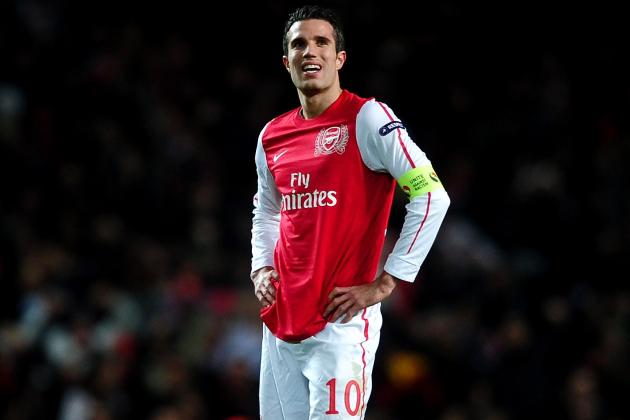 Laurence Griffiths/Getty Images

At this time of the year, all the talk at Arsenal are about players who are coming in. We're normally linked with almost every top footballer around, only to seemingly lose out at the last moment to some club with more money. None of this may be remotely true, but it makes good copy, doesn't it?
This season is somewhat different, though.
Arsenal have done some great business, nice and early for a change. We've bought Lukas Podolski and Olivier Giroud, world class strikers both, who will soon show the Premier League exactly how good they are. They have turned down Manchester United and Chelsea respectively, so there's obviously something there.
And with the specter of Financial Fair Play looming large, Arsenal, like every other top club, are searching for ways to trim the fat. Arsenal CEO, Ivan Gazidis, spoke recently about a move to restructure the Club's wage bill so as to be able to acquire and remunerate "top talent."
Our wage structure has been based around a flatter salary structure—that is part of a team ethos the manager develops, it's about interaction between players, not superstars. But we have looked at this carefully and we have to make adjustments for top talent. They are earning a lot of money and I don't think that will slow down. We have to adjust our model.
There are several fringe players that need to be moved on. Some, like Manuel Almunia, have come to the end of their contracts and have been released. Others, many of whom have been out on loan already, seem somewhat reluctant to leave. The reasons are many and varied.
Here are six players who need to be off the rolls at Arsenal. And soon.
It's proving, however, to be much easier said than done.
Begin Slideshow

»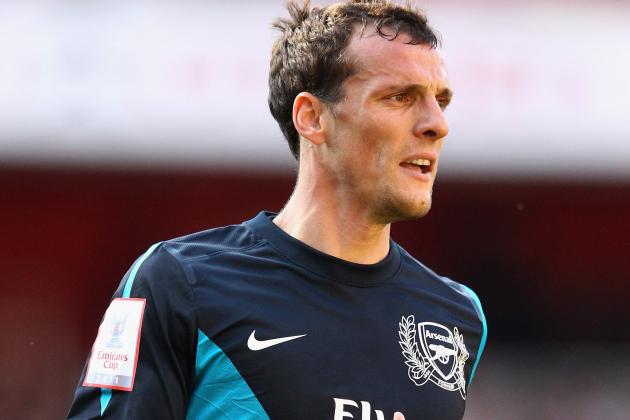 Richard Heathcote/Getty Images

Here's a player who has extracted the entire range of emotions from me.
When Sebastien Squillaci joined from Sevilla two years ago, I was pretty excited. 30 years old, France international, played in a top European league, Champions League experience—he checked all the boxes.
But two years—and 38 underwhelming performances—later, I've been through the proverbial roller coaster.
To be fair, he's had a couple of very impressive performances, particularly alongside Laurent Koscielny, who he complements well. But by and large, he has been slow, uninspiring and disappointing, and has looked completely out of his depth in the Premier League. Therefore, very frustrating.
Last season, he made only six appearances, and was completely in the wilderness for the most part. And I will say, in all fairness, that I was impressed with the man. Barely a frustrated word was uttered, and he carried himself with dignity. Not a common sight in football these days. There's that Van Persie chappie, for instance....
Oh, never mind. We'll get to it.
Squillaci has been rumored to be on his way to French Ligue 1 new-boys Bastia. However—and this is going to be a recurring theme—his wage demands seem to be way out of reach of the French club.
If you're wondering how much Squillaci makes at Arsenal, here is an interesting report I came across that lists every Arsenal player and staff member's weekly and annual wages. I cannot, unfortunately, vouch for its accuracy, yet it seems to be reasonably on the mark.
Squillaci, surprise-surprise, at £60k per week, is one of Arsenal's high rollers. With another year left on his contract, worth over £3 million in Arsenal wages, he, quite naturally, does not want to compromise on his earnings.
And while Bastia can give him many more than four starts over the coming season, there is no way they can come anywhere near paying him £3 million.
Arsenal are not keen to explore the loan route at the moment, and would like to recoup some of their outlay on the Frenchman.
Prudence, however, suggests that Squillaci will go out on loan this season, and will leave on a free transfer next summer.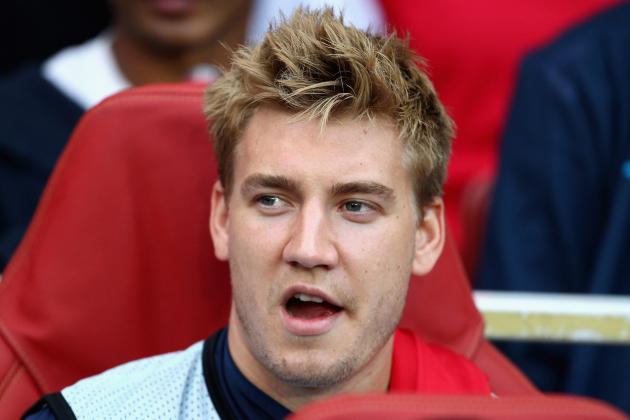 Julian Finney/Getty Images

The Best Striker In The World earns around £52k per week at Arsenal. He probably reckons he's worth at least twice that.
After his Paddy-Powered performances at Euro 2012, where he was, in all fairness, pretty impressive, his agent stated that a host of top teams from around the globe were coveting his signature.
However, it's been a while since Euro 2012 ended for the great Dane, and there seems to have been no movement.
I don't think Bendtner will find it difficult to draw similar wages at another club, especially with the lower tax rates outside the United Kingdom. However, I believe the stumbling block will be the profile of club that wants him.
Bendtner truly does believe that he is one of the best strikers around, and while I rate him higher than most Arsenal fans do, he isn't quite as good as he thinks he is. Convincing him to move will require one of two things to happen—a really high profile club coming in, or an offer of an astronomical wage from a lesser known club.
Neither seems very likely at the moment, so this situation could remain in limbo for a while yet.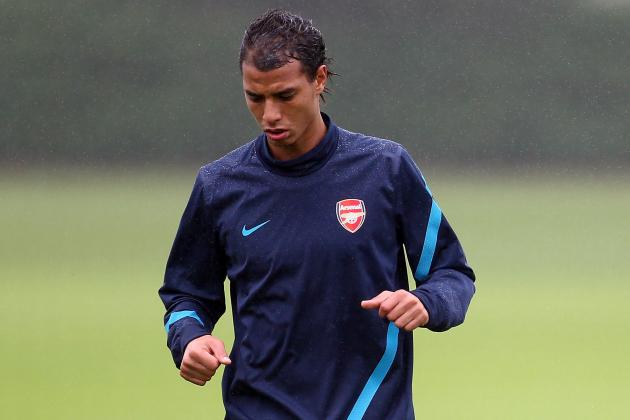 Julian Finney/Getty Images

The problem with Marouane Chamakh is similar to that with Squillaci.
A player who has lost his form, confidence and the manager's faith, and was restricted to just one Premier League start last season. And scored one goal in all competitions.
Chamakh joined Arsenal on a free transfer from Bordeaux, and as a result, is on a reported wage of £50k per week. He will definitely be looking to maintain, if not increase that salary, but his form has been so wretched that no club will want to take such a massive punt.
Arsenal will be looking to force an early sale, but they're not going to have much luck. In my opinion, a six-month loan deal will be a better option. If the player comes into some form, he may attract some suitors for the latter half of the season, especially if he is not cup tied in Europe. That may be a better time to sell him.
He remains a really good striker—his first six months at Arsenal have been quite easily forgotten, but there were a number of eye-catching performances after a surprisingly short adaptation period.
Chamakh needs games to restore his confidence, and a loan spell will give him exactly that.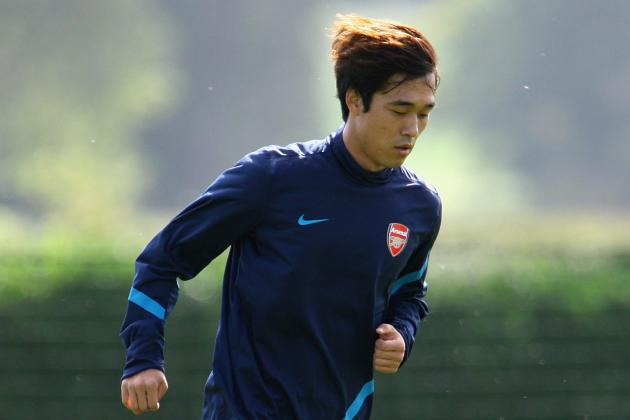 Julian Finney/Getty Images

I do hope Park Ju-Young writes an autobiography one day, so that we may all finally know the truth.
This remains one of the most bewildering sagas of Arsene Wenger's 16 brilliant years at Arsenal. Signed from AS Monaco amid a whirl of controversy, Park was expected to provide back-up for Robin Van Persie, and based on his career record at club and international level, he seemed a fairly accomplished finisher.
His profile on the Arsenal website still has this to say about him:
Upon completing the deal to bring the 26-year-old to Emirates Stadium, Arsène Wenger said: "We are delighted to have signed Ju. He will add true quality to our attacking forces and will be a valuable addition to the squad."
Really? You guys have the audacity to leave that on there after a league season aggregating just three minutes of match time? I am truly gobsmacked.
Park is apparently on £40k a week, and it's deals like these that prompt guys like Mark Knopfler to sing about "Money for Nothing."
I can't even begin to imagine where Park may go. If he goes anywhere at all. There's all sorts of stories about clauses relating to appearances in his contract, prompting Wenger not to use him at all. There's the issue with his military service as well.
Most confusing. And disturbing.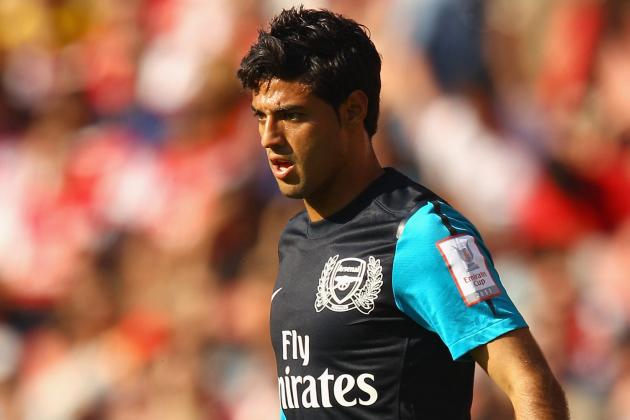 Richard Heathcote/Getty Images

Carlos Vela, along with Nicklas Bendtner, is probably Arsenal's most bankable "reject" this summer.
He truly impressed with his 12 goals and all-round play while on his loan spell at Real Sociedad last season, and there are, quite rightly, a whole host of mid-table Spanish clubs interested in the Mexican striker.
At £50k a week, his Arsenal wages are somewhat on the higher side, but with the equalising effect of tax rates in Spain, a lower wage might net him a similar pay-packet.
Sociedad themselves appear to be front-runners to land the services of their top scorer from last season. The stumbling block, however, might be Arsenal's transfer demands. The figure being bandied about in the press is around the £6 million mark, plus add-ons, but this deal may take a month before finalization, with the Gunners keen to attract other buyers so as to extract every possible penny for their most marketable asset.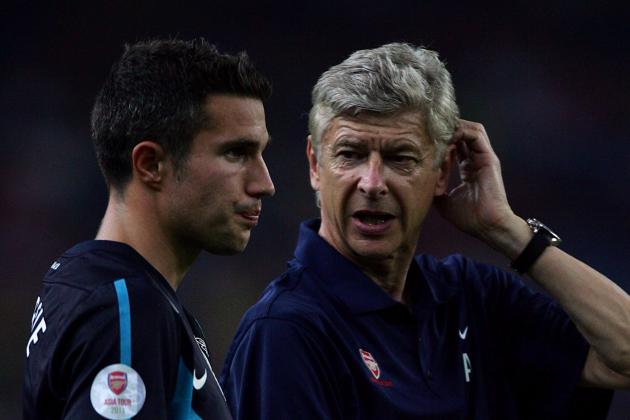 Stanley Chou/Getty Images

Didn't expect to see "he who shall not be named" here, did you?
RvP is probably the most in-demand player in world football today. Increasing his current wages of £90k a week shouldn't be an issue for the plethora of clubs that might want him.
But this promises to be one of the most painful transfer sagas at Arsenal in recent times. And yes, I know, there have been a few.
The problem here is that Arsenal didn't really want to sell him. But now that the player has taken matters into his own hands with one of the most pathetic PR stunts ever, Arsenal must sell him, even though he is legally bound to the club for another year.
The second problem is that there are some clubs that Arsenal would rather not sell him to. Manchester City and Manchester United come to mind immediately. In fact, make that every top Premier League club. But with City seeming to be his preferred destination—I wonder if money has anything to do with it—there's another issue for the club to deal with.
The final problem is the transfer fee.
At age 29, and with only one year remaining on his contract, Arsenal cannot expect an enormous fee for RvP. However, having recovered £25 million from City in exchange for Samir Nasri last season, the Gunners will be holding out for a similar amount. But that kind of fee may preclude everyone besides Manchester City.
You see where this is going?
As much as we may hope otherwise, this transfer is going to take us down a long and winding road. And a painful one. I can't even begin to predict how this may pan out.
I hope, though, that Arsenal show some courage and sell him abroad, even if it earns the club a little less money. There's nothing to be gained from making City or United stronger.