4 Bold Predictions for the San Francisco Giants in the Second Half of the Season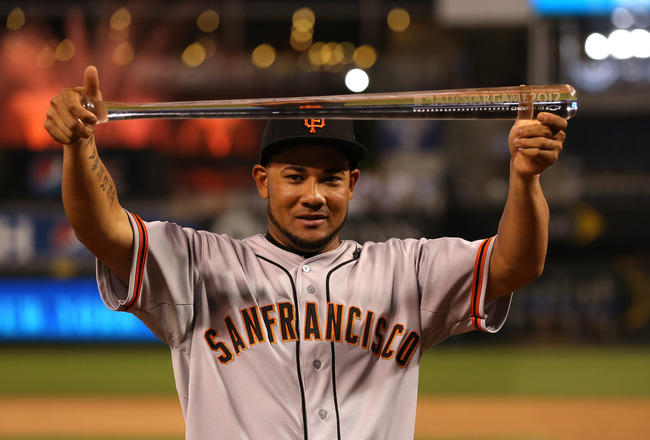 Jonathan Daniel/Getty Images
Right now, the San Francisco Giants are 46-40 and a half-game behind the Dodgers for first place in the NL West.
There have been a lot of surprises in 2012, and some have been great. Two offseason trades have helped the Giants get to where they are, but some former stars have struggled to start the season.
You would've had to look into the future to correctly predict the Giants' first half. And the same will probably go with the second half.
However, I'll try to make some bold predictions for the second half of the Giants' season. Here are four bold predictions for the Giants in the second half of the 2012 season.
Tim Lincecum Will Pick Up the Slack, Win 10+ Games and Have an ERA Less Than 5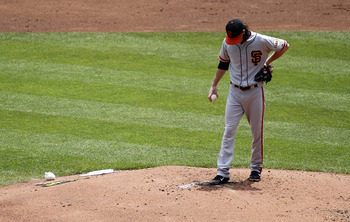 Justin K. Aller/Getty Images
Even for those of you who haven't paid much attention to the Giants, you must know this: Tim Lincecum is struggling.
Lincecum is 3-10 with a 6.42 ERA, which is the worst among 101 ERA qualifiers. His pitches are slower, he isn't hitting his spots, and he is much, much more hittable. When the former ace pitches, San Francisco is 4-14.
However, it seems crazy to think that Lincecum will continue like this. If he keeps pitching at this pace, the two-time Cy Young winner would have a record of 6-20 and the same ERA. That won't happen, and I think Lincecum will resolve his mental issues and pitch more like the Cy Young winner he is.
Lincecum's first second-half start will be against the Astros. If he can shut down one of the worst offenses in the league, his confidence might come back (although we thought the same thing after he shut down the Dodgers). I think Lincecum will resolve his mental issues and pitch better in the second half.
Expect Lincecum to be more accurate and harder to hit in the second half. He can still strike guys out, and once he resolves his mental issues, he will be more accurate and harder to hit. Expect his slider and change-up to kill hitters in the second half.
It will just take a couple good performances for the two-time Cy Young winner to get back on track. I think he will pitch a complete game shutout at some point, and I also expect him to be among the league leaders in strikeouts. To be specific, he will finish 11-14 with a 4.76 ERA and 214 strikeouts.
Melky Cabrera Will Finish the Season Hitting at Least .325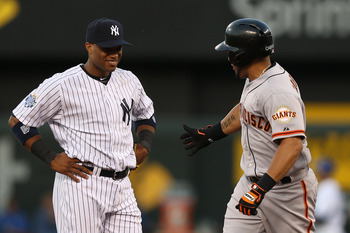 Jonathan Daniel/Getty Images
Melky Cabrera has surprised just about every baseball fan this year with his scorching start.
The former utility player and underrated outfielder has found his swing, and as a result, he has the second-best batting average in the MLB. Cabrera is hitting .353 with eight homers, 44 RBI and 55 runs scored.
Most people thought he would slow down, but he hasn't. And he won't.
Cabrera has kept up his hot start for three months. He is continuing to see and hit the ball well, and Cabrera is hitting all kinds of pitches. The "Melk Man" has played in 83 games this year, and he has helped his team in all of those games.
For Cabrera to hit .325 or better, he would have to hit about .300 in the second half. As long as Cabrera continues to see the ball well, hit the ball into the gaps, and not strike out, he should hit around .325 with 15-20 homers and 80-100 RBI.
Matt Cain, Ryan Vogelsong and Madison Bumgarner Will All Have ERA Under 3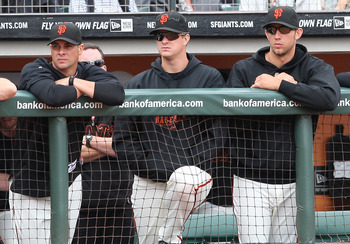 Tony Medina/Getty Images
It hasn't been Tim Lincecum dominating for the Giants this year.
With Lincecum struggling, Matt Cain, Ryan Vogelsong and Madison Bumgarner were all charged with the task of pitching like aces, and all have responded. Bumgarner is 10-5 with a 3.27 ERA, Vogelsong is 7-4 with a 2.36 ERA, and Cain is 9-3 with a 2.62 ERA.
Vogelsong isn't a strikeout pitcher, but he's a guy who knows how to get hitters out by effectively hitting his spots and forcing hitters to make bad contact. Cain does the same thing as Vogelsong, but he does record a lot of strikeouts.
And Bumgarner? He's a classic strikeout pitcher.
Bumgarner has been somewhat inconsistent this year, and I expect that to change. When he is hitting his spots, the southpaw is almost un-hittable. I expect him to break out and have another great second half.
As for Vogelsong and Cain, expect more of the same. Cain threw a perfect game against the Astros, and is pitching well consistently. Vogelsong hasn't thrown a perfect game, but he has gone deep into games and allowed very few runs countless times. Expect both to continue their dominance and finish with very low ERA.
San Francisco Will Win the NL West and Make It to the NLCS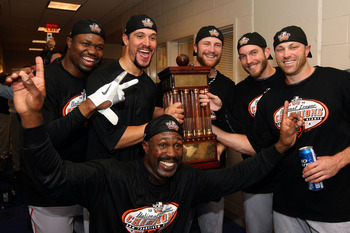 Giants players pose with the trophy they received after winning the 2010 NLCS.
Al Bello/Getty Images
In 2010, the Giants were expected to miss the playoffs. With just over a month left in the season, they trailed the first-place Padres by 6.5 games. Then, magic happened.
San Francisco won the division on the last day of the season, and then they beat the Braves 3-1 in an NLDS featuring four one-run games. They shocked the Phillies in the NLCS, winning Game 6 on a go-ahead home run by Juan Uribe. Finally, they beat the Rangers 4-1 to capture the city of San Francisco's first World Series championship.
The Giants are hoping to repeat that same run this year, but I don't know if it will happen.
The Washington Nationals are looking very, very strong, and I think they will win it all. However, with a playoff rotation of Lincecum, Bumgarner, Vogelsong and Cain, I think San Francisco is the NL's second-best team. Melky Cabrera and Buster Posey lead an offense that is probably better than the team's 2010 offense.
I think the Giants will pass the Dodgers, who have very little offense, and hold off the D-Backs in a tight NL West race. With an improved offense and the real Tim Lincecum back, the Giants will win one playoff series before falling short in the NLCS.
San Francisco fields a deep team, and if everything comes together at the right time, they can win it all. However, after watching the Nationals sweep the Giants right before the All-Star break, I don't think the Giants would beat the Nats if it came down to those two teams.
Keep Reading

San Francisco Giants: Like this team?