Chelsea Transfers: How Maicon, Oscar, Hazard Change Roberto Di Matteo's Tactics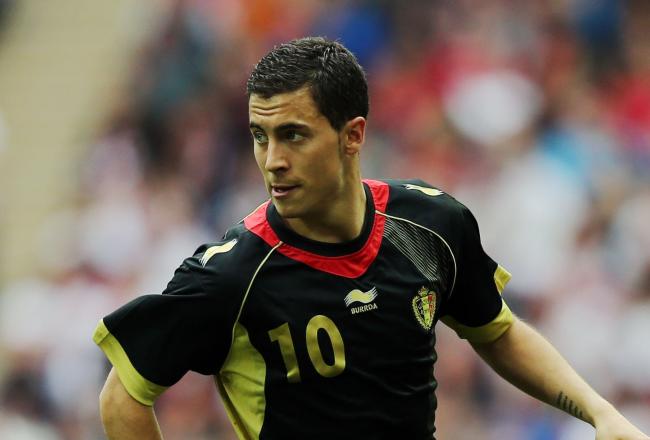 Ian Walton/Getty Images
Chelsea's summer spending spree has only just begun by the looks of things. Eden Hazard is in, Marko Marin is in training while Oscar's arrival seems imminent (Guardian).
That's not all, as countless more players are continually linked to the young revolution happening in West London.
Right-back is a problem Roberto Di Matteo is yet to solve, and Brazilian full-back Maicon is supposedly close to signing (Goal.com). Failing that, Chelsea want to strike a deal (Metro) for Cesar Azpilicueta after an impressive season for a flailing Marseille.
Hulk, of course, has long been rumoured to join the Stamford Bridge outfit and the deal is still in the works. Despite his claims he hasn't held talks, that does nothing to dispel his preference to move (Sky Sports) and the fact his agent is doing what he can to make it happen (BBC).
That's a lot of money, true, but it's also a lot of talent to accommodate in just 11 shirts on the pitch.
What can Di Matteo do to utilise this vast array of talent?
Option 1: The 4-3-3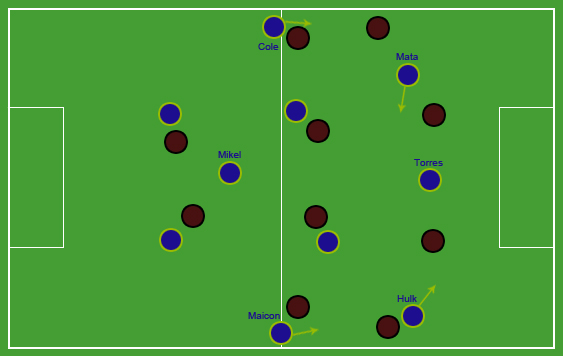 At times, Roberto Di Matteo utilised a 4-3-3 formation last season. The extent to how expansive this was varied from game to game, but it had the potential to be a good, controlling formation that got the best out of what he had at his disposal.
It has the ability to stretch opposing formations with its dynamism, yet becomes compact in an instant to defend in numbers.
Chelsea used a 4-3-3 against Liverpool last season in the Premier League and its positional imbalance was its downfall, yet a more cautious version of the same system saw them triumph over Barcelona and Bayern Munich in the UEFA Champions League.
Who benefits?
The potential addition of Brazilian forward Hulk would reinforce the calls to play a 4-3-3. Hulk has played as an inverted winger for two seasons at FC Porto and has very much made the right-hand touchline his home. He is absolutely lethal coming in off the edge.
The 4-3-3 also suits central midfield workhorses such as Frank Lampard, Raul Meireles and Michael Essien. John Obi Mikel or Oriol Romeu would likely fill a deeper role, either sitting in front of the back four to screen them or man-mark a particularly dangerous opposition player.
The midfield three are very much interchangeable, meaning it works if all three know what they're doing and work hard for each other. Portugal's formation demonstrated this in Euro 2012.
Lastly, the full-backs in this formation can do whatever they want without risking an imbalance—providing at least two of the central midfielders are aware and can cover.
Ramires is one of the most versatile and explosive players in the world, so he could fill in any one of four positions in this formation and excel.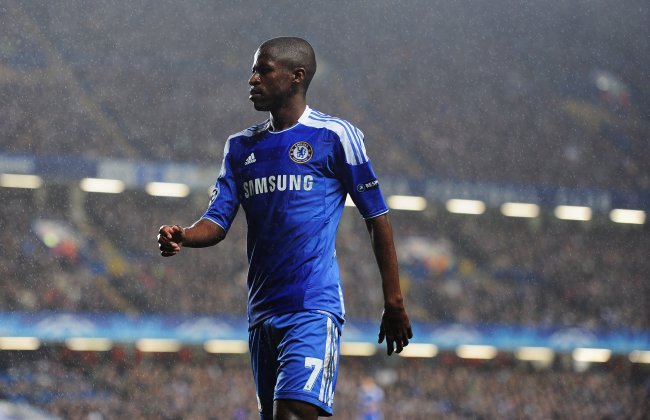 Michael Regan/Getty Images
Who doesn't?
Eden Hazard's strong performances from the No. 10 position, coupled with his demands to play there as a condition of his move, make the 4-3-3 inoperable for Di Matteo unless Hazard switches out wide.
Hazard is actually excellent on the wing and would perform well on either side of Fernando Torres in a front three, so this wouldn't be an issue. However, the Belgian's outspoken claims could force Di Matteo to employ a different system.
Oscar, too, is a quality No. 10 and would prefer a central role, but can happily switch to the right-hand side. He has shown he is a well-rounded midfielder who can play on either flank if necessary.
The two central defenders might have something to say about being left so open on the outside, but a quality holding midfielder would sweep from side to side and cover the vacancies Maicon or Cole left.
Option 2: The 4-2-3-1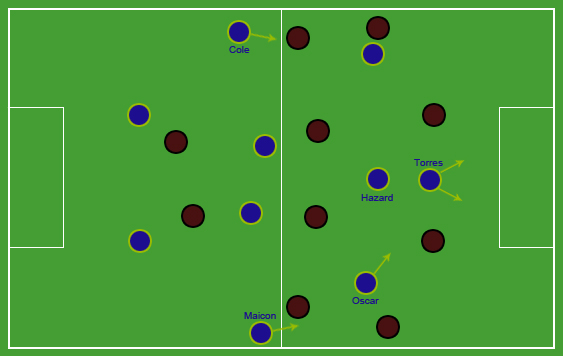 The 4-2-3-1 is the most likely formation Roberto Di Matteo could switch to following the recruitment of Eden Hazard and the potential incoming personnel.
It would suit almost all of his squad down to the ground and allow freedom of movement, attacking intent and defensive solidarity.
Who benefits?
Without a doubt, Eden Hazard and Oscar would benefit greatly from this. They both prosper in the No. 10 role and the 4-2-3-1 embraces a second striker.
The formation also allows two wingers—inverted or not—to aid the lone striker and create overloads on the flanks. All three players across the advanced midfield line are interchangeable, so it might switch from Mata-Hazard-Oscar to Hazard-Oscar-Mata in an instant. That's got to be tough to defend against.
Hulk, again, would find a home here, while two holding midfield slots are open for anyone disciplined enough to assume them. In this case, Essien, Romeu, Mikel and Lampard could all prosper. Ramires could play anywhere.
Similar to the 4-3-3, the full-backs would gain attacking freedom knowing they had a security blanket in form of not just one, but two defensive midfielders.
Who doesn't?
In this system, I stand by my argument that Chelsea need a midfield destroyer to make it the complete package. For the time being, however, Mikel or Romeu could fulfil it.
I would fear for Meireles' career in blue even more should this become the reality, as his discipline is in question. He over-complicates things and doesn't carry out his simple tasks well enough.
For Portugal he was the worst of a midfield three and got by on effort alone. The 4-3-3 Paulo Bento used allowed the entire midfield to swap, so no extreme discipline was required. He'd be in trouble in a 4-2-3-1.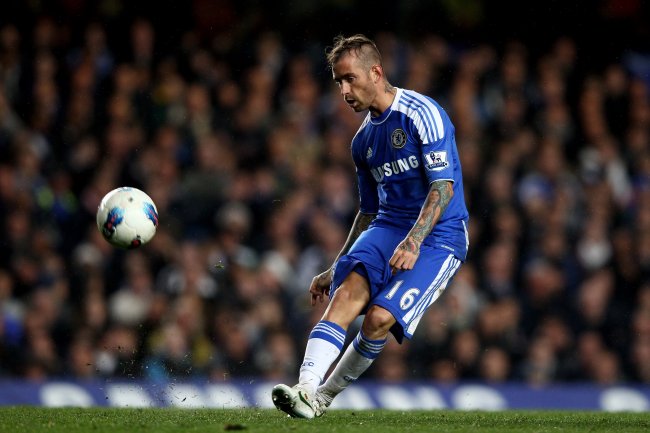 Julian Finney/Getty Images
Conclusion
If Di Matteo is smart, he will use both of these formations to good effect come the new season. He doesn't have to centre on one and become predictable, so having two well-established options would be fantastic for the club.
Not only does it keep them tough to second guess, but it allows him to rotate fairly amongst his huge squad and utilise all the talent.
The 4-2-3-1 is lathered with attacking prowess and it should be a joy to watch, while the 4-3-3 should be used in special circumstances.
The formation and style would need a rethink should Chelsea fail to land a top-tier attacking right-back, as while playing Branislav Ivanovic there is solid, it's far from balanced on the attack.
This article is
What is the duplicate article?
Why is this article offensive?
Where is this article plagiarized from?
Why is this article poorly edited?

Chelsea: Like this team?