Drew Brees Contract: Saints Can't Afford to Lose Star QB to a Holdout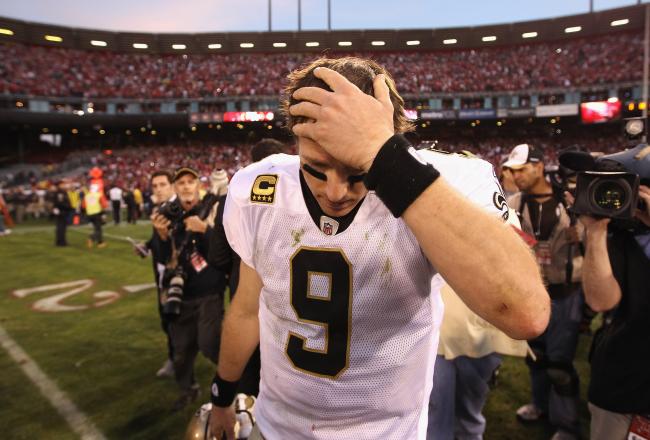 Ezra Shaw/Getty Images
The New Orleans Saints have enough problems on their plate. They might want to think twice before they decide to dig themselves even deeper by refusing to pay their superstar quarterback.
The Saints and Drew Brees are currently at a standstill because they can't agree on a long-term deal, and in the latest turn of events, Brees reportedly plans to hold out from training camp if New Orleans doesn't meet his terms by Monday's deadline.
According to The Times-Picayune's Mike Triplett, the two sides are still about $1.25 million per year apart. Brees has refused to sign the franchise tender and wants a five-year deal worth $20.5 million per year, while the Saints are only willing to offer $19.25 million per year.
If the two sides don't agree on a long-term deal by Monday, they can still engage in financial negotiations and eventually come to terms on a one-year deal, according to the same Times-Picayune report. After this season, Brees could become an unrestricted free agent, at which time he'd hit the open market and probably make a whole lot more than $20 million per year, given the constant need for elite-level quarterbacks in the NFL.
The Saints aren't exactly in a good place right now. They're kind of like the Charlie Sheen of football, except much worse, and the last thing they can afford is another disaster. If Brees doesn't show up for camp, that qualifies as a disaster.
If the Saints want to take that risk, fine. Likely, it will be their loss.
The Saints don't have a lot going for them at the moment. In the wake of that whole bounty scandal, they barely have a coach. Their reputation is in shambles. The only thing that can save them, at this point, is their quintessential good-guy quarterback who also happens to be one of the top five in the NFL. Needless to say, it would be wise of them to lock him up. Another $6 million for one of the best quarterbacks in football isn't a lot to ask.
Should the Saints pay Drew Brees what he wants?
Generally, holdouts are completely ignoble. Generally, holdouts point to very little except a bratty player who wants more money. But not in this situation. If there is anyone who deserves a long-term deal that's going to pay him big money, it's Brees.
Brees signed a 4-year, $60 million deal in 2006, and his since guided the team widely known as "The Ain'ts" to an unprecedented run of success. Since joining the team, Brees and the Saints have been to the playoffs four times, made the NFC Championship Game twice, and brought home the 2009 Super Bowl title in a miraculous season.
Last season, he finished second in the league in passer rating (110.6), first in passing yards (5,476) and first in total touchdowns (46). In 2010, he finished third in passing yards and tied for second with 33 touchdowns. In 2009, he finished sixth in passing yards but first in touchdowns with 34.
You get the picture. He's one of the best. There's no doubt about it, and he deserves to be respected by the team he has carried for the past six years. He deserves that contract.
Brees is worth the money. He has done his part to prove himself; now, it's the Saints' turn to pay up.
This article is
What is the duplicate article?
Why is this article offensive?
Where is this article plagiarized from?
Why is this article poorly edited?

New Orleans Saints: Like this team?