Fantasy Football 2012: Arizona Cardinals' Larry Fitzgerald Will Be Top Wideout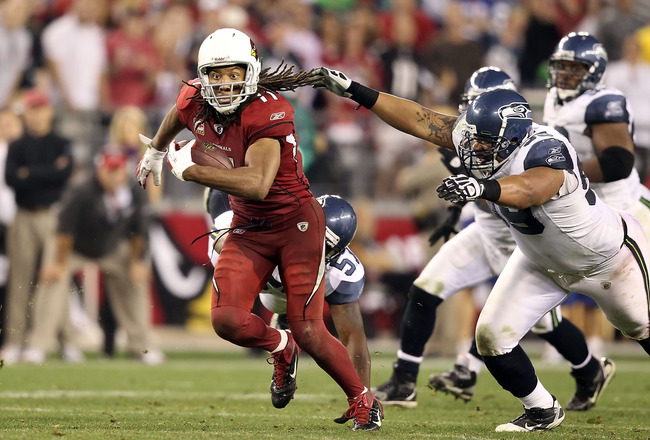 Christian Petersen/Getty Images
Fantasy football is almost here.
Rejoice!
The time when you and your friends gather around and try to construct the best lineup you possibly can is almost here. Depending on the size of your league and what draft position you have, there are many different ways to go about your draft.
One of the strategies that is on the rise is piling up on talented receivers early in the draft. This works extremely well if you have a late-round pick and are doing a snake-style draft.
Who do you pick if you have a shot to take the first receiver off the board?
The Addition of Michael Floyd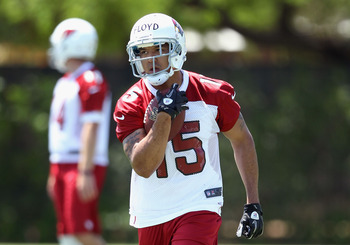 Christian Petersen/Getty Images
The Arizona Cardinals used their first-round draft pick in the 2012 NFL draft to select Notre Dame wide receiver Michael Floyd.
In my eyes, this was one of the top draft picks in the first round. Floyd opens the Cardinals offense up and enables them to give teams multiple looks.
Last season all that teams had to do was game plan for Larry Fitzgerald. He was the only threat that the Cardinals had.
Early Doucet was just not strong enough last year and was never shown anything more than standard coverage. The injection of Floyd will force teams to back off the double- and triple-teams that Fitzgerald saw all of last year.
Doucet can move into the slot where he would be much more productive. With Fitzgerald and Floyd on the outside, defenses will have to spread out, which will open the field up for Fitzgerald.
Last year, Fitzgerald recorded 1,411 yards and eight touchdowns—all with limited help. Just think of what he can accomplish with help.
Help from the Running Game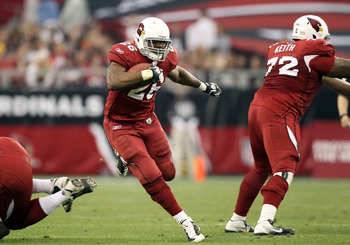 Christian Petersen/Getty Images
Beanie Wells was one of the most inconsistent players in the NFL last year, but Ryan Williams, who missed last year with a knee injury, will be battling for carries.
Consistent play from the running backs will help Fitzgerald in many ways.
It will force teams to play more men in the box, which will open up the passing lanes.
It will also boost the play-action game. Last year, teams would never bite on the play-action because there wasn't any reason to.
A Healthy Quarterback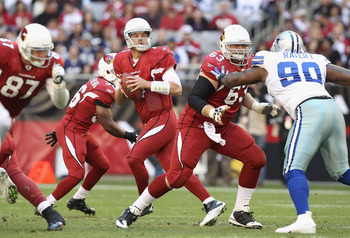 Christian Petersen/Getty Images
Larry Fitzgerald had a fantastic season last year despite having his starting quarterback miss considerable time with turf toe and a concussion.
Kevin Kolb will return in 2012 healthy and should have a nice season thanks to his many options.
With improvements on the offensive line, Kolb should be more confident in the pocket.
If nothing else, Larry Fitzgerald makes quarterbacks around him look good.
Keep Reading