USC Football: 5 Reasons Trojans Will Put Stanford Back in Its Place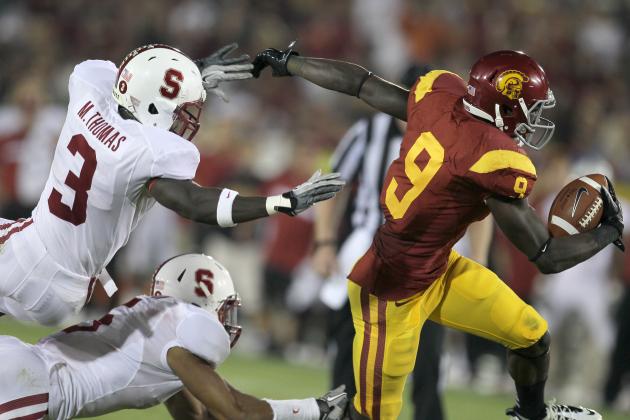 Stephen Dunn/Getty Images

USC has lost to Stanford for the past three consecutive years; with high expectations already in place for the Trojans, they will have to knock that monkey off of their back in 2012.
USC will face a Luck-less Stanford for the first time in four years. Just because the Cardinal have lost their biggest star doesn't mean that they are toothless.
If last year's triple-overtime battle is any indication, the September 15 match-up should be one of the biggest games of the season.
With the Trojans more loaded and motivated than ever now that they are Bowl-eligible, they should take down the Cardinal on their march to the BCS National Championship. Let's take a look at how USC will put Stanford back in its place.
Begin Slideshow

»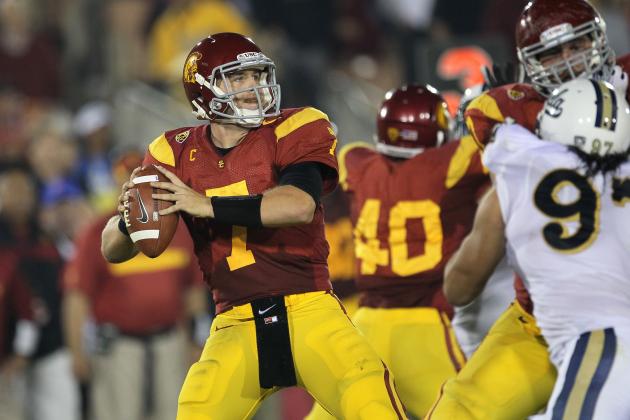 Stephen Dunn/Getty Images

The Trojans have the preseason pressure of being ranked No. 1 by ESPN's College Football Live, and their Heisman candidate quarterback, Matt Barkley, will be scrutinized on every play—just like Andrew Luck was last year.
After throwing for 3528 yards and 39 touchdowns with only seven interceptions last season, Barkley is the odds-on favorite to win the Heisman Trophy.
What should be valued even more than No. 7's skills and stats are his leadership abilities.
After three years of starting for the Trojans, Barkley has become a mature, smart quarterback who understands what needs to be done to move his offense down the field.
Matt has seen Stanford's defensive schemes for three years and should be prepared to exploit their weaknesses. Barkley's near NFL-readiness should allow him to surgically find open rushing holes and use his great receiving tandem of Robert Woods and Marquise Lee to get big chunks of yardage fast with their air attack.
Not only should we expect Barkley to call his own plays against Stanford, we should see periods where Stanford is flat on their heels reeling from the explosive USC offensive assault.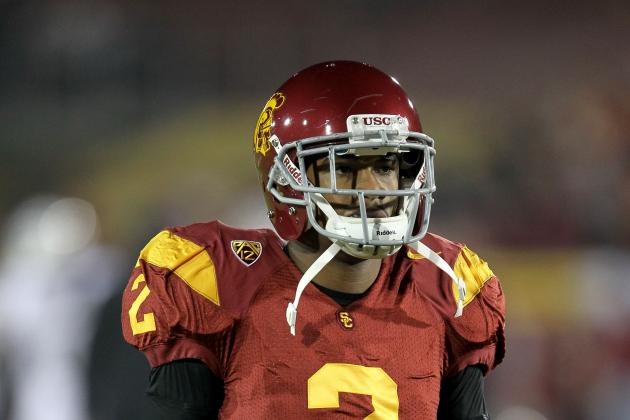 Stephen Dunn/Getty Images

Robert Woods and Marqise Lee are arguably the best wide-receiving tandem in the BCS. The dynamic duo's great chemistry is rooted in their high school days playing together. Both will be very knowledgeable of where the other teammate is on the field and how to get separation from D-back coverage.
Combined, the two caught passes for 2435 yards with 184 receptions in 2011. Unfortunately, Wood and Lee rarely played together last season due to injuries. Whenever one was injured, the other was healthy and vice versa.
This season, both receivers look to be healthy. With their chemistry, speed, and deep-threat ability they will be a handful for the Stanford defensive backfield.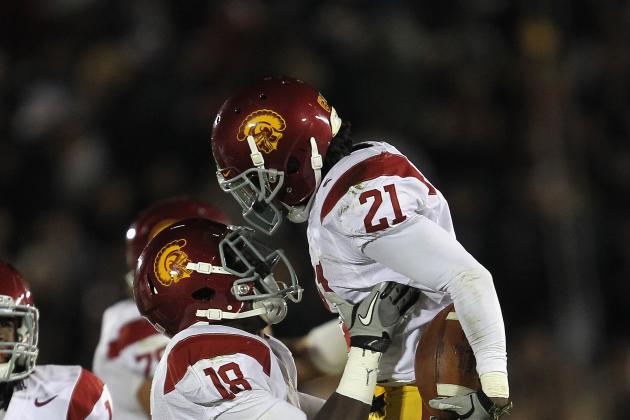 Jonathan Daniel/Getty Images

Despite losing several of their top defensive starters—including DE Nick Perry, DT Christian Tupou, DT DaJohn Harris, MLB Chris Galippo and LB Shane Horton—the Trojans will put together a strong defensive team in 2012.
"Luck"-ily, the defense won't have to deal with Andrew Luck's passing accuracy this year, which will give some of the more inexperienced defensive starters a bit of a break against the Cardinal.
Stanford Head Coach David Shaw likes to run the ball more on offense. With incredible depth at running back, the Cardinal will still have scoring power with their ground game.
However, with the quickly maturing talent of defenders like WLB Hayes Pullard and SLB Dion Bailey—the 2011 Pac-12 Freshman Defensive Player of the Year—the Trojans should be up to stuffing the run game. Plus, they still have experienced talent with the likes of Safety T.J. McDonald and DB Nickell Robey in the secondary to put real pressure on Stanford receivers.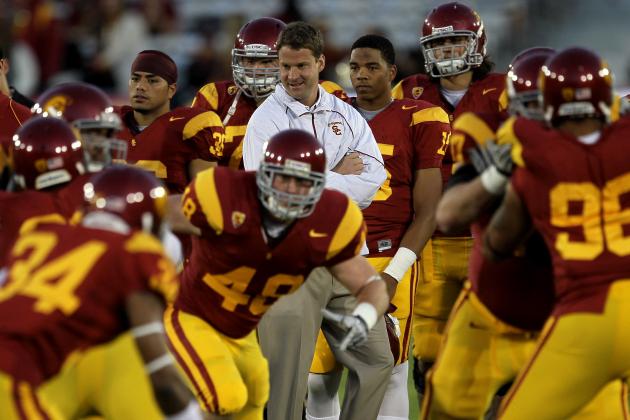 Stephen Dunn/Getty Images

With a motivated and explosive offense coupled with a much deeper and more dominant defense, USC should be the favorite over Stanford in 2012. With the No. 6 recruiting class for 2013, the Trojans are looking to extend their potential reign over the Cardinal and all other opponents this year.
Just as they did last year (starting three freshman linebackers), the Trojans could give some of their incoming recruits playing time this year against the Cardinal. For example, five-star recruit Nelson Agholor and four-star recruit Darreus Rogers could see action as receivers against Stanford in 2012.
Although the Trojans are returning a strong set of starters on offense and defense, their new recruits will add much needed depth and talent that any Pac-12 team would be thrilled to have.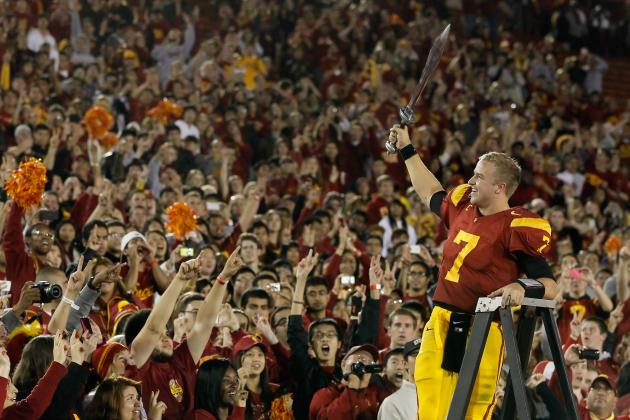 Jeff Gross/Getty Images

After a two-year BCS bowl suspension, USC is hungrier than ever to prove themselves one of the nation's best, now that they are finally Bowl-eligible.
Their hunt for the National Championship started when Matt Barkley gave the Trojans an early Christmas present and decided to stay for his senior year.
"This 2012 team has some serious unfinished business to attend to and I plan to play a part in it," Barkley said. "I have firmly decided to forgo the 2012 NFL draft and finish that."
#UnfinishedBusiness quickly began to trend on Twitter and so did the Trojans hopes for the National Championship title.
Although the Trojans will use that motivation throughout the entire season, it will particularly push them against the Cardinal. Matt Barkley has yet to win against Stanford, which makes that #UnfinishedBusiness personal.