New Orleans Hornets: Summer League Roster, Key Storylines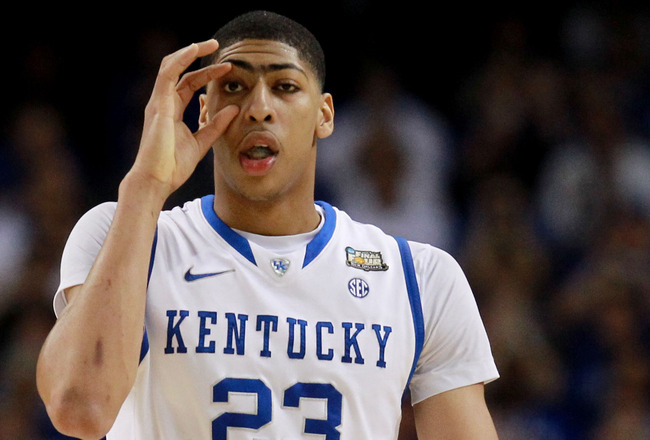 Ronald Martinez/Getty Images
The Guards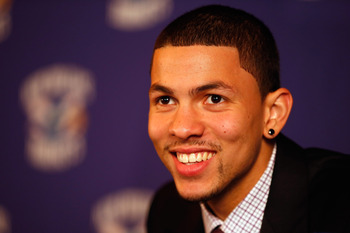 Chris Graythen/Getty Images
Austin Rivers leads the list of names of a promising New Orleans Hornets backcourt.
The former Blue Devil was a constant scoring threat in his one year with the team. Rivers averaged 15.5 points on 43.3 percent shooting his freshman year with Duke. Coach K liked to get Rivers involved in nearly every offensive possession, given that he was the only major scoring threats his team had last season.
Other top-notch guards for the Hornets include Austin Freeman and Xavier Henry. Freeman is a defensive specialist and big-time shot-maker. His play for Georgetown helped that team to continue to be a national threat.
Henry scored a solid 5.3 points per game for the team in under 17 minutes of playing time a contest last season. Two years of experience in the league will undoubtedly have this guard playing some sound basketball at these games.
This is the list of guards playing for the team in Las Vegas:
| | | |
| --- | --- | --- |
| Player | Position | Year |
| Austin Rivers | SG | R |
| Jeremy Allen | G | R |
| Jerome Dyson | PG/SG | 1 |
| Austin Freeman | SG | R |
| Xavier Henry | SG | 2 |
| Brian Roberts | PG | R |
The Frontcourt
Former Kentucky star Darius Miller walks down the court during NCAA tournament. He will join Wildcat teammate Anthony Davis on the Hornets' summer league roster.
Kevin C. Cox/Getty Images
Former Kentucky teammates Anthony Davis and Darius Miller will be the driving force for this Hornets team at the summer games.
While the No. 1 pick boasts undeniable talent on both ends, Miller is especially strong defensively and at taking the ball to the basket. Miller will get plenty of looks during the games because of his size at the swingman spot and ability to put the ball on the floor.
Expect an impressive outing from what is an especially talented, young frontcourt at these games. This is the list of forwards and centers that will be playing for the team at the games:
| | | |
| --- | --- | --- |
| Player | Position | Year |
| Denzel Bowles | PF | R |
| Matthew-Brian Amaning | PF | R |
| Anthony Davis | PF | R |
| Mac Koshwal | PF | R |
| Darius Miller | SF | R |
| Lance Thomas | SF | 1 |
| Michael Thompson | C | R |
| Darryl Watkins | C | 2 |
The Schedule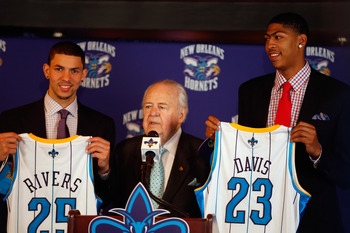 Chris Graythen/Getty Images
The New Orleans Hornets will play five games in Las Vegas during their one week at the games. All games will be played at the Thomas & Mack Center and will be televised on NBATV.
This is the team's game schedule in Las Vegas:
Sunday, July 15, 2012 vs. Portland Trailblazers @ 7:30 p.m. PST
Monday, July 16, 2012 vs. Milwaukee Bucks @ 7:30 p.m. PST
Wednesday, July 18, 2012 vs. Phoenix Suns @ 5:30 p.m. PST
Friday, July 20, 2012 vs. Dallas Mavericks @ 7:30 p.m. PST
Saturday, July 21, 2012 vs. Golden State Warriors @ 3:30 p.m. PST
Top Defender: Anthony Davis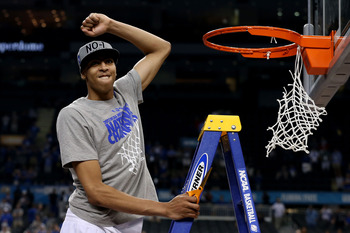 Jeff Gross/Getty Images
Anthony Davis is a shot-blocking and rebounding machine when he steps out on the floor.
During his one year with the Wildcats, Davis showed the world what he was made of defensively. His 10 rebounds per game ranked No. 22 in the nation while his 4.7 blocks per game were by far the most in the nation.
This is a chance to showcase his talents on a big stage, which is something he did repeatedly during Kentucky's national championship run last season.
What makes Davis such a difficult player to figure out is also because he is long, athletic and has experience playing the guard position. Therefore, he can get out to the perimeter quickly and also start the transition game on offense.
To put it lightly, he is a constant headache for opponents. He will bring this very presence to the table in Las Vegas, make no mistake about it.
Biggest Surprise: Mac Koshwal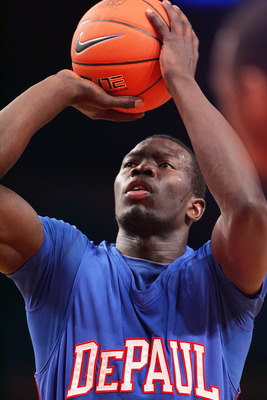 Chris Trotman/Getty Images
The former beast from the Big East produced some particularly solid numbers during his tenure at DePaul.
The power forward averaged 16.1 points per game and shot the ball 54.4 percent from the floor. Not to mention, Koshwal was an especially sound defensive presence as well. The frontcourt star averaged 10.1 rebounds per game in his final season with the Blue Demons.
According to a statistic presented by CBSSports, the Sudan native had 58 double-doubles in the 81 games that he was with the team. Not only is this a statistic set to translate well in the league, it is also an indicator of just how consistent Koshwal can be for a team.
Expect this talent to get a fair share of minutes in the five games at Las Vegas.
Top Scorer and Best Player: Austin Rivers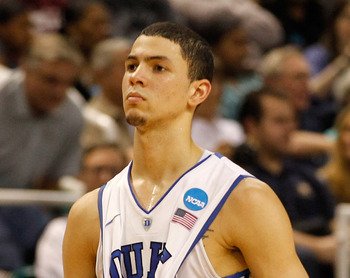 Streeter Lecka/Getty Images
This is a player that doesn't shy away from the big moment. If anything, Austin Rivers embraces those final minutes of competition. To some, he is conceited beyond measure, yet the reality is he just has that much confidence in his ability to produce.
His intangibles down the stretch of games is exactly what will have Rivers producing the most points and playing the best basketball of any Hornets player. Rivers is expected to be the leader of this team when considering the amount of raw talent for the game this player has.
The 15.5 points per game on 43.3 percent shooting are figures that will translate well to the NBA. He wants the ball throughout the course of a game, but only to help produce and give his team the best shot at winning a game. No guard from the 2012 NBA draft matches the scoring talent of Rivers, and this will be incredibly apparent at these games.
Record at 2012 NBA Summer League in Las Vegas: 4-1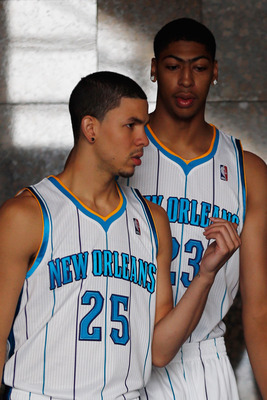 Chris Graythen/Getty Images
Opening-game jitters will throw this team off against a tough Portland Trail Blazers team. There is a lot of pressure for Rivers, Davis and Miller to perform, and it will take a game or so to begin to gel together.
Not to mention, this Portland team brings a plethora of talent with them. Damian Lillard, Nolan Smith and Meyers Leonard all will join the team during its 2012 Las Vegas campaign. Smith is a talented point guard who is motivated to bring his A-game to earn himself a bigger role with the team.
Meanwhile, Lillard will look to prove that his 24.5 points per game at the college level can translate immediately to the NBA. Leonard is a guy Portland hopes can propel their team with his soft touch inside and strong presence defensively. There is a lot of promise in the talent the Trail Blazers have, and it will get the best of the Hornets at the Thomas & Mack center.
But it's just not everyday that a team gets to play two rookies taken in the top 10. There is no question that these players and the rest of this talented Hornets team will win the majority of their games at the Vegas summer league. Fully expect Rivers and company to roll through the rest of the competition in Las Vegas following a loss to the Trail Blazers.
Keep Reading

New Orleans Pelicans: Like this team?