4 Reasons the St. Louis Cardinals Are Legit Contenders Without Chris Carpenter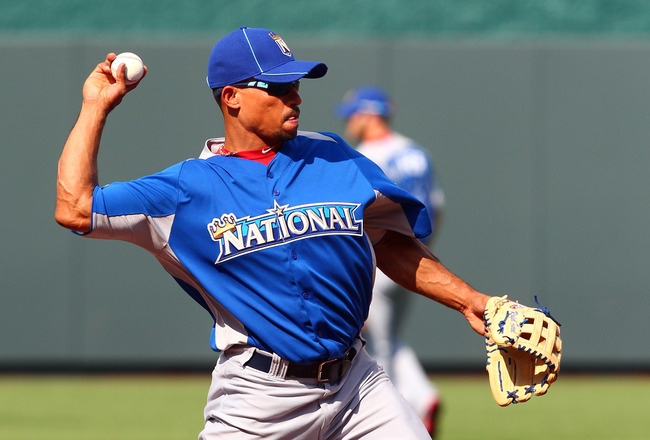 Rafael Furcal warms up before the 83rd Annual MLB All-Star Game.
Dilip Vishwanat/Getty Images
The St. Louis Cardinals should still be viewed as serious contenders in the second half of the 2012 MLB season despite the loss of Chris Carpenter.
While the loss of any team's co-ace starting pitcher is a huge blow, the Cardinals have already shown this year that they have what it takes to weather the storm.
In Carpenter's absence, the team has put together an impressive first half.
With as many as seven key players on the disabled list at once, the Cardinals pushed through a tough May and a tougher early June to find themselves only 2.5 games out of first place and six games over .500 at the All-Star break.
Given the Cardinals' tough schedule in June and the problems they faced, they could easily be much farther down in the standings.
Following are four reasons the Cardinals will still be legitimate contenders without Carpenter.
Overall Offense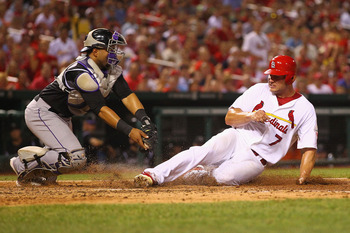 Holliday dodges a tag for a run on July 5 against the Colorado Rockies.
Dilip Vishwanat/Getty Images
Through April, the Cardinals had one of the top offenses in all of Major League Baseball.
They led the NL in runs, RBI, average, OBP, slugging percentage and run differential before everything collapsed in May.
In late June, as Allen Craig, Jon Jay and Matt Carpenter returned from the disabled list, their offense returned as well.
Matt Holliday, who has been on fire since May, has taken the reins as the team's new No. 3 man in the lineup. Of course, he's done it with more than power. He's hitting .444 in his last 10 games with two home runs, nine RBI and four walks.
The Cardinals have an extremely deep lineup from Rafael Furcal leading off all the way through the seventh slot. The team has a total of 10 players hitting over .291. That includes pitcher Jaime Garcia, who is currently on the DL.
With Lance Berkman expected back on July 13, the Cardinals will add to that depth even more.
Overall Defense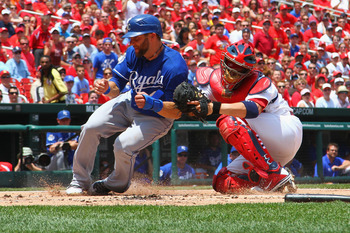 Dilip Vishwanat/Getty Images
While the Cardinals don't lead the majors on the defensive end, they do have a solid nucleus that has been the backbone of the 2012 squad.
Catcher Yadier Molina, shortstop Rafael Furcal and right fielder Carlos Beltran have all been as good as anticipated, but the key to this team has been the surprises.
Matt Holliday and David Freese have made huge strides defensively. Jon Jay, on the other hand, made a giant leap.
Jay has made numerous adjustments in the process of becoming the Cardinals' everyday center fielder. As a result, he has an improved arm, better range and sharper instincts.
An over-the-shoulder catch in St. Louis on July 4 could even be described as channeling Jim Edmonds.
The biggest challenge in the second half of the season defensively will be the same as the first—health.
If the Cardinals can stay healthy as guys continue to return to the team, there are no limits to what they are capable of. Again, that requires staying healthy.
Starting Pitching Overview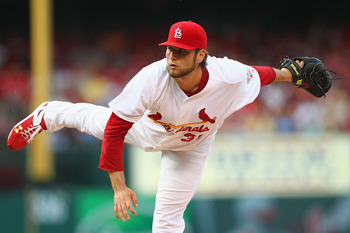 Dilip Vishwanat/Getty Images
Despite some hiccups, the one area the Cardinals have been consistently good in is starting pitching.
Kyle Lohse (9-2), Lance Lynn (11-4), Adam Wainwright (7-8) and Jake Westbrook (7-7) have all put together productive years.
Lohse, with his 2.79 ERA, is well on his way to having the best season of his career. He has given up only 36 runs in 18 starts and has a 1.08 WHIP. Since returning healthy for the start of 2011, he has been invaluable to the Cardinals.
The rookie All-Star Lance Lynn, who was tapped to replace Chris Carpenter, has had a better season than anyone could have anticipated. Opposing batters are hitting only .235 off the hard-throwing Lynn, who has stacked up 105 strikeouts to date.
Adam Wainwright, after a scary April and being shaky in early May, has come into his own and began to look like the Wain-o of old. He's 5-4 with 59 strikeouts in his last 10 starts and has given up three runs or less in eight of those starts.
Rookie Joe Kelly has also done a fine job of replacing Jaime Garcia, who is on the DL due to a shoulder injury. He still has room to grow, but has been a pleasant surprise through the All-Star break.
Jake Westbrook, despite a string of four consecutive bad starts, has been a real asset in the No. 5 spot. It's important to remember that fifth starters aren't expected to win every night but rather keep the team in the game. In his last 10 starts, Westbrook has given up four runs or less seven times.
John Mozeliak/Bullpen Overview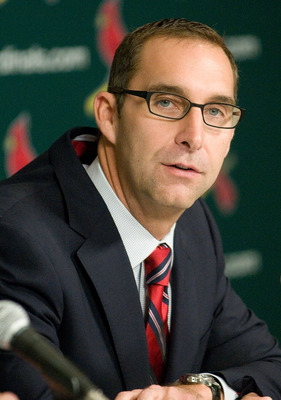 Jeff Curry/Getty Images
These two are placed together because in the month of July general manager John Mozeliak will play a key bullpen role.
By far the Cardinals' weakest link in 2012, the bullpen has improved of late with the promotion of LHP Barrett Browning. With that said, it still has a good way to go.
Expect Mozeliak to be shopping in July for either a new setup man or closer. If a closer could be had for the right price, it's likely that Jason Motte would be moved into a setup role.
Regardless, I still anticipate him shopping for another left-handed reliever as well, given Marc Rzepczynski's struggles.
What other moves will Mozeliak make? The most likely additional acquisition would involve another starter. Another starter would give him the ability to move Kelly into the bullpen where he could take on a long relief role—something the Cardinals have lacked since Kyle McClellan went down in April.
If the Cardinals make the needed moves and stay healthy and focused, they will again be the best team in the NL Central before the end of the season.
Keep Reading

St Louis Cardinals: Like this team?