WWE Raw (July 9) Was Terrible but Better Things Are on the Horizon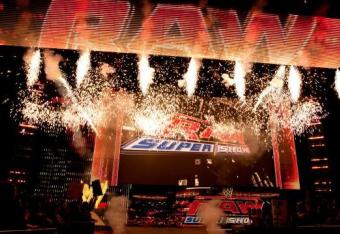 All Photos From WWE.com

Rarely does an episode of WWE Raw fall as flat as tonight's July 9 show out of Denver, Colorado.
The opening segment that continued the much-praised CM Punk, Daniel Bryan and AJ Lee storyline was, at best, confusing. AJ's manic but still calculating attitude has been carefully drawn out over the last few weeks, so jumping to a marriage proposal felt out of place and added little to the rivalry between Punk and Bryan as neither really want to marry her at this point.
All three performers should be commended for pulling off the segment without the whole situation breaking down into a farce. But this was a poor way to continue a strong storyline.
Keeping the status quo before Money In the Bank this Sunday must be on the mind of the WWE creative team as the rest of the show simply reemphasized information that has already been stated over the last few weeks.
Sheamus, Brodus Clay and Tensai were all shown to be physically dominating in three short squash matches that were instantly forgettable.
Then all four participants of the WWE Money In The Bank ladder match had a long but dull tag-team match that continued the theme of Big Show destroying his opponents, except for John Cena who ultimately gains the upper hand against the giant.
Inconsequential filler, including Heath Slater losing to Sin Cara and then being beaten up by Bob Backlund and Hornswoggle nonsensically being revealed as the anonymous Raw general manager, would then take Raw to the final match where AJ and Punk teamed up to face Bryan and Eve Torres.
With Punk and Bryan in the ring there was a good chance that the event would end on a high note, but the match was disappointingly short with little incident. A fitting finish for an event that was aimless from beginning to end.
Amazingly, this poor episode shows great promise for the future.
Every match had a clear motive that advertised the pay-per-view on Sunday or was a continuation on a theme, such as Heath Slater's continued collisions with legends from Raw's past. Although this did little to advance storylines, it shows that the WWE team are concentrating on consistently pushing an idea and not dropping a plan when it is inconvenient.
WWE creative team also highlighted some of their own weaknesses on the program, which could mean they are now in the process of improving them.
Simply addressing the bizarre disappearance of the Anonymous Raw General Manager is a step forward from completely ignoring the storyline completely. This does not stop the Hornswoggle conclusion being pointless, but it might show the writers that they need to plan ahead better in the future.
Further evidence of WWE noticing their weaknesses is the segment on Raw where Eve and Punk interacted. Eve stating that Punk had reigned as champion for seven months but had never been the focus of the WWE in that time was a great heel promo, and the information rang true to the audience.
Interweaving the real life fact that Punk has been overshadowed by others while being the champion into a backstage interaction, rather than simply having one character monologue that information to another in the centre of the ring, indicates that the WWE are looking to be more subtle with their feuds.
Not spoon-feeding important information and creating feuds that have multiple levels of complexity, is a real step forward to attracting an older audience once again.
Even the "love triangle" between Punk, Bryan and AJ that was so nearly messed up at the beginning of Raw was given an interesting twist when Raw ended. AJ being rejected by Punk and then rejecting Daniel Bryan to go off on her own opens up intrigue to who will win on Sunday night.
Few times in recent memory has a WWE championship match been this closely scrutinized with so few being able to tell who the champion will be come Monday Night Raw next week. That is a real achievement for WWE creative, and they should be praised for that, if nothing else.
This promise doesn't forgive Raw for being so poor nor does it mean that the future is going to be incredibly bright; however, the signs are there that improvement is on its way.
The 1,000th show is a celebration of the WWE's past, but once that is over, the WWE has to follow through with these signs of potential and allow the improvements to develop into something special.
This article is
What is the duplicate article?
Why is this article offensive?
Where is this article plagiarized from?
Why is this article poorly edited?