Stat Predictions for Philadelphia Eagles Key Offensive Players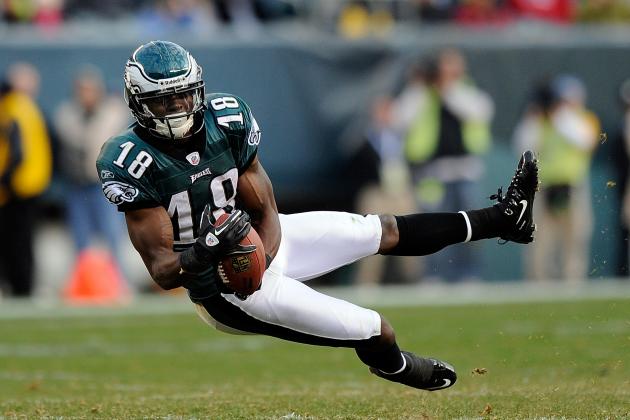 Patrick McDermott/Getty Images

Stats aren't everything, but they do a good job at showing the effectiveness of the players. And the Eagles were certainly not as effective as they could have been last season. One could argue that the team's struggles could largely be based upon the lack of effectiveness of the team's two most important offensive players, Michael Vick and DeSean Jackson, who both posted huge drops in statistics.
For the most part, the Eagles can be expected to be much improved in 2012. The team finally clicked in the final four games of the season, and that chemistry, particularly on offense, should be able to carry over to the next season. If the Eagles do indeed rebound, here is a prediction for the team's six key offensive players...
Begin Slideshow

»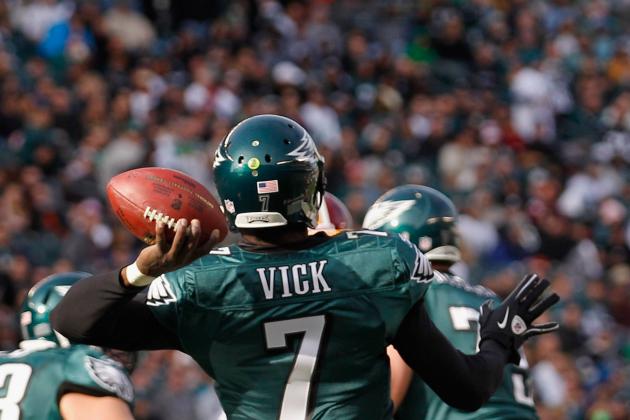 Rob Carr/Getty Images

Vick had a huge letdown year in 2011, throwing twice as many interceptions (14 versus six) than in the previous season and a much lower passer rating (84.9 versus 100.2). Many fans do not realize that Vick actually was a much-improved quarterback in many ways, particularly as a cerebral passer, but the turnovers were his main downfall.
With a full offseason, Vick can continue to improve his quarterback mechanics and should be more effective, especially as the Eagles now know how teams plan to stop him. Don't expect the Vick of 2010 ever again, when the league was in awe of his passing prowess to go along with his running. But expect Vick to continue to assert himself as a top-10 quarterback and as possibly the best quarterback in the NFC East.
Stat prediction: 4,050 passing yards, 26 touchdowns, 15 interceptions, 92 passer rating.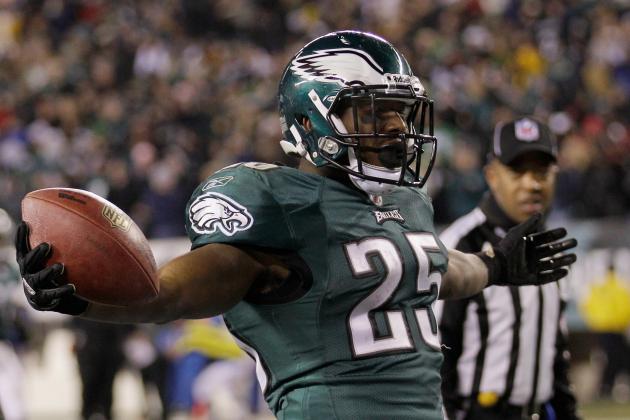 Rob Carr/Getty Images

In contrast to Vick, LeSean McCoy will very likely have a down year.
Don't get me wrong, I am not saying McCoy will have a "bad" year. Instead, I am saying that McCoy's season in 2011 was too phenomenal. McCoy would be hard pressed to repeat his record-breaking performance.
Record-breaking running backs are actually more common than people realize, and McCoy's elite running back status may be primarily a breakout year. With that being said, McCoy will continue to be a good running back, but will not be compared to Barry Sanders in 2012.
Most notably, McCoy holds the ball much too loosely. Don't expect him to get away with that so easily in 2012.
Stat Prediction: 1,100 rushing yards, 10 rushing touchdowns, 300 receiving yards, 3 receiving touchdowns, 4.3 yards per attempt, 5 fumbles.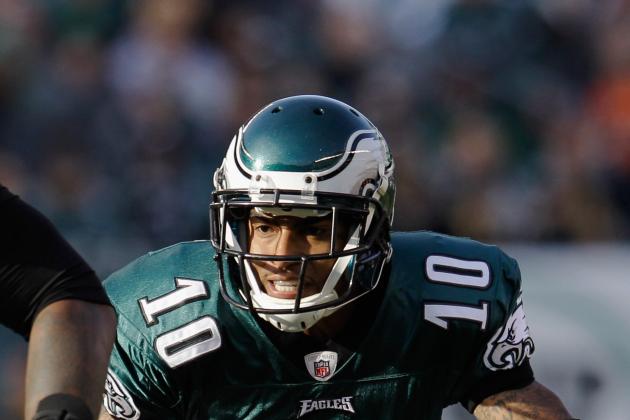 Rob Carr/Getty Images

For the first time since his rookie season, DeSean Jackson failed to reach 1,000 receiving yards in 2011. But most alarming was that he only averaged 16.6 yards per catch compared to 22.5 yards per catch in 2010.
Luckily for Jackson, the drama surrounding his contract is now over. Now he can focus entirely on football. And with Vick expected to be improved, expect a big year from Jackson.
Say what you will about Jackson, but no one can deny that he is one of the most explosive players in the NFL. Few players can match his combination of speed and agility. Jackson will re-assert himself in 2012 as one of the greatest playmakers in football and earn consideration for a return to the Pro Bowl.
Stat Prediction: 60 catches, 1,250 receiving yards, 20.8 yards per catch, 9 touchdowns.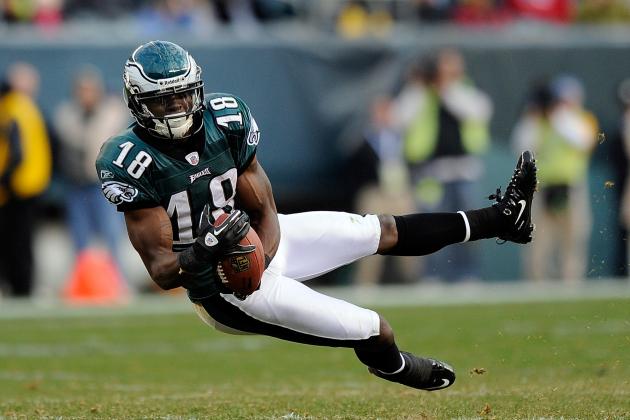 Patrick McDermott/Getty Images

An improved Jackson will also help Jeremy Maclin, as Jackson will open up the defense for the Eagles' No. 2 option.
Maclin too can be expected to improve. He is a very talented player and has underrated speed, good hands, excellent route-running and more physicality than Jackson.
Last season, Maclin suffered from not having a full offseason due to an illness. With a full offseason to train and practice, expect a big year from Maclin.
Stat Prediction: 74 catches, 1,050 receiving yards, 14.2 yards per catch, 10 touchdowns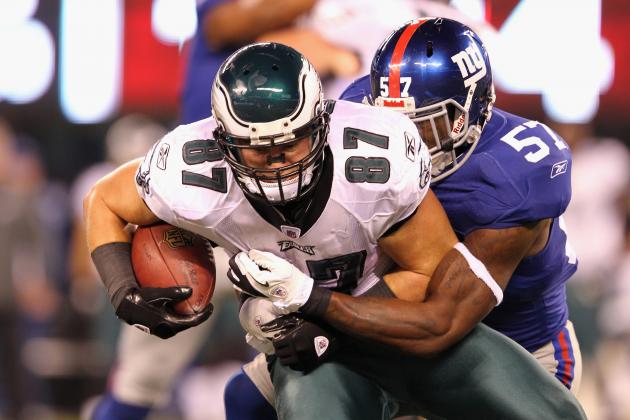 Al Bello/Getty Images

Brent Celek has always been one of the team's most underrated players. However, despite his excellent abilities as a receiver, expect his stats to drop in 2012.
This is not to say that Celek is not a good player. Rather, the improved play of Jackson and Maclin will take away targets from Celek.
While it should be noted that Vick has been making a conscious effort to target his tight end more, who is often open when the wide receivers are not, Celek simply does not possess the explosive playmaking ability that Jackson and Maclin have.
Stat prediction: 52 catches, 680 yards, 13.1 yards per catch, 3 touchdowns.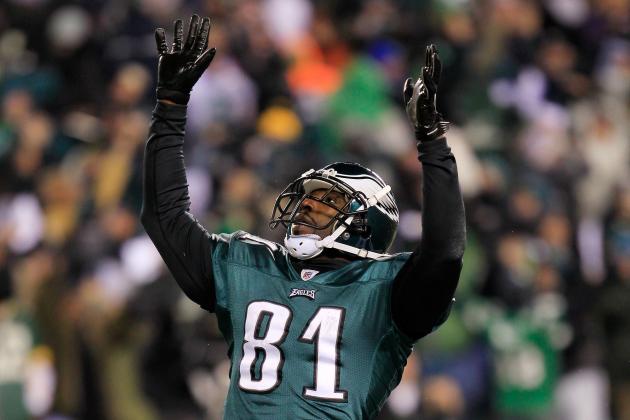 Chris Trotman/Getty Images

Jason Avant is as reliable as they come on third down and in clutch situations. But Avant is overall primarily a slot receiver, not a big playmaker. Avant too is not particularly useful in the redzone, being not quite physical enough to play there.
Avant too has always lacked speed, and on a team with two speedsters and a receiving tight end and running back, don't expect Avant's numbers to improve all that much.
Stat prediction: 50 catches, 600 receiving yards, 12 yards per catch, 1 touchdown.