New York Mets: 5 Candidates to Take Dillon Gee's Spot in the Rotation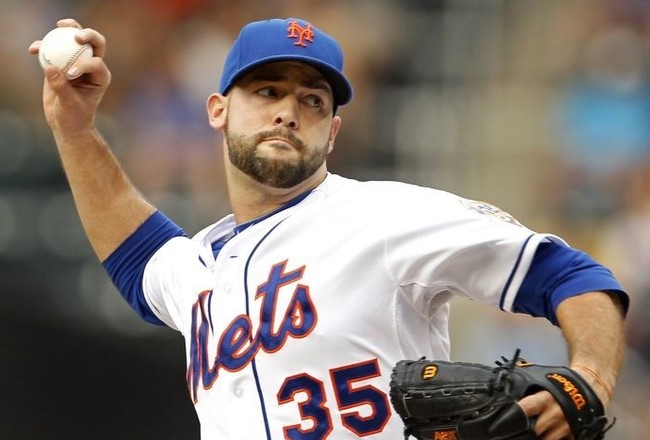 Surprise, surprise. The Mets have once again received some bad news involving injuries. Late last night, Dillon Gee was sent to the hospital with a blood clot in his right shoulder. Despite scheduling the righty to start the first game following the All-Star Break, the Mets have been backed up into a corner as they had no choice but to place Gee on the 15-day DL. With that said, there is just one question that needs to be asked. Who will take his place?
There seems to be a surplus of pitchers on the market, but it doesn't seem like that is the direction Alderson and Co. will be going. Instead, look for the Mets to find someone within the system to take Gee's place.
Names such as Matt Harvey, Miguel Batista and Jeremy Hefner have all been brought up and while all are possibilities, some definitely seem more likely than others. Nonetheless, let's take a peek on the top five guys that can give the Mets exactly what they're looking for.
5. Jeurys Familia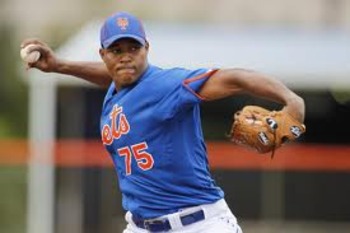 I have been a big fan of Familia for quite some time now. Often being left in the background behind Matt Harvey and Zack Wheeler, Jeurys has even managed to sneak his way into the top 100 prospect list on MLB.com as No. 76. His fastball can reach the upper 90's on the norm, while his breaking ball can be an average pitch for him as he continues to improve. His job as a major leaguer may actually rely on his changeup, which he is working to improve. If he doesn't develop the pitch, he could find himself in the bullpen, which most Mets fans wouldn't mind, with the way things have been going recently.
While it doesn't seem likely he would enter as a starter if he was to be called up now, you can't count him out. After starting off this season dreadfully, he has seen improvement. His command took a major step back, but things have slowly settled down for him and he is beginning to find a groove.
I'm actually in favor of sending Jeurys to the bullpen soon, as it would definitely help out what has been a weakness for the New York Mets. However, it is a distinct possibility that Alderson and Collins feel differently and think his future is as a starter behind Harvey and Wheeler. We can only wait and see and the young career of Familia strolls on.
4. Jenrry Mejia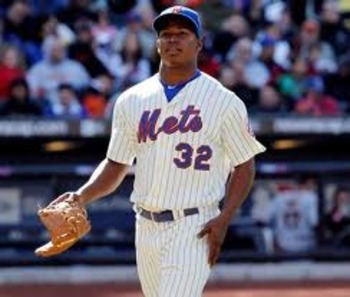 Mejia is one youngster that has some time in the majors under his belt. After breaking into the majors as a bullpen pitcher, Mejia was pretty dominant. As the youngest player in the league at the time, Jenrry exceeded expectation and looked ready for the next step and rumors began to arise about his future. Jenrry finally got tossed into the rotation, but it didn't turned out as many hoped.
He struggled greatly and after only three starts, it went from bad to worse. He was diagnosed with an MCL tear in his right arm. Things were beginning to look bleak for the Mets' coveted prospect.
This year started off promising, and it seemed as though he was repositioning himself amongst the rest of the Mets' pitching prospects. However, as the Mets' bullpen continued to struggle, Mejia began a transition into the bullpen in order to slide back into the majors as a boost to a weaker part of the Mets thus far. With that said, his numbers have gone from great to flat out bad since the big move. The organization has revoked their plans to call him up for the bullpen and there are even talks of him getting shipped away for other pieces.
Who knows what the Mets will do, but all the clues point away from Mejia getting a call. Like I said earlier, anything can happen, but Jenrry just doesn't seem like the right choice as of now.
3. Jeremy Hefner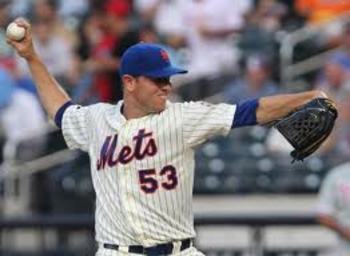 Jeremy got called up earlier this season, and was first used primarily as a long man out of the pen. After being pretty dominant in his first two appearances, he was given a shot at a starter. His first start didn't turn out so good, as he was manhandled by the offensively challenged Padres. To his defense a rain-delay did interrupt his start, so he was given another shot. His next start was much better, as he gave up just three runs in six innings of work. With Chris Young sliding back into the rotation, Jeremy basically lost the spot, getting just one more start since then. He played out of the bullpen for a while, but is now back in the minors.
He was okay as a starter, but that was it: just okay. I feel that the Mets have other options that could do a better job, but he may be one of the guys that could work as a starter long-term and be somewhat effective. While he is not the No. 1 choice in my book, he is still a candidate if all else fails.
2. Miguel Batista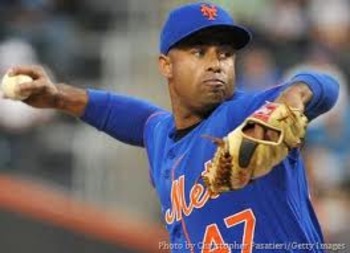 It may seem surprising, but Miguel Batista has a huge probability of taking Gee's spot in the rotation while he's out. As a starter, Batista defied the odds of father time, as he was great outside of a dreadful start against the San Fransisco Giants.
If the Mets are looking short-term he would be a suitable guy for the time being. However, his age can become a factor as he is a seasoned vet to say the least. If Gee's injury becomes serious, then Batista may fall out of contention for the spot.
Most of the Mets fans that I know actually dislike Batista. My opinion differs from theirs as I love the consistency he brings to the table. He isn't dominant, but what you see is what you get.
The only red flag with Batista is that as of late, he has struggled. It really started back when he almost blew a big lead against the Rays in the ninth, and continued through the Yankee series when Cano took him to school. Who knows, maybe his stamina is wearing down as he continues to age.
If I were Sandy Alderson, I would definitely look into Batista as the man for the job. He is consistent, a veteran and has succeeded when given an opportunity. If Miguel gets the spot, I will be part of the minority that is content with the decision.
1. Matt Harvey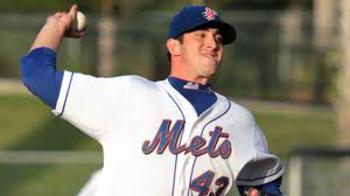 Out of all the options available, the No. 1 option is an easy choice for me: Matt Harvey. When Matt was first drafted seventh overall by the New York Mets, I had a mixed reaction. While he was a possible ace that the Mets needed, he had a somewhat inconstant college career, as the year before his last was pretty bad. Nonetheless, I moved on and wished for the best.
As of now, it is safe to say my wish came true. His stuff is dominating, and he has come into his own after a pretty slow start. Some don't think it is his time yet, but I'm a huge fan of bringing him up. The only issue is if Dillon Gee comes back and is still effective, who loses their job. Bringing Harvey up just to send him right back down would be nothing but detrimental to his confidence.
If the Mets do give him the shot, they need to commit to their choice. No second guessing, and no turning back. If the Mets don't want to take the long-term option just yet, Batista or Hefner could be just fine. However, if they want more than just fine, look for Harvey to finally get his time to shine.
Keep Reading

New York Mets: Like this team?