Manchester United Transfers: 6 Players They'd Pursue If Fans Ran the Team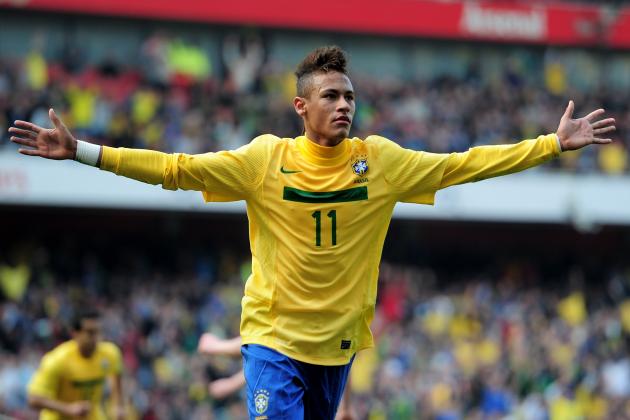 Jamie McDonald/Getty Images

Neymar...the player that everyone wants. If money was no object and the fans ran Manchester United, this guy would be top of the list.
With David Beckham not picked for Team GB, Neymar could be one of the big reasons to watch the Olympic football.
Chelsea covet him.
Real Madrid covet him.
Barcelona will sign him and whether we like it or not, Manchester United have no chance (unless, of course, Rafael da Silva is his new best mate).
But we can all dream. While some dreams have no basis in reality, Manchester City and to a lesser extent Chelsea (viz Oscar) have shown that where money is no object, most things are possible.
So, assuming the Manchester weather is no barrier; that the debt is repaid by the IPO; and Sir Alex has the same dreams as his fans, here is a possible list covering most of the angles.
In the meantime, there is more chance of getting Kaka than Neymar...
Begin Slideshow

»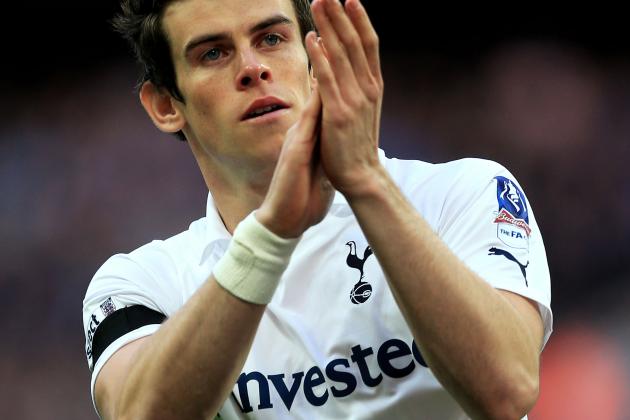 Clive Rose/Getty Images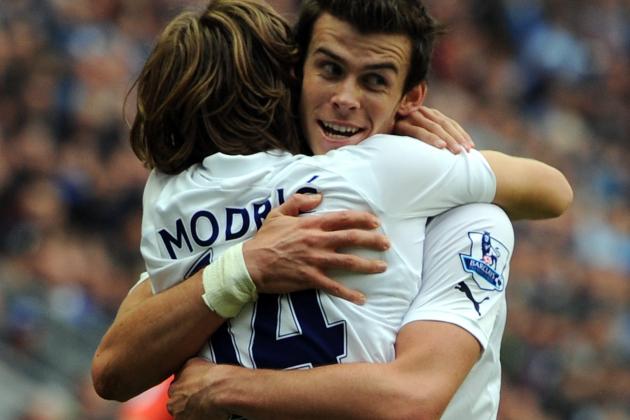 Chris Brunskill/Getty Images

Rumours still keep popping up that Fergie is after both of them.
Well, he would be, wouldn't he? The fans certainly would. A mere £120 million for the two, maybe?
The trouble is, Bale signed a new four-year contract last month.
Modric, on the other hand, while still on a longish contract, seems certain to go.
Currently, Real Madrid is his most likely destination. Spurs apparently want £40 million, which would be a stretch for the Spanish club, and Sir Alex isn't going to pay that much.
With Roman Abramovich looking like he is betting the house on Chelsea's rebuild and thumbing his nose at Financial Fair Play, it is no wonder the media thinks he will pay anything up to £40 million for the likes of Modric or Hulk.
There are so many rumours about Modric that you couldn't be blamed for thinking that Daniel Levy was planting them himself.
At the end of the day, Modric seems like a decent, thoughtful guy who, like Robin Van Persie, has tired of waiting for trophies, but is not a gold digger.
Anyone in their right mind would want the best deal going for a career that could peter out by 35, but Modric is more likely to choose a team where he has a meaningful chance of winning the Champions League and getting an automatic starting place.
In the case of Manchester United, both would be possible, and that's why this fantasy can't be ruled out.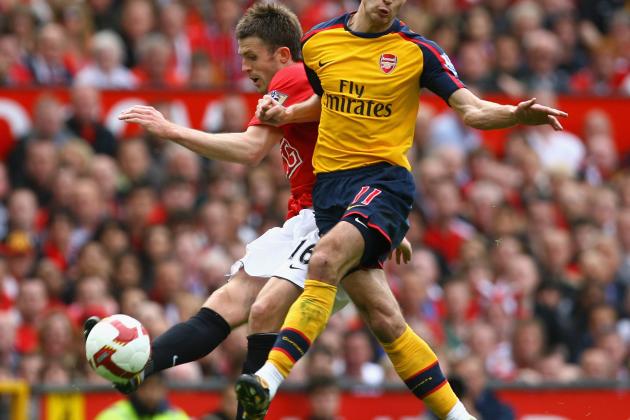 Alex Livesey/Getty Images

If they needed just one reason to buy Robin Van Persie, Manchester United fans would do it to keep him out of the clutches of their noisy neighbours.
There is a mortal dread that the Dutchman could be the last piece of the jigsaw that brings the Champions League back to Manchester, but not to Old Trafford.
City have an embarrassment of riches, but RVP could also secure a second consecutive title for them.
Once again, however, the chance to win something can be combined with a regular place in the first team.
United could offer that, either at the expense of Welbeck and Chicharito or by dropping Rooney back into midfield when one of those is in the team.
It seems certain that Arsene Wenger will do all in his power to prevent Robin from joining any Premier League rivals, but he has a good relationship with Ferguson. Wenger and his Board will block any move to City after the previous flow of Arsenal players.
If the Dutchman is set on going, he would almost certainly prefer to stay in England, where his children are at school. He seems a decent man, driven by hunger for success rather than money.
Despite their failure to provide that, Arsenal can expect something in return for believing in him, buying him in the first place and creating the opportunity for him to become a world-class player.
The price is within Sir Alex's budget, though the age might be a problem. Don't completely rule out the fans' dream being fulfilled. He loves strikers and fantasy footballers.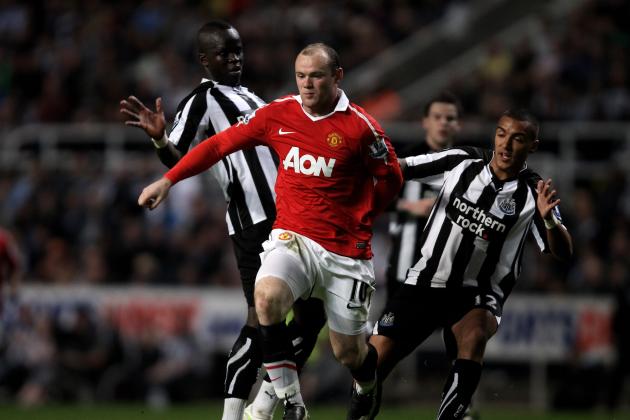 Clive Brunskill/Getty Images

Cheick Tiote has been rumbling as a rumour around the media and fans' bulletin boards for months now.
Arsenal and Chelsea apparently covet him as much as Sir Alex if stories like this are to be believed.
The thing is, this one makes sense. If Ferguson can't lay his hands on a decent playmaker, a defensive midfielder is an alternative, with Carrick as the "quarterback" until someone else comes along.
Tiote has Roy Keane-like qualities. He can score spectacular goals and, like Yaya Toure, is a man mountain to get past in the middle of the park.
Newcastle may protest that they don't want to sell, but Mike Ashley would make a hefty profit at anything close to £20 million. And they've just bought Gael Bigirimana as his understudy.
The rumours about Tiote won't go away, often accompanied by a suggestion that Demba Ba will be part of the deal.
These are the sorts of suggestions that the fans grab at. Tiote had a fantastic first season for Newcastle, including helping to snuff out United at St James' Park.
Demba Ba was on fire until Papa Cisse arrived and took his No. 9 position. There have been suggestions that he has a release clause in his contract that could be exercised for as little as £7 million, but it would expire this month.
So the fantasy football picks go on, and, of course, £7 million is cheap when you're putting together your Fantasy Football team.
Mike Ashley is a businessman, so you can't rule anything out. He sold Andy Carroll to Liverpool with no time for Pardew to find a replacement.
Ferguson is unlikely to persuade David Moyes to sell him Leighton Baines and Marouane Fellaini. With no combative midfielder since Roy Keane left, Tiote's signing would make sense.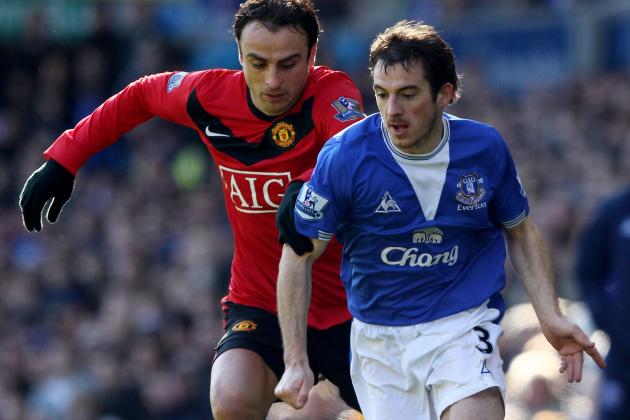 Clive Brunskill/Getty Images

Of all the fancies that are floating around, this has become the one that won't go away.
United leave for their South African and Chinese tour next Monday. Sir Alex will want to tie up a couple of last-minute signings before then.
Patrice Evra is not getting any younger. Fabio has gone to QPR on loan. Zeki Fryers may be going to Spurs. Leighton Baines makes a great deal of sense, even though he is 27, he is the established England left back, behind one of the best in the world, in Ashley Cole.
The rumours suggest a £16 million deal is on the verge of completion, waiting only for Everton to secure a replacement.
Don't be surprised to see Baines on tour with United this summer.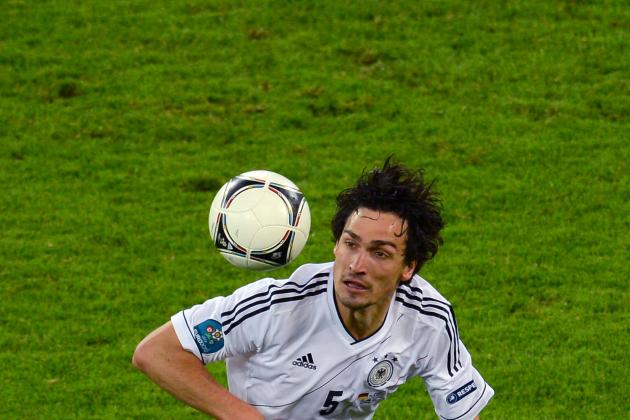 Shaun Botterill/Getty Images

Among the wishes, wants and fantasies of fans, the rumours, rubbish and scoops of the media, you could be forgiven for coming to the conclusion that Sir Alex Ferguson wants to replace his entire team.
Although goalkeeper has not been suggested, collectively United apparently need: a right back, centre back and left back; defensive and attacking midfield, playmaker and wingers; and at least one new striker.
All this just goes to show how panic spreads when United lose the title on goal difference with the highest second-place points score ever.
In fact you could be forgiven for concluding that the United who finished 37 points ahead of Liverpool and 25 ahead of Chelsea were hopeless and hapless last season.
Apart from the present author, very few people have even hinted at United's appalling catalogue of injuries last season. Also apparently, with Fryers, Pogba and Morrison going, that there is no talent left in the Reserves and Academy.
Hogwash.
Ryan Tunnicliffe, Davide Petrucci and Robby Brady will be vying with newly-signed Nick Powell for the engine room.
There are a string of defenders, especially centre-backs like Michael Keane. Sam Johnstone is the first-choice England U19 goalkeeper and probably United's third-choice next season, with Ben Amos going on loan.
Will Keane would have been added to the First Team Squad if he hadn't suffered a bad knee injury on England duty; Larnell Cole and Jesse Lingard will be hoping to replace Ryan Giggs in due course.
But let's humour the rumour-mongers and fantasists. OK, we haven't considered a right back and speculation about Matthieu Debuchy or Nathaniel Clyne seems to have gone cold since Rafael got his new four-year contract.
As for centre-back, it seems doubtful that Sir Alex would turn down the chance to sign Mats Hummels for £15 million if he was available, even with a plethora of central defensive options.
As with Robin Van Persie or Ganso for example, world-class players do not come along often and you have to make room if the price is right.
Mats Hummels was one of the stand-out defenders in Euro 2012. He was huge in defence and threatening as a marauding attacker. He would be an excellent replacement for Rio Ferdinand.
So, if money was no option; if the wage bill was irrelevant; if Financial Fair Play wasn't arriving this season; if United were funded by an Arab oil money benefactor; and the fans ran the club, these are just some of the most ached after targets.
Several weeks ago, I predicted that United would have a big clear-out and up to four big players would be signed. I stick by that prediction. Apart from Leighton Baines, that doesn't mean any of these other fantasy football whims will come true.