Greenbriar No-Names Potter and Kelly Raise Questions About Demise of Q-School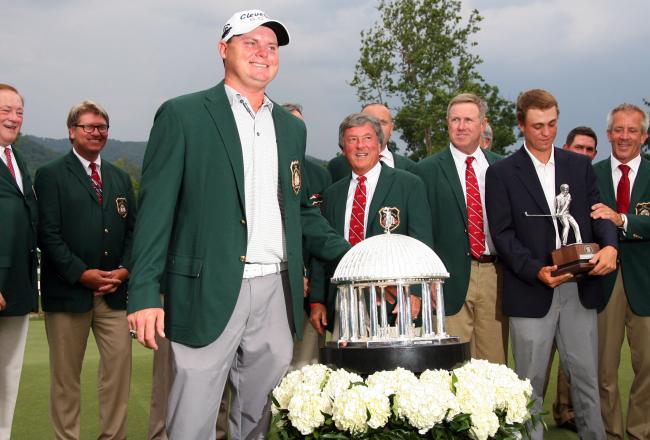 Ted Potter, Jr. wins at Greenbriar
Hunter Martin/Getty Images
Some people can only stand to watch golf if Tiger Woods or Phil Mickelson or Rickie Fowler or Bubba Watson or Rory McIlroy are playing. But ask yourself one question: Would Greenbriar have been the most exciting tournament this year if Ted Potter, Jr., the ultimate winner, and Troy Kelly, playoff loser, had been a contest between Phil and Tiger? The answer is yes.
And yet these two guys, who most golf experts never mind golf fans, had never heard of before Sunday, both beat Tiger and Phil. Not only did Potter and Kelly make it to a playoff, they also beat US Open Champ Webb Simpson, former US Open Champ Jim Furyk, Fed Ex Cup champ Bill Haas, PGA champ Keegan Bradley, as well as Hyundai Tournament of Champions winner Steve Stricker and FedEx St. Jude winner Dustin Johnson, to name just a few. They have to have some game.
These two CinderFellas are the essence of the dream that every golfer has. That if they just have one good week at Q-School or if they can Monday qualify, they can make it on the PGA Tour.
Are Ted and Troy the reason to keep some PGA Tour cards available from Q-School instead of giving them all to Web.com players? Or do they prove the point that PGA Tour is making, that the Web.com Tour is the place to groom future PGA Tour stars?
Potter, 28, got to the PGA Tour via his 2012 finish in the Web.com Tour. It was a struggle the whole way. How much of a struggle? He was 0 for 24 in making cuts during his rookie Web.com Tour season.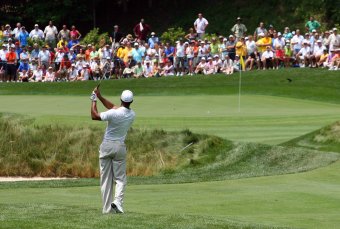 Tiger Woods beaten by Potter at Greenbriar
Hunter Martin/Getty Images
Potter was the NGA Hooters Tour Player of the year in 2006. He was a member of the Web.com Tour in 2004 and 2007 and 2010-2011. Before 2012 he had not started in a PGA Tour event.
Even with a card, he was not on the automatic entry list for Greenbriar. He had to Monday qualify to get in. By winning, he became the first Monday qualifier to win since Kyle Reifers at the 2006 Chattanooga Classic which is an opposite field event. As a Monday qualifier, he had no more status than Joe Golfer who showed up and Monday qualified. But he did have a lot of scar tissue experience.
This year, Potter missed nine cuts out of 15. Before this week, he had won approximately $175,000 on the PGA Tour. Last year, as a 27-year-old on the Web.com Tour, Potter missed six cuts in 18 starts and won $400,000+. Now he has a guaranteed two-year exemption.
Kelly, the guy who didn't win, is 34 years old. His road to the Greenbrier playoff was no easier. He played on the Gateway Tour in 2003, 2005, 2006; the Golden State Tour in 2007, 2008; the Web.com Tour in 2007, 2008; and part time on the Canadian Tour in 2008. He finally got to the PGA Tour after seven seasons in various minors by making it through all three stages of the 2009 Q-School and finishing high enough to get a card. Then, as a bonus, in 2010, he had a hip replacement nine months into his first full season on the PGA Tour. He's currently playing on a medical exemption which was how he got into the event.
So two golf miracles in one week. One got there by Monday qualifying, one got there via Q-School status. Although both played on the Web.com Tour, one had more success there than the other. Yet, when regulation play was completed, they were tied.
If we use Potter and Kelly as examples, maybe there's no real difference between the skill of play on the Web.com Tour and those who have gone through Q-School. However, the Web.com Tour experience does teach other PGA Tour business-related things like how to conduct one's self in the pro-am, how to treat sponsors correctly, and how to treat volunteers correctly—something that is paying dividends with the up and coming players, we hear.
Maybe the bigger question is how slim is the margin between a Tiger Woods and Phil Mickelson and Webb Simpson and guys like Ted Potter, Jr. and Troy Kelly? And maybe that is the reason to say Q-School should still allow a few Cinderella players entry to the PGA Tour. But as of today, they aren't.
This article is
What is the duplicate article?
Why is this article offensive?
Where is this article plagiarized from?
Why is this article poorly edited?