Hope Solo: Positive Drug Test Casts Shadow over Olympian'S Sterling Reputation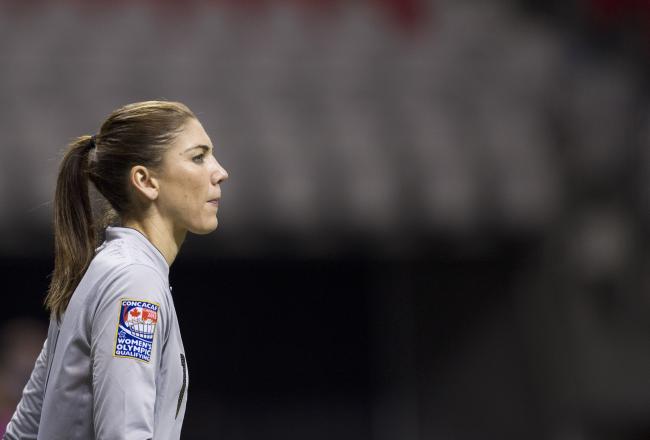 Rich Lam/Getty Images
It's not Hope Solo's fault that she failed a drug test.
Nobody can be expected to know each and every substance in each and every medication he or she takes. Odds are, Solo is totally innocent and totally clean.
But given the recent history of all of the superstar athletes who have tested positive for banned substances —despite the fact that they seemed like the last people on earth who would cheat—it's going to be hard for her to be completely rid of this association.
Because of the egregious mistakes of those who have come before her, she is guilty by association.
According to Fox News, the Olympic superstar, who captured the nation's attention last summer as the U.S. national team's goalkeeper at the Women's World Cup, tested positive in a urine test for the banned substance Canrenone.
Solo was issued a public warning by the U.S. Anti-Doping Agency and promptly released a statement insisting that the source of the diuretic was a pre-menstrual medication which had been prescribed to her by her personal doctor.
In her statement, Solo said (via Fox News):
Once informed of [the failed test], I immediately cooperated with USADA and shared with them everything they needed to properly conclude that I made an honest mistake, and that the medication did not enhance my performance in any way. As someone who believes in clean sport, I am glad to have worked with USADA to resolve this matter and I look forward to representing my country at the 2012 Olympic Games in London.
Hope Solo might forever be known as an Olympic superstar who failed a drug test, even though she didn't do anything wrong.
That's just the nature of professional sports at this stage. You never know who's innocent and who's guilty. Looking back on all the legends who have tested positive and betrayed their leagues and their fans—Lance Armstrong, Manny Ramirez, Roger Clemens—it's hard to avoid being skeptical.
When the USADA issued Solo a public warning, they made an example out of her, intentionally or not.
There needs to be a no-tolerance policy for banned substances these days because, simply put, there is just too much cheating happening.
It doesn't matter if you're Hope Solo or a no-name, first-time Olympian. You can never be too careful.
PED abuse has nearly ruined baseball, it's robbed one of the greatest cyclists in history of his reputation and it can do the same to any Olympian if he or she isn't careful.
It's a shame because Solo, if she's innocent (and, most likely, she is), didn't do anything to deserve this warning. All she did was take a medication that turned up something fishy on a drug test, unbeknown to her. As she says, it was an honest mistake.
But the damage has been done by the athletes who have come before her and have been caught.
Because of the colossal mistakes of a select few, the accomplishments of anyone who has the misfortune of unknowingly taking a medication that has a banned substance in it will be viewed with unavoidable skepticism.
It's not Hope Solo's fault, but that doesn't necessarily mean she'll be spared, even if there's never an asterisk next to her name.
This article is
What is the duplicate article?
Why is this article offensive?
Where is this article plagiarized from?
Why is this article poorly edited?