All-Star Game Lineup 2012: Most Exciting Pitchers to Watch Throughout Game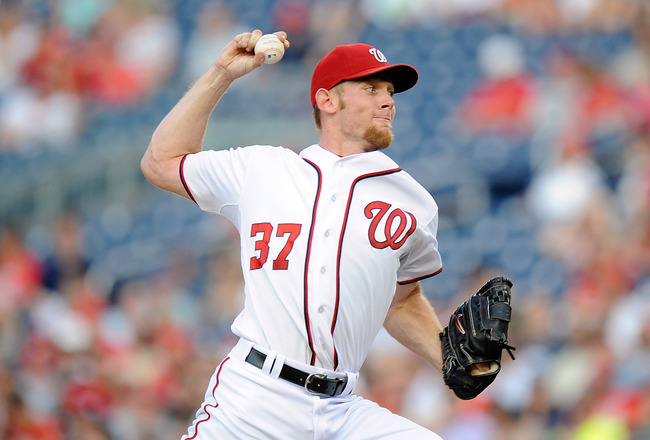 Greg Fiume/Getty Images
The hitters are usually the main attraction at the MLB All-Star Game, but the collection of pitchers on hand this year is quite impressive.
Fans usually do not like watching a pitcher's duel against the great lineups that are put together. However, getting to see the top pitchers in the game all in one place performing for an inning or two is as good as baseball gets.
This year, there is a solid collection of younger faces reaching the game for the first time as well as big names that have already earned Cy Young awards in their careers.
There are 27 pitchers on the active rosters of the two teams, but a few of them are the guys to really focus on during the game.
Here is a complete list of pitchers in the game courtesy of MLB.com:
National League
Matt Cain, SF
Aroldis Chapman, CIN
R.A. Dickey, NYM
Gio Gonzalez, WAS
Cole Hamels, PHI
Joel Hanrahan, PIT
Clayton Kershaw, LAD
Craig Kimbrel, ATL
Lance Lynn, STL
Wade Miley, ARI
Jonathan Papelbon, PHI
Stephen Strasburg, WAS
Huston Street, SD
American League
Ryan Cook, OAK
Yu Darvish, TEX
Matt Harrison, TEX
Felix Hernandez, SEA
Jim Johnson, BAL
Joe Nathan, TEX
Jake Peavy, CWS
Chris Perez, CLE
David Price, TB
Fernando Rodney, TB
CC Sabathia, NYY
Chris Sale, CWS
Justin Verlander, DET
Jered Weaver, LAA
Justin Verlander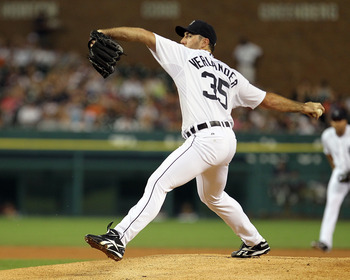 Dave Reginek/Getty Images
Justin Verlander might not have been statistically the best pitcher in the American League this year, but he has earned the right to start the all-star game.
He won the Cy Young last season along with the Most Valuable Player award for the league. With the exception of his win total, this year's stats are almost identical.
The Tigers star does not only have great pitches, but his mentality to finish a game allows him to be the best ace in the league.
The only downside of the all-star game is that he will have to stop after a couple of innings.
R.A. Dickey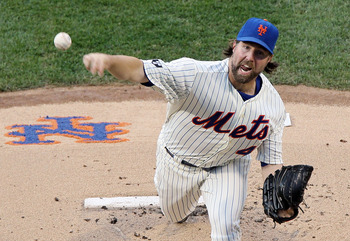 Jim McIsaac/Getty Images
It is tough to argue that R.A. Dickey does not deserve to start the all-star game for the National League.
Not only is he among the best in the majors in ERA, WHIP and strikeouts, but he accomplishes all of this with a knuckleball.
His story is one of the best in all of sports. He overcome obstacles as a youngster, failed numerous times in the majors and then finally developed his signature pitch to become one of the best in the majors.
Dickey's knuckleball is different from those before him, as he throws it with increased speed to get up on the hitters more quickly and make them guess. He also throws it with much more control than any similar pitcher in history.
When he comes into the game on Tuesday, hitters will look foolish.
Jered Weaver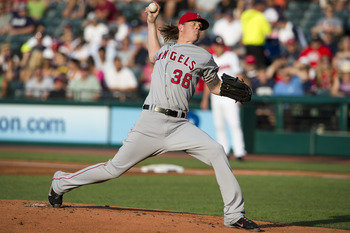 Jason Miller/Getty Images
He is not flashy and does not get many strikeouts, but few are better than Jered Weaver.
Weaver follows the theory that you cannot score without getting on base by allowing fewer batters to reach base than anyone in the majors, as shown by a .90 WHIP. He also leads all of baseball in opponent batting average and ERA.
On May 2, Weaver pitched a no-hitter against the Minnesota Twins.
The National League should not expect much against this elite pitcher.
Stephen Strasburg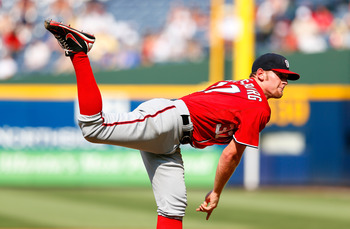 Kevin C. Cox/Getty Images
The Washington Nationals are being very careful with their young star, but is scary to think about how good Stephen Strasburg can become.
At 23 years old, he enters the break tied for the major league lead with 128 strikeouts. Felix Hernandez and Justin Verlander equal that mark but have pitched over 20 more innings each.
Strasburg's changeup is faster than other pitcher's fastball, but he can get away with it because he fires his fastball in the upper 90s. When you think you have figured those pitches out, he breaks off a slider that he can throw for a strike at any time.
The youngster has taken this league by storm and will be taking home Cy Young awards before long.
Aroldis Chapman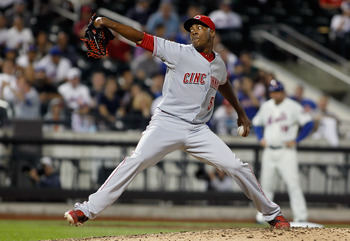 Mike Stobe/Getty Images
The age of the dominant closer is slowly dying. The National League has a few other relievers that might end the game, but fans should hope to get a glimpse of Aroldis Chapman before the game ends.
Chapman began the year as the most dominant pitcher in baseball. The Cuban had gone 29 scoreless innings before allowing an earned run and was striking out almost two batters per inning in that time.
Even after a slight decline, he still leads the majors in strikeouts per nine innings for all pitchers who have thrown at least 20 innings.
The flamethrower routinely tops 100 MPH with his fastball and should provide plenty of excitement if Tony La Russa puts him in the game.
Keep Reading