Olympic Gymnastics 2012: Ranking Contenders for Gold in Uneven Bars in London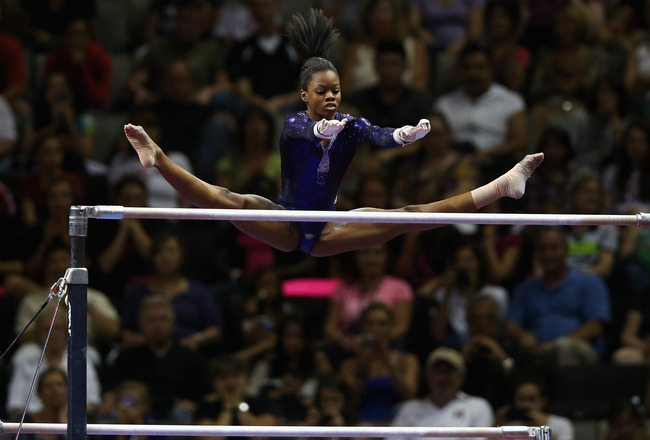 Ezra Shaw/Getty Images
Known as one of the more exciting and glamorous events in women's gymnastics, uneven bars are highly regarded because of their high risk and high reward.
Uneven bars have been hyped as Team USA's weakest event, but the Americans have the potential to score high with Gabby Douglas, Jordyn Wieber and Kyla Ross.
It might not be enough to beat the Russians, who are the team to beat on bars.
Aliya Mustafina, Anastasia Grishina and Viktoria Komova are some of the best bar-workers in the world and Russian alternate Tatiana Nabieva is another strong bars-worker.
Let's take a video look at some of the medal contenders on bars in the 2012 Olympic Games.
Favorite: Viktoria Komova, Russia
Viktoria Komova won gold on bars at the 2011 Worlds, and she can likely score a repeat in London. Her routine is clean, with a high difficulty score—6.7 at Worlds.
She has a move called the "Komova" at the beginning of her routine, where she jumps from the high bar to the low bar.
Conditional Comeback: Aliya Mustafina, Russia
Mustafina can be seen as one of the best bars-workers in the world and is a leader of the Russian force.
The 2010 World Champion has been plagued with a knee injury, which she has been struggling to get over.
Her focus is now balance beam and bars, and she has the most potential on bars.
She scored a 15.833 on bars at the European Championships this year, but has been suffering a shaky recovery.
Top Potential: Beth Tweddle, Great Britain
Beth Tweddle has a very unique and difficult bars set that will prove eye-popping. She just has to stay on the bars—it is highly likely that a fall could leave her out of finals.
She won gold on the uneven bars in Britain's second Olympic trial event at Pipers Vale, Ipswich in early June.
Tweddle is recovering from a knee surgery she had about two months ago.
Medal Snatcher: Gabby Douglas, USA
Gabby Douglas has a great chance to medal or even grab gold in London.
She made the 2011 Worlds team based on her strong uneven bars routine.
She gets so much height on her release moves that Martha Karolyi nicknamed her the "Flying Squirrel."
"Gabby Douglas probably has one of the best routines out there," Martha Karolyi said in an ESPN article. "Some people may have higher difficulty values on their routines, maybe one or two tenths. But Gabby's execution, I feel, is the best in the world."
This is Douglas' strongest event and it will show in London.
Podium Staple: Anastasia Grishina, Russia
Anastasia Grishina has been dominating Russian gymnastics, after winning the all-around at the European Championships in May.
She has practically perfect form on the uneven bars, with very clean transitions and a smooth landing. She scored a 15.333 on the bars at the European Championships and won gold in the event at the Olympic test event in January.
Long Shot: Youna Dufournet, France.
Youna Dufournet took eighth in uneven bars at Worlds. She hasn't done the greatest on bars during her last few competitions, beaten by Romania's Larisa Iordache and Germany's Elizabeth Seitz.
It's highly unlikely for her to podium, if she even makes finals, but she has a difficulty score of around 6.3. If other gymnasts choke, you never know.
Young and Ready: Asuka Teramoto, Japan
At 15 years old, Asuka Teramoto is the youngest competitor on Japan's team.
She took fifth on bars at Worlds and is one of only two Japanese gymnasts who did not compete at the 2008 games.
She could have a breakthrough meet in London.
Dark Horse: Jordyn Wieber, USA
It's known that uneven bars is the weak event of Jordyn Wieber, the reigning 2011 World Champion.
Just because it's her weak event does not mean she should be counted out.
Wieber has been a consistent performer on bars, with a clean routine.
She scored a 15.350 on uneven bars at the U.S. Olympic Trials. Wieber may not have the most intense skills, but if she keeps up the consistency she can surprise people by claiming yet another medal.
Podium Possibilities: Huang Qiushang, China
Huang Qiushang was the bronze medalist at 2011 Worlds and has competed at a higher difficulty than Komova.
I'm not sure exactly what routine she is bringing to London, but it will likely be something special.
Fringe Contender: Koko Tsurumi, Japan
Koko Tsurumi, the 2009 World all-around bronze medalist, has never been on top of her game since her win two years ago.
She seems to be the leader of the Japanese team, though.
At Japanese Nationals in May, she scored a 14.6 on bars. She has an impressive routine—we'll just have to see what happens.
Great Expectations: Kyla Ross, USA
Kyla Ross tied for first with Gabby Douglas on uneven bars at the U.S. Trials and finished just behind Douglas in the event at Visa Championships.
Ross has shown consistency on bars, with clean routines and minimal deductions.
Other Hopefuls
Some gymnasts who also have a chance at medalling in uneven bars are Germany's Elisabeth Seitz and Lisa-Katharina Hill and Romania's Diana Bulimar.
In an event where falls can be so common and gymnasts can lose full tenths of a point, it will be a true surprise who ends up on the podium.
Keep Reading