Los Angeles Dodgers: 6 Reasons Los Angeles Dodgers Will Still Win the NL West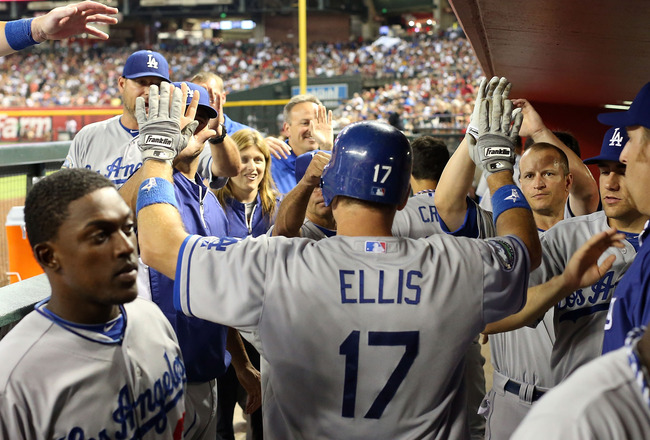 Christian Petersen/Getty Images
The Los Angeles Dodgers entered the All-Star break with a slim half game lead in the NL West standings, a result that Dodgers fans have to be extremely pleased with given the team's recent performance.
Los Angeles had the best record in Major League Baseball as late as Friday, June 19th (42-26). But that day marked the beginning of a stretch of games during which they lost 11 of 12 games, including a sweep at the hands of their primary division rivals the San Francisco Giants.
The Dodgers seemed to have righted the ship by winning four of their first five games to start July, but they were again swept this past weekend, this time by the defending NL West champion Arizona Diamondbacks, who now stand only four games back of Los Angeles in the division.
Despite the string of poor play, the Dodgers have several reasons to feel like they are still the team to beat heading into the second half of the MLB schedule.
Matt Kemp is Back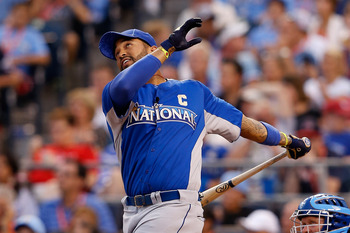 Jamie Squire/Getty Images
The Dodgers' hot start could largely be attributed to the MVP level play of center fielder Matt Kemp. But a hamstring injury has limited the All-Star to just 36 games played in 2012, and he hasn't taken the field for Los Angeles since May 30th.
The 2011 NL MVP runner-up had an April to remember (.417 avg., 12 home runs, 25 RBI, 24 runs scored and a 1.383 OPS) as he and Texas Rangers left fielder Josh Hamilton sparked Triple Crown dreams and debates about who was the best player in Major League Baseball.
The Dodgers were initially able to weather Kemp's injury, but as his absence from the lineup dragged on, his bat became sorely missed as the Dodgers struggled to score runs on a consistent basis.
Kemp just completed a six-game rehab stint in the minors and participated in Monday night's Home Run Derby without incident. He's expected to be activated from the DL in time to start for the Dodgers when they return to action Friday night at home against the San Diego Padres.
Key Players Returning from Injury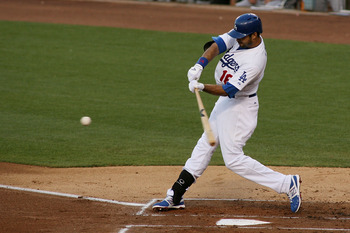 Jeff Golden/Getty Images
Matt Kemp wasn't the only key Dodgers player to spend time on the disabled list in the first half.
Second baseman Mark Ellis, outfielder/first baseman Juan Riviera, infielder Juan Uribe, starting pitcher Ted Lilly, relief pitcher Javy Guerra and fellow All-Star Andre Ethier all spent time on the disabled list during the first half of the season.
Ethier might be the only Dodgers star in that group, but each player has been a major contributor to the team's 2012 success. Ethier in particular, has been a run-producing machine, driving in 55 runs and again playing Gold Glove-caliber defense in right field before straining his oblique.
He and Lilly are still not back from their respective injuries, but once they are, the Dodgers should look a lot more like the National League's best team down the stretch.
Tim Lincecum Is Still Struggling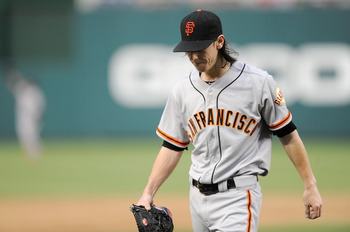 Greg Fiume/Getty Images
The Dodgers' NL West championship hopes appeared to be doomed when they were swept in a three-game series against the San Francisco Giants last month. Fortunately for Los Angeles, the Giants failed to build on the momentum of that series.
The Giants emerged from that home sweep tied for the NL West lead with the Dodgers. San Francisco fans were also encouraged by a strong outing by two-time NL Cy Young winner Tim Lincecum during that series, a seven-inning gem in which he gave up only four hits while striking out eight and walking only two batters.
Unfortunately for Giants fans, that win against Los Angeles was an aberration for the 2012 version of Lincecum, a player who has, statistically speaking, been the worst starting pitcher in the majors this year.
Lincecum has a staggering 3-10 record through 18 starts in the first half. While win-loss records can often be deceiving, his 6.42 ERA, 1.58 WHIP, .268 BAA and 50 walks through 96.2 innings show that his record is an accurate representation of how poorly he has pitched in 2012.
Fellow starters Matt Cain and Madison Bumgarner have emerged as stars in the making, with Cain being chosen as the NL starter in tonight's MLB All-Star Game. The Giants' offense has also been bolstered by the addition of left fielder Melky Cabrera and the return of catcher Buster Posey and third baseman Pablo Sandoval from injuries.
But if San Francisco realistically hopes to catch the Dodgers and win the NL West, Lincecum will have to drastically improve on his first-half performance.
Division Foes Failed to Take Advantage of Slump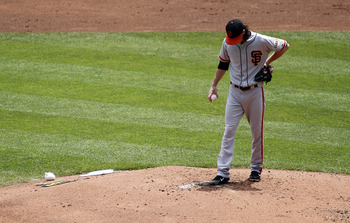 Justin K. Aller/Getty Images
The Dodgers have been swept by both the Giants and Diamondbacks over the past two weeks, but outside of the head-to-head play, neither team was able to fully capitalize on Los Angeles' recent slump.
The Dodgers are just 5-15 in their last 20 games, but the Giants also have a losing record in that same stretch, going 9-11. Arizona hasn't been much better, going an unspectacular 10-10 during the same number of games.
Now that Los Angeles is poised to get their best player back in Matt Kemp, both San Francisco and Arizona may have missed their best chances to take over the NL West lead.
Clayton Kershaw Can Be Better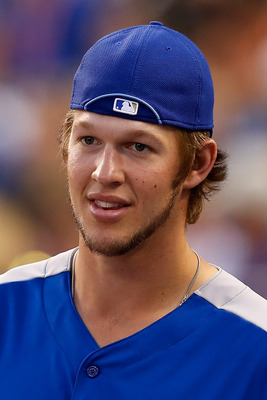 Jamie Squire/Getty Images
Los Angeles Dodgers ace and reigning NL Cy Young award winner Clayton Kershaw has had another All-Star caliber first half during the 2012 MLB season. But he can be better.
His 2.91 ERA is more than half a run higher than the NL-leading 2.28 he posted in 2011. His 8.88 K/9 rate is also down almost a full strikeout from 2011 and is his worst since his rookie year. His WHIP (1.06) and BAA (.221) are also up a bit, though they are still outstanding.
Kershaw's biggest problem in 2012 has been the long ball. In his previous three seasons as a full-time starter, Kershaw has given up a shade under 12 home runs per season. But he's already given up 11 in the first half of 2012, a stat he's certainly well aware of.
If the Dodgers expect to maintain their NL West lead and have an extended run during the postseason, Kershaw will need to take a step back in time and go from good to great.
Ned Colletti Will Improve the Roster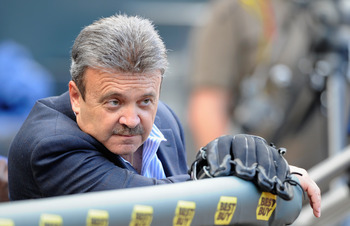 Hannah Foslien/Getty Images
The Los Angeles Dodgers are fortunate to still be in first place in the NL West given how snake bitten the team has been by injuries during the first half of the season. While it's hurt them in the standings over the past three weeks in particular, it did provide an opportunity for general manager Ned Colletti to fully evaluate the team's weaknesses.
It's well known that Los Angeles does not have a lot of talent in their minor league system, particularly as it relates to major league ready position players with high ceilings. This fact was exposed as players such as Scott Van Slyke and Alex Castellanos struggled when given their first opportunity to perform at the big league level.
The addition of outfielder Bobby Abreu in May was a welcome addition, but it's clear that he is better suited as a fourth outfielder at this point in his spectacular career.
Now that the Dodgers' ownership situation has been settled and the front office has already gotten back to operating like a franchise willing to immediately invest in the team's success (as evidenced by the recent five-year, $85 million extension given to right fielder Andre Ethier), Colletti will surely be looking outside the organization for ways to improve the current roster for the stretch run.
There are a mere 21 days left before MLB's July 31, non-waiver trade deadline. While the addition of the second wild-card playoff spot has given hope to more teams, thus reducing the pool of sellers, there are still some enticing trade options available for the Dodgers to pursue over the next three weeks.
With the help of team president Stan Kasten, look for Colletti to make one or two subtle moves that may not seem sexy, but will undoubtedly make the Dodgers tougher to beat during the second half of the 2012 MLB season.
Keep Reading

Los Angeles Dodgers: Like this team?