Ohio State Football: 7 Reasons the Buckeyes Will Improve over Last Year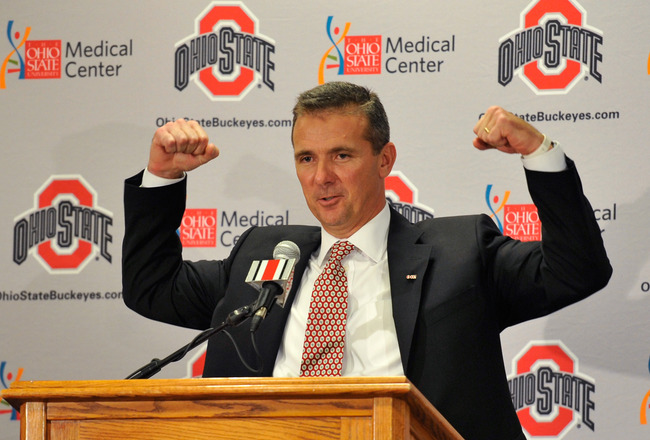 Jamie Sabau/Getty Images
After the season the Ohio State Buckeyes had last year, many are hoping for a quick turnaround. There are also many reasons to believe this can happen, with a new head coach in Urban Meyer and 16 returning starters, including nine on the defensive side of the ball.
It was a very difficult 2011 season and has been an up and down offseason, after finding out that the Buckeyes will not be bowl eligible this season.
Despite all of the issues off of the field, here are a few reasons as to why Ohio State will have a much better season in 2012.
It's Not That Difficult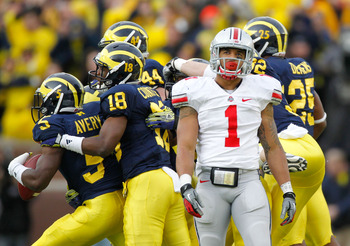 Gregory Shamus/Getty Images
Seriously, last season was so bad that it is almost impossible to have a worse season. The Buckeyes finished with a 6-7 record, the team's first losing season since 1988. They ended the season with four straight losses, were one of the worst teams in the country at scoring points and lost to rival Michigan for the first time in seven games.
There were very few positives to take out of last season, which makes you believe that 2012 will be an improvement regardless of what happens.
Jordan Hall Is Due for a Breakout Year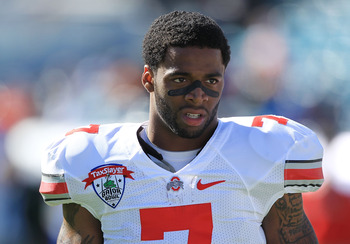 Scott Halleran/Getty Images
Senior running back Jordan Hall will likely be the featured back for this Buckeye team. He has the big-play ability and explosiveness that Urban Meyer is looking for. He hasn't produced much during his three-year career (184 carries for 814 yards and five touchdowns), but he has averaged at least four yards a touch every season and should be better off in the spread offense.
Hall will miss the beginning of the season with a cut on his foot, but expect to see a much different back this year, as he will likely be used more in the passing game as well. The more playmakers the better for this offense and the senior back is exactly what coach Meyer is looking for.
"He's the kind of warrior, he'll come back better, quicker if he can," Meyer said. "I was so excited because I thought Jordan … he had an excellent spring practice and has a lot of those skills we look for in that hybrid position." (Via FloridaToday.com)
Defensive Line Is Locked and Loaded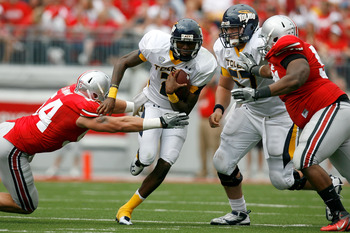 Kirk Irwin/Getty Images
If there is one thing you can count on when it comes to the Buckeyes, it's defense. Ohio State was ranked 19th in total defense a year ago, but the defensive line didn't live up to the potential last season, sacking the quarterback just 23 times all year. The good news is that the entire unit returns, which should result in better production in 2012.
Senior defensive end John Simon led the team with seven sacks, and is one of the best players at his position in the country. He should have another great year, as he has been consistent throughout his three-year career.
Defensive tackle Johnathan Hankins had a very productive season in his first year as a starter, racking up 66 tackles, 10 tackles for loss and two sacks. He isn't the most athletic guy in the middle, but at 6'3", 335 pounds, he is a force to deal with at the tackle position. Sophomore Michael Bennett should receive more playing time, as he had three sacks and five tackles for loss in limited action.
Upperclassmen Michael Bennett and Garrett Goebel also return and should build on their combined 58 tackles, 6.5 tackles for loss and two sacks a year ago.
The Buckeyes have the experience up front to improve last year's production and create problems for opposing offenses.
True Freshmen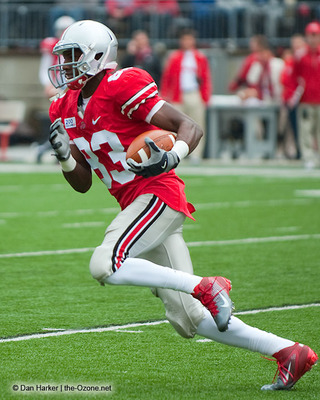 Photo via: insidetheshoe.com
When Urban Meyer first stepped on campus, top recruits were lined up out the door to play for the Buckeyes. Ohio State ended up landing 25 talented recruits, many who will see immediate playing time their freshman season.
We could see an appearance from defensive studs Noah Spence, Tommy Schutt and possibly Adolphus Washington. All are extremely athletic, have great size and look to have successful careers in Columbus.
But while Meyer continues to search for playmakers, players such as running back Brionte Dunn and wide receiver Micheal Thomas is just what the doctor ordered. Dunn is a big back at 6'1", 220 pounds, but has underrated speed and can create big plays in the ground game. Thomas is a huge target at 6'4", 205 pounds. He can get down field in a hurry and will provide this team with another option at wide receiver, a position that isn't a strength at the moment.
Overall, this class has many key players who will play a big part in this program's success eventually.
Special Teams Is Solid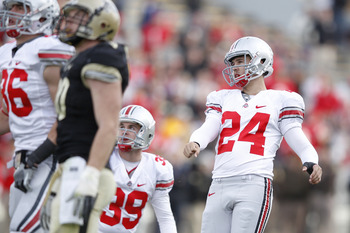 Joe Robbins/Getty Images
A good special teams is very underrated and can be the difference in a victory.
Drew Basil returns for his junior season to handle the kicking duties. He finished last year, connecting on 16 of his 19 attempts, including 16 of his last 17, and only missed one extra point out of 37 attempts. His 84.2 field goal percentage was tied for 12th in the country.
Senior punter Ben Buchanan also improved last season, averaging 41.2 yards per attempt. He also pinned 27 of his 70 attempts inside the opponents 20-yard line. Now, I'm sure Buckeye fans would like less punts in 2012, but it is great to have an experienced punter and somebody who can certainly flip the field position.
Braxton Miller Will Be Even Better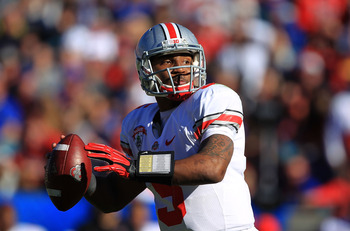 Scott Halleran/Getty Images
Last season, freshman quarterback Braxton Miller was fed to the wolves and was forced to figure things out on his own, with little to no help help around him. He still played well, throwing for over 1,100 yards, rushing for 715 and scoring 20 total touchdowns.
Now Miller is in the perfect situation under Urban Meyer, who will give the sophomore every opportunity to succeed in the spread offense. He is the perfect quarterback for this offense and is familiar with it, having ran it back in high school. Meyer has had terrific success with mobile quarterbacks in the past with Alex Smith and Tim Tebow, the question now is how quickly can Miller adjust?
"I think he will get there, because he's sharp, he's smart and he's a competitor," Meyer said as far as Miller being a leader. (Via ESPN)
Miller will benefit in his new offense and a year under his belt.
Urban Meyer Factor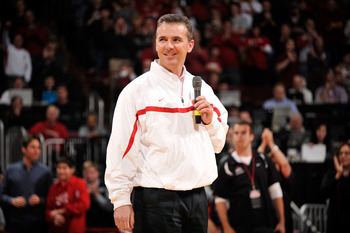 Jamie Sabau/Getty Images
Does this need much explanation? Urban Meyer is now the head coach of the Ohio State Buckeyes and he is kind of good at what he does. He has won 81 percent of his games as a coach, seven of eight bowl games, including two national championships, recruits well, puts his players in the best position to succeed and has never had a losing season in his 10 year coaching career.
There is a change going on at Ohio State and it starts this season with coach Meyer.
Keep Reading

Ohio State Football: Like this team?