Manchester United Transfers: 8 Faces That Could Leave Old Trafford This Summer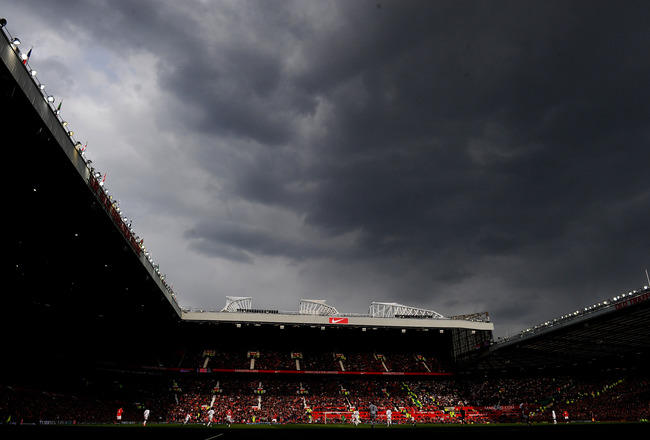 Laurence Griffiths/Getty Images
Fresh on the heels of Park Ji-Sung's departure to Premier League rivals Queens Park Rangers, it's become apparent that no matter how liked amongst the Stretford End, nobody's position at Manchester United is completely safe.
It's a given that in the last season or so, Park didn't have the biggest influence on the pitch as he had in the past but the sale is still a wake-up call for some.
This slideshow will take a look at some of the current playing staff whose future as a Red Devil isn't assured past August.
Some of the choices here won't be a surprise to the majority of people reading but then, there are those that may cause a shock or two.
Just to get it out of the way, neither Ryan Giggs nor Paul Scholes will feature amongst those included as the duo have pretty much already secured legendary status at the club and it would be folly to even discuss their departure with their deals set to run out next summer.
So, without further ado, these are the unlucky eight to have made the shortlist.
Anderson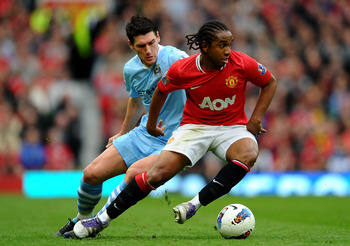 Laurence Griffiths/Getty Images
As is only alphabetically appropriate, Anderson has the unwanted honour of being first up on the countdown.
The Brazilian was unfortunate to suffer a knee injury in late November that saw him sidelined for four months.
However, even when at full strength, Anderson just doesn't seem to be hitting the heights of the expectations that surrounded him upon his arrival at Old Trafford in 2007.
Injuries accounted for, Anderson made just 16 appearances for United across all competitions last campaign, only 12 of which were as part of a starting XI.
Latest rumours claim that the anchorman could be on his way back to Portugal either as a straight cash transfer or as a makeweight in a player-plus-cash deal (via Daily Mail).
The 24-year-old has undoubtedly had his superstar performances in the past but, for some, these kinds of displays happen too far apart to assure Anderson of a spot in the club's long-term plans.
Jonny Evans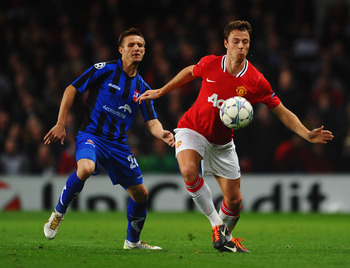 Laurence Griffiths/Getty Images
Despite a surge in playing time over the last season-and-a-half, Jonny Evans remains one of the larger liabilities to sit amongst those challenging for a starting spot.
The Northern Irishman made an impressive 35 starts for the Red Devils last campaign but were it not for the season-ending injury picked up by Nemanja Vidic against FC Basel, you can bet your life savings that number would have been far less.
With Chris Smalling and Phil Jones rapidly ascending as a very capable defensive pair, it's uncertain how long Evans will be able to hold off the Englishmen before slipping behind them in the pecking order.
For now, Evans still offers a very handy alternative who is more than good enough for the Premier League grade but perhaps not of the Manchester United pedigree.
The centre-back is prone to mistakes and is always surrounded by an aura of confusion where it becomes hard for onlookers to know quite what it is that he's thinking.
Should United sign another other centre-back with a decent amount of skill, Evans may be first on the chopping block.
Dimitar Berbatov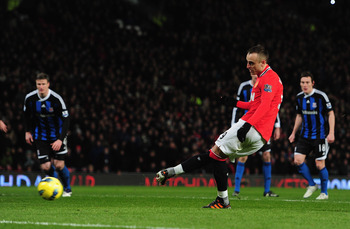 Jamie McDonald/Getty Images
Not really a surprise addition to this slideshow but nevertheless relevant, Dimitar Berbatov may well move away from the club this summer.
Manchester United took up the option of adding another year to the Bulgarian's contract earlier this year, meaning that he can't leave on a free transfer.
While this move was initially looked at as an opportunity to make some money off Berbatov's departure, there is now news that Sir Alex Ferguson may keep the 31-year-old around for one last season before allowing him to leave on a free next summer (via MirrorSport).
Regardless, were the right offer to come in, the manager would undoubtedly still accept and pounce on the chance to make a return on the striker who cost the club just over £30m in 2008.
Rumours claim that United would be willing to sell Berbatov for around £6m (see above link) and the veteran remains a very likely candidate for the Old Trafford exit.
Bébé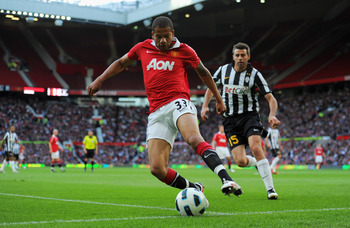 Michael Regan/Getty Images
Supposedly bought without Sir Alex Ferguson even seeing the striker in action (via Guardian), Bébé will certainly go down as one of the Scotsman's less savvy purchases.
Carlos Queiroz recommended that Ferguson take a look at the Portuguese forward and the United manager is thought to have only met the youngster the day before signing with the Premier League giants.
To summarise the forward's performance as a Red Devil so far? Disappointing.
The 21-year-old arrived at Old Trafford in the same summer as Chris Smalling and Javier Hernandez.
It doesn't take a rocket scientist to see who has worked out as the least valuable signature since then.
In fairness to Bébé, he has managed to net five goals in 11 appearances in the English Reserve League but you'd expect a player to make more of an impact on first-team matters when they sign for an estimated £8m.
Last season, Besiktas thought to capitalise on Bébé's lack of success by agreeing a season-long loan for the striker.
After ten goalless months, the player was eventually banished from the Turkish side for breaking a curfew
A clause existed in Bébé's loan stating that Besiktas could purchase the forward for £2m should they wish to do so, telling all that United do intend on getting rid of their player and for a significant loss at that.
Ben Amos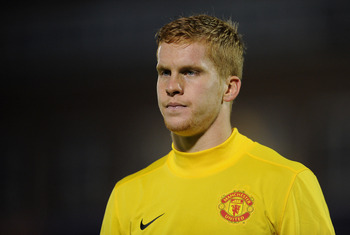 Michael Regan/Getty Images
Probably one of the more likely candidates to leave the club this summer, Ben Amos' chances of making it big in Manchester United colours would appear to be fleeting.
With David de Gea and Anders Lindegaard both experiencing their own troubles at the time, Amos made his first league start for the Red Devils in January of the 2011-12 season.
However, both De Gea and Lindegaard have since gone on to show improved form and would therefore seem to have ruled out any major involvement on Amos' part in the future.
Of course, we must never say never and as necessary as it is to have a decent third-choice goalkeeper, Amos may yet choose to stay at Old Trafford, providing that he is satisfied with a bit-part role.
The 22-year-old certainly shows potential but if it's first-team football that Amos is after, then it isn't likely to be found in his current surroundings, making a summer departure very possible.
His case looks all the bleaker when you consider that Sam Johnstone, 19, is making good strides through the reserves and seems to have benefited well from a loan spell at Scunthorpe United last campaign.
Federico Macheda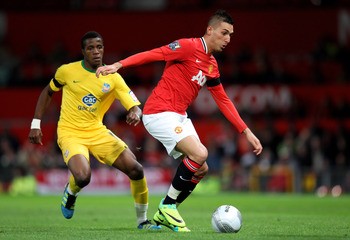 Alex Livesey/Getty Images
No matter how small his role has been over the last two years, Federico Macheda will always be remembered amongst the Manchester United faithful as "the Italian kid who scored that injury-time winner against Aston Villa."
At the time, Macheda was a mere 17 years old and the goal was seen around the world, warranting some to predict a bright and glory-filled future at Manchester United.
However, the prodigy is now 20 and while still far from a pensioner, Macheda has done little in terms of evolution in recent seasons.
Last season saw the youngster spend six months at QPR in which he played just over 30 minutes of football—a long way from the involvement that he would have wanted.
The season before that, Macheda spent six months in his native Italy on loan at Sampdoria where he scored a sole goal.
Needless to say that Manchester United supporters will have hoped to have seen Macheda grow in a different vein than he has.
As a result, the club may consider selling the forward this summer and while he is still a baby in the grand scheme of things, it's uncertain how much playing time he'll get with the likes of Wayne Rooney, Danny Welbeck, Javier Hernandez and even the emerging Will Keane ahead of him.
Nani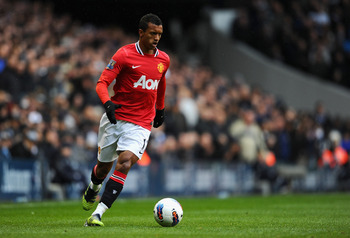 Mike Hewitt/Getty Images
With Ashley Young coming into the squad last summer and Antonio Valencia emerging as his own very considerable power, the transfer speculation linking Nani with a move away from United could well come to fruition this summer.
The 25-year-old, earmarked as the successor to Cristiano Ronaldo at one point (via The Sun), has shown that while his crafty footwork is indeed dazzling, his wild inconsistency is similarly so.
In no way is this a prediction that Nani will indeed find himself at another club in September, only that it is a firm possibility.
Real Madrid have been frequently linked with a move for the winger and with Shinji Kagawa now amongst their ranks, Nani may not be so willing to play the role of "fringe star."
With eight goals and 12 assists last season, it's easy to see that Nani still has worth at United but should he remain a starting figure at the club, he may have to string together this kind of form more constantly.
The Portuguese international is perhaps the least likely name on this list to actually part ways with United but that doesn't lessen his chances of going.
Stranger things have indeed happened.
Darren Fletcher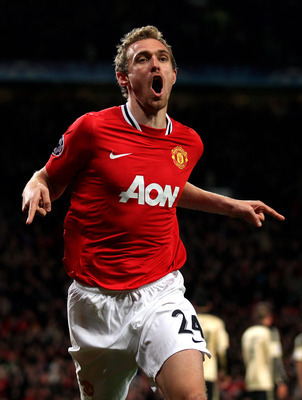 Alex Livesey/Getty Images
While admittedly out of commission, Darren Fletcher remains a Manchester United player and one that many supporters of the club are praying will make a full recovery from an intestinal illness he is continues to struggle with.
The Scot had to take time off from the game near the beginning of last season after news of the disease became apparent.
It's still unknown how Fletcher's recovery is progressing but even if the midfielder were to make a full return in time for the new season, would he be the same player he once was?
If he were to "leave the club" this summer, Fletcher would most likely retire from the game completely; frustrating when you consider that he's only 28 years old.
That being said, his time at Old Trafford would certainly not be finished and a coaching role formerly taken up by the likes of Ole Gunner Solskjaer, Paul Scholes and Gary Neville would presumably be available.
In any case, the United veteran is a doubt for the new season and while fans will hope otherwise, Darren Fletcher may not be a member of the Red Devils' playing staff in September.
Keep Reading

Manchester United: Like this team?