Washington Capitals: 6 Changes the Team Needs to Make in 2012-2013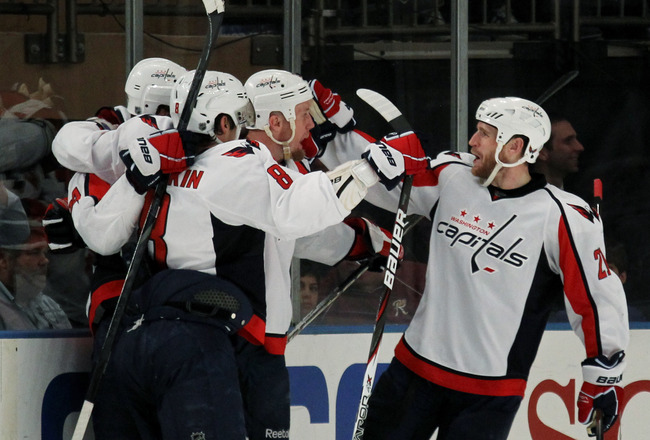 Bruce Bennett/Getty Images
For the Washington Capitals, the 2012 offseason has been eventful, to say the least.
First Dale Hunter, who led the team on their most successful playoff run in recent memory, decided to return to the OHL and not return to the Caps for a second season (Washington Post). While the decision was not unexpected, it was a disappointing turn of events for a team that seemed to have turned the corner and captured a new identity.
Then came the mutual decision that Alexander Semin would become an unrestricted free agent, likely ending his run with the Caps and disbanding the Core Four.
The Caps then had, by most accounts, a very solid draft. Included in the draft weekend was a very shrewd trade by which Mike Ribeiro came to the Caps to, presumably, become the Caps second line center (ESPN).
To make matters better, one of the top prospects in the draft, Filip Forsberg, fell to the Caps at No. 11 after many experts felt he would be a Top 5 pick.
The Caps roller coaster ride of an offseason then took another interesting turn when they hired a new head coach—former player Adam Oates.
Later that day, Oates was voted into the Hockey Hall of Fame. Not a bad day by anyone's standards.
And then free agency began. Again, the Caps have been somewhat shrewd and discerning in this area—they have not chased down big name free agents just because they could. Thus far, they have focused on re-signing players like Mathieu Perreault and Jay Beagle or adding role players, such as right winger Joey Crabb.
That is a lot for any fan to digest. It seems pretty obvious that the 2012-2013 season will be a very interesting one for the Caps.
But will it be a successful one? There will be a lot of transition with all of these changes going on.
And more could follow.
There are still some free agents out there who could potentially be difference makers for the Caps. There are also a couple of restricted free agents for the Caps that, if they did not return, could make another kind of difference.
So what sorts of changes do the Caps need to make in order for the 2012-2013 season to be a success?
Here are six of them for you to consider.
1. Re-Sign John Carlson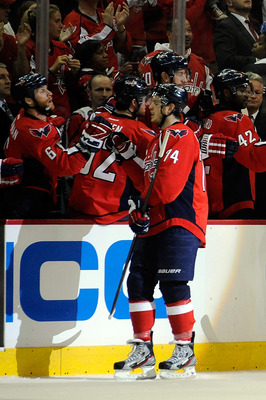 John Carlson and Karl Alzner hold the key to the Caps defensive success
Patrick McDermott/Getty Images
Re-signing John Carlson is not really a change, per se.
But if the Caps hope to succeed in 2012-2013, they need to make this a priority. In fact, if there is a free agent out there the Caps absolutely need to sign, it is John Carlson.
Mike Green is a restricted free agent as well. Carlson, however, is the better defenseman and I, like many Caps' fans, feel retaining the services of Carlson is much more vital.
Sure, keeping both would be nice—especially since Green has trade value—but if the Caps only keep one, Carlson should be that one.
Carlson did not have the best regular season in 2011-2012. He had only nine goals, 23 assists, a paltry 32 points and a downright dismal minus-15 rating.
But his performance in the playoffs was much better as he scored two goals and had three assists. He did still have a minus-one rating, but that is misleading.
It was Carlson's pairing with Karl Alzner in the playoffs that was a true eye opener. Alzner and Carlson quickly emerged as the Caps top defensive pairing and they shut down the best the Boston Bruins and New York Rangers could throw at them time and time again.
Adam Oates will help the Caps recapture their offensive prowess from years past.
On defense, though, no one is exactly sure what Oates will do, whether it will differ from what Dale Hunter did and, if it does differ, by how much.
Carlson and Alzner, however, will remember Hunter's defensive philosophy very well and will remember how well it served them in the playoffs.
Re-signing Carlson and having him team up with Alzner again will help to make Oates' implementation of a defensive system and philosophy that much more seamless.
2. Make a Serious Run at Shane Doan or Andrei Kostitsyn
Shane Doan is one of the few free agents the Caps should target
Frederick Breedon/Getty Images
While I am fine with the manner in which the Caps have handled free agency so far, there are still a couple of free agents out there who could make a difference and who the team should take a serious run at acquiring.
One of them is Shane Doan, the longtime captain of the Phoenix Coyotes. Doan is one of those players who could add a level of toughness to a Caps team that has plenty of flash, dash and finesse players.
Doan's numbers from the 2011-2012 regular season were very solid—he notched 22 goals, 28 assists and 50 points. In the playoffs, he had five goals and four assists as he led the Coyotes all the way to the Western Conference Finals.
He is a veteran, he is a leader and he is a winner. As much as he might want to remain in Phoenix, that just might not happen. According to the azcentral.com, 11 to 12 teams are all vying for Doan's services. Whether the Caps are one of those teams is not known.
If they are not, then they should be. Doan would be a great pickup for the Caps and the type of player who could put them over the top.
An alternative free agent to target would be Andrei Kostitsyn, the talented right winger for the Nashville Predators. Kostitsyn had an all right regular season—he had 16 goals, 20 assists and 36 points. In the playoffs, he was semi productive—he had three goals and an assist.
Kostitsyn is not the type of player Doan is. But he will likely carry a lower price tag than Doan and he might flourish in the Caps system.
The Caps already acquired their second line center by trading for Mike Ribeiro. They need to add another second line winger so that moving Brooks Laich out to the wing, where he belongs, will not be too disruptive.
Either Doan or Kostitsyn would be a good fit for the Caps and would enable them to upgrade their offense efficiently and effectively.
3. Focus on Shifting to a 1-2-2 Forechecking System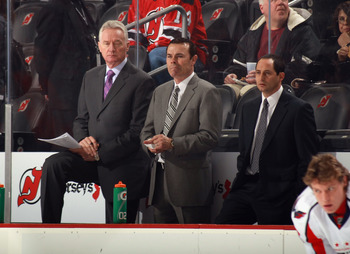 What kind of forechecking system will Adam Oates utilize?
Bruce Bennett/Getty Images
It is time for the Washington Capitals to rethink their forechecking philosophy.
When Bruce Boudreau was the coach, he liked to use a 2-1-2 forechecking system. For those unsure of what that means, here is a decent explanation of the most popular forechecking systems.
The 2-1-2 is probably the most aggressive of the forechecking systems and it is very effective—if you have the personnel for it. The Kings used this system with, quite obviously, great success this past season.
But the Caps just do not have the same depth they used to have and for the 2-1-2 to work, you really need to have forecheckers available on all of your lines.
The Kings had that; the Caps really don't any longer.
Now compare that to a 1-2-2 forechecking system. This is what Dale Hunter got the Caps to do in the playoffs with great results. Boudreau dabbled with a 1-2-2 trap type of forecheck prior to being fired, but it never worked out for him.
Hunter's version of the 1-2-2 was more of a true forechecking style of defense and not so much a trapping type of forecheck. It focused on containment and clogging choke points. It emphasizes not making mistakes. Karl Alzner and John Carlson really seemed to flourish in this type of setup.
On top of that, the 1-2-2 is the forechecking system the Devils have used for many years, so Oates will be very familiar with it. It will make the transition and/or commitment to the 1-2-2 that much easier to implement.
The Caps are not the same pedal-to-the-metal team they used to be, and they are just not set up to succeed with a 2-1-2 system any longer.
Having a whole season to refine, and then perfect, the 1-2-2 system will make the Caps much more formidable in all phases of their game.
4. Make the Power Play More Productive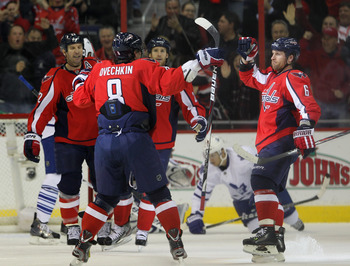 If the Caps can get their power play back on track, expect very good things in 2012-2013
Bruce Bennett/Getty Images
It does not seem that long ago that the Capitals were the proud owners of the best power play in hockey.
In fact, it was just the 2009-2010 season where the Caps ranked No. 1 in the NHL with a 25.2 percent power play conversion rate.
But it was during the now infamous playoff series against Montreal that the top ranked power play in the NHL simply vanished. The Caps scored just one power play goal in 33 attempts en route to a shocking seven-game series loss to the Habs.
The next season, the Caps power play conversion rate dropped to 17.5 percent to 15th best in the NHL. In the playoffs, this dipped again—the Caps scored on five of 35 chances. This was a main reason they could not even win a game in the Conference Semifinals against the Lightning.
This past season, the Caps power play conversion rate dropped again, down to 16.7 percent and ranked 18th in the NHL. In the playoffs, the Caps actually improved; they saw their power play success rate increase to 17.9 percent.
The general consensus is that the hiring of Oates will lead to a resurgence in the Caps power play success. If you really look, however, Oates did not exactly turn the Devils into power play Gods.
In 2010-2011, the Devils had a power play percentage rate of 14.3 percent; last season it improved to 17.2 percent, nearly a three percent increase. Not too bad, but not mind blowing either.
If Oates can get a similar result out of the Caps this season, their power play percentage rate would increase to 19.7 percent. That would have tied the Caps for fifth in the NHL during the 2011-2012 season.
Oates will have a challenge to face here to make the Caps power play as dangerous as it used to be.
If he succeeds, though, the Caps will have a very successful 2012-2013 season.
5. Be More Consistent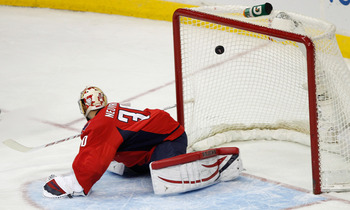 The Caps must learn to play hard every night this upcoming season
Rob Carr/Getty Images
One of the biggest problems the Caps had this past season was with consistency.
There were many occasions where the Caps just seemed to be going through the motions, as though all they really wanted to do was get to the playoffs.
That mindset very nearly denied them any sort of playoff appearance at all.
This is something that the Caps cannot repeat this year. They have to learn to play hard each and every night and to earn as many points as they can amass.
The Caps may have flourished these past playoffs as a No. 7 seed and an underdog. However, most Caps' fans, and I suspect several hockey analysts, would agree that having home-ice advantage—especially for a team like the Caps who have some of the best fans in the NHL—is always a welcomed advantage.
Learning to be more consistent will also build character that will be important come playoff time.
For the Washington Capitals, a little more consistency in 2012-2013 will go a long way—and it might take the Caps a long way once the playoffs roll around.
6. Be Active with the Development of Filip Forsberg and Tom Wilson
Bruce Bennett/Getty Images
Lastly, I think if the Caps are to succeed in 2012-2013 and beyond, they should take an active role in the development of Filip Forsberg and the No. 16 pick in the draft, Tom Wilson.
In my opinion, getting Forsberg at No. 11 was the steal of the draft. He was considered by many to be the top European skater in the draft. He has a ton of talent. As his scouting report on NHL.com noted, he is a good skater, has a great shot, can be an effective two-way player and he knows how to score the big goals.
Those are all very important qualities, and the sooner the Caps can make sure he is ready to bring over to the NHL, the better for all the parties.
Forsberg will remain in Sweden for a year. After that however, who knows. I believe the Caps would be very smart to try and be as involved as they can be to get Forsberg to the USA as soon as they can and as soon as he is ready. Forsberg is going to be a difference maker.
But the Caps also drafted a very promising player at No. 16 with Tom Wilson.
Wilson is the polar opposite of Forsberg, but he will serve a very important role for the Caps. He is big, physical, always looking to crush someone and he loves to get into the dirty areas to cash in on rebounds and loose pucks. In some ways, he is like a younger version of Shane Doan and he has that same sort of physical playing style.
Wilson might actually take longer to get NHL ready than Forsberg, but that does not mean the effort should not be made. Wilson has a ton of raw talent and he could, with a little help and guidance, be molded into a very good forward.
By taking an active role in the development of these two players—and especially if Evgeny Kusnetsov decides to come to the NHL—the Caps will secure their future beyond 2013.
Keep Reading

Washington Capitals: Like this team?