US Olympic Track & Field Team 2012: Ranking Gold Chances of Returning Champions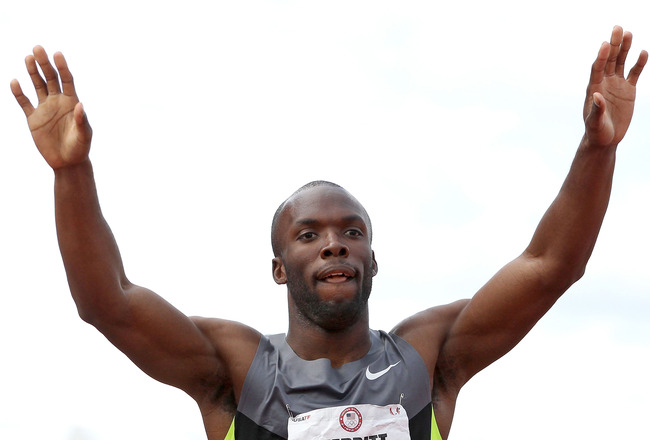 Christian Petersen/Getty Images
Getting to the top ain't easy. Staying there, well that's even harder.
The following four American track and field champions have been tasked with the latter entering the 2012 London Olympics.
Each member of this vaunted quarter won a gold medal in Beijing and each has earned a return trip to the Olympic Games.
Now, a quick look at their chances of renewed glory this summer and the obstacles (physical, psychological and wooden) that lay in their respective paths...
4. Stephanie Brown Trafton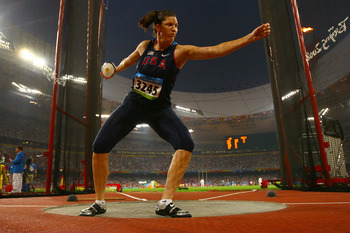 Stu Forster/Getty Images
Event: Discus
Outlook:
Although she'd never made a world championship team and had finished just 22nd at the 2004 Games, California native Stephanie Brown Trafton took advantage of poor marks by the rest of the field to notch a shocking gold medal at the 2008 Beijing Olympics.
Still a long shot entering London, Brown Trafton at least enters this Olympic competition with better credentials.
She finished fifth at the 2011 World Championships and has the sixth-best throw in the world this year—nothing scintillating, but at the very least proof of her top-tier status.
As Brown Trafton's 2008 title will attest, field competitions are prone to wild fluctuation. That alone gives her some hope of a repeat.
Gold Medal Chances: 15 percent
3. Dawn Harper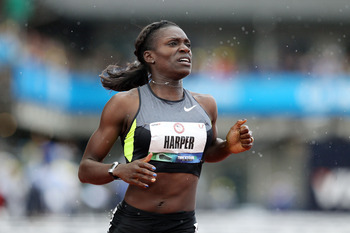 Christian Petersen/Getty Images
Event: 100-meter hurdles
Outlook:
Dawn Harper sprinted to a surprise gold medal at the 2008 Games after fellow American Lolo Jones tripped over the penultimate hurdle.
And although the result seems like a fluke in that context, Harper has proved her mettle as a top hurdler in the years since. She took bronze at the 2011 World Championships and topped a tough field at U.S. Olympic Trials in late June.
In all, she's well positioned to win a second Olympic medal, but a repeat gold won't be easy. Australia's Sally Pearson has the world's top three times this year and will be among the heaviest favorites in any track event this summer.
For Harper to defend her Olympic title, she'll likely need another assist from the wooden barriers.
Gold Medal Chances: 25 percent
2. Angelo Taylor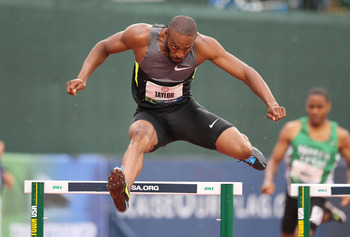 Andy Lyons/Getty Images
Event: 400-meter hurdles
Outlook:
Of the athletes on this list, only Angelo Taylor knows how difficult it is to defend an Olympic title. That's because Taylor has done it before, and not all that well.
Taylor entered the 2004 Athens Games as the reigning gold medalist in the 400-meter hurdles and failed to even qualify for the event final.
Down but not out, Taylor would reclaim his crown four years later in Beijing and hopes to deliver a more memorable follow-up act this time around.
He looked good at U.S. Olympic Trials in Eugene before losing his balance down the back stretch and straining to hold on for second place.
With a smoother run in London, he should challenge Puerto Rico's Javier Culson and Great Britain's Dai Greene for a spot atop the podium.
Gold Medal Chances: 35 percent
1. LaShawn Merritt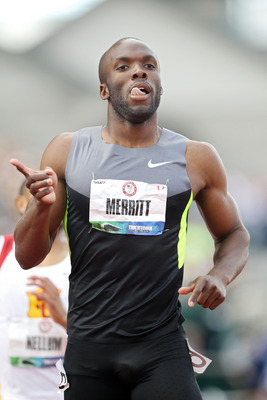 Christian Petersen/Getty Images
Event: 400-meter sprint
Outlook:
It's been an interesting four years for LaShawn Merritt.
After winning the 2009 world title at 400 meters, Merritt served a 21-month doping suspension for a banned substance that he said came from a penis-enlargement drug.
Merritt returned in time to finish second at 2011 Worlds and has been on the up ever since. He has the world's top two times this year and enters London as the pre-race favorite despite a talented field of young challengers that includes American Tony McQuay, Grenada's Kirani James and the Dominican Republic's Luguelin Santos.
Gold Medal Chances: 65 percent
Keep Reading