Roberto Mancini has signed a five year contract extension Manchester City.
Since replacing Mark Hughes at the helm of the club in December 2009, Roberto Mancini has guided the Citizens to the Premier League title and FA Cup success.
"Manchester City is a fantastic football club," Mancini told the club's website. "I am very much looking forward to the challenges and excitement ahead."
"I am delighted to be able to give all of my efforts to Manchester City for a further five years. The opportunity which exists to build on our recent success is enormous," he added.
The announcement, made on Monday afternoon, will allow fans and players alike to breathe a sigh of relief as the club begin preparations for the defence of their Premier League title.
Reports over the weekend had linked the Italian coach with a vacant position at the Russian national team.
The Daily Mail reported that the hosts of the 2018 World Cup were preparing to offer Mancini £35 million to leave his post at the Etihad and spearhead a successful qualifying campaign ahead of the national team's next tournament in Brazil; a task that Guus Hiddink failed to complete two years ago.
The Mirror reported that a six-year contract had been offered to Mancini to take Dick Advocaat's former role, which is perhaps why the Manchester City board offered the former Inter Milan coach such a hefty contract.
Since his arrival at the Etihad, Mancini has transformed Manchester City into a leading club in European football, but the transformation has not been easy.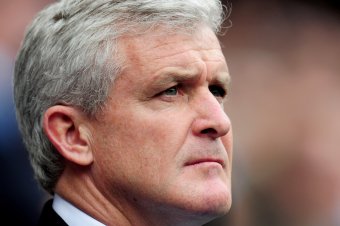 Shaun Botterill/Getty Images
At the end of his first half season, City fell agonisingly short of Champions League qualification, but FA Cup success and a third place league finish in 2011 showed that progress was being made under the Italian coach's watchful eye.
Off the pitch, several of the club's leading players have also questioned Mancini's management of the team. Carlos Tevez and Emmanuel Adebayor have both questioned the Italian's management style, and the constant appeasement of Mario Balotelli's antics has painted the image of the coach struggling to control dominant personalities.
Last season's Premier League campaign went into the final minute of injury time in the final game of the season. Mark Hughes was on the verge of delivering poetic justice to Sheikh Mansour and Khaldoon Al Mubarak, but goals from Mario Balotelli, Edin Dzeko and Sergio Aguero rescued City from the cusp of failure.
Former City defender Danny Mills believes Mancini would have left the club this summer if he had not delivered the title last season.
"It's a massive cliché but in football goals do change games and they also change managerial careers," he told BBC Radio 5 live.
"If that Sergio Aguero goal after three minutes of stoppage time hadn't gone in then Mancini could have been on his way out and looking for another job."
"He will be in demand and the owners want stability. They've got a training ground under development and they want it to be a super academy and Mancini is seen as a massive part of that."
In his 10-year managerial career Mancini has won three Scudettos, four Coppa Italias, two Supercoppa Italianas, the FA Cup and English Premier League, placing him amongst the most coveted coachs in European football.