Real Madrid's Tactical Approach for Further Success in La Liga Next Season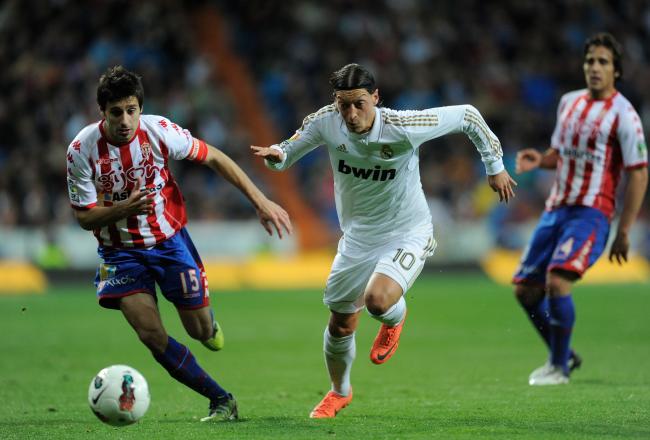 Denis Doyle/Getty Images
The failings and disappointments of last season in the Champions League and Copa Del Rey should not paint over what has been a very positive year for Real Madrid. Most significantly, Jose Mourinho has finally landed on the ideal set of tactics for Real Madrid to counter their most fierce opponents in La Liga.
That long walk in the desert of countless Barcelona victories and extreme near-misses would have seemed worth it when Real Madrid finally beat the Catalans last season inside 90-minutes. It's not so much that they were toying with negative tactics all along—although that is up for debate—but Mourinho simply failed to recognise that his side are strongest when playing their own game.
Even against a Bayern Munich side who experienced their own share of disappointments last season, Madrid came up short. However, the tactics of that game at the Bernabeu in the Champions League semifinal should not be called into question. On any other day, you'd expect a much more lively Madrid to press on and finish the job they started.
The 4-2-3-1 formation is obviously key to this Real Madrid side's success. The option for a third midfielder a little deeper alongside the likely partnership of Xabi Alonso and Sami Khedira has been used on occasion, but the attacking dynamics and pace on the counterattack is hugely accentuated with a player like Mesut Ozil operating further a the pitch.
But while the club have used this system prior to last season and with Mourinho in charge, why has it suddenly fallen into place?
Yes there are peripheral factors as to why Madrid were successful in the league, and others that contributed to their downfall on other fronts. The personnel hasn't changed greatly, but instead we're looking at a team who have been given the license to be a little more creative with their positioning.
The introduction of Gonzalo Higuain to play alongside Karim Benzema and Cristiano Ronaldo has meant that Ozil has taken up a much more free role, independent from his ties to the centre of the pitch. Yes his defensive contribution his been questioned at times, but Madrid carry a certain level of unpredictability when operating with all three of their attackers ahead of the German.
Mourinho's commitments to sticking with his trusted formation against opposition such as Barcelona has meant the Catalans are mindful, perhaps even fearful, of the attacking threat Madrid pose.
With Pepe in the midfield, as Mourinho has tried on a number of occasions, the team did not have the same pace, fluidity and accuracy in their counterattacks. They genuinely looked like a team who were intent on keeping the score down, rather than looking for opportunities to launch their own attacks on goal.
Hopefully we've seen the last of Pepe starting games from the midfield. The intention may be good towards the final score, but Real Madrid are better than simply sitting back and cutting down the opposition.
Sergio Ramos' move into the centre of the defence has also been a great positive on the team this season. Madrid are missing out on his contributions from the right-back position, but his technical ability and leadership at the back means he's far more suited to a central role.
His pace alongside his regular partner in Pepe has given Real Madrid a real stranglehold on many of their games, suffocating the game in one half of the pitch and with enough insurance should the opposition counter.
Ricardo Carvalho was certainly one of the leading centre-backs of the last decade, but Sergio Ramos' involvement in the heart of the defence has seemed to breath new life into this young Madrid side.
The problem for Madrid, however, is their consistency in conceding poor or "cheap" goals. The defence do their job and have to push forward to contribute to the attack, but perhaps they're left a little exposed by a midfield who also share a likeness in advancing forward.
There's nothing wrong with what Khedira and Alonso bring to Madrid's game, they're both excellent players who are important for the attack and defence. The problem is that neither have a tendency to sit and hold their position in a way a "destroyer" in midfield would.
The team are obviously free to change their tactical formation completely, but how would that impact the significant number of goals the team can score now? A move to a 4-4-2 might be too rigid to accommodate the attacking flair in the team, while there also might be a fear that players are simply left operating unsuccessfully in an unfamiliar formation.
Until there is a noticeable drop in performances from the current tactics, it might be best to continue with this winning formula and tweak the personnel to remain competitive throughout the entire season.
There's nothing wrong with thinking a few steps ahead to remain unpredictable, but Madrid have found a comfortable balance to be successful. Their winning tactic at the moment is very much in the ferocity of their counterattack via the 4-2-3-1 formation.
This article is
What is the duplicate article?
Why is this article offensive?
Where is this article plagiarized from?
Why is this article poorly edited?

Real Madrid: Like this team?