Fantasy Match: Could Manchester City Beat England's National Team?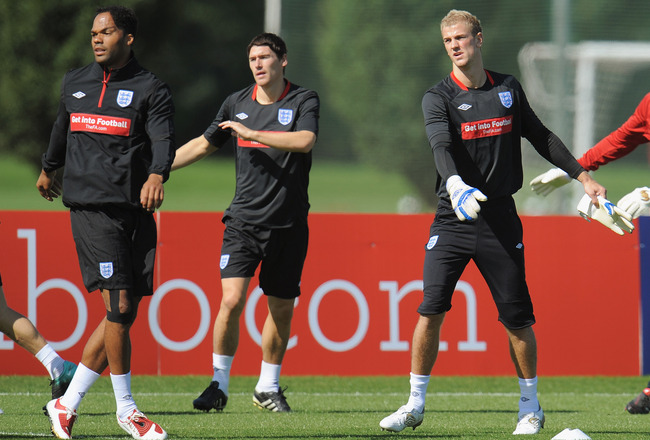 Michael Regan/Getty Images
Such fantasies are often wondered of the best teams throughout the ages: could such-and-such of the 1980s have beaten the modern day Barcelona side? Could the current Spain team beat Brazil's finest of all time?
Speculation and opinion are fine, but the game has changed so much over the decades that parallels are difficult to draw in many situations. Even the best players back in the 40s, 50s and 60s might struggle to keep pace with the modern box-to-box but averagely-talented midfielder.
How about two current teams then?
Current Premier League champions Manchester City—and the national side of the country they play in, England.
Of course, with some players overlapping they can only play for one team. To be fair, we'll go with England's supposed first choice XI for Euro 2012, pre-injuries.
Joe Hart therefore will represent England in goal, but Joleon Lescott and Gareth Barry will be free to represent their team after Roy Hodgson was set to name Gary Cahill and Scott Parker ahead of them initially.
Goalkeeper and Central Defence vs. Attack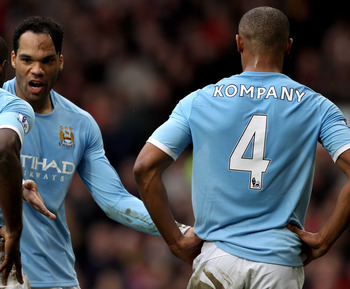 Alex Livesey/Getty Images
Manchester City: Costel Pantilimon (goalkeeper), Vincent Kompany and Joleon Lescott (central defenders)
England: Wayne Rooney and Danny Welbeck (centre forwards)
With Roy Hodgson utilising a 4-4-2 whenever possible, Manchester City defenders would have two attackers to deal with at all times.
Rooney and Welbeck of course are a familiar threat to City defenders, being a regular strike partnership for local rivals Manchester United and playing against City on numerous occasions.
This is a fairly well-matched battle, with Kompany arguably one of the finest defenders in the Premier League and Rooney one of the best attackers.
The latter's dropping deep to receive possession, and Welbeck's willingness to run the channels and get in behind defence could be crucial in this particular battle, despite the excellent duo in defence.
With Joe Hart on international duty for this particular match-up, second stopper Pantilimon would be required to step up—and he might just prove the crucial drop in quality here.
Verdict: England forwards just about getting the edge over City central defence.
Full-Backs vs. Wide Midfielders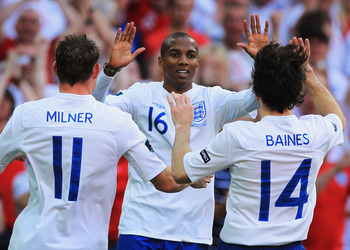 David Cannon/Getty Images
Manchester City: Micah Richards and Gael Clichy
England: James Milner and Ashley Young
City arguably have more options than England here, with Pablo Zabaleta and Aleksander Kolarov both making a case to be included as first choice full-backs.
Nonetheless, Clichy played the greater role in City's end-of-season success last year, and Richards makes the English vs. England debate more interesting, especially since he refused to go on stand-by for the Euro 2012 squad.
Milner of course is a City player, not always a first choice for club but certainly so for country during the European Championships.
This is an easy contest to judge though; Ashley Young had an appalling tournament, failing to have any positive impact on the England team and topping it all off by missing a penalty in the shoot-out exit.
Milner was better, more industrious and providing a few tasty crosses, but by and large England's wide men—partly because of the system asked to play, admittedly—were on the whole rather poor.
With Clichy a seasoned Premier League campaigner and Richards one of the most in-form full-backs in the country last season, it's no contest.
Verdict: No danger down the flanks from England.
The Central Midfield Battle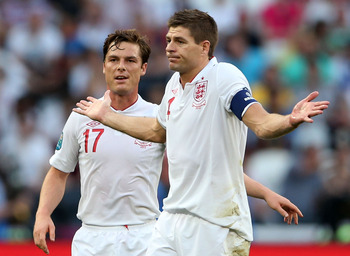 Scott Heavey/Getty Images
Manchester City: Yaya Toure and Gareth Barry
England: Scott Parker and Steven Gerrard
If allowed to play their natural games, this might be one of the clashes of all time in the centre of midfield.
The power, presence and natural ability of Gerrard vs. Yaya Toure would be something to behold, while Barry and Parker would wrestle for the right to control the play and give the ball to their more offensive-minded partners.
Breaks from deep aplenty, the chance of the odd long-range rocket shot and not a few feisty challenges would surely go crashing in.
However, with England asking Parker and Gerrard to sit deep, almost on top of their central defenders in fact, there is only one winner here.
City retain possession rather well as it happens. Toure and Barry would both be a threat with time and space, and the ball at their feet, with 30 yards of the England goal.
Gerrard proved in the Euros he can still be a threat even from this deep position—but England also proved that they concede too much ground in their system to be a threat in midfield.
Verdict: Room for Yaya and Barry to explore. No overwhelming City win, but their duo will have enough of the ball to find other key players.
Opposite End: Wide Midfielders vs. Full-Backs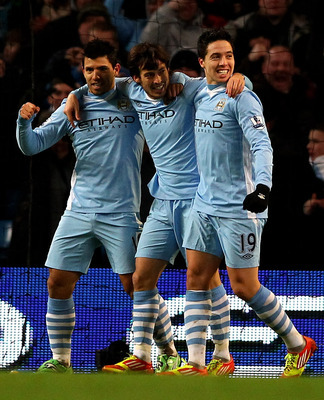 Clive Brunskill/Getty Images
Manchester City: David Silva and Samir Nasri
England: Glen Johnson and Ashley Cole
An intriguing battle this one; two of the most adventurous and attack-minded full-backs in the country against two pretty much all-out-attack wide players, who will drift inside and look to create havoc, and not being the keenest to track back.
Cole and Johnson have proven their worth in the defensive third, with the latter in particular enjoying an excellent Euro 2012 tournament. But they also both have a tendency to get caught with passes played between themselves and their nearest centre back.
With Nasri and Silva being two attacking midfielders with excellent movement, that is exactly the sort of scenario in which they could thrive.
On the flip side, playing on the flank opposite to their preferred foot sees Nasri and Silva come infield extremely often, leaving gaps behind them for Johnson and Cole to break out into.
Verdict: One mistake from any of these four could lead to a crucial chance. Silva might just edge it over Cole.
Centre Forwards vs. Central Defence and Goalkeeper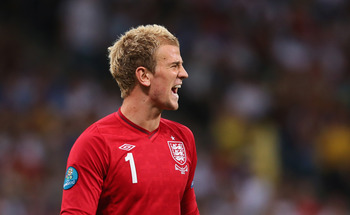 Alex Livesey/Getty Images
Manchester City: Sergio Aguero and Mario Balotelli
England: Joe Hart (goalkeeper), John Terry and Gary Cahill (central defenders)
With Hart in goal against his club mates, it might be a case of who knows who best in the penalty box.
Terry and Cahill are a solid and reliable duo in the centre of defence, who will neither shirk a challenge nor let a forward contest an aerial ball easily.
Fine at marking, strong and quick to go to ground to block a shot, the two centre backs have a firm understanding at club and country level.
On the other hand, Sergio Aguero is perhaps the best out-and-out striker on the planet right now and Mario Balotelli—in between fireworks, female prisons and school visits—has the ability and maverick talent to conjure a goal out of nothing.
Verdict: There wouldn't be goals galore, but Aguero and Balotelli definitely have the edge here.
Conclusion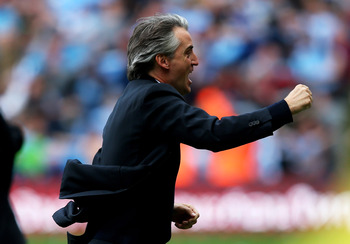 Alex Livesey/Getty Images
England have the power up front to trouble the best of defences, and even with the same XI in a more progressive system they would present fierce opposition to Manchester City.
With Gerrard released further forward, Rooney and Welbeck would likely get ample opportunities to test Pantilimon, Kompany and Lescott.
As it is, with a regressive structure throughout the England team entirely dependent on pace which doesn't exist, City would clearly dominate this game in midfield and spend much of the match looking to fashion chances for their front duo.
It would likely be less than pretty for much of the game, but the movement and first touch of Silva and Nasri could be key in releasing Aguero or Balotelli for a good shooting chance.
Changeover of possessions would actually represent good opportunities for both teams, with England's full-backs key in this regard both when England win and lose possession.
Verdict: There's only one winner here—the club team, Manchester City, triumphs over the country, England.
Keep Reading

Manchester City: Like this team?