Reggie Jackson: New York Yankees Right to Keep Distance from Mr. October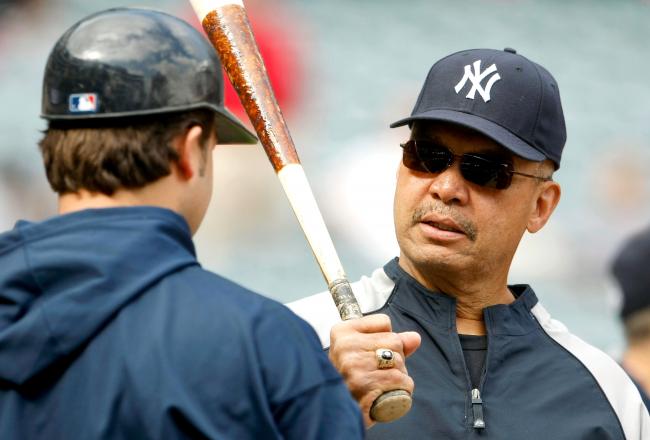 If you thought Reggie Jackson's accomplishments in a New York Yankees uniform were enough to make him untouchable, think again.
Updated July 9, 2012 at 7:56 p.m. EDT
Mr. October has finally spoken out about his suspension handed down from the Yankees after his remarks about Alex Rodriguez's steroid use in an interview with Phil Taylor of Sports Illustrated.
Here's what the former Yankee had to say about his punishment, according to Bob Nightengale of USA Today.
Said Jackson, choosing his words carefully: "The Yankees think that the timing is not right for me to be around the team right now. When the Yankees feel that the timing is proper, I'll return.''
It looks like we won't be hearing from Jackson anytime soon and that couldn't be a better thing for both sides of this issue.
Reggie can get the time he needs for people to forget about his comments and the Yankees can avoid the constant media attention Mr. October's simple presence will attract around their team.
Still waiting on that apology to his fellow Hall of Famers, though.
-------End of Update-------
Updated July 9, 2012 at 6:42 p.m. EDT
The details of Jackson's punishment for disparaging comments made against A-Rod have been made more clear by Marc Carig of The Star-Ledger:
According to the person with knowledge, Jackson will keep his job as a Yankees' special adviser, though he has in effect been suspended beginning with last weekend's series against the Red Sox.

Fearing that Jackson's presence would create controversy, the Yankees instructed him to steer clear, especially with national media outlets on hand to cover the series.
-------End of Update-------
Buster Olney of ESPN is reporting Yankees management has told Jackson to stay away from the team for a while after he made negative comments toward current Yankee Alex Rodriguez in an interview with Phil Taylor of Sports Illustrated.
Here's a reminder of what Jackson said in the SI interview:
Al's a very good friend. But I think there are real questions about his numbers. As much as I like him, what he admitted about his usage does cloud some of his records.
Now comes an excerpt from Olney's report in regard to the organization's overall feelings toward Jackson at the moment:
Jackson, a special advisor to the Yankees, usually is around the team.

But at this time, there is enough anger at the Hall of Famer from within the organization that the team has decided that he should keep his distance until otherwise determined.
It appears Jackson's apologies to A-Rod, Joe Girardi and Yankees officials fell on deaf ears and were far too little and far too late for what was said. Yankees Universe doesn't allow for the bashing of the team's players from within, and Mr. October clearly wasn't well aware of that, as we all are.
The Bombers made the right decision in this case.
If Jackson were to continue being around the team and traveling with them, all the focus would be on Reggie and his comments when it should be on the Yankees, their players and their opponent of the day.
As I stated in an earlier piece, nobody is above the pinstripes, and Jackson is no different. If it's thought for even a second that a single person will bring negative attention to this team, the Yankee brass won't bother keeping them around for long.
It just remains to be seen if this is temporary or if Jackson could be gone for good. I would expect this to be only temporary until it all blows over and is forgotten about.
But one thing's for certain: Mr. October's big mouth might have finally been silenced.
Now we're all waiting for the other shoe to drop, and that is Jackson's apology to the fellow Hall of Famers he bashed in the same interview with Taylor of Sports Illustrated.
This article is
What is the duplicate article?
Why is this article offensive?
Where is this article plagiarized from?
Why is this article poorly edited?

New York Yankees: Like this team?